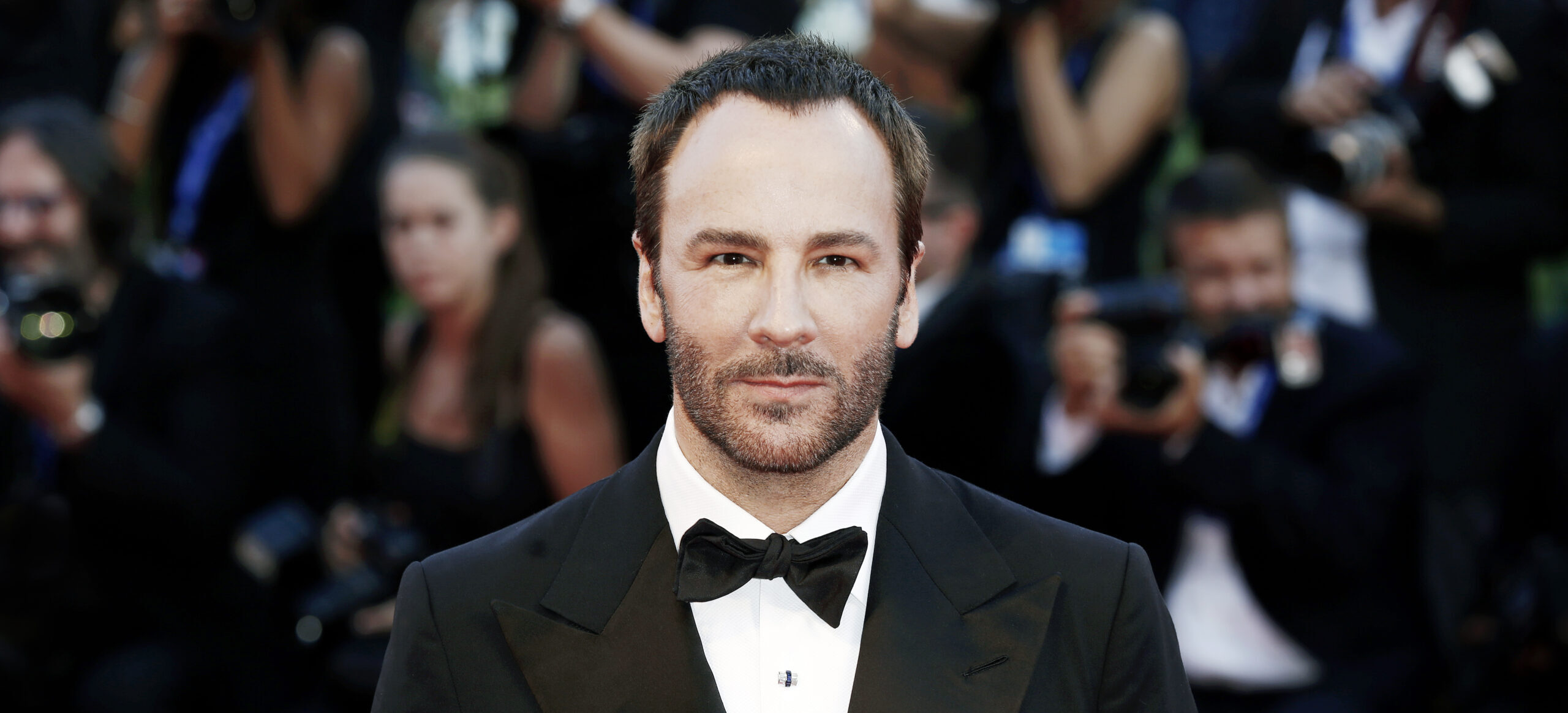 What is Tom Ford's Net Worth?
---
American designer Tom Ford is not only a fashion icon but also one of the fashion world's newest billionaires. Known for saving Gucci from near bankruptcy and then building out his own eponymous luxury brand, he went on to sell his brand to Estée Lauder for $2.8 billion.
Who is Tom Ford?
Thomas Carlyle Ford is an American fashion designer and filmmaker. He launched his eponymous luxury brand in 2005 after serving as the creative director at both Gucci and Yves Saint Laurent.
In 2019, Ford succeeded Diane von Furstenberg as chairman of the Council of Fashion Designers of America.
Tom Ford's Personal Life
Ford was born on August 27, 1961 in Austin, Texas to Shirley Burton and Thomas David Ford, both realtors. He spent his early life in the suburbs of Houston, Texas and in San Marcos outside Austin.
His family moved to Santa Fe, New Mexico when he was 11 years old. He enrolled at Bard College at Simon's Rock at only 16, but quickly transferred to New York University (NYU) to study art history. After only a year, he dropped out and began working as a television commercial actor.
Later, he studied interior architecture at Parsons The New School for Design in New York City. Before graduating, Ford spent a year and a half in Paris as an intern in Chloé's press office, which inspired his interest in luxury fashion. He studied fashion in his final year at Parsons but graduated with a degree in architecture.
Ford married Richard Buckley in 2014, a journalist and former editor-in-chief of Vogue Hommes International. The couple had a son, Alexander John "Jack" Buckley Ford, in 2012. Richard passed away in September 2021 at the age of 71.
Tom Ford's Net Worth
Tom Ford has a net worth of $2 billion as of 2023, thanks to the sale of his fashion brand to Estée Lauder in late 2022 which brought his net worth from around $500 million to $2 billion.
How Did Tom Ford Become a Billionaire?
Fashion Career
After only finding his love of fashion in his last year of college, Ford entered the workforce with little experience in the industry. He eventually landed a job with American designer Cathy Hardwick as a design assistant, where he stayed for two years.
He then moved to work for Perry Ellis in 1988, also working there for two years. After these jobs, he landed the role of Chief Women's Ready-to-Wear Designer for Gucci in Milan.
At Gucci, Ford moved up quickly, designing menswear just six months after starting, then quickly moving on to design shoes.
After Richard Lambertson left the brand, Ford took over as design director in 1992. In this new role, he was in charge of overseeing everything from the brand's ready-to-wear collection and fragrances to advertising and store design.
In 1994, he was promoted to Creative Director of Gucci. Under his leadership, the brand grew significantly; between 1995 and 1996 sales increased by 90%.
When Gucci acquired the fashion house Yves Saint Laurent (YSL) in 1999, Ford took over as that label's Creative Director as well.
Tom Ford Fashion Brand
Ford left the Gucci Group in 2004 and launched his own brand two years later featuring menswear, beauty, eyewear and accessories. Since 2006, he has expanded his brand and dressed everyone from former First Lady Michelle Obama and Beyoncé to Daniel Craig and Will Smith.
His suits and accessories have been featured in numerous music videos and movies including the Grammy-winning "Suit & Tie" music video and Daniel Craig's final four James Bond films.
Tom Ford brand generated $1 billion in annual revenue before the sale to Estée Lauder.
Estée Lauder Sale
In November 2022, after months of speculation and a secret bidding war, Tom Ford signed a deal to sell his brand to Estée Lauder for $2.8 billion. At the close of the deal, after taxes, Tom Ford's net worth increased from $500 million to $2 billion, making him a billionaire.
This was the largest acquisition in Estée Lauder's history.
Fade to Black
Ford has pursued several projects as a film director, launching his own film production company, Fade to Black, in March 2005.
His directorial debut came in 2009 with the film A Single Man, based on the novel of the same name by Christopher Isherwood, starring Colin Firth, Julianne Moore, Nicholas Hoult and Matthew Goode.
The film received critical praise after premiering at the 66th Venice Film Festival and was nominated for the festival's top award, the Golden Lion. It won multiple other major film awards and was nominated for an Oscar, three Golden Globes and a BAFTA.
Ford's second film as director was Nocturnal Animals in 2016, starring Academy Award winner Amy Adams and Jake Gyllenhaal.
This film was also praised by critics and won the Grand Jury Prize at the Venice Film Festival.
Tom Ford's Investment Portfolio
Real Estate Holdings
Ford owns an impressive collection of real estate with homes in Paris, Los Angeles, New York and London.
In early 2019, Tom and Richard bought a $18 million four-story townhouse in New York City.
In Los Angeles, they own a $40 million Holmby Hills mansion down the street from the Playboy Mansion.
In January 2023, Ford purchased a $51 million mansion in Palm Beach, Florida.
The couple previously owned a 20,000+ acre ranch in Santa Fe, but it was quietly put on the market for $75 million and eventually sold for an undisclosed price.
Art Collection
The art collection of designer Tom Ford is known to be quite provocative — he even named one of his rooms the "Vagina Room," featuring numerous Ellsworth Kelly "slit" paintings and Warhol female nudes.
In a 2019 interview with Vogue, Ford noted that the Calder mobile he has hanging in his living room is the only artwork he could never imagine parting with. He obtained the piece from Georgia O'Keeffe.
Nocturnal Animals displayed Ford's love of art, featuring millions of dollars worth of Contemporary Art. The film included Jeff Koons's Balloon Dog, Alexander Calder's 23 Snowflakes, Damien Hirst's Saint Sebastian, Exquisite Pain and Andy Warhol's Shadow.
His collection includes Andy Warhol, Ellsworth Kelly, Alexander Calder, Mark Bradford, Lucio Fontana and Sam Taylor-Wood.
The Bottom Line
Tom Ford is a billionaire fashion designer, filmmaker and art collector. After selling his fashion brand, Tom Ford, he reached billionaire status with a net worth of $2 billion.
During his career in the fashion industry, he was best known for saving Gucci from near bankruptcy and transforming it into one of the most successful fashion houses in the contemporary era.
His career in Hollywood has also been immensely successful, having received numerous major movie awards for his films A Single Man and Nocturnal Animals.
Invest Like Billionaire Tom Ford with Masterworks
Contemporary Art, a favorite of designer Tom Ford, can help with portfolio diversification because it has a very low correlation with traditional markets. This means during bear markets or periods of high inflation, blue-chip Contemporary Art has historically outperformed the traditional market, providing a hedge for your portfolio.
In 2021, UBS reported that art as an asset class had an annual transaction volume of $65.1 billion and a total estimated global value of $1.7 trillion.
According to the Masterworks All Art Index, contemporary art prices appreciated by about 17.5% during high inflation — making it one of the best inflation hedge assets. Contemporary Art specifically has also shown strong price appreciation, growing 13.8% over the past 26 years.
However, it can be difficult for an individual investor to own a piece of a $15 million painting because of the high cost.
The Masterworks platform answers this challenge by offering fractionalized shares of some of the most sought-after Contemporary Art, including works by Banksy, KAWS and Basquiat. Your Masterworks account allows you to own a piece of a $10 million painting for a fraction of the cost.
---
See important Reg A disclosures: Masterworks.com/cd
---