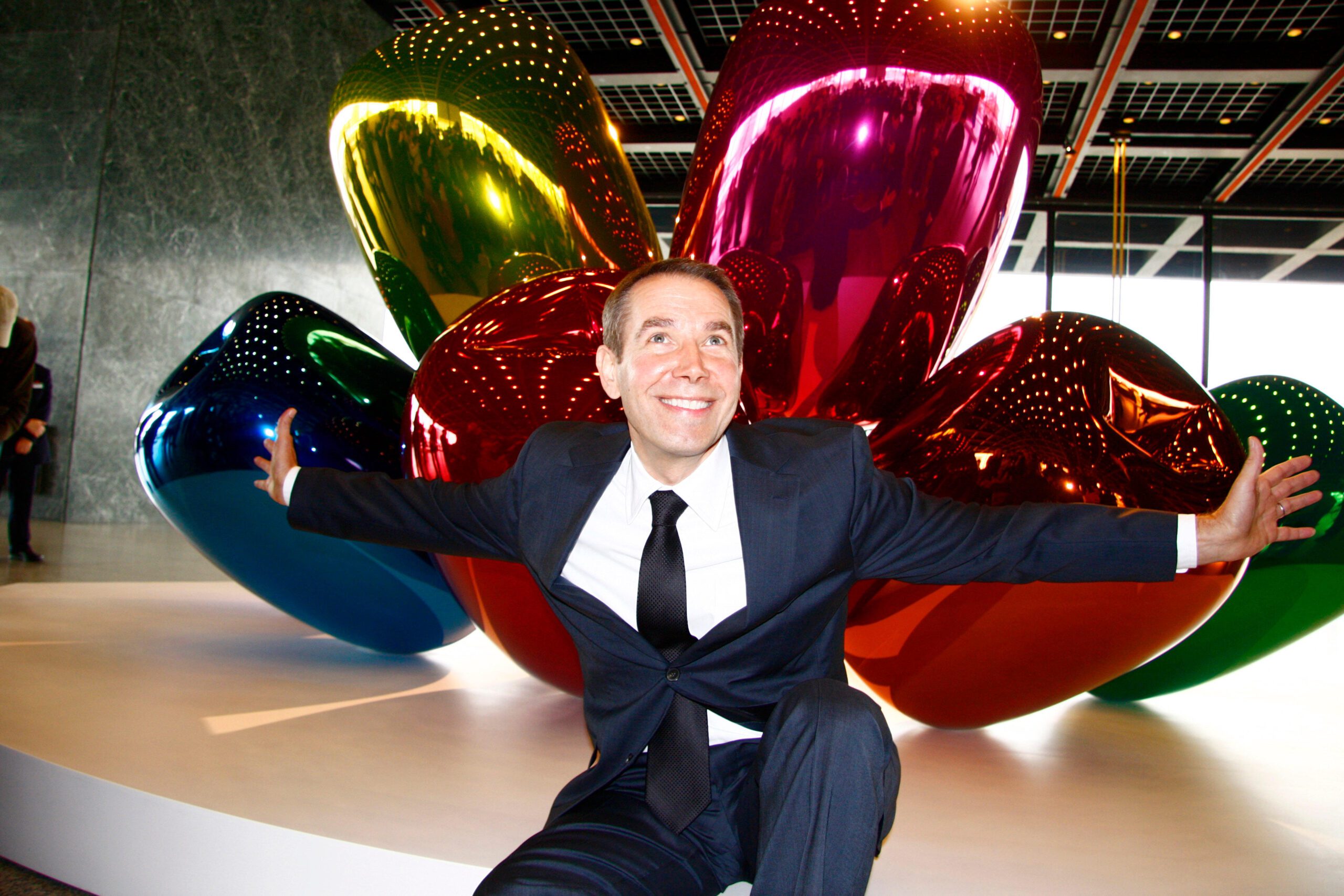 Who is Jeff Koons?
---
One of the most well-known, controversial contemporary artists on the planet, Jeff Koons is both loved and hated by art critics and consumers of the fine art world. His work draws upon childhood themes and imagery, most notably his Inflatable series featuring balloon animals and objects, and recent sculptures and paintings of cartoon characters, such as Popeye and the Hulk. Whether or not you think Koons is an artistic genius, his work draws insatiable public attention from consumers, celebrities, and cultural figures.
In 2019 his stainless steel Rabbit sculpture sold for $91.1 million at Christie's in New York, breaking the previous record as the most expensive work sold by a living artist set only months earlier by David Hockney. Other works such as Balloon Dog (Orange) and Gazing Ball (van Gogh Wheatfield with Crows) have sold for soaring auction prices, $58.4 million and $9.2 million, respectively.
| | |
| --- | --- |
| Born | January 21, 1955 |
| Died | June 10, 2010 |
| Nationality | American |
| Mediums | Sculpture, Painting, Illustration |
| Movements | Pop Art, Neo-Geometric Conceptualism (Neo-Geo) |
Jeff Koons Biography
Jeff Koons was born in York, Pennsylvania to a middle-class family. His father was a furniture dealer and interior designer, while his mother was a seamstress, thus he was surrounded by creative, innovative energy from a young age. His fascination with art began early, and at merely eight years old he created replicas of Old Master paintings for fun, particularly intrigued by Salvador Dalí and the 20th-century surrealists. He was so enamored with Dalí that he sought him out at a hotel in New York City, where he met his role model before entering college.
Koons studied at the Maryland Institute College of Art in Baltimore, where he graduated with a BFA in 1976. Before graduating, he did a stint in Chicago with the Chicago Surrealist movement (also called the Chicago Imagists) under the direction of Jim Nutt. He later moved to New York City and became heavily involved in the East Village Art scene, a movement that embraced counterculture aesthetics and spawned the Neo-Expressionism and Neo-Geo movements.
To pay the bills, Koons initially sold memberships at the Museum of Modern Art. He was a good businessman with a strong background in sales, and eventually worked selling stocks for the First Investors Corporation and Smith-Barney financial firms. His sharp business acumen set the foundation for him becoming one of the most famous, prolific artists in the world. Today, Koons works from a massive studio in Hudson Yards, New York where he employs up to 120 assistants to help him produce his work. In this vein, Koons operates similarly to some of the Old Masters like Michelangelo and Ghirlandaio who hired numerous apprentices to help them paint frescoes on ceilings of churches and classical architecture. Koons has also collaborated with celebrities and luxury brands, including Lady Gaga and Louis Vuitton.
Jeff Koons Artistic Style and Career
In 1980 Jeff Koons debuted his first solo exhibition The New at The New Museum in Lower Manhattan. This collection presented vacuum cleaners in clear plexiglass cases, illuminated by fluorescent lights from below. The exhibition contrasted high art with the mundane and was a critical show for Koons that caught art critics' attention. In 1983 he presented The Equilibrium, which featured basketballs floating in tanks of water next to posters of famous basketball players, which also received positive praise for its parodied take on modern art. It wasn't until 1986, however, that Koons' work skyrocketed to fame when he was featured on the cover of New York Magazine with other artists of the East Village movement.
Koons' work often features smooth, reflective surfaces, loud, commercial imagery, and bright, saturated colors. He works primarily in sculpture and painting, although many of his works feature other mediums, such as inflatable plastic and photography. He is inspired by memories from childhood, the luxuries of consumerism, party objects, pop culture, and celebrities like Michael Jackson. While some might apply mysterious symbolism to Koons' work, he has stated that he rejects any meaning in his work. Instead, he says his artwork is to be taken at face value.
Over the years, Koons has faced numerous controversies concerning copyright infringement. As is the case with many pop artists who borrow commercial imagery, Koons has been sued multiple times and settled in court. Many art critics have also called his work distasteful, vacuous, and far too expensive. In 1989 he produced Made in Heaven, a series of large photographs depicting him engaging in sexually explicit acts with Italian porn star Ilona Staller. The two eventually got married, had a son named Ludwig, and divorced only years later.
Koons has been awarded a vast amount of honors since the 1980s. Most notably, he has been named an Honorary Member of the Royal Academy in London (2010), and has received the National Arts Club Medal of Honor in New York (2009) and Maryland Institute College of Art Alumni Medal of Honor (2009).
Jeff Koons Featured Works
Balloon Flower (Red), (1995-2000)
Balloon Flower (Red) comes from Koons' Celebration series and was displayed at 7 World Trade Center in New York in honor of 9/11 survivors. The 9-foot tall sculpture was installed in 2006, but has recently been removed as Koons updates the piece in Europe. The sculpture features Koons' signature highly polished, stainless style work that reflects beautifully in the sunlight. This particular sculpture also doubled as a water fountain in the summer, and was meant to make people smile as they walked by.
Balloon Dog series (1994-2000)
Probably the most well-known (and most copied) series of work by Koons, there are multiple Balloon Dog sculptures that come in different colors (magenta, blue, orange, red, and yellow). The magenta dog was famously displayed at Versailles in 2018, which received criticism for being too crude to exist in Louis XIV's former palace.
Puppy (1997)
Since 1997, Puppy has stood defiantly in front of the Guggenheim Museum in Bilbao, Spain. The installation of a giant white terrier made with flowering plants is massive, standing more than 40 feet tall. Twice a year, Puppy is replaced with fresh seasonal flowers, including pansies for the colder months, and begonias and petunias for the spring and summer. Installation requires 20 people and more than a week to complete, and consists of 38,000 flowers.
Jeff Koons Collections & Exhibits
Jeff Koons: A Retrospective
Jun 27th – Oct 19th, 2014
This retrospective exhibition is the most comprehensive display of Koons' enigmatic oeuvre. Comprising nearly 150 works dating back to 1978, A Retrospective gives a chronological look at his diverse body of work, from the early oil paintings, to the larger than life sculptures he's known for today.
Gazing Ball
May 8th – Jun 29th, 2013
Koons' Gazing Ball series takes its name from the kitschy, spherical ornaments frequently found on lawns and in gardens. In these works, Koons places the hand-blown glass balls in front of classical art, such as replicas of Greco-Roman sculptures and paintings by masters like Van Gogh and Picasso. The reflective balls mirror their surroundings in a distorted, curved way that turns the artwork into an abstraction.
Museum of Modern Art
Ongoing
The MoMA has a permanent collection of 11 famous works by Jeff Koons, including New Shelton Wet/Dry Doubledecker from The New exhibition, Pink Panther, and Inflatable Flower Balloon (Yellow). Works from the MoMA's collection have been featured in popular exhibitions such as 202: To Live and Die in New York (ongoing), and Not for Sale (2007).
---