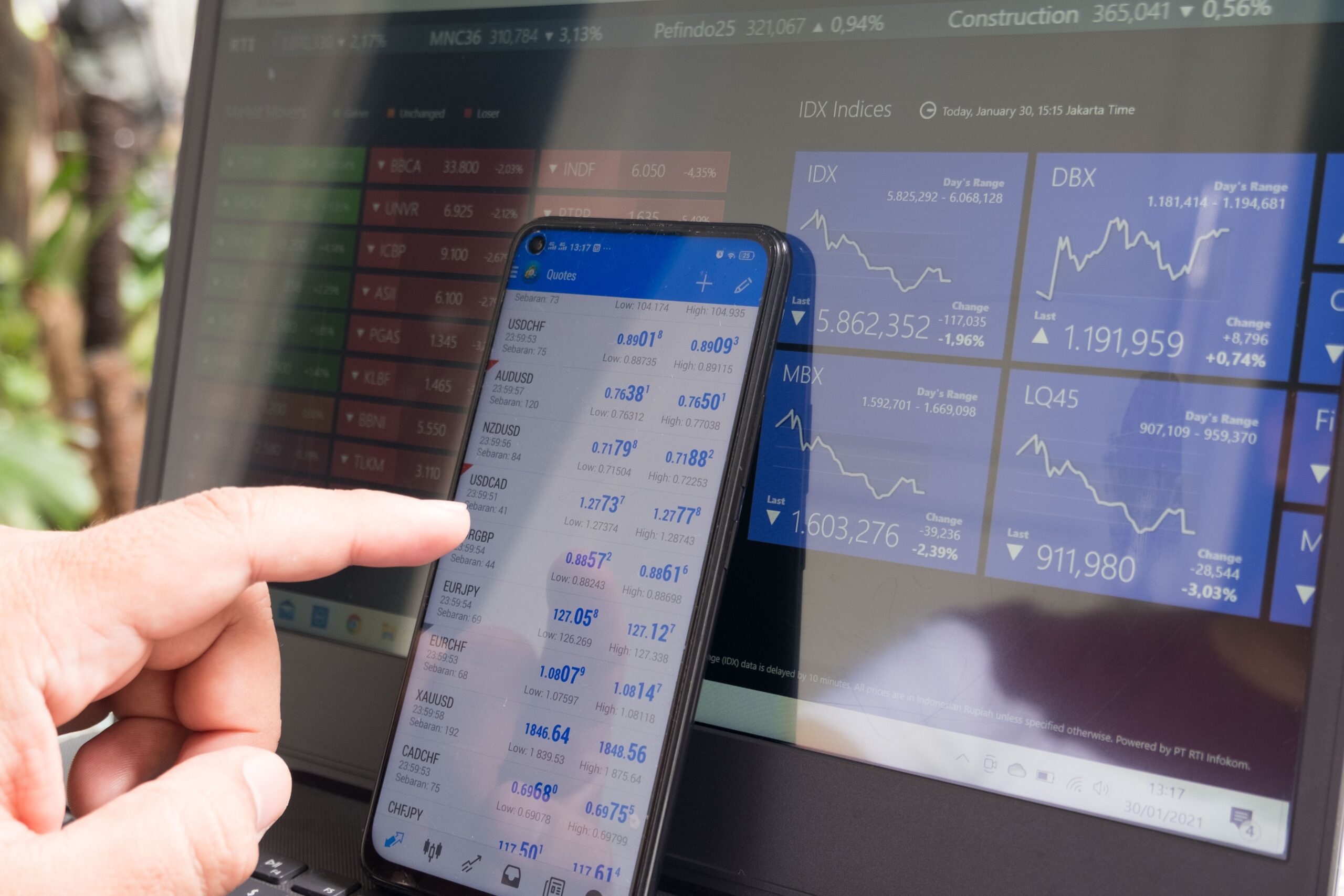 Top 5 Forex Trading Apps
---
Foreign exchange trading, often shortened to "FX" or "forex," refers to the buying and selling of currencies. For decades, institutional firms and large banks dominated the FX market. However; thanks to the rise of apps that provide access to market research and trading tools directly on your iPhone, the forex market has become more accessible.
Forex has been around for decades and remains both the largest market in the world and the most actively traded – with a daily volume of $6.6 trillion USD. The foreign exchange runs 24 hours a day, 5 days a week through over-the-counter. This makes FX the only truly continuous and nonstop trading market in the world.
Almost all online forex trading platforms offer a mobile app that is compatible with iOS and Android devices, but deciding on which app can be a challenge. Below, we review the top forex trading apps in 2022 as well as some key metrics for making the decision.
What is the Purpose of Forex Trading?
Forex traders often have one of two main goals: hedging or speculation. Traders can buy or sell currencies in the forward or swap markets to lock in an exchange rate in order to hedge currency risk. Traders can also make speculative plays on the market based on factors such as interest rates, trade flows, tourism, economic strength, global health, and geopolitical risk all affect supply and demand for currencies which provides the daily volatility seen in forex markets.
Forex markets are the largest in terms of daily trading volume in the world and therefore offer the most liquidity. Investors can enter and exit a position in any of the major currencies within a fraction of a second.
Best Forex Trading Apps
There are a number of online platforms run by forex brokers as well as several trading apps that can satisfy anyone from a novice investor to someone with extensive trading experience. Whether you are just considering trading forex or you are a seasoned trader, these forex trading apps are known for security, advanced analysis tools, and ease of use on the interface.
1. TD Ameritrade's thinkorswim
Minimum Deposit: $0
One of the most popular trading apps provided by a broker is TD Ameritrade's thinkorswim mobile app – a full service trading platform that allows TD Ameritrade clients to trade virtually any financial instrument with a user-friendly interface. Along with trading, thinkorswim provides users with live, streaming charts that can be loaded with common technical indicators, CNBC TV, advanced trading capabilities, over 44 technical studies, trade alerts, and one of the biggest selections of technical indicators that exist on the market.
The platform offers over 70 tradable currency pairs alongside the impressive suite of tools, research, and education. The impressive, fully immersive curriculum TD Ameritrade offers includes experienced coaches to guide you through the investing and trading topics, articles, and videos with over 200 instructional tutorials, webcasts, and more. The forex offering also includes currency ETFs, exchange-traded forex futures, and options on forex futures.
2. eToro
Minimum Deposit: $10-$200
eToro is a market-leading social trading network most well known for its copy-trading platform which allows traders to copy exact trades of experienced traders. The eToro mobile app is easy to use and provides access to a wide range of financial instruments including over 2,400 stocks, ETFs, indices, commodities, and of course – forex.
The trade execution monitor outlines all details of an impending trade trade, including exposure, stop losses, and leverage details. eToro provides $100,000 virtual dollars to demo users in order to practice trades and strategies with no-risk.
Trading spreads are in line with the peer group with zero-commission trades on US stocks and no additional fees for taking on a CopyTrade. One area where eToro falls behind its peers is in research and education which currently sit behind a higher minimum deposit for eToro users.
Note: eToro is based in the United Kingdom and does not currently support accounts in all 50 US states. All US residents may register and open an account for free, if your state is not yet supported, you will have access to the virtual portfolio and will get a notification when accounts can be opened.
Minimum Deposit: $100 for debit/credit cards and PayPal; $0 for bank transfer
FOREX.com is a specialty broker, focusing almost exclusively on currency trading – although it trades in metals and futures as well. Similar to TD Ameritrade, forex.com is publicly traded and highly regulated. Forex.com is a favorite among forex traders, known for low spreads and an easy-to-use mobile app. FOREX.com offers its proprietary mobile app alongside a full suite of MetaTrader mobile apps (the FXTM trading platform, including MetaTrader 4 (MT4) and MetaTrader 5 (MT5)).
At Forex.com, you have access to over 90 currency pairs, covering all major and minor pairs with a variety of technical analysis and drawing tools. The app allows for full functionality of the desktop version. This includes advanced charting options, real-time news, and customizable dashboards and watchlists. Forex.com auto-syncs with the app so you can perform research from anywhere.
There is also a demo account facility on the app which allows users to trade risk-free. This is especially appealing to beginners who may want the opportunity to try the interface before committing to trade. When it comes to fees, forex.com leads the pack with no fees associated with deposits and withdrawals, and no account fee whatsoever.
4. IG
Minimum Deposit: $250
IG, an early pioneer in the spread betting space, is a specialized forex broker. IG offers traders in the US over 80 forex pairs, research tools, an advanced online trading platform, and real-time market data. The company's offerings are focused primarily on spot forex trading, but they also have an impressive array of best-in-class features: well-produced educational materials, a demo account, access to MetaTrader4 and ProRealTime platforms, and an extensive range of charting capabilities.
Forex investors interested in trading a large number of instruments across multiple asset classes, including securities on international exchanges, will find IG's extensive range of products quite useful.
5. Ally Invest
Minimum Deposit: $0
Ally Invest is well regarded as a low-cost, beginner broker; however, their mobile platform allows for more niche investment instruments such as currency trading. Ally is a diversified investment platform, offering more than 80 currency pairs and easy-to-use charting software. Like other forex trading platforms, Ally allows for a $50,000 practice account, even if you never intend to trade. 
What makes a good forex trading app?
Trading currency can be risky and complex. It is important to have a trading tool that you can trust, especially given the decentralized (OTC) nature of forex transactions. Here are some features that investors typically keep in mind:
Pricing
Forex brokers are priced in two main ways: baking the price into the buy-sell spread or on a commission basis. Spreads are often quoted in pips, or one ten-thousandth of a point (also referred to as a basis point, or bps).
Currency Pairs
A handful of major pairs dominate forex trading (i.e. EUR/USD, USD/JPY, GBP/USD), but it is important to note how many other pairs the broker offers. Different brokerages specialize in different assets or asset classes; for example, one broker may offer a small selection of currency pairs but a large array of CFDs on other markets like equities, futures, or cryptocurrency. 
Spreads
Spread refers to the difference between a broker's sell rate and buy rate when exchanging or trading currencies. Spreads often function as a broker's commission for carrying out the trade. Though most spreads are only a fraction of a unit of the currency traded, high-frequency traders may notice a large percentage of their returns getting eaten away by fees and commissions.
It is generally understood that the larger the spread, the less attractive the trade; however, brokers who charge commission may get away with tighter spreads so be careful to look into the pricing structure of an app before opening an account.
Analytics & Charting Tools
Advanced analytics and tracking within an app help users strategize on trades. Different apps have different options and amounts of analytical tools. Examples to look for: sync-capabilities, customizable alerts, watchlists, economic calendars, and dashboards, as well as software-driven notifications and historical data.
These resources also should provide real-time and up-to-date financial news. Staying up to date is important in forex due to the high levels of volatility. When there is a massive swing in currency value, an investor should have access to accurate financial market data in order to make an informed decision.
Training & Educational Resources
Forex is no easy field to master, but the best apps can provide a lot of useful information and features. These can include research content, trading tools, charting capabilities, a demo account, or webinars. Some apps may also include training materials for the technical side of trading. Others may include a social aspect such as copy trading or forum discussions. These features allow for the sharing of trading strategies and market opinions.
Regulatory Status
The forex trading industry is heavily regulated in most countries due to the risky nature of the product. Regulation of forex brokers is important for maintaining business standards and protecting clients. The Commodity Futures Trading Commission (CFTC) registers and regulates forex brokers. A broker must meet certain financial standards, undergo background checks, and adhere to certain conduct and disclosure requirements in order to become registered.
You can check whether a broker has been properly registered by going to the National Futures Association website – under the supervision of the CFTC – and using its search tool. You can check a broker's registration, disciplinary history, and financial information.
Can I Trade Forex on Robinhood? 
Currently, Robinhood does not offer traditional foreign exchange trading. 
---