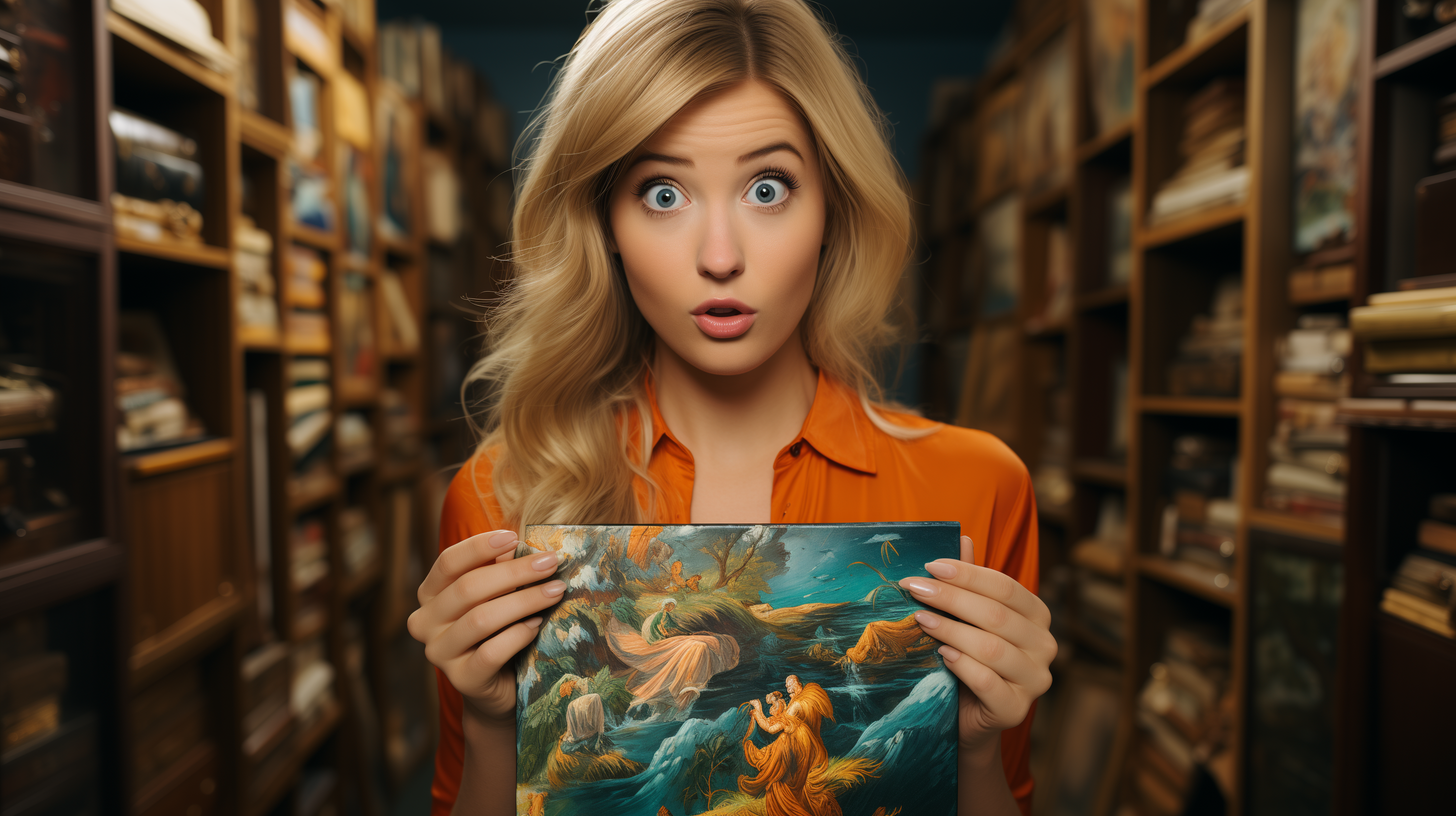 5 Examples of Incredibly Valuable Art That Regular People Discovered
---
In the world of art, hidden treasures often lie in plain sight, waiting for that keen-eyed individual to uncover their true worth. While the art market may seem like an exclusive realm reserved for seasoned collectors and high-profile investors, every now and then, a regular person stumbles upon a masterpiece that defies all expectations. These serendipitous discoveries not only serve as a testament to the unpredictable nature of the art world but also remind us that sometimes, the most extraordinary finds are made by the most ordinary people. In this exploration of five astonishing cases, we explore the stories of everyday individuals who stumbled upon artworks of immense value, forever altering their lives and rewriting the narratives of these pieces. These remarkable finds underscore the notion that priceless art can be hiding just around the corner, waiting for its moment to shine.
1. A Rufino Tamayo Original Sitting on the Street in NYC:
Tres Personajes" (Three Persons) ($1,000,000)
While a wealthy couple was in the midst of moving, way back in 1987, a painting they owned by Mexican artist Rufino Tamayo was stolen from a warehouse in Houston, Texas. Fast-forward 16 years later, a woman named Elizabeth Gibson (a writer and self-proclaimed dumpster diver) found the painting in a pile of garbage on a New York City street in 2003.
After years of sitting on it, asking friends and doing her own research, she gave into her instincts and got in contact with a broker of fine arts from Sotheby's, who confirmed that she had indeed found the long-lost painting, valued around $1 million dollars.
2. An Edgar Degas Masterpiece Riding a Public Bus:
Les Choristes ($904,000)
In 2009, a pastel painting titled "Les Choristes" (1877) by Edgar Degas, which was on loan to a museum in Marseille from the collection of the Musée d'Orsay, was stolen. At the time, authorities reported no signs of a forced entry. In February, during a routine search, customs officials discovered the artwork inside a suitcase in the luggage compartment of a bus that had stopped at a gas station near Paris. None of the passengers on board fessed up to holding onto the €800,000 ($904,000) painting (surprising no one). In 2019, "Les Choristes" was returned to display at the Musée d'Orsay and was featured in the exhibition titled "Degas at the Opera."
3. A World Record–Breaking Chinese Vase:
18th Century Chinese Vase ($85,000,000)
While clearing out the home of their recently passed parents, a British brother and sister (who remain anonymous) discovered a 16-inch tall Chinese vase with an image of fish on its side. The siblings brought the vase – along with other Chinese ceramics from their parent's collection – to a consultant, who dated the piece to the reign of the 18th-century emperor Qianlong, after noticing a seal that marked property of the imperial family. Sold in 2010, the vase began bidding with an already impressive estimate of $1.3 million and $1.9 million, but a 30-minute bidding war drove the price of the vase into the stratosphere. The hammer finally fell at an incredible $85 million, setting a new record price for a work of Chinese art.
4. The Attic–Dwelling Caravaggio from Toulouse:
Judith Cutting Off the Head of Holofernes (Est. $136,000,000)
In 2014, a homeowner in Toulouse, France, had to open up a previously sealed attic space due to a leaky roof. To their astonishment, they discovered a painting believed to be the work of the Italian Baroque master Caravaggio, portraying the biblical scene of Judith beheading Holofernes. It's a subject Caravaggio had already depicted in an authenticated painting from 1602, and there is a belief that the artist created two versions of this scene, the second version still unaccounted for. Some experts speculate that this specific painting may have been completed by Caravaggio's contemporary, the Flemish artist Louis Finson. While the question of the true creator remains unresolved, the French government has imposed an export ban on the painting, valuing it at potentially up to $136 million.
5. A Lost Rembrandt Hanging in a Living Room
The Adoration of the Magi (Est. $83,500,000 – $238,500,000)
This piece, titled The Adoration of the Magi (ca. 1632–33), was discovered in 2016 when a Roman family sent the painting for restoration after it fell off a wall and was slightly damaged. The painting depicts a nativity scene wherein the three magi greet the infant Jesus. The family had thought the painting to be a copy, but restorer Antonella Di Francesco came to realize it may have been painted by the Dutch master himself. On June 22, the French Academy of the Villa Medici in Rome confirmed that the painting was indeed an original. The Roman family that owns the painting remains anonymous, although there are allegedly new plans to sell the work, which could be worth between $83.5 million and $238.5 million, though the family told reporters that they instead plan to lend it to museums and galleries for public viewing.
---
While not everyone can be lucky enough to find a hidden masterpiece in a dumpster or attic, over 800,000 everyday people have already gotten the chance to become collectors and investors in iconic pieces like the ones on this list. These savvy art enthusiasts didn't need millions in the bank, or a team of art experts, to get access to superstar artists like Banksy, Picasso, and Haring. Instead, they just needed an internet connection, so they could let Masterworks handle all the heavy lifting.
Founded in 2017 by private art investor and tech entrepreneur Scott Lynn, Masterworks mission states on their website is to "democratize contemporary art investing." They've been covered by CNBC, Forbes, and The Wall Street Journal, among others.
With Masterworks' platform, anyone can now invest in shares of $1-30 million masterpieces from artists, such as Banksy, Basquiat, and Warhol, for a fraction of the typical cost. The company has over 200 employees that focus on art daily, including experts from the art industry, and large investment shops (Bank of America, Goldman Sachs, Morgan Stanley, etc.).
Its team has collected transactional records on the art market dating back to the 1960s. Data including over 5 million auction records and 50 million data points, on over 60,000 artists. And in just a short span of time, it has become one of the largest buyers in the art market. So far, Masterworks has 16 "exits" (sales). All of which have produced positive returns, with investors sharing millions in profits (net of fees)*.
*[Please note: All investing activities involve risks and art is no exception. Risks associated with investing through the Masterworks platform include the following: Your ability to trade or sell your shares is uncertain. Artwork may go down in value and may be sold at a loss. Artwork is an illiquid investment. Costs and fees will reduce returns. Investing in art is subject to numerous risks, including physical damage, market risks, economic risks and fraud. Masterworks has potential conflicts of interest and its interests may not always be aligned with your interests.
Liquidation timing is uncertain. Expenses and fees are listed in our Offering Circulars. Note: Fees are 1.5% per annum (in equity), 20% profit share, and certain expenses are allocated to the investment vehicle. Investors should review the offering circular for a particular offering to learn more about fees and expenses associated with investing in offerings sponsored by Masterworks. Masterworks will receive an upfront payment, or "Expense Allocation" which is intended to be a fixed non-recurring expense allocation for (i) financing commitments, (ii) Masterworks' sourcing the Artwork of a series, (iii) all research, data analysis, condition reports, appraisal, due diligence, travel, currency conversion and legal services to acquire the Artwork of a series and (iv) the use of the Masterworks Platform and Masterworks intellectual property. No other expenses associated with the organization of the Company, any series offering or the purchase and securitization of the Artwork will be paid, directly or indirectly, by the Company, any series or investors in any series offering. For more information, see "IMPORTANT DISCLOSURES" at Masterworks.com/cd
This post was sponsored by Masterworks.com/cd
---