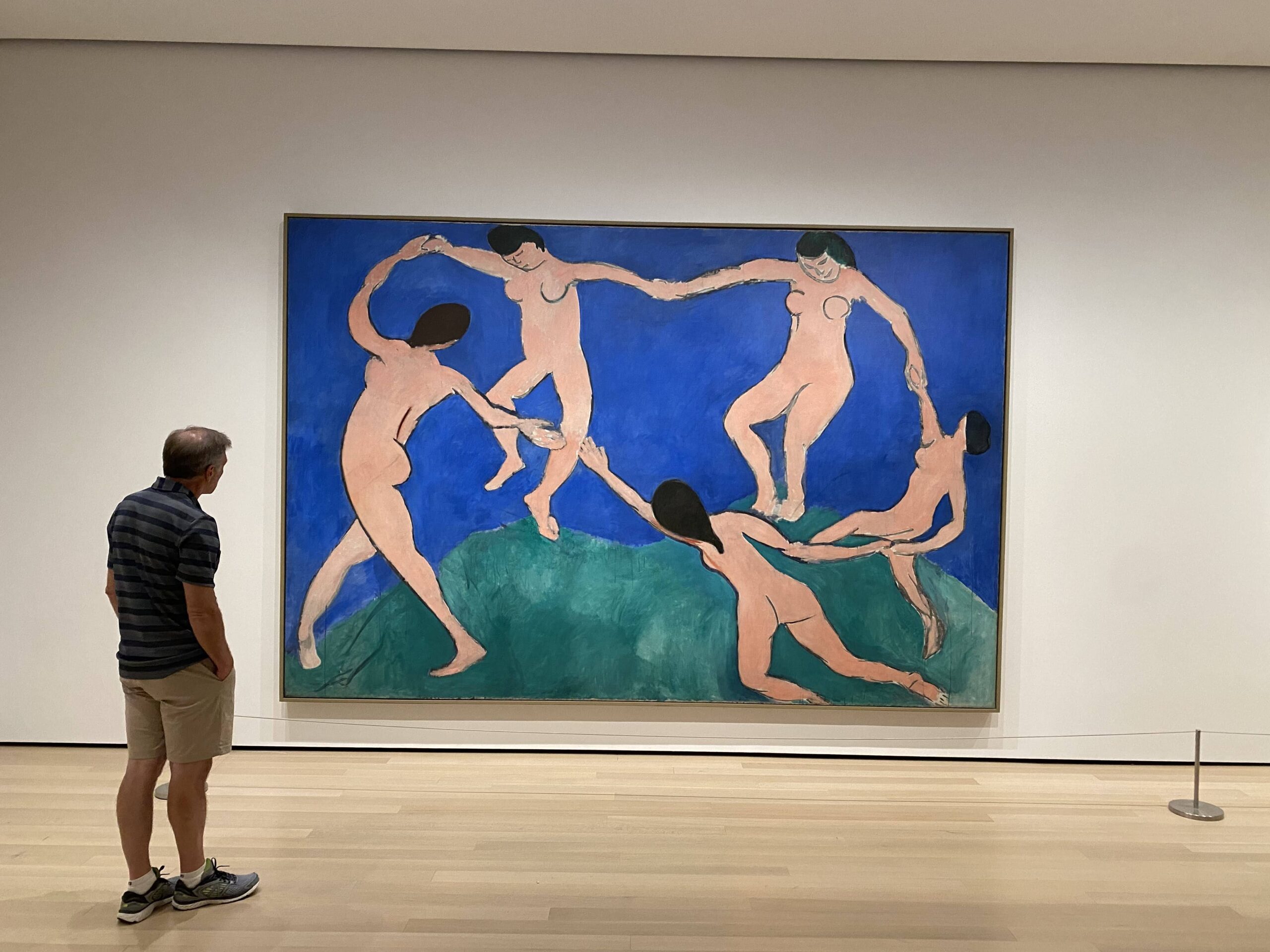 What Is Blue Chip Art?
---
You've probably heard of blue chip stocks, but what exactly is blue chip art?
Oliver Gingold, a Dow Jones employee, coined the term "blue chip" in 1923 to define a highly valued stock. This "blue chip" referred to casino chips, the blue ones being the most valuable.
Similarly, blue chip art is created by the world's most coveted artists and sells at auctions for hundreds of thousands if not millions of dollars.
For instance, Femme assise près d'une fenêtre (Marie-Thérèse) by Picasso went under the hammer for an eye-watering $103.4 million — the most expensive artwork sold at auction in 2021.
But, how do you identify blue chip art, and what are the pros and cons of investing in it? 
In this article, we'll answer all that and more, including how blue chip differs from red chip art and a simple way to add blue chip art to your portfolio with Masterworks.
What Is Blue Chip Art?
Blue chip art refers to work by artists who have solidified their position in the auction market with years of consistent, elevated sales.
Think works of art by Keith Haring, Jean Michel Basquiat, Andy Warhol, Damien Hirst and more.
These artists have years or even decades of support from institutions like museums and galleries. Their names are highly recognizable, and they are popular subjects for solo exhibitions.
And, their works typically sell for hundreds of thousands, if not millions, at auction.
These works are always in high demand among institutional investors and wealthy collectors, as their supply is extremely limited.
This is demonstrated by historically strong auction house results and consistent appreciation rates despite potentially fluctuating economic conditions.
Now that you know what blue chip art is, let's see how to go about identifying a blue chip piece.
How To Identify Blue Chip Art: Two Important Signs To Look For
Determining the differences between speculative and blue chip pieces can be tricky.
But here are two indicators you can use to begin to identify whether the work is blue chip or not.
1. The Price of the Artwork
Price is a well-known indicator of blue chip art. Their price tags would be anywhere between a few hundred thousand dollars to a few hundred million dollars.
You could pick up low-priced pieces from emerging artists at a New York art gallery or scour art fairs in the hopes of finding one that'll one day be worth six figures, but these strategies are highly risky.
Instead, you could place your bets on "investment-grade" art by a blue chip artist.
You can even invest in shares of blue-chip art through an investment platform like Masterworks.
Blue-chip art has a more lengthy performance history, giving you more information to make an investment decision.
2. The Artist
The particular artist is another common indicator of blue-chip art.
A blue-chip artist like Vincent Van Gogh, Claude Monet, Jeff Koons, or Jean-Michel Basquiat is often a household name — one that's widely recognized within the art market and beyond. They're the ones who'll likely have a long track record of performing well at auctions.
So, keep an eye on indices like the Artprice 100, which tracks the 100 top performing blue chip artists at auction over the last 5 years.
Now, you might've come across the term "red chip art" as well.
Let's see how it differs from blue chip art.
Blue Chip Vs Red Chip Art
Red chip art is a newer term in the art market. 
It refers to emerging artists who don't yet have an established following among collectors. They often lack strong primary market demand and may not be represented at a prominent art gallery.
They usually promote their work on social media and have a cult-like status with tons of engaged followers.
For instance, prominent red chip artists like Hilary Pecis, Tomokazu Matsuyama and Issy Wood have a huge social media fan following.
Some red chip artists also create digital art, which they can easily convert to NFTs.
Pros and Cons of Investing In Blue Chip Art
As with any investment, there are pros and cons to keep in mind.
Pros
Here are a few perks of adding fine art to your investment portfolio:
Fine art has never been more accessible: Works from blue chip artists have traditionally been reserved for the ultra-wealthy. 
But that's no longer the case.
Technology has helped even everyday investors take advantage of this alternative asset class. 
Masterworks, for example, is the first fintech platform offering retail investors the opportunity to invest in shares in some of the world's most sought-after art pieces.
Consistent Price Appreciation: As an asset class, blue-chip contemporary art has experienced solid appreciation over the last 26 years, returning an average of 13.8%. All Masterworks artworks have appreciated 15.3% (net of fees) from Sep 2019 to Jun 2022.*
By comparison, the S&P 500 has averaged 10.2%, while real estate averaged 8.9% over the same period. 
Means of diversification: Fine art has a low correlation with the S&P 500, estimated to be between -0.03 and 0.19. This suggests that art price appreciation can still remain comparatively stable even when equity markets are volatile.
Cons
Here are a few important downsides to be aware of:
The art market is largely unregulated: It's common knowledge that the art market is one of the least regulated sectors. 
Insider trading is also quite common in the art world.
The art market is illiquid: Part of what makes fine and contemporary art so valuable is that it's a unique, finite product. In other words, no two pieces are the same. 
This can create complications when trying to value and sell art, and you'll likely need to wait years before finding the right buyer. 
There are high barriers to entry: Aside from the massive prices involved, another significant barrier is the lack of knowledge. Investing in art requires you to familiarize yourself with artists, auction sales, price trends, and much more. 
To make a knowledgeable investment, you must immerse yourself in the art world and understand how to value art properly. 
Sounds complicated, doesn't it?
We'll help you out.
To begin with, let's look at a few smart tips to start investing in art.
4 Points to Keep in Mind When Investing In Blue Chip Art
Here are some common pointers to help get you started in the world of art investing:
Understand your tastes: While investing in art you appreciate can make it a more enjoyable experience, it's not necessary to be a successful art investor.
Diversify: Just as you'd diversify a traditional portfolio with stocks, bonds, and other investments, the same goes for investing in art. Diversify with different artists, styles, and mediums to protect against changing market trends.
Start small: Investing in art, no matter if blue-chip, always has its risks. If you purchase art, it can sell at a loss, or if you invest in shares, you may not see returns. .
So, if you're on a budget, begin small with a few thousand dollars.
You could also comb through New York art fairs or try your hand at investing in a blue chip NFT.
However, you could skip the hard work and look for smarter ways to invest in art. With Masterworks, for instance, you can invest in shares of some of the world's most iconic works of art for a fraction of their cost.
Work with experts: Working with an expert you trust will give you critical insights into the art world to help identify investment-worthy pieces. An expert can give you tips on upcoming trends and may even be able to introduce you to rising stars in the art world.
An easy way to dip your feet in art investing is by investing in fractional shares of "investment-grade" art – whether you're a retail, accredited, or large institutional investor.
Masterworks is an art investment platform that lets you invest in shares of multi-million dollar works of Picasso, Banksy, Ed Ruscha, Keith Haring, Andy Warhol, Cindy Sherman and others.
With prices starting at $20 per share, investing in your favorite artworks has never been easier.
Here's a quick overview of how the platform works:
The acquisitions team then locates the piece and purchases it.
Masterworks files an offering with the Securities and Exchange Commission (SEC) to securitize the artwork.
You can learn about artist market data and historical price appreciation to select an artwork that appeals to you.
Once you invest in shares, all you need to do is to wait. Generally, Masterworks can hold a piece for 3 – 10 years. If it's sold at a profit, you'll receive your pro rata returns minus fees (1.5% annual management fees plus 20% of the profit from the sale of the artwork.)
Alternatively, you can sell your shares on the secondary market.
Masterworks: An Accessible Way Of Investing In Art
Blue-chip art can be an exciting alternative asset to invest in for portfolio diversification and offers potentially attractive returns.
However, the high barriers to entry have kept many investors from taking advantage of this asset class.
With Masterworks, nearly anybody can invest in fractional shares in some of the world's most iconic pieces.
So, if you want to add a Damien Hirst, Kieth Haring, Van Gogh, Banksy, Cindy Sherman, Jeff Koons, or any contemporary artist to your portfolio, complete Masterworks' membership application to get started.
* Net est. returns for all realized and unrealized offerings 15.3%, from inception through 6/30/22.
See important Reg A and performance disclosures: masterworks.io/cd.
---