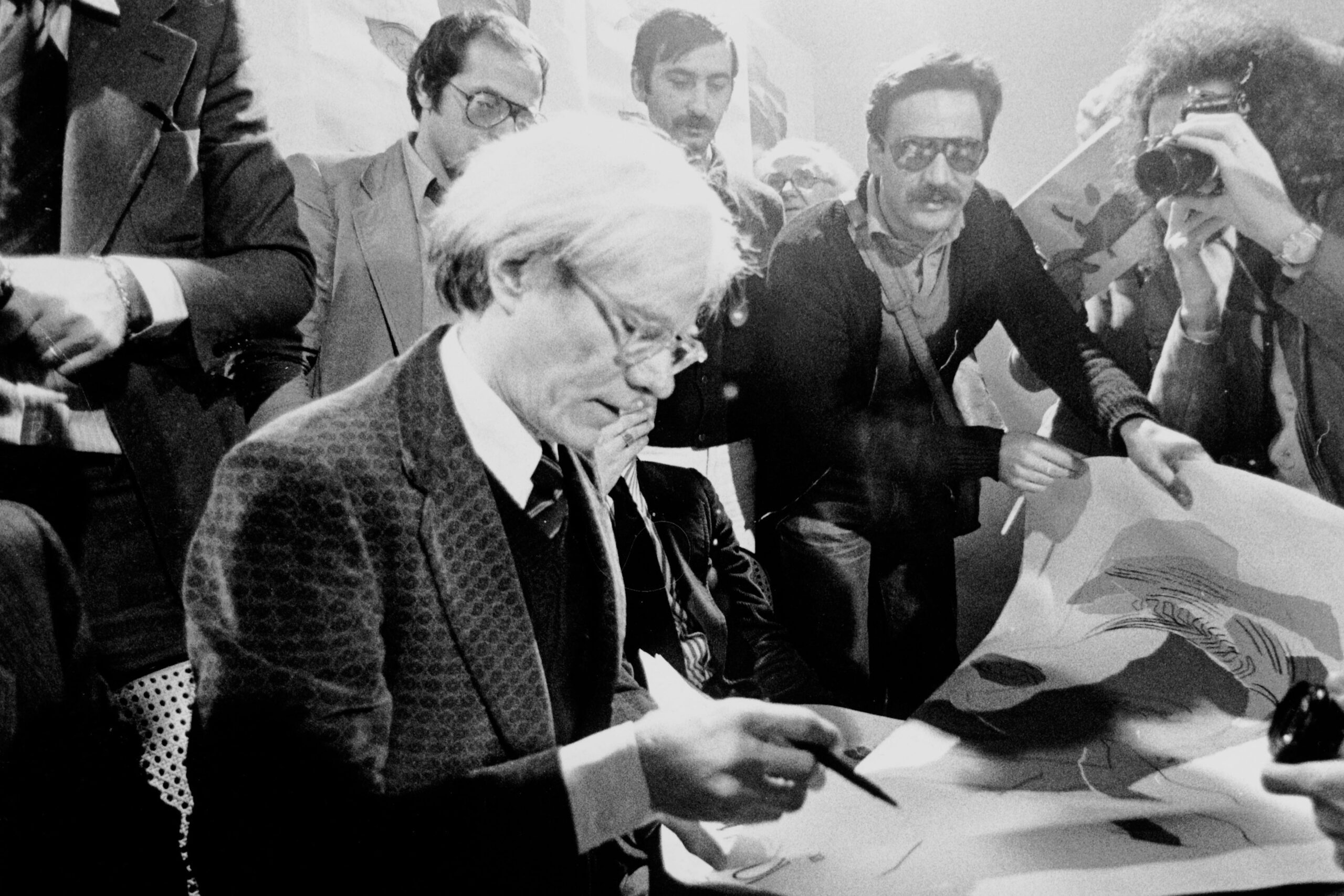 Who is Andy Warhol?
---
The King of Pop Art
Andy Warhol is one of the most successful, most recognized artists of the 20th century and beyond. He quickly rose to fame in the early 1960s with the creation of his iconic silkscreen prints, most notably the Campbell's Soup Cans collection. His work was unlike anything people had seen at the time–it blended commercialism and banality with fine art in a way that evoked humor, vapidness, and beauty all in one.
Today, you can't even get a basic copy of a Warhol print for less than several thousand dollars. His originals, however, go for millions and have broken multiple records at auction. It is estimated that many of his currently owned pieces in private collections and galleries have a significantly higher resale value, as his work continues to increase in value and remains a staple of mainstream American culture.
| | |
| --- | --- |
| Born | August 6, 1928 |
| Nationality | American |
| Died | February 22, 1987 |
| Mediums | Painting, Printmaking, Silkscreening, Performance Art, Video Installation, Filmmaking |
| Movements | Pop Art, Avant-Garde |
From Commercial Artist to Pop Art Celebrity
Born in Oakland, Pennsylvania to working-class, Slovakian immigrant parents, Andy Warhol loved drawing and photography from a young age. When he was only eight years old he was diagnosed with chorea, a neurological disorder, and spent several months in the hospital where he practiced drawing to pass time. Sadly, Warhol's father died when he was only 14, but his father saw his son's talent and passed along his life savings so Warhol could go to college and pursue an art career. Warhol later studied at the Carnegie Institute of Technology (now Carnegie Mellon) and graduated with a Bachelor of Fine Arts in 1949.
Right out of college, Warhol began working as a magazine illustrator specializing in women's wear ads. He started as a freelancer for Harper's Bazaar and eventually got hired by Glamour, Mademoiselle, Seventeen, Vogue, and more for contracted commercial work. His connection to mainstream fashion publications introduced him to renowned art directors like Alexander Liberman and thrust him into the New York City socialite scene.
In 1961, Warhol initiated the pop art movement with Campbell's Soup Cans, a collection of 32 screens printed canvases featuring different flavors of the brand's soup. The collection embodied a new type of modern art defined by industrialism, materialism, and the shallowness of American culture. By repeating banal images of the most basic items, Warhol poked fun at capitalism and the mass production of consumer goods.
Pushing the Boundaries of Modern Art, One Silkscreen At a Time
Andy Warhol quite literally changed America's taste in art. While the abstract expressionists at the time, such as Pollock and de Kooning, were creating emotive canvases of shapes and colors, Warhol flipped the art world upside down by using repetitive images of ordinary objects and infusing satire into his most famous works.
Warhol frequently used the photographic silkscreen process, a technique where a light-sensitive liquid is applied to the silkscreen, revealing a film positive (an opaque image on a transparent sheet). However, Warhol added a unique spin to this process by hand-painting backgrounds and tracing outlines of the silkscreen printed images. The result was a piece of artwork that blended photography, painting, and printmaking, which defined Warhol's unmistakable style.
As he grew in popularity among New York's elite, he started silkscreening portraits of celebrities including Marilyn Monroe, Mick Jagger, and Elizabeth Taylor. In 1964 he opened his studio, "The Factory", which became a progressive cultural hub for parties and art shows. Fashion model and actress Edie Sedgwick frequented The Factory and starred in one of Warhol's most famous films, Poor Little Rich Girl.
Early exhibitions included a solo show at the Hugo Gallery in 1952, where he showcased drawings based on Truman Capote's novels. In 1956, his work was included at the Museum of Modern Art for the very first time. It wasn't until the 1960s that he solidified his signature pop art style, and soon his work was regularly featured in major New York and international galleries.
Featured Artworks
Shot Marilyns (1964), silkscreen painting
Warhol created five paintings of Marilyn Monroe, each with different brightly colored backgrounds. In an odd incident at The Factory, a woman named Dorothy Podber asked if she could shoot the Marilyn pieces. Warhol agreed, assuming she meant photographing the artwork, but instead she took out a revolver and shot the stack of Marilyn's straight through the head. The turquoise Marilyn was left out of the stack and was not shot. The pieces are worth millions, with the orange Marilyn being sold for a rumored $200M.
Mao (1973), silkscreen painting
Mao is just one of the hundreds of images by Warhol of Mao Zedong, former Chairman of the Chinese Communist Party. Warhol began painting these portraits in 1972 after President Nixon made his first visit to China. His 1973 portrait is a massive 15 feet tall and the most famous Mao piece by Warhol.
Eight Elvises (1963), silkscreen painting
Another massive piece of artwork, Eight Elvises is a 12-foot painting featuring eight identical images of Elvis Presley in cowboy attire drawing a gun. The monochrome piece sold for $100M in 2008, one of the most expensive paintings ever sold by an artist.
Top Collections and Exhibitions
The Warhol's Collection
Ongoing exhibition
The Andy Warhol Museum in Pittsburgh, PA features rotating exhibitions of Warhol's work from the largest collection of his art and archives in the world. The museum has five floors, which include a permanent film and video gallery, and multiple floors dedicated to themed exhibitions of his work from the 1940s through his death in 1987.
Andy Warhol: From A to B And Back Again
Nov 12, 2018 – Mar 31, 2019
This retrospective exhibition at the Whitney Museum of American Art 
depicted a comprehensive narrative of Andy Warhol's life, from his commercial shoe illustrations to his silver screens to his time capsules and personal archives. The exhibition takes a look at Warhol's carefully curated persona, one that mingled with celebrities in the spotlight and puzzled journalists in the media.
Andy Warhol: Campbell's Soup Cans and Other Works, 1953-1967
Apr 25 – Oct 18, 2015
The MoMA has featured over 139 exhibitions of Warhol's work since the 1960s. Warhol's Campbell's Soup Cans are part of the MoMA's permanent collection, and this particular exhibition showcased the 32 canvases in a continuous line, rather than a grid. The exhibition presented Warhol's pop-art beginnings and included early drawings and paintings that set the tone for his burgeoning career.
---