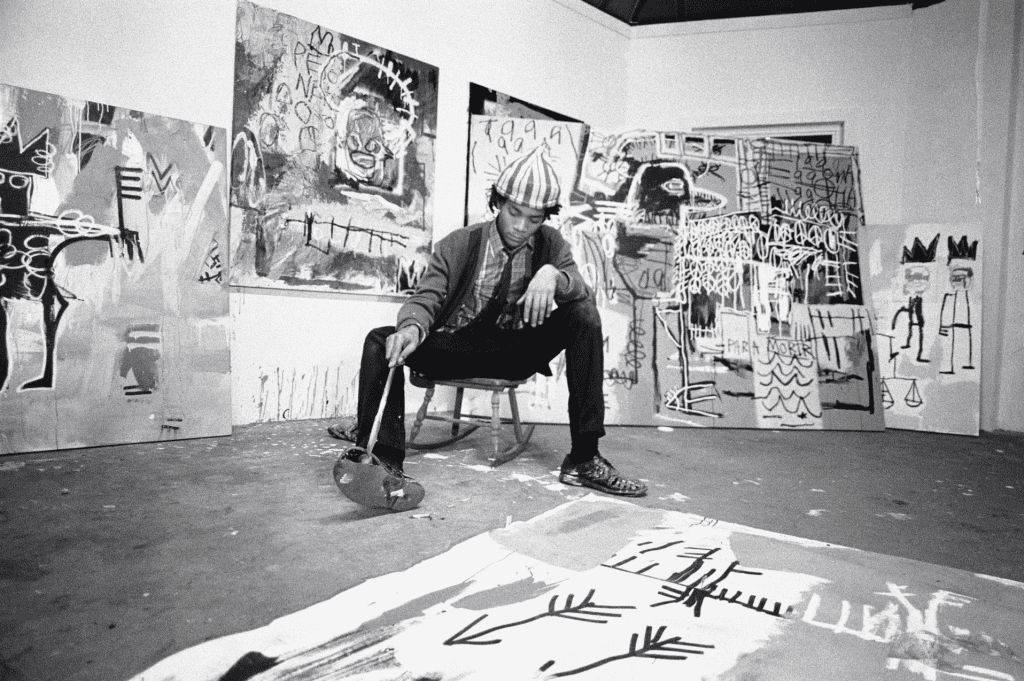 Black History Month Artist Spotlight: Jean-Michel Basquiat
---
---
Who is Jean-Michel Basquiat?
Jean-Michel Basquiat was an American artist most well known for his childlike iconography and idiosyncratic graphic mark addressing race, culture, and heritage issues. Basquiat's career spanning just the length of a decade was arguably one of the most influential periods of contemporary art history to date. Basquiat's work is a highly sought-after product, dawning the collections of major museums, private collections, and auction houses like Christie's and Sotheby's. His work transcends time and the very concept of 'fine art' by bringing aspects of graffiti and street art to the blue-chip stage. This solidifies him as one of today's most successful artists and most successful African American artists ever.
Where did Basquiat's love of art come from?
Born to a Haitian father and Puerto Rican mother. Basquiat spent most of his childhood in the New York City borough of Brooklyn. It is often cited that his mother played an integral role in a young Jean-Michel's introduction to the art world by nurturing his curiosity in drawing and the arts. She did this by taking him to the Brooklyn Museum, MOMA, and the Met regularly and enrolling him in more progressive schools to fuel his artistic desire. In a 1986 interview with Steven Hager, Basquiat stated "I'd say my mother gave me all the primary things. The art came from her".
The Rise of Basquiat
In the late 1970s is where the Basquiat we know best began to hone his skills. With the creative invitation by fellow street artist Al Diaz, Jean-Michel began his tagging through much of the lower east side of Manhattan under the pseudonym SAMO. In this period Basquiat became heavily influenced and interested in the Avant-Garde art scene of New York. Through this community, he became very close to future mentor and collaborator Andy Warhol, along with gallerists, artists, and collectors.
Thus began the artist's most influential years that produced masterpieces such as Untitled (1982) and In This Case (1983).  His success had continued to progress with every scribble of his oil stick. By the mid-1980s Basquiat's art had solidified its importance in the 20th-century art history textbooks. Conceptually it was appealing along with the heavy significance of the symbolism and what it meant to the artist and community alike.
Basquiat Today…
At the young age of 27, Basquiat passed away from a heroin overdose. Despite death Basquiat's art has continued to increase in value, examples include the recent sale of The Guilt of Gold Teeth ($40 million), from Christie's November 2021 auction; and the 2017 sale of Untitled (1982) for $110 million. Though his time on Earth was cut short, his impact remains timeless.
---
Basquiat x Masterworks
Basquiat has been a favorite to collectors since the beginning of his career and with the results at auction and attention garnered from the museum and institutional support, who wouldn't want to partake in his market? Learn more about Basquiat with Masterworks.io.
---
See important disclosures at masterworks.io/disclaimer
---