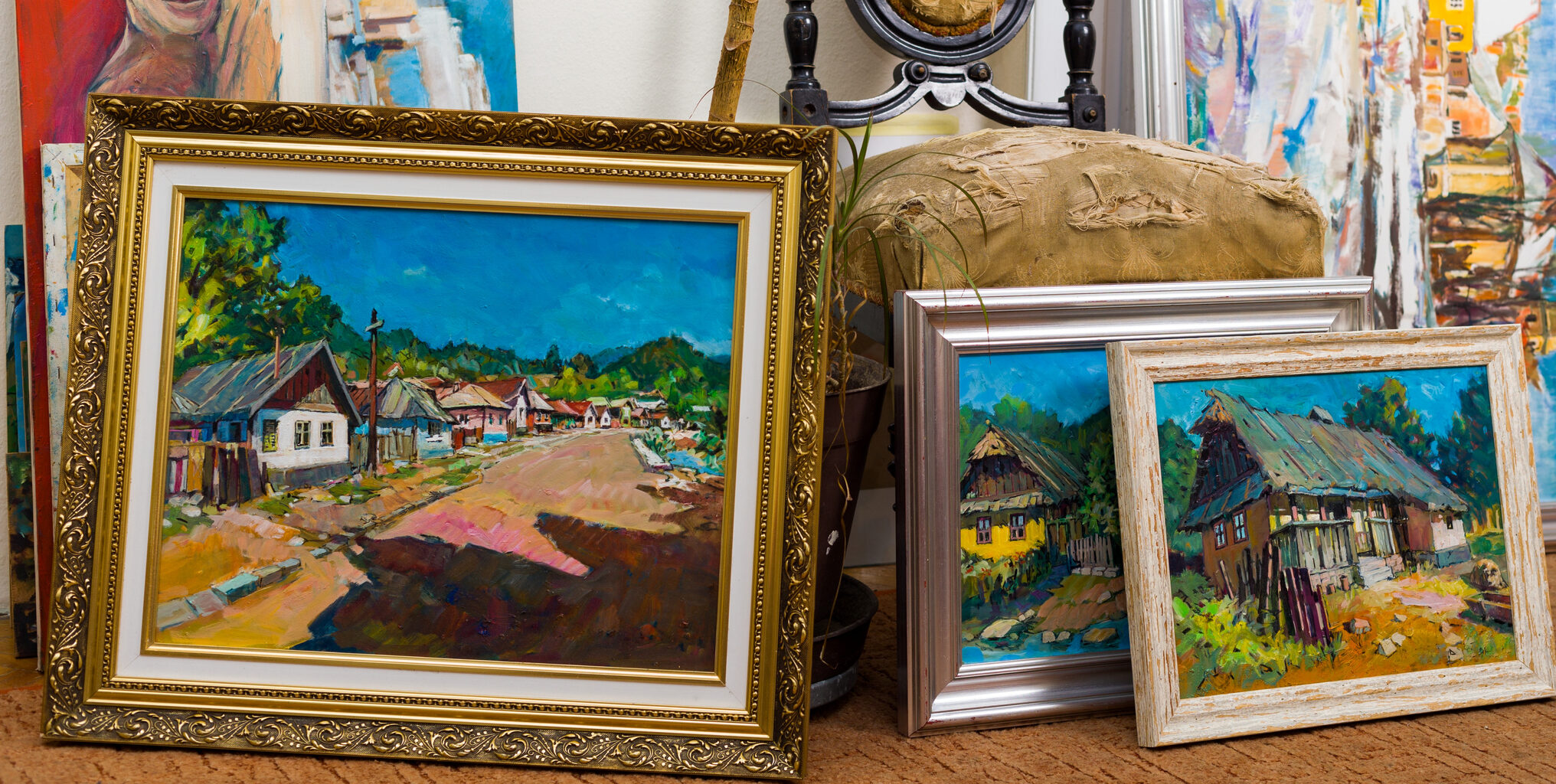 How To Start An Art Collection (7 Useful Tips, 3 Potentially Costly Mistakes) 
---
If you're wondering how to start an art collection but find the process daunting, you're not alone.
Should you buy from an online gallery or an auction?
Should you invest in established blue-chip artists or upcoming ones?
Can you start with $10,000, or do you need millions to start a collection?
We'll help you get started with why you should collect art, tips to help you hit the ground running, and 3 mistakes to avoid. 
We'll also share a simpler way of investing in art — investing in fractionalized shares of modern masterpieces.
Why Start an Art Collection?
You may want to become an art collector for various reasons:
To own a piece of art history by buying works that reflect your culture and heritage or buying from an artist with a similar background
To support an emerging artist
To own a piece of historic and monetary value to pass down to your children
Consider this: The robust nature of the art market was on full display during the 2008 financial crisis. Auction sales suffered in 2009 but, by 2011, had returned to their pre-crisis levels of $30 billion annually. By comparison, the S&P didn't reach its pre-crisis levels until 2013.                                                                            
During times of high inflation, contemporary art prices have appreciated at a rate of 33%, according to the Masterworks All Art Index.
Let's look at some tips that could prove helpful when you're getting started.
7 Effective Tips To Help You Kickstart an Art Collection
If you're wondering how to start an art collection, you should keep these pointers in mind:
1. Decide how much you want to spend
Setting a budget will help you decide what type of art to buy and how many items to buy. Chances are you won't be able to walk into a gallery and leave with an original Damien Hirst. Instead, smaller pieces may be more practical if you're an emerging art collector.
Original art by blue-chip artists who hold a strong position in the auction market is more likely to appreciate. For example, Robert Rauschenberg's Buffalo II (1964), which sold for $16,900 in 1964, was auctioned off for a staggering $88.8 million in May 2019.
Mid-career artists may produce more affordable art. A mid-career artist would be someone who's received regional or national recognition and has a well-defined style. Think artists such as Janaina Tschäpe, Kader Attia and Liu Xiaodong.
You should also be aware of the fees and commissions while buying art.
Buying directly from the artist is a good way to avoid the additional fees from an art gallery or auction house. For example, auction houses often charge what's known as a buyer's premium, which is a percentage of the hammer price (or the winning bid). Christie's and Sotheby's introduced the buyer's premium in 1975, originally charging 10%.
Today, those premiums can be as high as 30%. A smaller auction house will often charge between 1% and 15%.
2. Set goals and make a master plan
Defining why you want to become an art collector and what you want to achieve will determine the type of collection you build. You may prefer abstract art or figurative African art, for example.
You also need to consider:
How much art you'd like to collect
How to install your new art
Storage and preservation
Insuring your art
3. Do your research & build relationships in the art market
As an emerging art collector, it's worth studying the various artists, mediums used, and styles prevalent in the art world. It might be worthwhile to study art history as well. Spend some time exploring African art, contemporary art, sculptures, fine art, photography, wall art, oil painting and others.
Visit galleries and follow artists on social media. Study auction catalogs and art collecting books. The more you know about the art market, the better-informed your decisions will be.
Interact with dealers, collectors, and curators. Spend time with a gallery owner to pick up insider tips and insights on a promising new artist or two. Support a local artist or up-and-coming artists from around the world.
4. Consider hiring an art advisor
Hiring an art advisor can make the process of acquiring art significantly easier. You give them your budget, the type of work you're looking for, and other details, and they'll handle the rest.
Additionally, an art advisor would track market trends and can introduce you to valuable connections.
5. Explore various avenues to buy artwork from
These are some popular ways of sourcing art for a new collector:
Online gallery: An online art gallery is a great entry point. They allow you to immerse yourself in the art while exploring the various pieces on display in your own time. You can easily compare artists, styles, and prices.
Art fairs: Art fairs like the Armory Art Fair in New York City, Frieze Los Angeles in California, and the Palm Beach International Fine Art Fair in Florida are good examples. Art Basel also hosts fairs supporting galleries and artists. Going to art galleries and exhibition openings are also excellent ways to find affordable art. Use this chance to connect with an emerging artist or two, other collectors and dealers.
Graduate shows: As a new collector, get to know recent art graduates, especially ones from prominent art schools such as Yale or Cal Arts. Give a young artist a few years, and they might be represented by a prominent gallery, skyrocketing the value of their work.
The Master of Fine Arts Thesis Exhibition (University of Arizona) and the Otis College of Art and Design's Annual Exhibition are popular ones to go to.
Affordable fairs: An affordable art fair that showcases emerging artists would be an ideal place to find great art. For example, the Affordable Art Fair hosts events in 10 cities worldwide, from Sydney to New York.
Social media: Many contemporary artists showcase their works on social media. In fact, according to the Hiscox online art trade report 2019, 65% of art buyers chose Instagram as their preferred way of following artists and trends and buying art. Besides following artists to buy from, you can also follow major auction houses like Sotheby's and Christie's.
Auctions: Scour the auction house's website to see what's on auction and read up on any artist you're unfamiliar with. To avoid overbidding during an auction, research the prices for similar pieces.
Visit auction previews to see the prices and what will be up for sale. Clarify your questions with the staff as well.
Now, all the above options require a lot of preparation and groundwork.
Besides, you have to consider shipping, storage, insurance, and upkeep of the artwork, which can quickly become expensive.
If you'd like to minimize the effort, we have a smarter alternative for you:
Invest in shares of art via Masterworks.
Masterworks is the largest platform allowing everyday investors to invest in fractional shares of iconic masterpieces. You won't have to worry about the nitty-gritty of collecting physical pieces of art.
6. Decide what type of art to buy
Great art extends across mediums and styles. Here are the options you can explore:
A limited edition print or photograph: Besides looking for original paintings by an established artist, consider a limited edition print or a photograph.
Also, look for works that use varied techniques like sketching or etching. Sketches by the legendary fashion designer Karl Lagerfield recently sold at a Paris auction for €350,406 ($339,520).
Paintings: Beyond exploring the famous names, you could buy original and smaller pieces from a new artist. Study their CV and press mentions, visit their solo shows, and follow them on social media.
Sculptures: Explore sculptures and other design objects as well. Start with smaller pieces, which may be affordable and easier to store and transport. Bob Dornberg's Fusel, for example, is a small sculpture valued at around $10,500.
Be sure to check for restoration work, especially on areas that could easily be damaged or replaced. Repairs may lower the value of the item.
Illuminated art: Illuminated art could be anything from neon light art to an illuminated manuscript or sculpture.
Two limited edition fluorescent works by Dan Flavin were auctioned for $445,000 and $1,553,000 in a 2018 Sotheby's auction in New York.
Other prominent light artists include Ellsworth Kelly, Mona Hatoum, and Adela Andea.
Handhelds and wearables: Wearable art refers to individual pieces, usually designed as clothing or jewelry. While it may be wearable, it isn't intended as an everyday item of clothing.
For instance, the "lips" that appeared in artist Man Ray's famous print A l'heure de l'observatoire, les amoreux (1932–34) was featured in his Les Amoureux necklace.
Mixed media: Mixed media describes artworks made from a combination of media or materials, like cloth, wood, paper, and more. It can be a sculpture, assemblage, book, or painting. Pablo Picasso's paper and ink collage Bottle of Vieux Marc, Glass, Guitar and Newspaper is a well-known example.
NFTs: NFT Art is a digital art piece that's issued as a crypto token. You can access and trade it on the blockchain. A fine example is the Bored Ape Yacht Club series, a bundle of 101 NFTs sold at a 2021 Sotheby's auction for $24.4 million.
7. Take care of your growing collection
Once you've made your first purchase, you need to store it impeccably to ensure it retains its value.
For instance, it's crucial to have a painting framed properly. Some may need UV-protective glass and proper mounting using acid-free paper. They should be placed so that the piece is out of direct sunlight.
Check with the artist or the seller for tips on how to store the piece. If it's an older work, approach a conservator specializing in that medium.
If you've bought an NFT, your best bet would be to buy a cold storage wallet (one that isn't connected to the internet).
Next, let's look at some common pitfalls people make when starting off as novice collectors.
3 Costly Mistakes To Avoid When You Start An Art Collection
Here's what can set you back when buying art:
1. Misplacing the certificate of authenticity
You'll receive a certificate of authenticity when you purchase an art piece. Keep it safe.
This is proof that it's an authentic, original artwork. You'll also need it if you ever have to claim insurance. Besides, selling or donating the work later will be difficult without this certificate.
2. Going for quantity over quality
Art collecting is a long-term endeavor. So, take your time between purchases. Avoid impulse buys that you may regret later.
It's also a better idea to buy works that are in good condition. Getting a piece of art restored can become costly.
3. Buying fakes
Fakes and forgeries are very common in the art world. So before you make a purchase, double-check the quality and provenance of the piece, especially if it's from an Old Master.
If you want a simpler way to invest in original art, simply invest in shares of art from a reputable platform like Masterworks. The team makes every effort to ensure the authenticity of each piece, so you know you're investing in authentic works.
Through Masterworks, you can easily invest in contemporary art valued at a few hundred thousand to tens of millions of dollars created by some of the world's most celebrated artists.
How it works
Here's a quick rundown of the process:
The acquisition team then purchases the piece.
Masterworks files an offering with the Securities and Exchange Commission (SEC) to securitize the art. This allows anyone to invest in shares of the art. You can then learn more about the artist's market data and historical price appreciation to help pick an original artwork that appeals to you.
Once you've invested, all that's left to do is wait. Masterworks will generally hold a piece for 3 – 10 years. You receive a pro-rata share if the piece is sold at a profit.
Alternatively, you can buy and sell your shares on the secondary market.
To get started, submit your membership application and set up a time for a quick call with a representative.
See important Reg A disclosures: Masterworks.com/cd
This article is sponsored by Masterworks. This material is provided for informational and educational purposes only. It is not intended to be investment advice and should not be relied on to form the basis of an investment decision.
---
---