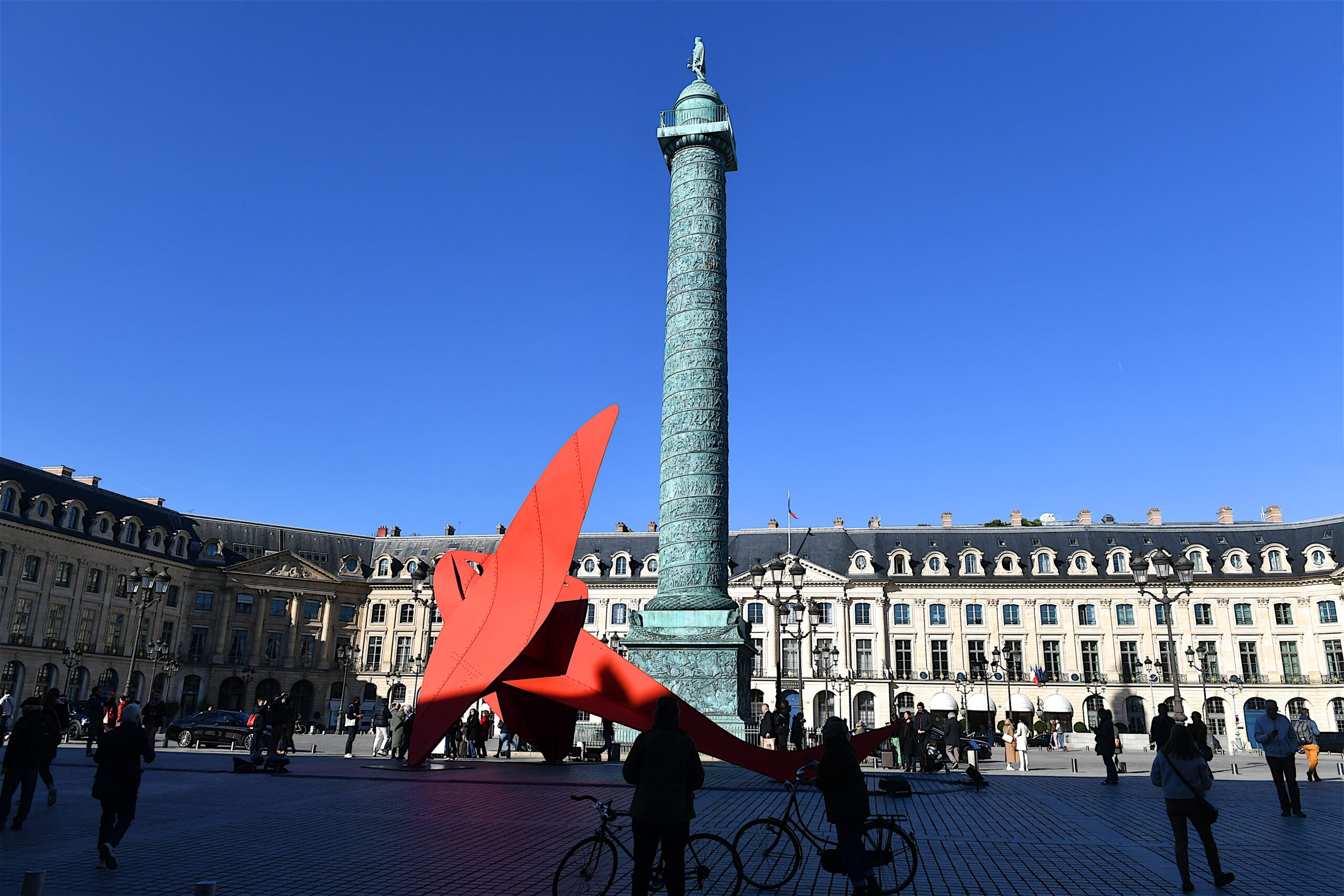 Who is Alexander Calder, Kinetic Artist?
---
"The underlying sense of form in my work has been the system of the universe, or part thereof. For that is a rather large model to work from." – Alexander Calder
"Flamingo", (1974) stabile on display in Chicago.
About the Artist
Alexander Calder was a prominent kinetic artist famous for his large, innovative sculptures. He used many different mediums such as illustration, painting, etchings, and performance art.
Calder invented the first forms of wire sculpture and branched out into large industrial sculpture, eventually being one of the first artists to be a part of the Public Art Fund. This is a non-profit organization that brings prominent art pieces around New York City.
His public large scale pieces have been shown all around the world from the USA to Europe, to Australia and Asia.
What is Kinetic Art?
Kinetic art is related to motion art, and Calder is often what most think of when referring to the category. He described this style as a way to "lift the figures and scenery off the page and prove undeniably that art is not rigid."
These works of art are typically three dimensional pieces, which are either naturally moved with wind or powered by a source known as "apparent movement."Some kinetic art includes "virtual art,"where movement is only visible from certain angles.
Mobiles
Mobiles are hanging skeletal sculptures that twist and turn with either the wind or an electric source. They appear to float in space and move on their own. These days, parents often hang mobiles over their child's cribs.
When Marcel Duchamp first saw Alexander Calder's suspended sculptures that moved with the flow of air, he dubbed them "mobiles."
Calder's Life
Childhood
Calder was born in 1898 to and was a third generation to a family of artists. His grandfather, mother, and father were all sculptors and painters. Because of his home environment, he was always encouraged and eager to create.
The Calders traveled all around the country as his father was getting public commissions. Everywhere they lived, Alexander always had his own workshop. He was extremely innovative with the materials he used —mostly found objects —and was always creating.
For Christmas in 1909 he made his first two sculptures as gifts for his family. These pieces were cut from brass sheets that he bent and molded into a duck and a small dog. He also made his first wire creations, fashioned for his sister's dolls.
Despite his artistic talents, Alexander graduated college with an engineering degree in 1919. After graduating, he bounced around numerous different jobs that included being a logging time keeper, an automotive and hydraulics engineer, and a fireman in a ship's boiler room.
Calder knew he was destined to be an artist while on the ship's journey from New York to San Francisco. He woke up on the deck and saw both a full moon on one end of the horizon and a vivid sunrise on the other. Calder was so inspired by the powerful experience that he referenced it for the rest of his life.
He moved to New York City in 1923 to enroll in the prestigious Art Students League. Along with Calder, other famous alums include Jackson Pollock, Georgia O'Keefe, and Roy Lichtenstein.
While a student, he worked as an illustrator in several places including Ringling Bros. and Barnum and Bailey Circus; the theme of the circus became a lifelong inspiration for his future bodies of work.
Early Career
In 1926, he moved to Paris. There, he developed his first major project, Cirque Calder, designed to be manipulated manually by the artist. This was a traveling performance sculpture show with materials including leather, cloth, wire, and other found objects —- all small enough to neatly be packed into a trunk. The performances lasted around two hours and the show traveled from Paris to New York. Cirque Calder predated the performance art movement by 40+ years.
Calder began manipulating portraits of family, friends, and strangers out of wire. He earned his first solo show in 1928 at Weyhe Gallery in New York City.
He went back to his engineering roots by creating his first "mobiles".These were inspired by cinematography and aviation, and well versed in the philosophy and science known as Futurism. The Russian avant-garde art movement Constructivism, which used geometric shapes and industrial material, was also an influence for the artist.
"Horizontal" (1974) stabile on display at Centre Pompidou in Paris in 2017.
Calder began experimenting with large-scale sculpture in the early 1930's. In 1937, he created his first major piece, Devil Fish, made from sheet metal. This, along with his other piece Big Bird, were shown at Pierre Matisse's gallery in the exhibition Calder: Stabiles and Mobiles.
The popularity of this show led to several commissions, including one from the Museum of Modern Art for the piece entitled Lobster Trap and Fish Tail.
Late Career
Calder took on an unusual project in 1972 — a commission from Dallas-based Braniff International Airways to paint a full-size Douglas DC-8-62 jet as a "flying canvas,", entitled Flying Colors. In 1974, Braniff asked Calder to design a flagship for their fleet celebrating the U.S. Bicentennial; a Boeing 727-291 jet N408BN called the Flying Colors of the United States and nicknamed the 'Sneaky Snake' by its pilots.
After the aircraft was unveiled at the 1975 Paris Air Show, Brainiff was so impressed he commissioned two more Boeing 727's. Calder completed The Flying Colors of the United States featuring an abstract American Flag in celebration of America's 200th birthday. In 1975, Calder was commissioned to paint a BMW 3.0 CSL automobile, which would be the first vehicle in the BMW Art Car Project.
Beginning in 1966, winners of the National Magazine Awards received a small copper stabile in the form of an elephant (dubbed an "Ellie") designed by Calder.
Posthumously, he was awarded the Presidential Medal of Freedom by Gerald Ford, which his family boycotted in opposition to the Vietnam War.
"Triangles and Arches" (1965) sculpture on display at The Empire State Plaza in Albany, NY.
Influences & Connections
Joan Miró
Alexander Calder and Joan Miró embarked on a personal, intellectual, and creative friendship that shaped them as artists.
The two clearly had similar artistic principles in their usage of abstract forms and pure colors, leading to many group shows together. The New York Times in 1927 even dubbed Calder's pieces as "living Miró abstractions."
Piet Mondrian
Visiting Piet Mondrian's studio in 1930, Calder was astonished and shocked by the large wall of colored rectangles Mondrian constantly rearranged —; so much so that for two weeks following Calder painted solely abstraction works. However, this helped him quickly realize he much preferred sculpture to painting.
Marcel Duchamp
As America entered into World War II, Alexander Calder applied to join the Marine Corps but was ultimately rejected. He began working more with wood as a medium at the same time. Duchamp referred to these as "constellations" as the wire and wood created an illusion of the stars. These pieces resulted in his last solo show at the Pierre Matisse Gallery in 1943.
Exhibitions
Permanent Locations
Calder Hillside: Storm King Art Center in upstate New York has three massive stabiles.
Calder Tower: The National Gallery of Art in Washington D.C. has one of the largest
Permanent displays of his works.
Calder Gallery: In 2000, Calder's friend Giovanni Carandente opened Galleria Civica
d'Arte Moderna Palazzo Collicola in Spoleto, Italy and donated a large
portion of his own collection. This included the city's monumental stabile
Teodelapio.
Calder Sidewalk: In 1970, Calder's agent Mr. Perl was commissioned by three investors
to ask him to design a sidewalk on Madison Avenue in New York City.
Calder at MoMa: As seen below, Calder's stabile Sandy's Butterfly (1964) is on permanent display in the Museum of Modern Art's sculpture garden in New York City.
Calder at MoMa: As seen below, Calder's stabile Sandy's Butterfly(1964) in the Museum of Modern Art's sculpture garden
Notable Installations
.125 was a large scale mobile hung on a terminal ceiling at John F. Kennedy Airport in New York which was commissioned by the New York Port Authority in 1957.
Spirale was a stabile for UNESCO in Paris in 1958.
El Sol Rojo, was installed outside the Aztec Stadium for the Olympic Games in Mexico City in 1968.
Public Art Fund
Alexander Calder in New York was his first ever multi-work exhibition of the artist's sculptures in New York City's public spaces from 2006-2007. He installed 6 stabiles around City Hall: his Untitled, 1976 mobile was suspended from the ceiling inside. Jerusalem Stabile (1:3 Intermediate Marquette), 1976, Le Chien en Trios Coleurs (Three Colored Dog), 1973, The Cock's Comb, 1960, The Arches, 1959, and Seven Legged Beast, 1957 were installed in the surrounding park.
Legacy
The astonishing work of Calder is living on with his family, who in 1987 established the Calder Foundation in New York City. The foundation is "dedicated to collecting, exhibiting, preserving, and interpreting the art and archives of Alexander Calder and is charged with an unmatched collection of his works."
Calder created over 2,000 pieces of jewelry he had experimented with during his extensive career, which were often gifts for friends, inspired by his fascination with African art. These pieces were made mostly of brass and steel, with bits of ceramic, wood, and glass.
For major collector Peggy Guggenheim, Calder fashioned huge silver mobile earrings and later was commissioned to make a hammered silver headboard adorned with dangling fish. Joan Miró received a brass ring with a vessel containing a broken shard of ceramic. Other prominent names who received Calder's jewelry were Georgia O'Keeffe, Marcel Duchamp's wife Teeny Duchamp, wife of the famous filmmaker Luis Buñuel Jeanne Rucar, and Bella Rosenfeld, wife of Marc Chagall.
Just a few weeks before he died in 1976, he visited yet another of his retrospectives, Calder's Universe, at The Whitney Museum of Art in New York City.
---