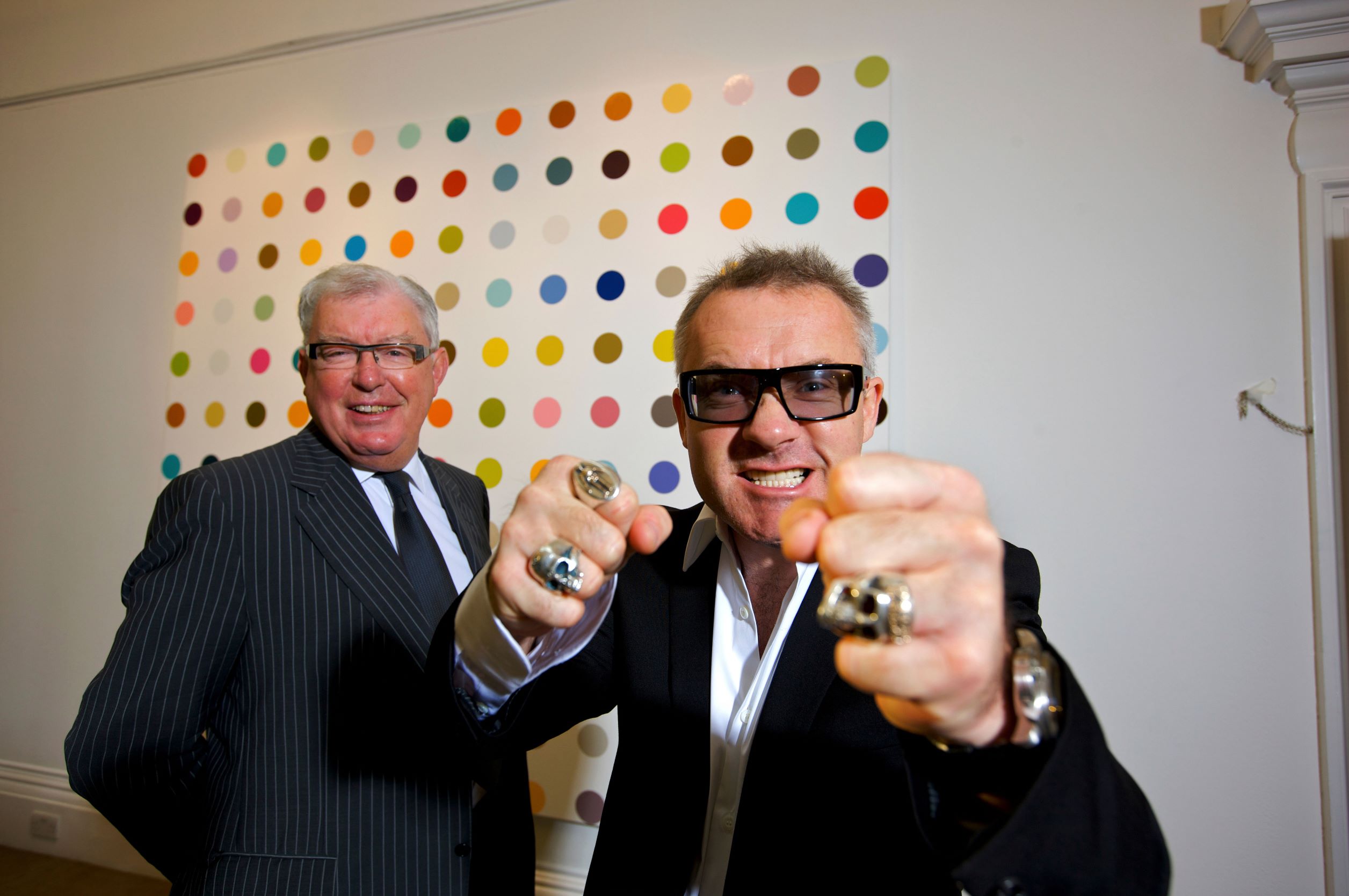 Who is Damien Hirst?
---
Damien Hirst, who made his debut on the international art scene in the late 1980s, has created sculptures, paintings, and drawings that explore the complex relationships between beauty and religion, art and beauty, science and art, and life and death. His work explores the uncertainty that lies at the core of the human experience, from serialized paintings of multicolored spots to preserved animal specimens in formaldehyde tanks, and challenges our current belief systems.
Hirst staged "Beautiful Inside my Head Forever," an auction he controversially sold directly to the public. That showing brought in $200 million and his works have sold for up to $10 million at other auctions.
| | |
| --- | --- |
| Born | 1965 |
| Nationality | British |
| Mediums | Inks |
| Movements | Young British Artists, Minimalism, Conceptualism |
About Damien Hirst
English artist and entrepreneur Damien Steven Hirst was born on June 7th, 1965. He is one of the Young British Artists (YBAs), who ruled the UK's art scene during the 1990s. His career was closely tied to Charles Saatchi in the 1990s, but tensions grew and they split up in 2003.
Hirst is best known for his series of paintings in which dead animals, including a shark, sheep, and cow, are preserved in formaldehyde. The Physical Impossibility of Death in the Mind of Someone Living, a 14-foot tiger shark appearing to swim in a clear display case filled with his most well-known. His assistants have also created "spin paintings", which are circularly spinning paintings, and "spot painting", which is a row of randomly colored circles.
Hirst sold Beautiful Inside My Head Forever at Sotheby's via auction in September 2008. He broke the record for an auction with only one artist, raising PS111 million ($198 million). Hirst also broke his record of PS10,300.000 for The Golden Calf, with its 18-carat-gold horns and hooves preserved in formaldehyde.
According to the 2020 Saturday Times Rich list, Hirst's wealth is estimated at $384million.
Major Works Analysis
The top ten most popular works for Hirst in the last ten years are those under $10,000. The second-largest category is $10,000-50,000. This suggests that there is a stronger market than ever for his editions and that they are more durable than his original paintings.
An original Damien Hirst painting can fetch anywhere from tens to thousands of dollars up to tens of millions of dollars. These prices reflect the high demand for Hirst's work. He is one of the UK's most important living artists. The highest price paid for a Damien Hirst piece of art is $19,213,270 for the Lullaby Spring(2002), sold June 21st, 2007. Hirst sold many paintings within this price range, including The Golden Calf (2008, $18,556,270) and The Kingdom (2008, $17,150,000.010).
The Golden Calf
Hirst's record for a single piece is The Golden Calf, which in 2008 sold for £10.3 million.
The Golden Calf is Hirst's auction record for a single item. It was in 2008 for PS10.3million. Hirst's Spot, a series of paintings with neatly colored dots, was exhibited in 11 Gagosian galleries across 8 cities on 3 continents. His decade-in-the-making work Treasures From the Wreck of the Unbelievable is a collection of nearly 200 "found" items from a fictional shipwreck. It was presented at the 2017 Venice Biennale at the Palazzo Grassi and Punta della Dogana museums.
Beyond Belief
Beyond Belief opened in London's White Cube gallery on June 7, 2007. Featuring Hirst's latest work, the central piece, a Memento mori titled "For the Love of God", was a human skull reconstructed in platinum. The skull was adorned with 8,601 diamonds, totaling 1,106.18 Carats. The teeth are the only part of the original 18th-century skull that was used as the basis. For The Love of God sold for PS50,000,000 or 75 million Euros.
Lullaby Spring
Part of the cabinet series, Lullaby Spring displays Spring with precision-placed hand-crafted pills. Brightly colored tablets signify new beginnings, such as the spring and the celebration of a new life. According to Daily Art Magazine, the artwork was sold by Sotheby's in 2007 for $19.3 Million.
The Void
Each handcrafted sculpture reflects a particular state of mind. It also demonstrates how we, as individuals, can control our feelings and bodies. The artist's hand is evident in the first work in the series. Damien Hirst considers The Void a foundation of his career. Glass, stainless steel and steel, aluminum and nickel, as well as cast resin, colored plaster, and painted pills make up the work, which sold at auction for $5,250,000.
Top Collections and Exhibitions
Taglialatella Galleries:
Damien Hirst Editions
Feb 24-Mar 21, 2022
---
The Taglialatella Galleries is showing its first solo exhibition devoted exclusively to prints and multiples by Damien Hirst. The exhibit will highlight the iconic motifs and imagery that Hirst has used throughout his artistic career.
Damien Hirst Emergency Paintings, Danger Paintings, Hazard Pictures and Seizures
Oct 5, 2021–Oct 5, 2022
---
This is the third phase of Damien Hirst's one-year-long takeover at the Britannia Street Gallery. The exhibition includes paintings, photographs, sculptures, and sculptures.
The National Art Center Tokyo: Cherry Blossoms
Mar 2nd – May 23th, 2022
---
The National Art Center, Tokyo marks the Hirst's first major solo show in Japan. His exhibited work will be a series of large-scale, colorful paintings depicting cherry blossoms.
---