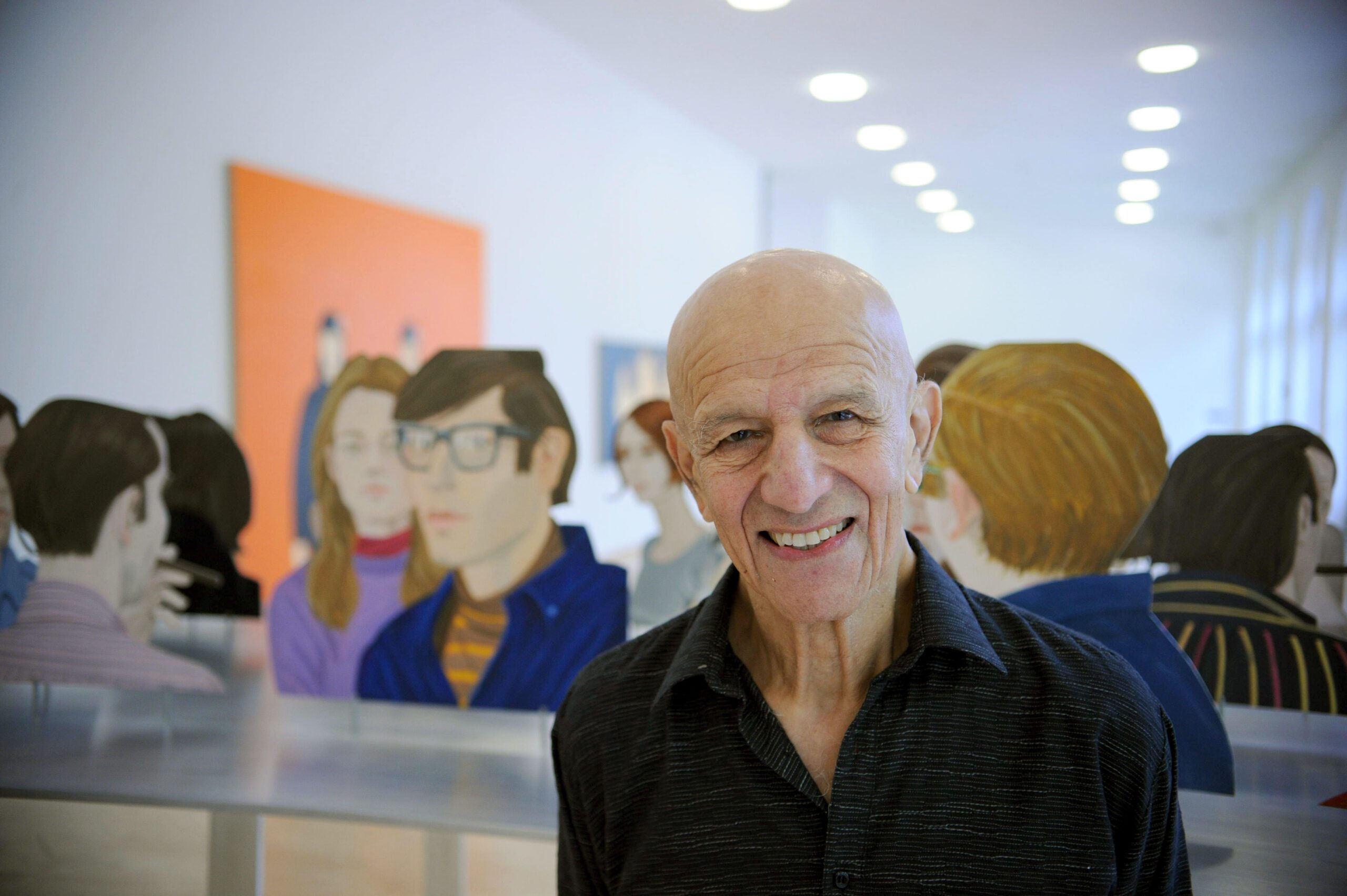 Who is Alex Katz?
---
Alex Katz is a contemporary painter who uses his surroundings as a way to tap into his consciousness to create flat paintings, cut-outs and prints. Katz's style stems from the influences of his early studies in modern art theories and his pivotal interest in plein air techniques.
Despite breaking out into the art scene in the 1960s, Katz is often underappreciated and has only recently experienced extreme success in the sales of his work.
Katz's work has been showcased in some of the most renowned art institutions all over the world, including in Germany, Spain, France, England and the US. His work has been showcased in over 250 solo exhibitions and more than 400 group exhibitions.
Most of Katz's work sells for thousands of dollars, with his most desired works selling for millions, such as his Blue Umbrella I (1972), which sold for $4.3 million at Phillips auction.
| | |
| --- | --- |
| Born | July 24, 1927 |
| Nationality | American |
| Mediums | Painting, print, cut-out |
| Movements | Abstract Expressionism, Pop Art |
Alex Katz Biography
Alex Katz was born in July 1927 in Brooklyn, New York, but grew up in Queens with his Russian parents. His parents introduced him to the arts at a young age. Katz attended Woodrow Wilson High School, which offered an excellent art program that furthered his artistic abilities.
Early Training
In 1945, Katz was drafted into the armed forces and served in the navy for a year. Seeking to continue his studies in art after his return to New York, he took the entrance test for Cooper Union without expectations and surprised himself when he was accepted into the school.
He initially struggled with the curriculum, comparing his own progress with other students that had graduated from art preparatory programs, but grew more confident while studying with teachers such as Morris Kantor, Paul Zucker and Robert Gwathmey.
His burgeoning interest in art history and painting soon drew him away from his intended focus on commercial art and illustration. His early drawings of the late 1940's are consistent with his later works, demonstrating a penchant for strongly contoured form and simplified compositions.
In 1949, Katz received a scholarship for summer study at the Skowhegan School of Art in Maine, where he learned about plein air painting with Henry Varnum Poor.
Painting outdoors taught Katz how to paint from life and to work spontaneously, which lent freedom and immediacy to his brushwork, similar to the qualities that he admired in compositions by Jackson Pollock. 
His early paintings depict trees against a light-filled background, emphasizing energy and sensation rather than an exact rendering of the landscape. These works were exhibited at his first solo exhibition at Roko Gallery in 1954, and also in a joint exhibition with Lois Dodd at Tanager Gallery on 10th Street.
Through these exhibitions, Katz was introduced into the 10th Street scene and exposed to the work of Nell Blaine, Jane Freilicher and Larry Rivers. Impressed by their "open" figurative style, Katz began to paint in a similar manner.
One of his first figurative paintings, Four Children (1951), was based upon a photograph but shows little concern for realistic depiction. Working on the photograph paintings prompted Katz to consider the development of a modern approach to figurative painting, which was then considered old-fashioned.
Hoping to find a balance between the traditional and contemporary, Katz decided to concentrate on portraiture and built upon his painting style by combining traditional techniques, his modernist training and the experiences with direct painting in Skowhegan.
Mature Period
In 1957, Katz met Ada del Moro at a gallery opening. They married in the next year, and Ada became the most frequent subject of his paintings. 
By this time, Katz had settled into a mature style, painting his portraits thinly and deliberately in direct opposition to the gestural approach of Action Painting. Painting both in New York and Maine, his subjects range from portraits, to summery leisure scenes, to simplified landscape motifs, and typically exhibit flatness due to color-blocking and occasional visible contour lines.
The collages, begun in 1955, further emphasized the distance between his own style and Abstract Expressionism by using an unexpectedly small format and carefully trimmed shapes, as in Ada in the Water (1958). Noting a disconnect in the subject-ground relationship, Katz began using cutouts to arrange figures on pieces of wood in 1959, a concept developed into a series of flat "sculptures," or freestanding portraits in real space.
Media and commercial culture played an important role in Katz's work of the 1960s, which drew from film, television and billboard advertising. Red Smile (1963) is similar to a close-up film shot of Ada.
His dramatic flair was put to good use in costume and set designs for the choreographer Paul Taylor beginning in the early 1960s, which culminated in a lifelong interest in music and dance.
Katz also started making group portraits, which continued to dominate his body of work throughout the 1970s. Using the people around him as models, these paintings resulted in a fascinating social history of his aging circle of artists, poets, writers and critics.
Late Years
In the 1980's, Katz continued his concentration on portraiture and took his landscape in a new, larger direction, exemplified by the Black Brook paintings, which he described as "environmental."
The brook, a theme that Katz returned to frequently throughout the 1980s, is depicted as a nocturnal landscape. Virtually devoid of color, these pieces border upon the abstract, using heavy, brushy strokes of paint within his familiar color-blocked areas.
Attracted to the possibilities of the contrast between light and dark, he also embarked on a series of urban nighttime paintings that create an atmosphere similar to Edward Hopper's isolated cityscapes.
Katz's achievement was recognized by the Whitney Museum of American Art, which mounted his first major retrospective in 1986. In spite of this success, Katz made an effort to keep challenging himself artistically through the exploration of different subjects, colors, textures, and light effects.
Alex Katz's Artistic Style 
Katz grew up in the midst of the Abstract Expressionist movement, which influenced his use of perception and reflection combined with bold brushstrokes and colors used in Pop Art. 
His paintings are defined by their flatness of color and form, their economy of line, and their cool but seductive emotional detachment.
A key source of inspiration are the woodcuts produced by Japanese artist Kitagawa Utamaro.
Landscapes
Katz's paintings are divided almost equally into the genres of portraiture and landscape.
Since the 1960s he has painted views of New York (especially his immediate surroundings in SoHo) and landscapes of Maine, where he spends several months every year. Much of his other work consists of portraits of family members, artists, writers and New York society characters.
While spending summers in Maine, Katz became inspired by the outdoor scenery that greatly differed from the cityscapes of New York.
Cutouts 
Beginning in the late 1950s, Katz developed a technique of painting on cut panels, first of wood, then aluminum, calling them "cutouts."
These works would occupy space like sculptures, but their physicality is compressed into planes, as with paintings. In later works, the cutouts are attached to wide, U-shaped aluminum stands, with a flickering, cinematic presence enhanced by warm spotlights.
Most are close-ups, showing either front-and-back views of the same figure's head or figures who regard each other from opposite edges of the stand.
Social Realism
To a great degree, Katz's distinction lies in the fascinating dialogue he developed between realism and more abstract tendencies in modernism.
One of Katz's most recognizable styles is his realistic paintings of cropped subjects. His realistic paintings don't focus on minute details, but rather on fundamental color contrasts and the positions in which the subjects are placed.
Some of Katz's highest-selling paintings are those of his wife and muse Ada.
Large Scale Portraits
After 1964, Katz increasingly portrayed groups of figures.
He would continue painting these complex groups into the 1970s, portraying the social world of painters, poets, critics and other colleagues that surrounded him.
He began designing sets and costumes for choreographer Paul Taylor in the early 1960s, and he has painted many images of dancers throughout the years. One Flight Up (1968) consists of more than 30 portraits of some of the leading figures of New York's intelligentsia during the late 1960s, such as the poet John Ashbery, the art critic Irving Sandler and the curator Henry Geldzahler, who championed Andy Warhol.
Each portrait is painted using oils on both sides of a sliver of aluminum that has then been cut into the shape of the subject's head and shoulders. The silhouettes are arranged predominantly in four long rows on a plain metal table
Rendered in bold and flat colors with sparing detail, his canvases create a double affirmation of the motif and the painted surface. His technique owes much to the crisp manner of commercial art and illustration, and this feature, along with his uncomplicated display of contemporary subjects, dovetails into Pop Art.
Katz's work has been admired by art lovers around the world, with his work displayed in more than 100 art institutions. He has received a number of accolades for his work, including the 1972 John Simon Guggenheim Memorial Fellowship in Painting and his induction into the American Academy and Institute of Arts and Letters in 1988.
Alex Katz's Auction History
The Red Smile, 1963, oil on canvas
The Red Smile (1963) is a part of Katz's collection of paintings of his wife. This piece depicts Ada smiling, unlike other portraits of her that are typically mysterious and melancholic. The cropped side portrait is displayed with a vibrant red background that contrasts with the blue headband Ada is wearing.
This work defines Alex Katz's techniques of using bright contrasting colors and flat painting that simplifies complex features. The Red Smile was purchased by the Whitney Museum of American Art and has been displayed in two of the museum's exhibitions, including America Is Hard to See and Highlights from the Permanent Collection: From Pollock to Today.
Ada and Louise, 1987, oil on canvas
Katz's Ada and Louise (1987) piece reflects his artistic style of contemporary flat paintings of subjects. Within the painting is a woman with black and gray hair sitting on a long bench facing another subject wearing a white hat with a blue sky background and linear clouds. The painting depicts a still moment in time between his wife Ada and the other subject, Louise.
This piece was one of Katz's most desired paintings as it sold at Christie's auction in March 2019 for $947,250. The realized price was almost $400,000 over the price it was estimated to be sold.
Blue Umbrella I, 1972, oil on canvas
Blue Umbrella I (1972) is one of Katz's most iconic and valuable paintings. The piece sold at Phillips auction for approximately $4,386,000 in 2019. This piece is the first of the Blue Umbrella series that Katz has created.
The painting depicts Ada bundled up in a black winter coat and red headscarf that contrasts with the blue umbrella sheltering her from the rain. Like many other Katz paintings, this scene displays a single moment in time as the delicate raindrops are frozen on the canvas with a cropped subject over a muted background.
Alex Katz Collections & Exhibits
Alex Katz, This Is Now
Mar 31th – Jun 11th, 2022
Alex Katz, This Is Now is a retrospective exhibition at the High Museum of Art in Georgia that showcases a number of landscape works Katz has created. The exhibition's title is a play on Katz's focus on being in the present when he paints. This Is Now displayed several of Katz's oil paintings, such as Blue Umbrella 2 (1972), January 3 (1993), and 10:30 am (2006).
Brand-New & Terrific: Alex Katz in the 1950s
Apr 30th – Aug 6th, 2017
Brand-New & Terrific: Alex Katz in the 1950s is an exhibition that showcases Katz's earlier works that broke the abstract expressionist scene of the art world with his fundamental realism paintings. The exhibition in the Cleveland Museum of Art showcased over 70 of Katz's paintings from his public and private collections of portraits, still lifes, and landscapes.
Ada
Mar 31st – Jun 11th, 2022
Ada is one of Katz's most recent solo exhibitions, which features numerous portrait paintings dedicated to his wife. Katz's wife has been a signature figure in his paintings and this solo exhibition offers insight into several of his works of Ada, including Ada (1957), Ada in Red (1989), and Ada 8 (2017). The exhibition is located at the Gladstone Gallery in Brussels.
---