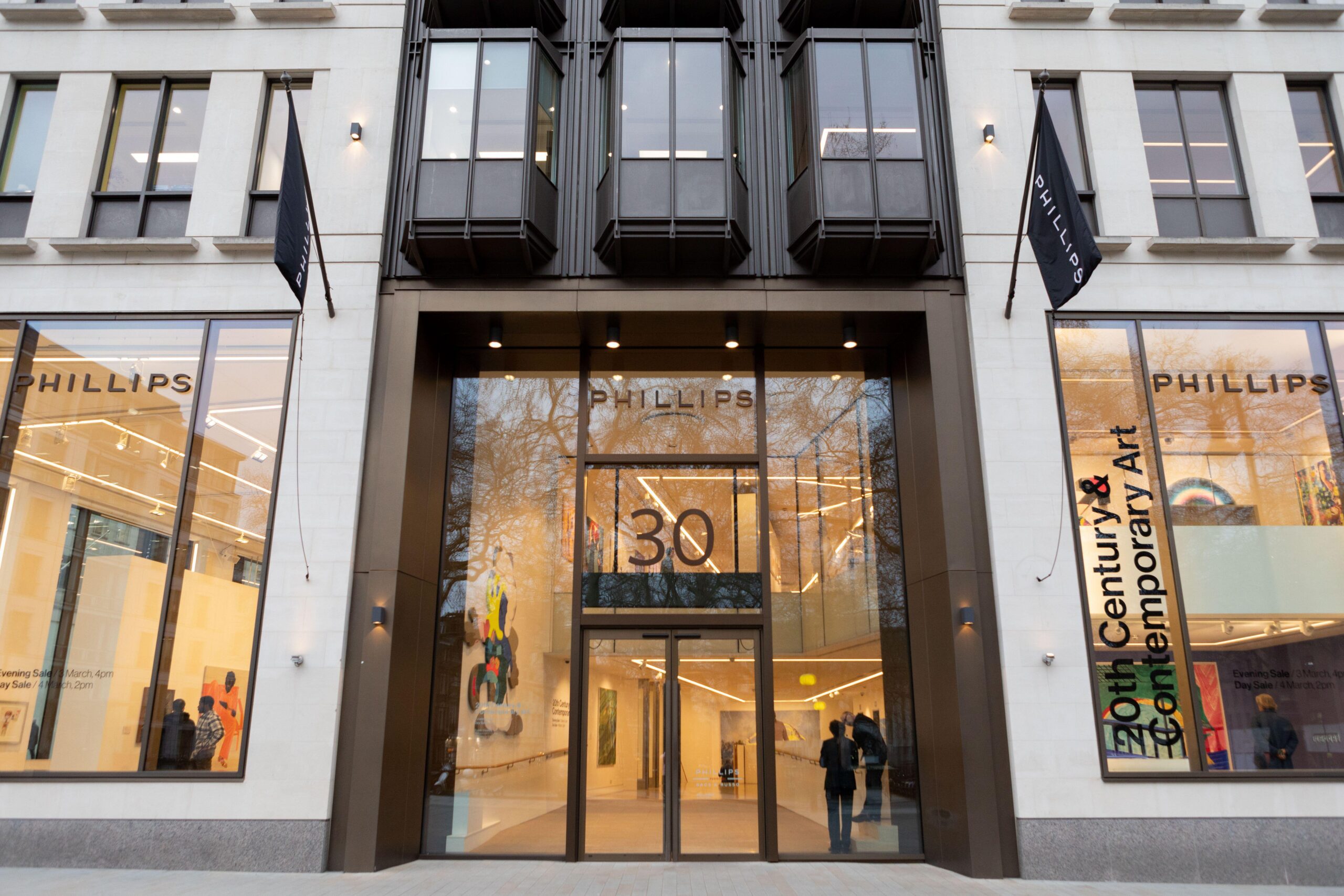 What is Phillips?
---
Phillips is a British auction house that has headquarters in both New York and London. They are a leading auction house in the sales of art, design, watches, and more. In recent years the auction house has commanded a presence on the international scene with expansive and high-grossing sales, especially in watches and 20th century and contemporary art.
What is the history of
Phillips
?
Phillips auction house was founded by Harry Phillips, a prominent dealer, and clerk to James Christie, the founder of Christie's auction house. The first location was founded in 1796 in Westminster London. During this period of time, the auction house began gaining international recognition due to its high-value collections and patrons including Marie Antoinette and Napoleon Bonaparte. Phillips remains the only auction house to have ever held a sale inside of Buckingham Palace. Much of the success was attributed to the business acumen of Harry Phillips. He was known to host elaborate evening receptions- which is now considered a standard practice in the auction house business.
When Harry Phillips passed away in 1840, the business began passing through his successors. The house began to change names during this process to Phillips & Son, Phillips & Son & Neale. By 1970 the auction house was renamed Phillips and had expanded its categories to sell fine art, furniture, and estate collections.
In 1999 Phillips auction house was acquired by Bernard Arnault of LVMH Moët Hennessy Louis Vuitton. Shortly after this purchase, Phillips merged with esteemed art dealers Simon de Pury and Daniela Luxembourg. This new partnership introduced the sale of watches, jewels, and design, alongside fine art impressionism, 20th century & Contemporary Art, and 21st century.
In 2008, The Russian luxury retail group, Mercury group acquired a majority stake in the company. By 2012 Simon de Pury had withdrawn and Mercury group bought his shares. Once the acquisition was completed Phillips moved to their office in New York at 450 Park Avenue. Two years later, the new London office at 30 Berkely Square in Mayfair.
In July of the same year, Edward Dolman joined Phillips as the company's Chief Executive Officer after a nearly 30-year career at Christie's. This change in leadership attracted a highly senior staff and a new strategy for the company. Broadening to sales in Hong Kong in 2015, where it now holds a strong foothold in the fast-growing Asian market for all categories including art, design, jewels, and watches.
Today, Phillips is a premier destination for buyers and sellers of contemporary, post-war, modern art, and more. In 2021, the New York branch moved to its headquarters at 432 Park Avenue where it hosts its most illustrious sales.
Phillips
and Watches
In 2014 Phillips launched a new branch of the company, Phillips in association with Bacs & Russo. This partnership has become the market leader for fin collector's watches at auction, resulting in a number of auction records for watches.
In May of 2022, Phillips in association with Bacs &Russo achieved their most successful various owner watches auction in Asia with a 100% sell-through rate. The sale realized HK$264 million/ US$33.6 million. 
What was Phillips's most expensive sale?
Phillips also specializes in the fine art category by hosting a number of different sales. The more popular of these is the Contemporary art evening sale. In 2021, the company boasts its highest sale totals in company history when the 20th century & contemporary art auction in New York achieved $172.5 million.
A major highlight of this sale was the prized Basquiat painting of the Japanese Billionaire, Yusaku Mazaewa's collection, Untitled (1982) which fetched a hammer price of $75 million. This auction also set new records for artists such as Yayoi Kusama, Reggie Burrows Hodges, and Robin F. Williams. This auction also presented Phillips with the highest percentage of online bidders where 27.8% of the bidding came from online. The artworks of this sale also tested new water with 52.8% falling under the contemporary category, leaning more on newer artists.
How does Phillips work?
Phillip's operates as a brokerage firm, meaning that when someone wants to sell or purchase a good, Phillips will act as the middle man in that transaction. They can fill this role either through a public auction or through private sales. A public auction is the best known and also most entertaining means of sale. The functionality of the auction is that it may attract the highest number of buyers for a sale at a single time.
How to Sell at Phillips 
Phillips operates like every other auction house in concerns of selling. According to the website, Phillips will provide complimentary evaluations for works that are suitable for sale. The best way is to submit through their online consignment form and wait for a representative to reach out to discuss further. 
After this process, the sale will be conducted either online or live in-person sale. A specialist will discuss with you the most appropriate timing and location to ensure the successful sale of your property. If you prefer not to sell your property at auction. Another option of sale would sell privately through the gallery spaces at a number of locations. 
How to Buy at Phillips 
Phillips offers several options for purchasing art through their service. One way is by bidding at an auction online. Phillips operates online bidding through their digital salesroom and through their app, where clients can bid on art, watches, or design in real-time. 
Those interested in attending a sale in person can also choose to bid in person. The process is also quite straightforward. If interested in attending the auction, you will need to register for a paddle through a form. it is crucial to fill out the accurate form of the salesroom location you will be attending. 
If you are unable to attend an auction in person, then the means to bid would be through absentee or telephone bidding. Through absentee bidding, Phillips will bid on your behalf and attempt to purchase at the lowest price, going up to your maximum pre-submitted bid. With telephone bidding, a representative from Phillips will call you directly during the sale, and they will bid live in the room on your behalf. 
It is important to note that these bid amounts, during a sale do not include the buyer's premium or sales tax, so when considering purchasing from auction, those consider these factors in budgeting. 
#LiveAuction: Jean Michel Basquiat 'Untitled' inspired by Henry Dreyfuss' Symbol Sourcebook sold for $700,000 #PhillipsContemporary pic.twitter.com/fzCaNw7CtG

— PHILLIPS (@phillipsauction) May 19, 2022
Auction house FAQ
Who is the owner of Phillips auction house? 
Phillips currently is owned by Mercury Group, a Moscow-based luxury retail company. They acquired Phillips in 2008. 
How do I watch auctions? 
If you are unable to spare the time and make an appearance at the saleroom, Phillps live stream their marquee week auctions via their website for those to view. Look ahead at upcoming auctions through their calendar.  
How many people work at Phillips? 
Across all international offices (New York, London, Geneva, and Hong Kong) Phillips employs over a thousand people (LinkedIn). 
What are the hours of operation?
Hours of operation for the New York headquarters are 10 am to 6 pm Monday through Saturday, and 12 pm to 6 pm Sundays. These hours do not include evening auctions as those have their own set hours. 
What does Phillips specialize in?
Phillips specializes in a variety of different fields. The most well-known of their sales operate under watches, jewels, design, photography, editions, and art. Phillips holds a premier partnership of fine watch sales with Bac & Russo.
Alternatives for Investing in Art
Many of those that are purchasing at auction are either art lovers themselves or understand the value that art carries as an investment. It's crucial to note that purchasing at auction is not the only means of creating an art portfolio.  Those interested can learn more about implementing art as an investment tool for their own portfolio
---