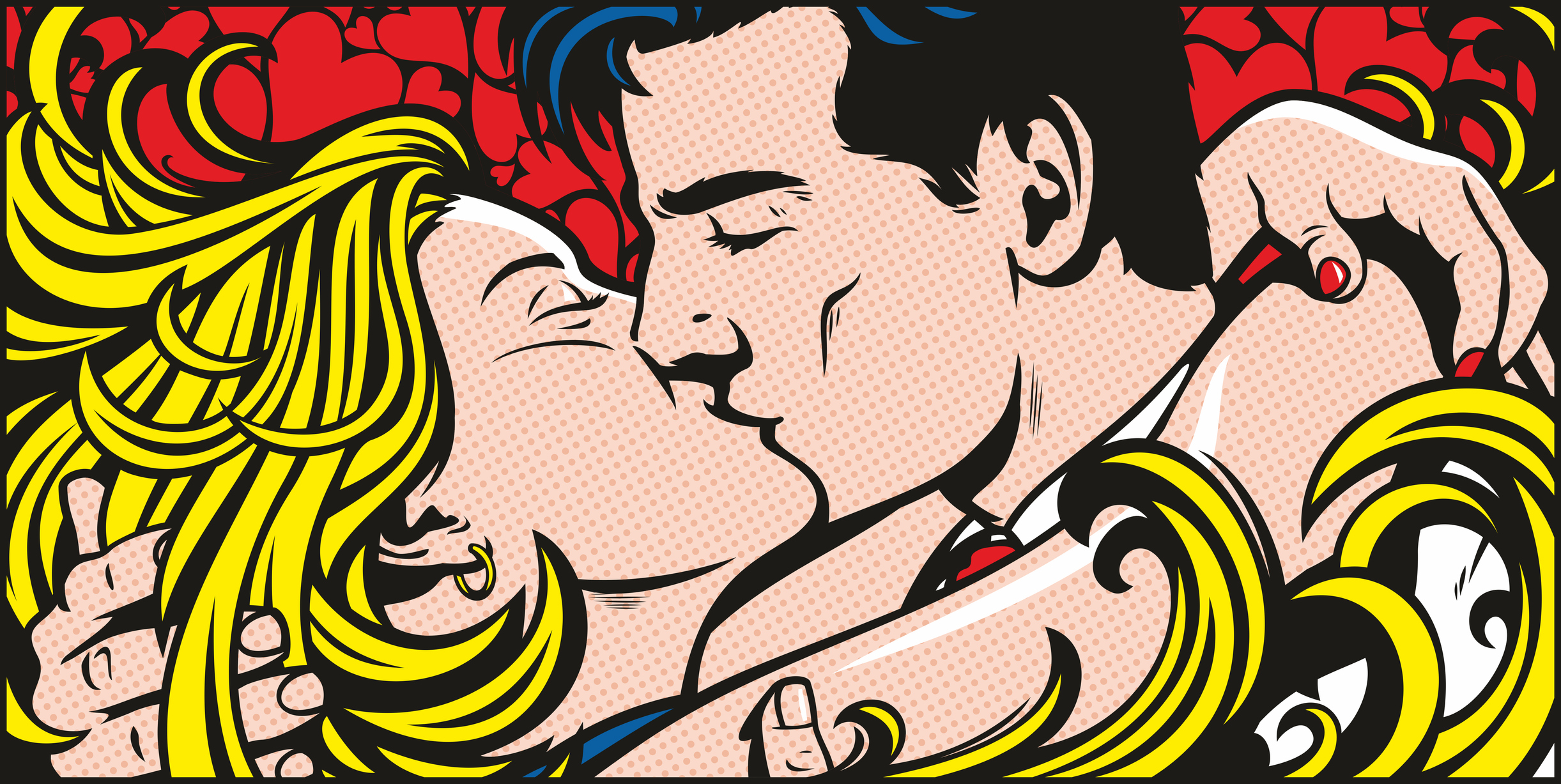 16 Famous Pop Art Icons and the Masterpieces They Created
---
Does art imitate life?
Pioneers of the Pop Art movement like Andy Warhol and Roy Lichtenstein thought it should.
Emerging in the 1950s, these artists challenged the notion of what was considered fine art. By taking inspiration from everyday subjects, unconventional mediums, and even techniques like silk screening, Pop Artists aimed to make art more relatable.
Let's discover the 16 most famous pop artists, their iconic artworks and a few important facts about this art movement.
We'll also explore a way that you can invest in contemporary art masterpieces through Masterworks. 
16 Famous Pop Artists and Their Groundbreaking Artworks
Here are 15 of the most influential pop art artists and the acclaimed artworks that propelled their careers:
1. Andy Warhol
Andy Warhol is probably the most revered and famous Pop Artist.
Warhol's works combine artistic expression, iconic portrait subjects like Elvis Presley and Marilyn Monroe, as well as pop culture and advertising in the 1960s. His works spanned a range of mediums, including photography, painting, silkscreening, film and sculpture.
This Pop Art artist was heavily influenced by French painter Marcel Duchamp. Both artists focused on the everyday object and shared an interest in celebrity culture.
Campbell's Soup Cans (1962)
This iconic American pop art piece is made up of 32 hand-painted canvases of mass-produced soup cans.
The bottom edge of each can features a hand-stamped fleur de lis pattern, in a nod to the repetitiveness of advertising. Interestingly, you can read the soup's flavor on every label.
Today, this recognizable piece hangs in the Museum of Modern Art in New York.
Marilyn Diptych (1962)
Warhol created the Marilyn Diptych soon after the death of Marilyn Monroe in August 1962 from a publicity photo for her film Niagara.
Using silkscreen ink and acrylic paint on two canvases, the artist wanted to convey the contrast between Monroe's public and private lives.
Today, you can view this iconic portrait of Marilyn Monroe at the Tate Gallery in Britain.
2. Roy Lichtenstein
A New York native born in 1923, Roy Lichtenstein is considered a founder of the Pop Art movement.
The artist often referenced popular culture, including comic strips and cartoon characters like Mickey Mouse.
Ben-Day dots, commonly used in newspapers and comic strips, are a medium Roy Lichtenstein favored. He used it to show texture and gradients in his works.
Drowning Girl (1963)
Lichtenstein sampled the image from issue #83 of Secret Hearts, a comic book illustrated by Tony Abruzzo. He altered the picture slightly, removing some elements in the background and changing the caption.
This masterpiece now hangs at the Museum of Modern Art in New York.
Whaam! (1963)
The artist painted this piece in a comic strip composition on two canvases – one depicting a fighter jet, the other an enemy plane.
He used a common machine-printed comic book style — areas of primary color, outlined in black. Again, Lichtenstein sampled a work of a DC comic book, issue #89 of All-American Men of Way, drawn by Irv Novick.
You can view the piece at the Tate Gallery in London.
3. Keith Haring
Keith Haring, an American artist, is known for his animated imagery of figures and symbols.
This Pop Art artist drew inspiration from graffiti and street art. He first began drawing in New York City's subway stations. He would create chalk drawings on empty poster spaces in the subway, hoping to make art more accessible to everyday people.
Haring's work typically focused on social issues he wanted to draw attention to, like AIDS, apartheid and drug abuse.
Radiant Baby (1990)
This iconic Keith Haring piece depicts a bright orange baby with a black outline crawling on their hands and knees.
According to the artist, the baby represents youthful innocence. The black lines radiating from the baby convey a sense of life and energy.
Crack Is Wack (1986)
Haring painted the iconic bright orange and black street art near the Harlem River Drive in East Harlem on an abandoned handball court wall.
It has variations of the same message on both sides of the concrete wall. The inspiration for this painting came from one of Haring's studio assistants, Benny, who was addicted to crack.
Interestingly, a day after he completed the mural, the artist was arrested for vandalism.
He was released and fined $100. Eventually, he was asked by the city's parks department to repaint it.
4. Claes Oldenberg
Claes Oldenberg is a Swedish American Pop Art master known for turning the mundane into something monumental, particularly everyday items on an exaggerated scale.
Today, the "soft sculptures" of diner food, mass culture and cheap clothing he created in the 1960s are heralded as the first sculptural expressions of Pop Art.
Whereas other Pop Art artists favored two-dimensional mediums, Oldenburg preferred creating 3D sculptures using the everyday object as his subject matter. His public sculptures can be seen in Los Angeles, Paris, Israel and around the world.
Spoonbridge and Cherry (1985)
The famous pop art sculpture of a giant spoon and cherry was created by Claes Oldenburg and his wife, Coosje van Bruggen, as a celebration of the mundane.
Located at the Walker Art Center's Minneapolis Sculpture Garden, the sculpture sits in a small pond with a water fountain.
Cupid's Span (2002)
Another famous sculpture by Oldenburg and Van Bruggen is Cupid's Span in Rincon Park on the Embarcadero in San Francisco.
According to the artists, the 60 feet tall fiberglass and steel sculpture was inspired by the city's reputation as the home port of Eros. Meanwhile, the taut bowstring is a nod to the most famous San Francisco landmark – the Golden Gate Bridge.
5. David Hockney
Born in 1937, David Hockney was a British Pop art painter, draftsman, printmaker, stage designer, and photographer.
Hockney's 1972 work Portrait of an Artist (Pool with Two Figures) was auctioned by Christies in 2018 for $90 million. At the time, it was the most expensive artwork auctioned by a living artist.
A Bigger Splash (1967)
Hockney's depiction of a splash in a California swimming pool is one of many similar paintings the artist created between 1964 and 1971.
In each of these works, David Hockney represented the water differently, attempting to portray the ever-changing surface of water. The artist drew inspiration from British painter Bernard Cohen and French Abstract Expressionist Jean Dubuffet.
Today, the piece hangs in the Tate Gallery in London.
6. Richard Hamilton
Richard Hamilton was one of the founders of the Pop Art movement. It's thought that a lollipop, depicted in one of his early collages, provided the name for the genre.
So how did this icon of Pop Art describe the movement?
According to Richard Hamiliton, Pop Art was "popular, transient, expendable, low-cost, mass-produced, young, witty, sexy, gimmicky, glamorous, and big business."
Just What Is It That Makes Today's Homes So Different, So Appealing? (1956)
The print is based on a small collage from 1956 – This is Tomorrow, composed of images clipped from magazines.
In 2004, due to the advancements in ink-jet printing, Hamilton made an "upgraded" version of this print on an Apple Macintosh computer.
You can view this famous Pop Art piece at the Kunsthalle Tübingen museum in Tübingen, Germany.
7. Jasper Johns
This American Pop Art painter, sculptor and printmaker was born in 1930 in Augusta, Georgia. Johns favored everyday life themes and made common signs, such as flags and targets, the subject of his work.
In his pieces, the artist used newspaper shreds, found objects, and even mass-produced goods, like beer and coffee cans. This was his attempt to destroy barriers separating fine art from mass culture and daily life.
Flag (1954-55)
Two years after leaving the US military, Johns was inspired in a dream to create this piece.
Flag was created with painted bed sheets and strips of cloth, as well as encaustic, a technique using pigmented hot wax.
Today, you can view this artwork at the Museum of Modern Art in New York.
8. Robert Rauschenberg
Texas-born Robert Rauschenberg attended several art schools, including Black Mountain College, where he was taught by famous Bauhaus artist Josef Albers.
Other mentors and collaborators included composer John Cage, artist Cy Twombly, and choreographer Merce Cunningham and Jasper Johns.
Over his six-decade-long career, Robert Rauschenberg worked with various mediums, including painting, sculpture, prints, photography, and performance.
Sue (1950)
One of Rauschenberg's most recognizable works is a blueprint from a collaboration with artist Susan Weil.
The idea for the piece began in 1949. This was when Weil introduced the artist to the method of exposing paper to light and using objects and human subjects to make impressions.
With these blueprints, they explored how they could make marks on paper without a paintbrush. Instead, they incorporated light as a medium, creating an ethereal, airy piece.
The artwork can be viewed at The Guggenheim Museum, Bilbao.
9. Eduardo Paolozzi
This Scottish artist, Eduardo Paolozzi, was known for his sculptures and graphic works.
He impacted the art world by melding the early techniques of Surrealism with elements of popular culture, technology and modern machinery.
Eduardo Paolozzi is considered one of the forerunners of the Pop Art movement. Some of the collages he created had the look and feel of American advertising — a common theme of the Pop Art movement.
I Was A Rich Man's Plaything (1947)
This collage was part of a series called Bunk. It was composed of images from magazines that the artist received from ex-US army soldiers.
The collage includes the cover of a magazine called "Intimate Confessions," featuring a woman who, it is implied, spills her secrets inside the magazine. It also features a cherry pie which is a nod to the similar treatment of women and food in American advertising at the time.
The painting also features a hand holding a gun with the cartoonish word "Pop!" and an airplane with a message of patriotism in the lower left corner. The picture is a commentary on the disconnect between the messages propagated by the media and the realities of everyday life.
Today the piece can be seen at The Tate Gallery in London.
10. James Rosenquist
James Rosenquist, a leading figure in the Pop Art movement, drew inspiration from modern commercial culture.
He would often layer recognizable images from popular culture, such as Coca-Cola bottles, kitchen appliances, packaged foods, lipsticked mouths and manicured hands.
JFK – President Elect (1960)
In this oil on masonite painting, James Rosenquist attempts to fuse the themes of advertising and political ambition. The piece depicts the smiling face of John F. Kennedy with popular consumer items — here, a yellow Chevrolet and a slice of cake.
Rosenquist was fascinated by the idea that people (in this case, JFK) were advertising themselves like consumer products.
The piece can be seen at The Centre Georges Pompidou, Musée National d'Art Moderne/ Centre de Création Industrielle in Paris.
11. Peter Blake
Peter Blake is a well-known British Pop Art painter, sculptor, graphic artist and collage creator who famously designed the Sgt Pepper's Lonely Hearts Club Band album cover for the Beatles.
His work is characterized by pop culture subject matter, bright colors and the recurring themes of stardom and idolatry.
On the Balcony (1955-57)
This oil on canvas painting includes 27 variations on the theme of 'On the Balcony'. The images range from a newspaper picture of the British Royals to a painting by Edouard Manet.
The piece also includes a range of other references, including:
cigarettes, which were fashionable at the time
a photograph of his late tutor John Minton
a painting by fellow-student Leon Kossoff
This famous Pop Art piece is currently housed at the Tate Gallery in London.
12. Jeff Koons
Before finding success selling his pieces, this American Pop Art creator sold memberships at the Museum of Modern Art. Later, he became a commodities broker on Wall Street, while making art during his time off. In the 1980s, he began creating art full-time.
Jeff Koons is famous for reproducing commercial images and objects with minor modifications, including inflatable pool toys and balloon animals in polished, colored stainless steel.
Balloon Dogs (1994)
Balloon Dogs are a series of sculptures created as part of his Celebration series. The collection is composed of 20 large-scale sculptures and 15 oil paintings aiming to conjure childhood nostalgia and memories of celebration.
Each sculpture is in the form of a balloon twisted into a dog shape, but the scale of the stainless steel sculptures are exaggerated.
Balloon Dog Orange (1994-2000) sold for $58.4 million in a 2013 Christies' auction. The sale set the record for the most expensive artwork sold by a living artist in an auction.
These pieces can be seen in the collections of the Broad, the Hirshhorn Museum and Sculpture Garden, the Los Angeles County Museum of Art, the Tate, the Museum of Modern Art, and the Whitney Museum of American Art.
13. Tom Wesselmann
This American pop artist created numerous collages, sculptures and screenprints, often using the female form as his subject matter.
Tom Wesselmann once said that his mission in art is "to make figurative art as exciting as abstract art."
He worked as a magazine and comic strip illustrator before moving to New York and founding the Judson Gallery.
In the 1960s, Wesselmann began drawing from American culture and media in his Great American Nude series. The series includes billboard-scaled paintings in flat bold colors.
Still Life #35 (1963)
This oil and collage piece consists of four canvases depicting recognizable American products, including Coca-Cola, bread, cigarettes, lemons and an airplane. The artwork is a play on popular culture and historical composition.
This piece fetched $10 million in a Sotheby's auction in 2008.
Today, you can view the piece at the Dallas Museum of Art.
14. Takashi Murakami
Takashi Murakami is a famous Japanese Pop Artist known for marrying the bright, familiar images of pop culture with a traditional fine art style.
In the 1990s, the artist coined the term "superflat" to define his artwork, and other pop art artists adopted the term. It describes the process of flattening traits from fine art and "low art" (popular figures like cartoon characters) into one painting.
Killer Pink (2003)
The inspiration for this painting came when Takashi Murakami was teaching school children to draw flowers. He found the flowers cute, but they also made him feel uneasy. He attempted to convey this notion of the flowers being both pretty and disturbing at the same time.
The original piece sold for $11,250 in a 2020 Christie's auction.
15. Yayoi Kusama
Yayoi Kusama is another Japanese contemporary art creator whose work shows influences from Surrealism, Art Brut, Abstract Expressionism, Op Art (optical art) and Pop Art movements.
Her work consists mainly of sculpture and installation, painting, performance, video art, fashion and more.
Kusama has attributed art to helping her express herself and helping relieve her mental illness.
Dots Obsession (2003)
Dots Obsession is a series of installations that reconfigure the artist's signature polka dots and mirrors alongside enormous, inflatable objects.
For this piece, the pop artist got her inspiration from the hallucinations she reportedly suffered as a child. During these childhood hallucinations, her entire surrounding was covered with repeating patterns.
Dots Obsession is an immersive experience of red paint, white dots, giant balloons and strategically placed mirrors.
16. Patrick Caulfied
Patrick Caulfield was a British Pop Art artist and printmaker famous for his bold canvases incorporating photorealism in a more subdued scene. His work is both complex and subtle in subject matter, including pottery and still-life elements.
Although his boldly colored pieces are usually characterized as Pop Art, Patrick Caulfield objected to this classification, preferring to be considered a 'formal artist'.
Sweet Bowl (1967)
Caulfield's use of bold lines and colors was inspired by postcards he collected during his travels around Europe.
According to the Pop Art artist, the inspiration for Sweet Bowl came from the simplicity and directness of the images on the postcards.
Today, the painting is housed at the Tate Gallery in London.
Key Facts About the Pop Art Movement
Here are a few important details about the famous Pop Art movement.
1. What Is Pop Art?
Pop Art is an art movement inspired by everyday life and popular culture in particular.
Common themes in Pop Art pieces are:
Irony
Satire
Humor
Optimism
Affluence
Materialism
Leisure
Postwar consumer society
British curator Lawrence Alloway provided the first definition of Pop Art in 1955. He described it as a new form of art characterized by the imagery of consumerism, new media and mass reproduction.
Lawrence Alloway was also a prominent member of the Independent Group, the cradle of the British Pop Art movement. The group was responsible for many of the ideas of British Pop Art in the late 1950s and early 1960s.
Pop Art artists drew their inspiration from advertising, billboards, movies, television, comic strips and popular culture. Using bold, simple, everyday images and vibrant blocks of color, they were able to bridge the gap between commercial and fine arts.
Pop Art is both a celebration and a critique of popular culture.
2. What Are the Characteristics of Pop Art
Here are some of the defining characteristics of the Pop art movement:
Recognizable imagery: Pop Art uses iconography from popular culture, including advertising, celebrities like Elvis Presley, commercial products and comic strips. Mass-produced objects are also common themes that challenge the traditions of fine art.
Bold colors: Pop Art pieces are typically bold, with brilliant, saturated colors to capture the viewer's attention immediately.
Humorous themes: Sarcasm, wit and satire were prominent elements in Pop Art. Many artists used humor to make a statement about current events, consumer culture and other aspects of everyday life.
3. What Are the Origins of the Pop Art Movement
The Pop Art movement emerged in the 1950s in the US and UK, peaking in the 1960s.
As a movement, Pop Art was largely inspired by Western commercial culture and born out of rebellion against the traditions of fine art.
Pop Art artists believed that traditional art taught in schools and viewed in museums didn't represent real life. As a result, they refused to abide by the art standards of the time.
Interestingly, many academics and critics at the time were appalled by the Pop Artists' use of mundane subject matter. Meanwhile, the genre's figurative and down-to-earth imagery appealed to the general public, and soon became one of the most popular styles of art.
4. What Was the Most Expensive Pop Artwork Ever Sold?
Andy Warhol's Shot Sage Blue Marilyn (1964), a silkscreen print of Marilyn Monroe, was the most expensive Pop Art piece ever sold. In May 2022, the piece made art history, having been auctioned by Christies' for $195 million.
The piece also set an American art record by becoming the most expensive artwork by an American artist ever sold.
Warhol and his Pop Art counterparts left an indelible mark on the contemporary art world. Not only did they question the conventions of fine art, but they also attempted to make art accessible to the masses.
Today, the work of these artists is coveted among art collectors, commanding record-breaking amounts at auctions.
But how can you get in on the action?
The good news is you can now invest in shares of contemporary art masterpieces by the likes of Andy Warhol, Takashi Murakami, Peter Blake, Keith Haring and others.
Here's how:
Investing in Contemporary Masterpieces Through Masterworks
Masterworks is a leading art investment platform that brings museum-grade art to a broader audience. You can easily invest in shares of artworks by legendary artists.
Masterworks' expert research and acquisition teams utilize proprietary data and art market expertise to curate a collection of iconic works. Some of the artists you can invest in include Warhol, Haring, Basquiat, Picasso and more.
Here's how it works:
The acquisitions team then locates the piece and purchases it at, from their research, a fair price.
Masterworks will file an offering with the Securities and Exchange Commission (SEC) to securitize the artwork.
Typically, Masterworks holds a piece for 3 – 10 years. Once it's sold, you'll receive your pro rata returns minus fees.
Or you can also sell your shares on the secondary market.
Check out the Masterworks website to see how you can start investing in shares of sought-after masterpieces today.

This material is provided for informational and educational purposes only. It is not intended to be investment advice and should not be relied on to form the basis of an investment decision.
See important Reg A disclosures: masterworks.com/cd
---