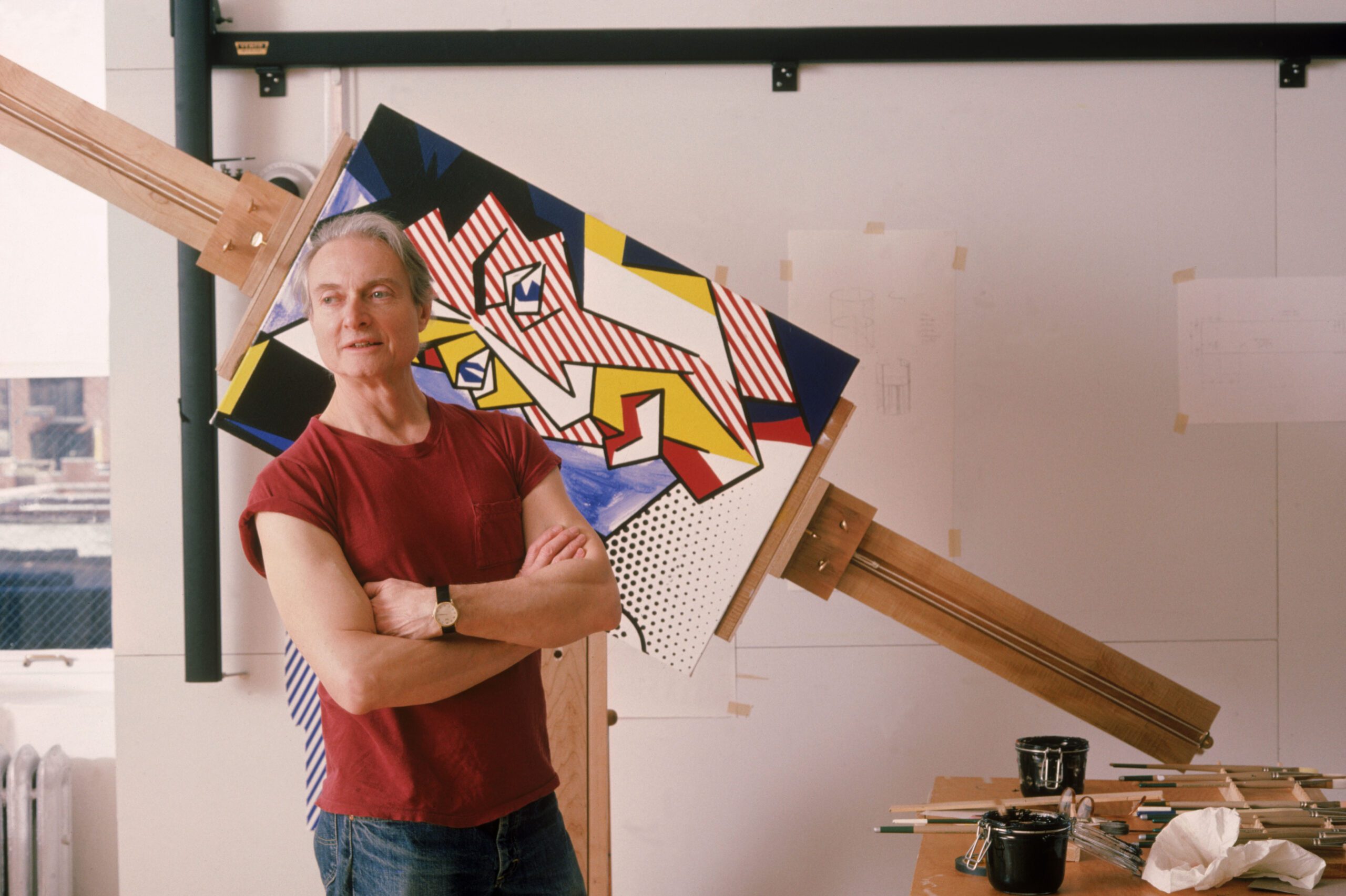 Who is Roy Lichtenstein?
---
The Most Expensive Comics Ever Produced
Imagine a panel from a comic strip selling for $165 million. Well, that's exactly how much Masterpiece by Roy Lichtenstein sold for in a 2017 private sale. To equate Lichtenstein's work to mere comic strips, however, would be doing a disservice to the groundbreaking pop art he created throughout the latter half of the 20th century. His style, technique, and social commentary on the art world offered something completely new and poignant. Today, Lichtenstein's work continues to be in the spotlight and sells for millions at auction. With an oeuvre of more than 5,000 paintings, prints, sculptures, and drawings, he is recognized as one of the greatest pop artists of the time.
| | |
| --- | --- |
| Born | October 27, 1923 |
| Nationality | American |
| Died | September 29, 1997 |
| Mediums | Painting, Drawing, Printmaking |
| Movements | Pop Art |
Lichtenstein: The Scholar Who Questioned Tradition
Born in New York City to a wealthy family, Roy Lichtenstein grew up frequenting museums, concerts, and art galleries. His family exposed him to music and art from a young age, which encouraged his creative side and fundamental understanding of conceptual art. Lichtenstein played piano and clarinet, was fond of jazz and visited the American Museum of Natural History and the Museum of Modern Art. He attended the Franklin School for Boys, a private junior high and high school, then later studied at the Art Students League of New York. At the Art Students League, Lichtenstein studied under Reginald Marsh, an American artist known for his impressionistic paintings of life in New York City.
Lichtenstein received a degree in fine art from Ohio State University. However, his studies were interrupted by a three-year stint in the Army, where he served in France, Belgium, and Germany. As part of the infantry, he served as an orderly and draftsman. When he returned to the United States, he completed his degree at OSU and became an art instructor for the university where he taught for a decade.
Before Lichtenstein became a world-renowned artist, he worked various jobs on top of teaching—furniture designer, window dresser, industrial draftsman, and an engineer for an electric instrument company. Lichtenstein was handy; he was incredibly precise, mechanical, and experienced with draftsmanship. Lichtenstein never set out to become a famous artist. In fact, he felt that art was relative and was critical of modern art movements. His engineering background coupled with his incredibly self-aware, meticulous working style would pave the way for his soon-to-be-famous, signature style.
Turning Irony and Imitation into Fine Art
As a fine artist who received a Master's Degree and taught at multiple universities, Lichtenstein was no stranger to art history and the various styles that existed. His early work experimented with different modern art movements, including cubism and abstract expressionism, which he interpreted through an ironic lens. Early paintings like The Cattle Rustler and Storming The Castle use appropriated images of American history that promoted Manifest Destiny and imperialism and resembled the shapes and style of Paul Klee. Even in his early work, Lichtenstein was a master at blending different moments in art history and pop culture.
His first venture into American comic strips began with paintings of Mickey Mouse and Donald Duck he made for his children in 1960. From there, his fascination with cartoon figures and comic panels only grew. While he knew he was appropriating these images, he liked the idea of turning 2D comic strips into fine art and adding his own twist. His artistic process was extremely thorough–Lichtenstein copied the source image by hand, then projected it onto a canvas. From there, he would alter the images slightly to fit his narrative. For instance, he'd take a panel from a DC or Marvel comic strip, then reduce some of the objects or shorten the word bubbles. To achieve a printed look, he mimicked the dot patterning in printed imagery known as Ben-Day dots. His final works resembled an enlarged comic strip with exaggerated elements. He used saturated primary colors, heightened contrasts, bold outlines, and cut-out extra detail for a loud, in-your-face type of painting.
Lichtenstein was everything the Abstract Expressionism and Impressionism movements were not–cliché, commercial, and industrial. By copying images from pop culture and advertisements and modifying them to his unique style, he presented a clever take on fine art and the purpose it served. Themes of war, romance, love, and heartbreak appeared in his work, evoking a sense of drama and sensationalism. Lichtenstein had his first solo show at the Carlebach Gallery in New York in 1951 and was represented for five years by the John Heller Gallery. In 1966, he was the first American to exhibit at the Tate in London.
As was the case with many modern artists at the time, Lichtenstein's work was dismissed as rubbish and plagiarism by art critics. Many comic strip artists who he imitated voiced their frustration, most notably Dave Gibbons, creator of the graphic novel "Watchmen," who said, "I'm not convinced that it is art." Despite his critics, Lichtenstein received numerous awards and honors, including the National Medal of Arts and the Kyoto Prize. He remains one of the most expensive pop artists of all time, with pieces selling anywhere from $40M to $100M at auction.
Roy Lichtenstein Featured Works
Girl with Ball (1961)
Oil on canvas
Girl with Ball is notable because it marked a break in Lichtenstein's abstract work and transition into his iconic signature style. The painting features an image of a woman from a printed ad for the Mount Airy Lodge, but it has been altered in a way that exaggerates the lines and reduces her to a flatter image. It currently resides in the Museum of Modern Art.
Drowning Girl (1963)
Oil and synthetic polymer on canvas
One of his most famous works, Drowning Girl features a woman in distress with a melodramatic thought bubble that reads "I don't care! I'd rather sink than call Brad for help!" The piece uses Lichtenstein's signature Ben-Day dot technique and borrows imagery from a DC Comics panel and Hokusai's The Great Wave off Kanagawa.
Hopeless (1963)
Oil and acrylic on canvas
Hopeless is derived from a 1962 DC Comic by Tony Abruzzo. The painting features Lichtenstein's signature elements, including a heroine in an emotional state, Ben-Day dots, and the speech bubble. The image conveys a sense of pain, sadness, and humor at the same time, as the crying woman feels overly dramatic.
Top Collections of Lichtenstein's Work
Museum of Modern Art,
New York City
Ongoing
Included in the MoMA's collection are famous works such as Drowning Girl and Girl with Ball. Over the years, the MoMA has featured numerous exhibitions of Lichtenstein's work both from their permanent collection and private collections.
Tate Modern,
London
Ongoing
The Tate houses a sizable collection of 51 paintings by Lichtenstein, including the famous 1963 Whaam! and his Haystack series. Lichtenstein was the first American artist to be featured at the Tate.
MoCA,
Los Angeles
Ongoing
The MoCA collection in LA contains nearly 20 pieces by Lichtenstein spanning the 1950s to the 1980s. The collection represents Lichtenstein's experimental decades, from early on when he mimicked cubist and impressionist artists, to Picasso-like pieces such as Two Paintings: Sleeping Muse.
---