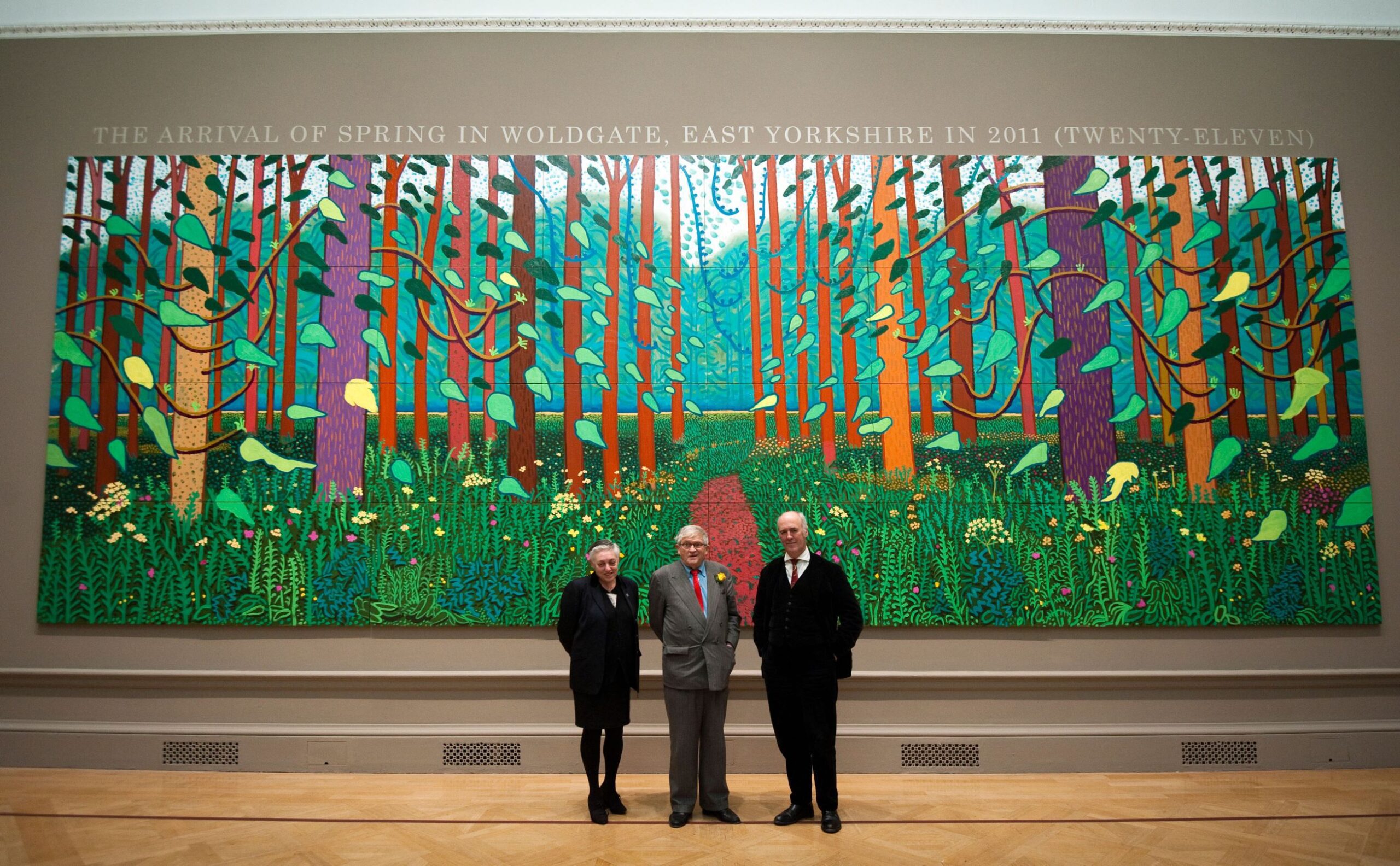 Who is David Hockney?
---
David Hockney likes to do things his own way. While in school at the Royal College of Art in the 1960s, Hockney refused to write an essay as part of the final examination, stating that he should only be assessed on the quality of his artwork. The RCA's response? They changed the requirements and Hockney graduated as an emerging talent of the 1960s British Pop Art movement.
Today, Hockney is a renowned artist displayed in prestigious museums across the globe. Some of his work sells for millions and he once held the record for most expensive piece of artwork sold at a live auction. The piece, Portrait of an Artist, sold for $90 million at Christie's, surpassing one of Jeff Koons' $58.4 million Balloon Dog sculptures. His artwork can sell anywhere from the tens of thousands up to the millions, depending on size, medium, collection, and biographical importance.
| | |
| --- | --- |
| Born | July 9, 1937 |
| Nationality | British |
| Mediums | Painting, drawing, printmaking, photography, watercolors |
| Movements | 1960s Pop Art, Expressionist |
About David Hockney
Born in 1937 in Yorkshire, England, David Hockney is one of the most influential British artists of the modern century. He's displayed 400 solo exhibitions and his work has been featured in nearly 500 group exhibitions. After teaching for a few years post-graduation in Iowa, Colorado, and California, Hockney officially settled in Los Angeles in 1978. While in LA Hockney rented an apartment in the Hollywood Hills and eventually bought a home in Malibu. These locations would drive much of Hockney's inspiration for famous pieces such as Man in Shower in Beverly Hills and A Bigger Splash, which feature some of Hockney's signature themes of figure portraits and swimming pools.
Hockney's Artistic Style
Hockney is known for his bright colors and expressive brushstrokes that typically feature people, places, self-portraits, or landscapes. Many of the individuals he's featured include friends, relatives, casual lovers, and romantic partners. Hockney was once quoted saying, "I am not that interested in painting that doesn't depict the visible world." While his work has qualities of abstract expressionism, the subject matter is grounded in reality and his immediate surroundings. In fact, much of his work is autobiographical and tells a beautiful narrative of his life going back and forth between London, Paris, Los Angeles, and Yorkshire. Hockney currently resides at his home in Normandy, England.
Major Works Analysis
Portrait of An Artist (Pool with Two Figures)
1972, acrylic on canvas. Measuring 7' by 10', this is one of Hockney's most famous pieces that sold for $90 million at Christie's. As an openlay gay man, Hockney was fascinated with the Hollywood lifestyle and the welcoming freedom it allowed. Many of his paintings feature the male physique, specifically nude figures swimming in pools.
The Splash
1966, acrylic on canvas. Approximately 8' by 8', this piece is part of his famous trio including The Little Splash and The Bigger Splash. It most recently sold for more than $25 million at Sotheby's in London.
Man in Shower in Beverly Hills
1964, acrylic on canvas. While smaller than his commanding swimming pool pieces (about 5' by 5'), this piece displays Hockney's familiar and beloved themes–playfulness in water, homoeroticism, and simple domestic settings.
Top Collections and Exhibitions
Tate Britain Exhibition
Feb 9th – May 29th, 2017
---
The Tate has featured Hockney's beloved works numerous times. This was a notable exhibition with an extensive amount of Hockney works spanning across six decades. From swimming pools to Yorkshire landscapes to never-before-seen paintings, the Tate exhibition featured some of the most famous Hockney pieces to date.
The Arrival Of Spring
Aug 11th – Sept 26th, 2021
---
During the pandemic, Hockney moved back to England to his home in Normandy where he continued his painting–this time, on his iPad. The collection features 116 digitally-made paintings and illustrations, which were then printed on paper. One of the most unique Hockney collections, The Arrival of Spring shows his versatility and fearlessness in exploring new mediums.
INSIGHTS
Feb 2nd – Jun 19th, 2022
---
For the first time in Austria, Hockney's work is being displayed at the Bank Austria Kunstforum Wien. The exhibition features a variety of works including landscapes, portraits, and one of his most famous pieces, Man in Shower in Beverly Hills.
---