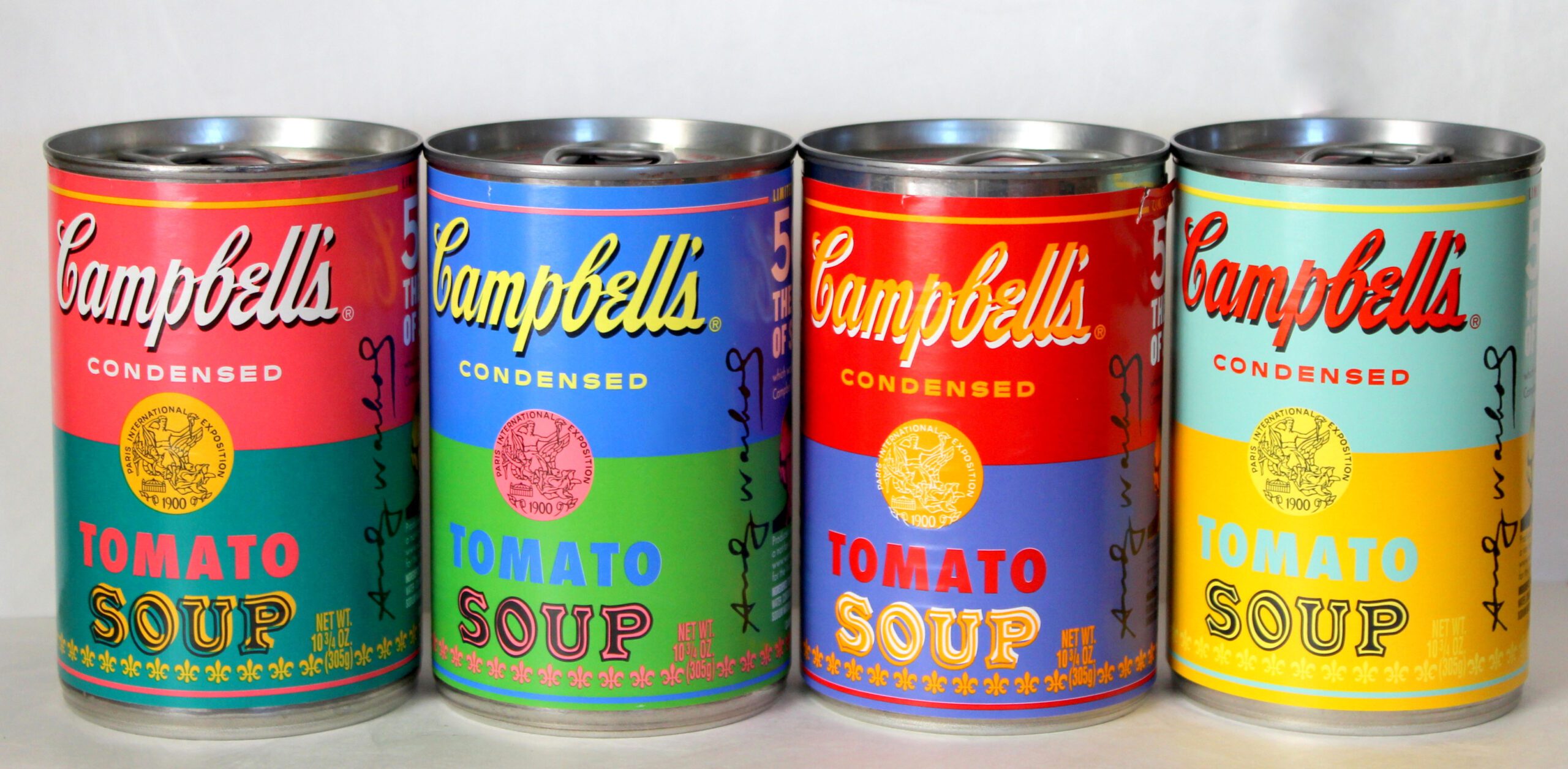 Why Andy Warhol Painted Campbell's Soup Cans
---
Warhol and Campbell's Soup are near synonymous with Pop Art. Pop art was a movement that transcended the relationships between everyday common day items and fine art. For the first time, the commonly known and commercialized imagery was now dubbed as something synonymous in value with the works of old masters and impressionists. This also reinterpreted the spaces we created for these very objects like galleries and museums. 
Andy Warhol
Andy Warhol (b. 1928, Pennsylvania – d. 1987, New York) was born Andrew Warhol and became interested in fine art during his childhood in Pittsburgh. From 1945 to 1949, he attended the Carnegie Institute of Technology, now known as Carnegie Mellon University, and obtained a degree in pictorial design. After graduation, Warhol moved to New York City and was a successful magazine and ad illustrator before he became a leading artist of the 1960s Pop art movement. Warhol ventured into a wide variety of art forms, including performance art, filmmaking, video installations, and writing, and he controversially blurred the lines between fine art and mainstream aesthetics. In the late 1950s, Warhol began devoting more attention to painting, and in 1961, he debuted his first "Pop Art" paintings focused on mass-produced commercial goods.
In 1962, he exhibited the now-iconic paintings of Campbell's soup cans. Andy Warhol is also well known for the high values placed on his work, in fact, the artist is among the few who have achieved in excess of $100 million for a work at auction. His 1963 two-panel masterpiece "Silver Car Crash (Double Disaster)" was sold for $105.4 million in 2008, making it one of the most highly-priced paintings in world history.
All That and a Can of Campbell's Soup
One pinnacle of the pop art movement iconography is that of Warhol's Campbell's soup cans. Curiosity weighs in on why a somewhat ordinary item could be the general focus of an entire series of work that would then be dubbed a cultural icon.
The story of the Campbell's soup can begins at an even more unsurprising place, Warhol's breaking into the fine art world. When he was trying to break out of his mold as a window designer. The story goes that he had done this by consulting with his friend and minor dealer of the time, Muriel Latow.
When asking Muriel for advice on the aptest way to break into the fine art scene, she offered some unconventional advice, "paint something you see every day- like a soup can"
One would consider this advice to be trivial given this was a point in the art that we had seen breakthroughs in the innovations of American painting through the abstract expressionist movement – and now to pivot to something as common and banal as an ordinary item? unheard of, but Warhol saw the vision.
If Warhol wanted a "recognizable" product of certifiably popular culture to turn into fancy art, Campbell's soup seemed likely to beat even Superman and Popeye and to get him out from under the shadow of Lichtenstein at the same time.
From Tin to Canvas
In Warhol's commercial career, photography's sheer ability to present us with stuff had doomed his stylish, hand-drawn illustrations. So Warhol took photography's directness and turned it into fine art.
He got his old boyfriend Ed Wallowitch, a skilled photographer, to give him shots of soup cans in every state: pristine and flattened, closed and opened, single and stacked to be his clever models for this new endeavor.
For the following year, Warhol was meticulously hand-painting those products onto canvases of every size. His goal was to make his soup paintings look as plain and direct as he possibly could, as though the cans had leaped straight from the supermarket shelf, or the kitchen counter or trash, onto his canvases. But in fact, he had to come up with all kinds of clever techniques to get that effect, cutting stencils to get his product's labels just right and mixing oil- and water-based paints to capture the speckled look of a can's tarnished tin.
The sheer perfection of his tarnished metal shows Warhol, so busy pretending to cut all ties to craft and tradition, becoming the latest in an ancient line of trompe l'oeil painters, the most craft-obsessed and conservative of all Western artists.
Good Soup
Warhol displayed a series of 32 Campbell's Soup paintings at a small show at the Ferus Gallery in Los Angeles on July 9th, 1962.
When Warhol's show opened, Pop was just getting started. People had no idea what to make of art that was so different from everything that art was supposed to be. There was a lot of initial shock concerning the artistic approach of such ordinary items.
Once the public and the critics got over their shock, they warmed to Warhol's soup cans. For one thing, they made art fun. How hard could it be to understand a painting when the original was probably on your kitchen shelf? Critics started to see the sly, ironic humor in Warhol's "portraits" of Scotch Broth and Chicken Gumbo.
The show at Ferus Gallery marked a turning point in Warhol's career. After the "Campbell's Soup Cans," Warhol switched from painting to silkscreen printing, a process that produced more mechanical-looking results and allowed him to create multiple versions of a single work. His reputation continued to rise.
Today, Warhol soup cans remain a pop culture icon, turning up on everything from plates and mugs to neckties, t-shirts, surfboards, and skateboard decks.
---