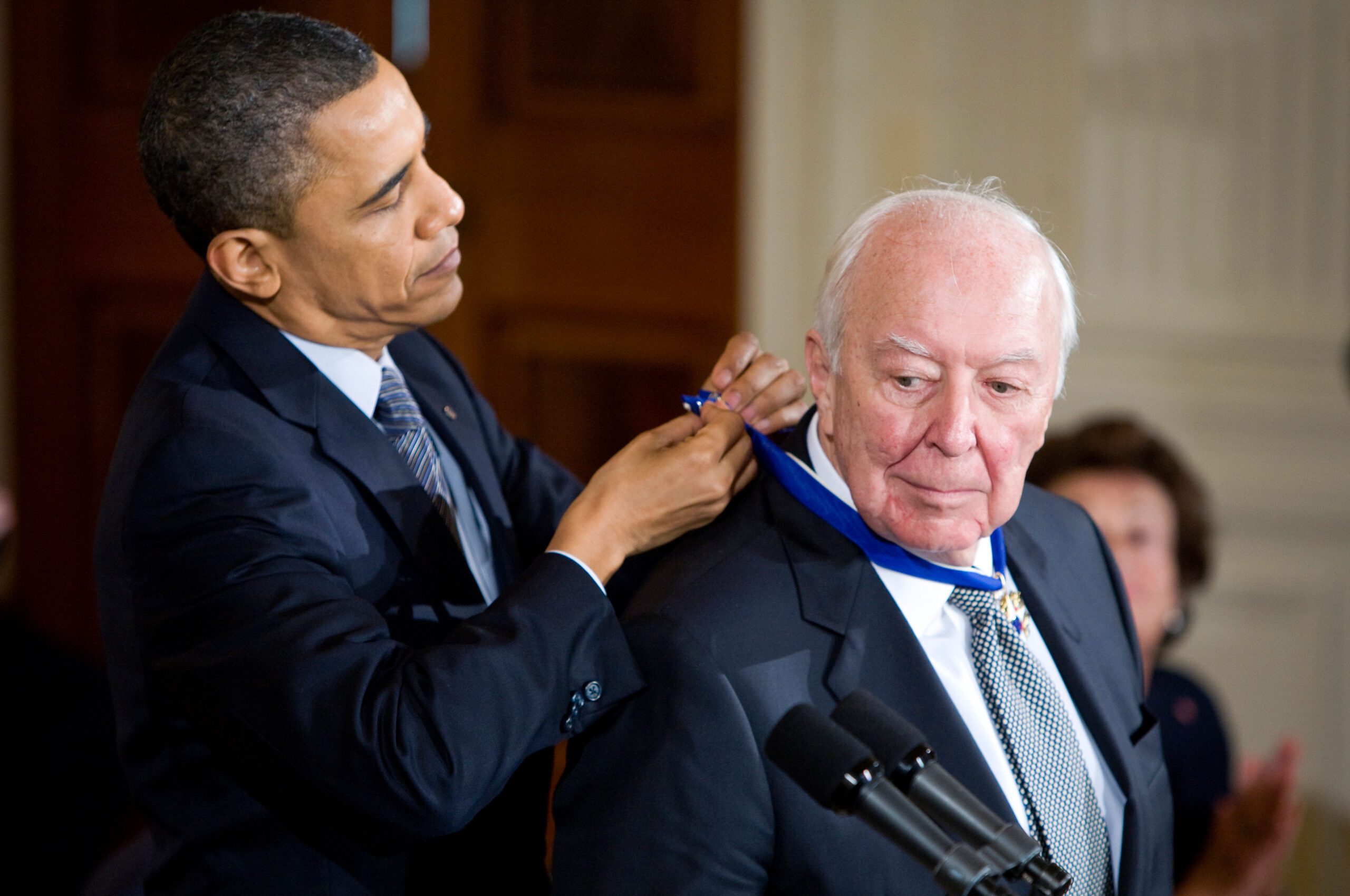 Who is Jasper Johns?
---
The Dreaming Artist of the 20th Century
Jasper Johns is an American painter, sculptor, and printmaker who made his debut in the 1950s art scene. His creations kickstarted a new art form that contrasted with the previous surrealism and abstract expressionism movements that had been ruling the art world for decades. His approach to creating art through vague symbols allowed him to explore intricate techniques using various mediums that invited personal interpretations of things familiar to the mind.
Johns' artwork has been displayed in some of the most respected art institutions in the United States. A handful of his earlier works have sold for tens of millions of dollars, including his Flag (1983) piece that sold at Sotheby's for $36 million in 2014. Johns experimented with the recreation of familiar objects and symbols, focusing on simplistic pieces that had the ability to adjust viewers' minds to a new way of thinking based upon their own knowledge and experiences.
| | |
| --- | --- |
| Born | May 15, 1930 |
| Nationality | American |
| Mediums | Painting, sculpture, print, drawing |
| Movements | Pop Art, Minimalism, Neo-Dada |
Entering the Art Scene
Jasper Johns was born in 1930 in Augusta, Georgia and was brought up by his grandparents in South Carolina. He developed a fascination and love for art at a very young age and knew that it was his calling to be an artist. Johns graduated from Edmunds High School, now called Sumter High School, in 1947.
After attending the University of South Carolina for three semesters until 1948, Johns moved to New York City. A year later, he studied at the Parsons School of Design before being drafted into the military and stationed in Sendai, Japan for the Korean War. After serving for two years, he returned to New York and met artist Robert Rauschenberg in 1954, which led to the launch of Johns' career.
In 1958, Johns' work was discovered by the notable Italian-American art dealer Leo Castelli while visiting Rauschenberg's studio. Castelli offered Johns his first solo show after seeing his work. Founding director of the Museum of Modern Art in New York, Alfred Barr, purchased four of Johns' pieces from the show.
Johns believes that the true art of his pieces lies within the process of creation. He focuses on the combination of various mediums to create an entire piece. This new representation of symbol and medium quickly caught the eyes of art lovers and museum goers.
Jasper Johns Artistic Style
Prior to his discovery, Johns had destroyed his previous creations as he was unhappy with them. In his earlier work, Johns created encaustic oil paintings of symbols and household items and later transitioned to sculpting and printmaking. His Flag (1954-55) piece kickstarted his art career as it differed greatly from the Abstract Expressionist work that was popular at the time. The idea for the Flag came to him in a dream and he began working on the piece the following morning, which was later donated to the Museum of Modern Art by architect Philip Johnson.
Johns incorporated some of his sculptures into his pieces, such as the Target with Four Faces (1955) that includes casts of faces perched across the top of the painting. He has recreated many of his works, including his series of flags, maps, and targets. He has produced over 40 variations of his flag paintings and over 2,000 prints.
He has been credited with the title of most paid for a work by a living artist on several occasions. The Whitney Museum of American Art purchased Johns' Three Flags (1958) for $1 million, the highest price paid for the work of a living artist at the time. In 1988, his False Start piece was sold for $17.05 million at Sotheby's, setting the record for the highest price paid for a work by a living artist at an auction. One of the highest prices paid overall for Johns' work is the Flag (1958), which was allegedly sold for approximately $110 million to billionaire Steven A. Cohen.
Although his early works were initially questioned by critics, Johns soon grew to be one of the most influential American artists and has been awarded for his contributions. Some of his most notable awards include the Presidential Medal of Freedom in 2011, the National Medal of Arts in 1990, and the Wolf Prize in Arts in 1986, amongst others.
Featured Works
Flag, 1954-55
Encaustic, oil, and collage on fabric mounted on three-panel plywood
This piece depicts the American flag using encaustic wax that enables the viewer to see distinct brushstrokes and smears that cover a collage of newspaper clippings. The piece was the start of Johns' exploration of enriching common symbols with very involved and detailed features.
Target with Four Faces, 1955
Encaustic on cloth and newspaper over canvas surmounted by four cast faces within a wood box and cover
The first target of the series, this piece features a tactile painted surface that lays over a collage accompanied by a wooden hutch displaying casts of a single model face. It evokes a technical approach to vague symbols that allow the viewer to interpret meaning through their own experiences.
False Start, 1959
Oil on canvas
Unlike other pieces, this work reflects an Abstract Expressionist approach with bright colors decorating the canvas. This piece moves away from predetermined coloration and reflects Johns' transition to learning new habits.
Top Collections and Exhibitions
A Retrospective
Oct 20th, 1996 – Jan 21st, 1997
A Retrospective, hosted at the MoMA, was a comprehensive survey that included some of the most influential American artists in the last few decades. The exhibition recognized Johns as a forefather of Pop, Minimal, and Conceptual art and featured some of his most notable works, including Flag (1954-55), Target with Four Faces (1955), Painted Bronze (1960), and Map (1961) amongst others.
Gray
Feb 5th – May 4th, 2018
Gray was the first exhibition that closely surveyed Johns' approach to the color gray. This exhibition at the Metropolitan Museum of Art in New York consisted of 119 paintings, reliefs, drawings, and prints to highlight the diversity of mediums used to portray the color.
Mind/Mirror
Sep 29th, 2021 – Feb 13th, 2022
One of the more recent exhibitions, Mind/Mirror, plays on the mirroring and doubling that is seen in Johns' 65-year career. Hosted simultaneously in two different locations (The Whitney and the Philadelphia Museum of Art), the two halves of the exhibition were designed to compliment and reflect each other, featuring works from his flag, target, and numbers series.
---