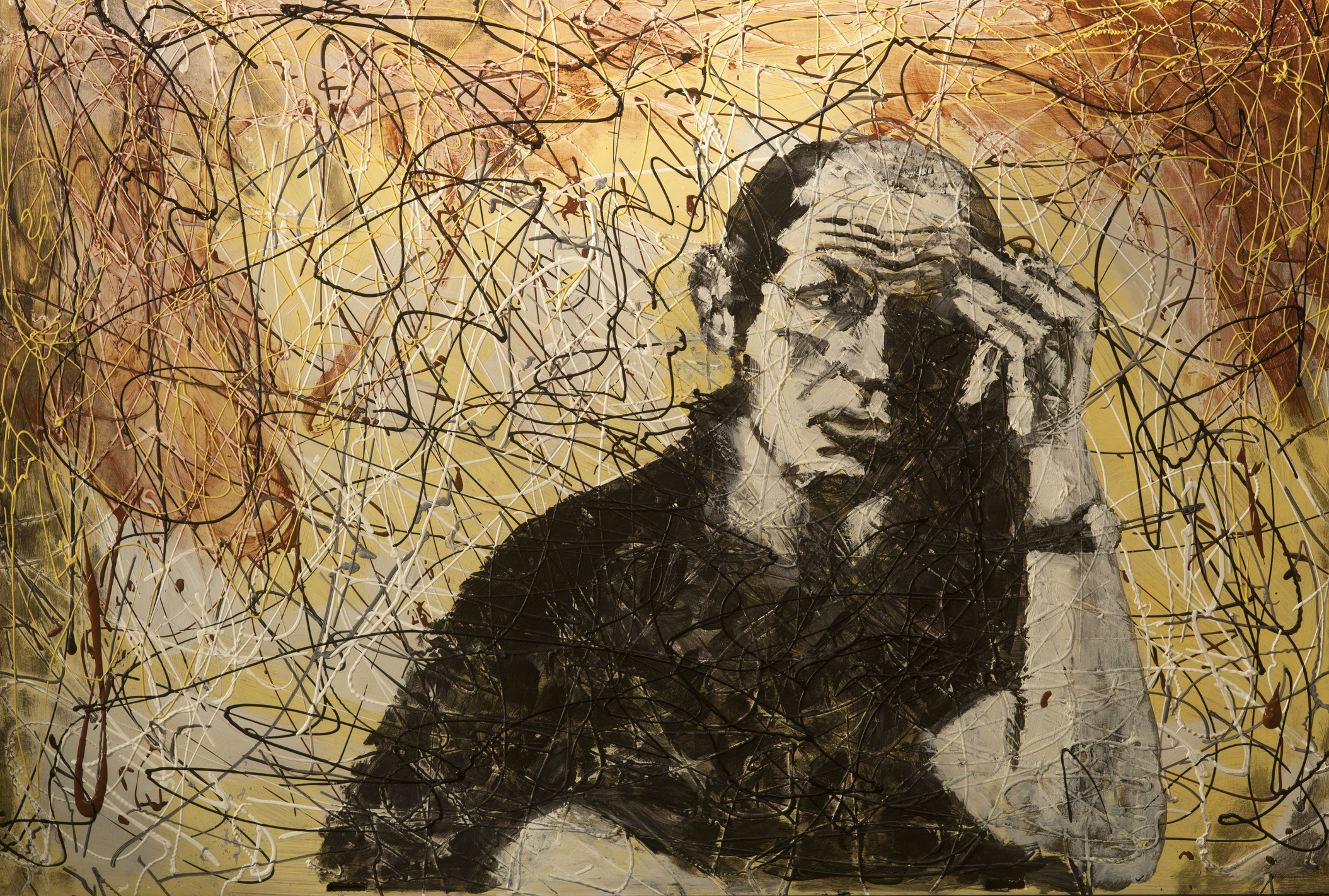 Who Was Jackson Pollock?
---
Paul Jackson Pollock (1912—1956) was an American painter known as a leading exponent of Abstract Expressionism.
Abstract Expressionism was an art movement characterized by the free-associative gestures in paint, sometimes called "action painting." Among his contemporaries, Pollock was respected for his deeply personal and uncompromising commitment to the art of painting.
Early Life
Jackson Pollock was the fifth and youngest son of Stella May McClure and LeRoy Pollock. The family left Cody, Wyoming 11 months after Jackson's birth. Over the next 16 years, his family lived in California and Arizona, eventually moving nine times.
In 1928 they moved to Los Angeles, where Pollock enrolled at Manual Arts High School. He came under the influence of Frederick John de St. Vrain Schwankovsky, a painter and illustrator who was also a member of the Theosophical Society. This sect promoted metaphysical and occult spirituality.
Schwankovsky gave Pollock some rudimentary training in drawing and painting, introduced him to advanced currents of modern European art, and encouraged his interest in theosophical literature. The teachings from Schwankovsky helped Pollock adapt his artwork take shape, and embrace metaphysical ideals and imagery.
Pollock Moves to New York City
In the fall of 1930, Pollock followed his brother Charles, who left home to study art in 1922, to New York City. In the city,he enrolled at the Art Students League under his brother's teacher, the regionalist painter Thomas Hart Benton.
He studied life drawing, painting, and composition with Benton for the next two and one-half years, leaving the league in the early months of 1933.
For the next two years, Pollock lived in poverty, first with Charles and then with his brother Sanford by the fall of 1934. He would share an apartment in Greenwich Village with Sanford and his wife until 1942.
Pollock was employed by the WPA Federal Art Project, a government-funded art program where artists collectively created thousands of murals and artworks for municipal buildings across 48 states. The WPA sought to put as many unemployed Americans back to work as possible and lift the citizens' morale.
Pollock joined the WPA in the fall of 1935 as an easel painter. This position gave him economic security during the remaining years of the Great Depression as well as an opportunity to develop his art.
The Guggenheim Effect
In 1943, after the liquidation of the Federal Art Project, Pollock was given a contract by Peggy Guggenheim at her Art of This Century gallery in New York, and his first one-person show was held there in November.
Pollock's work of the early 1940s was different from what was going through the early New York scene, which was more aligned to the work of the cubism and futurist movement — focused more on rudimentary shapes and rigid structure.
Pollock's work was expressive and emotive and gave subtle nods to the artwork of Surrealism. Someone that noticed this was fellow artist Lee Krasner and, of course, famous art patron Peggy Guggenheim.
Very late in 1943, possibly in the early weeks of 1944, Pollock painted his first wall-size work, Mural (c. 1943–44). This painting represents Pollock's breakthrough into a personal style.
With the artwork's success, Guggenheim fully financially supported Pollock as one of her artists and later helped adopt his career as a celebrated artist of the period.
Krasner introduced Pollock's artwork to the celebrated art critic Clement Greenberg and other influential artists of that period—so much so that he was awarded by Life Magazine the "the greatest living painter in the United States."
Between this patronage and his relationship with Krasner, who was already a respected artist then, he had the proper connections to help propel Pollock to the status of other fellow artists in the mid-40s.
In 1945 Pollock married the artist Lee Krasner and moved to The Springs, East Hampton, on the southern shore of Long Island, New York. Krasner, whom Pollock respected as an artist, had already proven her ability to handle his affairs with Guggenheim. She also provided a stabilizing factor that he sorely needed, given his drinking and social awkwardness.
Final Years & Legacy
During the late 1940s and early 1950s, Pollock had numerous single exhibitions in New York City nearly every year. Peggy Guggenheim formally represented him through 1947 due to a deal organized through Pollock's wife, Krasner. Pollock then transitioned through several gallery representations, including Betty Parsons Gallery and Sidney Janis.
His style began to shift around the early 1950s when he began to paint almost exclusively in black and white enamel, which was reminiscent of his early imagery. Pollock created his last series of works in 1953, including paintings such as "Blue Poles" and "The Deep."
Around this time, his stint with alcoholism began to take its toll on Pollock's health and production.
In his final years, Pollock would complete essential paintings of his oeuvre, such as "White Light" and "Scent." Pollock passed away from a car crash in 1956 while driving under the influence, accompanied by his mistress, Ruth Kligman, who survived.
Despite his emotional dysregulation due to alcohol, Pollock found equilibrium in his art. He thought of art as an extension of oneself, saw himself as the essential subject of his painting, and judged his work on the inherent authenticity of personal expression.
After Pollock's death, artists active in the American art movements immediately following Abstract Expressionism — such as Pop Art and Colour Field painting — looked back to Pollock's example as fundamental to their departures. For these artists, he became the model of a painter who had successfully fused art and life.
Today the work of Pollock in circulation is managed by the Pollock-Krasner foundation.
The Father of Abstract Expressionist Movement
Pollock is often regarded as the father of Abstract Expressionism, being grouped with fellow artists such as Willem de Kooning. However, this was not an easy endeavor for the movement to gain popularity and recognition.
Initially, American art culture did not embrace European Abstraction. Before World War II, most Americans found abstract art inferior and irrelevant, favoring the more figurative, literal style of Social Realism.
However, American society changed drastically after the war, and the art world shifted radically to adapt to the changing social climate.
Abstract Expressionism in the United States was heavily influenced by European Surrealism. While surrealism sought primarily to explore the unconscious self, the dreamscape, Abstract Expressionism expanded on this notion of unconscious examination by exploring conscious, emotional experience on both a societal and personal level — something that Pollock felt very personally.
It was no secret that Jackson Pollock struggled with acute depression and alcoholism. In 1939, he elected to undergo Jungian psychoanalysis in an attempt to control his mood swings and addiction. During therapy, Pollock created works that "concerned universals in the human psyche," often naming his symbolic works after Jungian archetypes.
In 1947, Pollock began creating his signature drip paintings. He did this by placing canvases on the floor and using his drip technique to conduct formal experiments with texture and line. At this point, he virtually eliminated all symbolic representation in his paintings and began opting for abstract forms that solely evoked pure emotion.
Jackson Pollock's Auction History
Since his death, Pollock's paintings have changed the course of art history from an educational lens to the art market. For decades, Pollock's masterpieces have had an impressive run at auction.
Pollock and his art fell into the coveted Blue-chip variety of fine art and had the auction record for the most expensive painting from any American artist.
Number 17, 1951
This stunning example of Pollock's black and white enamel paintings was sold by Sotheby's in the Macklowe's divorce sale in November 2021. The work features the fascinating fluid motions and subliminal imagery found in Pollock's earlier paintings. 
This painting set a record for the artist, fetching a hammer price of $53 million.
Number 19, 1948 
The painting was a crown jewel for the Post-War and Contemporary art sale held at Christie's in May 2013. It is an excellent example of Pollock's painting technique, action painting, with its weblike splatters across the canvas, playing with the concepts of line and texture. 
The painting was an impressive sale, selling for an astounding $52 million hammer price.
Composition with Red Strokes (1950) 
An exciting addition to Pollock's oeuvre, this work, in particular, references Pollock's early teachings on painting, moving back to including rudimentary shapes in the compositions.
The work, done later in his life, still encompasses the drip technique and creates a full circle of Pollock's evolution of artistic expression. This painting was sold for $49 million in the collections sale of Barney A. Ebsworth, titled An American Place, through Christie's in 2018.
---