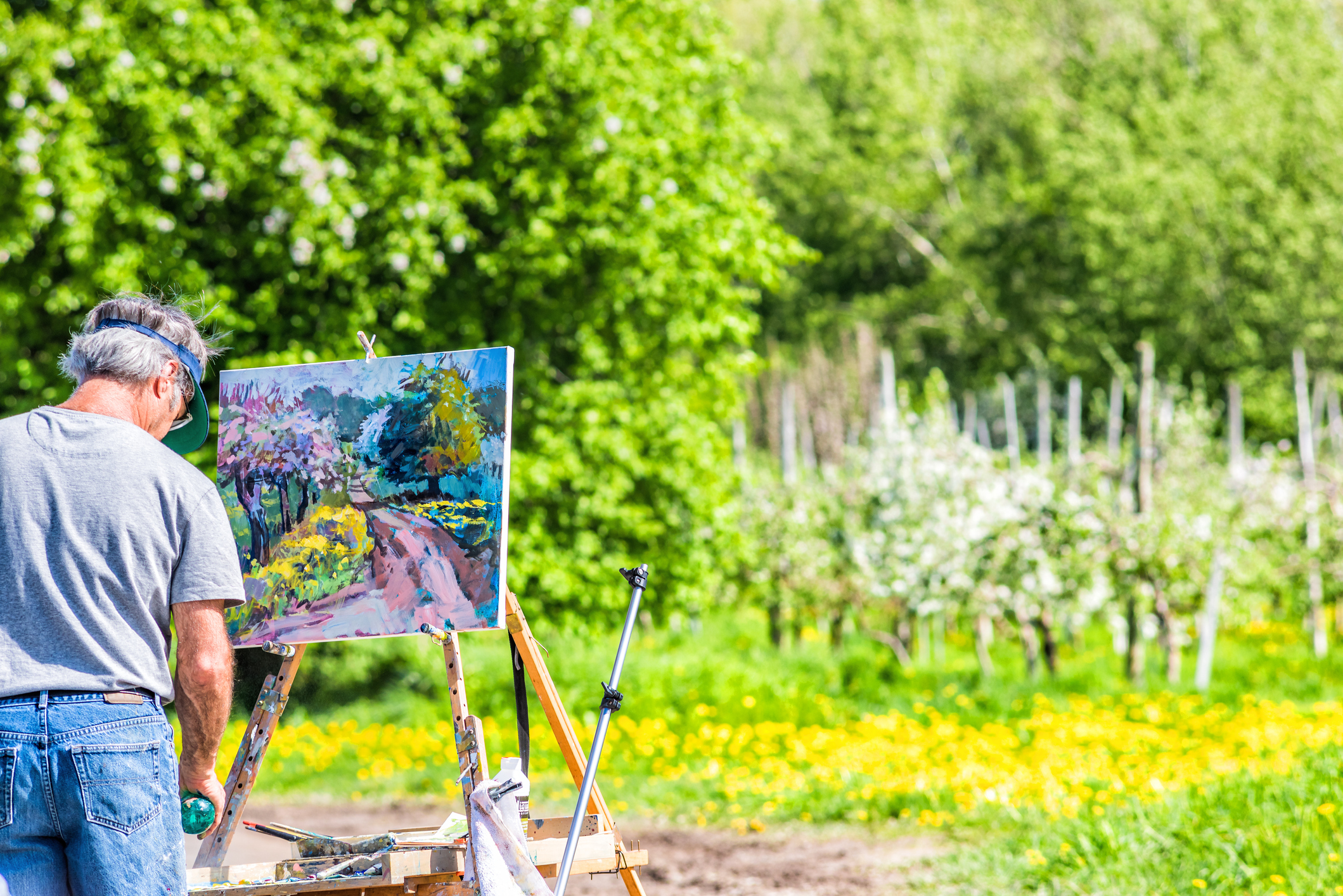 What is En Plein Air Painting? Artists Who Paint Outdoors
---
En plein air is a French phrase meaning "in the open air." During the late 1800s, circa 1860-1890, en plein air painting became increasingly popular among renowned and amateur painters alike.
It all started in 1841, when an American artist started putting his paints in metal tubes. Up until that point, artists were mixing their own paints every time their palette ran dry. With new conveniences, artists could take their paints and a collapsible easel on the road, and explore new rail lines leading out to the country.
In 2022, plein air painting workshops are just as popular as ever, even becoming one of the favored pandemic pass times.
So what is involved in plein air painting, and why is it so popular after all these years? In this article we'll talk about the continued appreciation of painting outdoors, as well as the part plein air painting played on the Impressionists.
What Is Plein Air Painting and Why Is It Popular?
Until the practice of painting outdoors became popularized, serious painters were relegated to studio painting. However, in his Reflections and Advice to a Student on Painting, Particularly on Landscape (1800), Pierre-Henri de Valenciennes directed painters to place themselves in situ — directly within the landscape they sought to paint.
The sense was that by being in the landscape itself, the artist could better understand the subtleties of the environment, like the changing patterns of weather and light. The natural light and tonal qualities of the outdoors helped artists to access a vibrancy that wasn't available in the studio.
En Plein Air Painting Equipment
Prior to the 1800s, paints were mixed by hand by each artist using ground pigments. They would often also have to grind the pigments themselves.
The other issue at hand was the matter of the easel, upon which the canvas is placed. This issue was solved with the invention of the French box easel (also known as a field easel). Box easels were often made to be the size of a briefcase, and capable of storing tubes of paint and tools.
Now artists could pack their box easel and paints onto their backs and trek out into the wilds in search of a vista.
Which Group of Artists Is Well Known for Painting en Plein Air?
When Monet was asked about his studio, the artist famously pointed out to the Seine and its floral banks, and stated, "That's my studio."
Plein air painting and Impressionism go hand in hand. Monet and a few of his Impressionist contemporaries, including Renoir, Sisley and Bazille, met in school in the early 1860s. They quickly discovered in one another a shared enthusiasm for painting en plein air, and as a result they would often venture out together.
Impressionism is a style of painting that reflects the impression of the light, atmosphere and figures as seen by the artist. An impression is a mirror of an image that also carries the cognitive and emotional perceptions of the artist. Impressionist paintings are often characterized by their visible brush strokes, as well as a preoccupation with light and movement.
There is an aspect of time being considered by Impressionist painters. Through the contemplation of light changing throughout the day, and of movement in a crowd, a ballet studio or across the water, Impressionist artists ask audiences to consider the beauty in the passage of time.
A few notable Impressionist plein air painters are the following:
Contemporary Plein Air Painting
Today, plein air painting workshops are easy to discover, with offerings from community centers and art schools alike. Indeed, plein air painting has not diminished over the years, and the practice is common among modern masters.
British pop art painter David Hockney is one such notable artist who maintains a practice of painting en plein air. Hockney is known for his realistic depictions of life in Southern California, however he returned to paint in the rolling fields of Yorkshire to remind himself of the grandeur of the natural environment of his homeland.
Neil Welliver is a contemporary American painter who is known for trekking deep into the woods of his 1600 acre property in Maine to paint. In a way, Welliver became known as a sort of Thoreau-like figure in the art world.
The natural world is a source of perpetual wonder for many artists. In no artificial environment can light and color be observed with such clarity and scale. The Impressionists knew this fact intimately — painting outside is about capturing the natural world, with access to all of the details that make up its glory.
Want To Own a Personal Share in Art History?
If you're passionate about art and art history, you may have wanted to become a part of it yourself.
But buying a Monet or Pissarro has been the realm of millionaires and billionaires until now.
Masterworks has made it easy to invest in shares of iconic masterworks by artists including Picasso, Warhol, and even Claude Monet with fractionalized shares starting at $20.
Create an account to be the first to know when new Masterworks offerings launch.
---