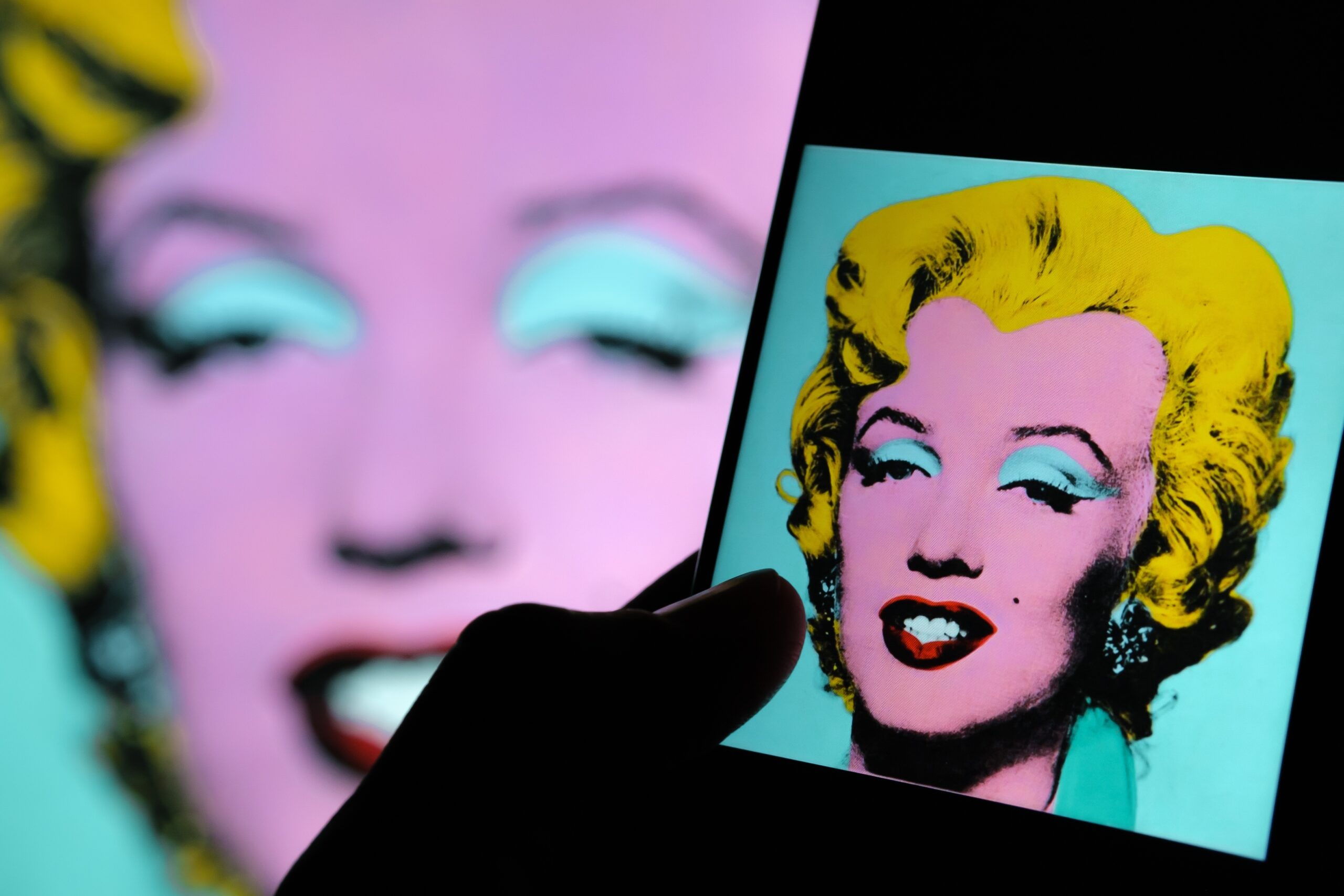 Warhol's Shot Sage Blue Marilyn: The Most Expensive 20th-Century Artwork 
---
On May 9th, 2022, the auction sale of Shot Sage Blue Marilyn (1964) took place at Christie's New York, selling for an astonishing $195 million USD.
Andy Warhol's Marilyn Monroe portraits are the ultimate Pop Art testament to celebrity, fame and beauty. The Mona Lisa of the 21st century is immediately recognizable, countlessly reproduced, and appealing in its coyness and inscrutability.
The sale takes the record for the most expensive piece of 20th-century art ever sold, previously held by Pablo Picasso's Les Femmes d'Alger (Version O), which sold for $179.4 million at Christie's in May 2015.
What is Warhol's Shot Sage Blue Marilyn?
Based on a promotional still for her film Niagara (1953), this work is one of a series of five silkscreen prints in different colors that are now undoubtedly more famous than the original photograph.
Only adding to their notoriety, this series of paintings are also referred to as the "Shot Marilyns" due to their gloriously traumatic history. In 1964, performance artist Dorothy Podber visited the artist in his silver-clad studio, the Factory. She was originally granted access to the studio due to Warhol assuming she was coming to shoot photographs of the paintings. After asking for permission to 'shoot' Warhol's work, she fired a revolver straight through a stack of Marilyn prints, hitting her right between the eyes. Though Warhol managed to repair the damaged works, as we can see in Shot Sage Blue, Podmer was banned from the Factory, and these works have never shaken their storied legacy.
So, has this stylish artistic happening made Shot Sage so valuable? Or would Warhol's Marilyn Monroe still be charming us for other reasons? Is it the lure of celebrity, of perpetual fame, that draws us in? Or is it the suggestion that elements of Warhol himself are contained within this work — it is, after all, the quintessential Warhol image?
Who Was Andy Warhol?
Andy Warhol is one of the most successful, most recognized artists of the 20th century in Contemporary Art.
The American artist quickly rose to fame in the early 1960s with the creation of his iconic silkscreen prints, most notably the Campbell's Soup Cans collection. His work was unlike anything people had seen at the time — it blended commercialism and banality with fine art in a way that evoked humor, vapidness and beauty all in one.
The Sale of Andy Warhol's Shot Sage Blue Marilyn
Warhol's Shot Sage Blue Marilyn sold for a record-breaking US$195 million at Christie's New York on May 9th, 2022. The much-anticipated sale resulted in the work becoming the most expensive 20th-century artwork ever sold at auction.
Bought after only 4 minutes of bidding by dealer Larry Gagosian, Shot SageBlue Marilyn pushed Jean-Michel Basquiat's Untitled Skull Canvas from the top sale spot — it had sold for $110 million USD in 2017. With all proceeds from the auction going to charity, it represented the largest philanthropic sale since the 2018 Rockefeller auction.
With Christie's describing the silkscreen print as "one of the rarest and most transcendent images in existence," it is no surprise that this much-loved pinnacle of Pop Art secured a pretty penny — albeit less than its pre-sale estimate of $200 million.
Andy Warhol's Consumerist Culture
No stranger to commercial savvy, Warhol did not pretend to hide his desire for money and notoriety, leaning heavily into the reproductive printing methods associated with Pop Art.
Shot Sage Blue Marilyn, with her electric eyeshadow, saturated yellow hair, and bold red lips, epitomize Warhol's two main focuses: the cult of celebrity and everyday consumerism.
One of Warhol's great fascinations, one that spanned his entire career, was consumerism and its implication on art and culture.
Experimental in his printing methods, Warhol often looked to recognizable consumer goods as inspiration for his works, such as the Campbell's soup cans or Coca-Cola.
In drawing attention to everyday items and elevating them to the status of "high art," Warhol highlighted how the consumerist drive is the very thing that unites us all, regardless of background or fame.
Andy Warhol At Auction
This sale is not the first time Andy Warhol's work has made waves in the art world for fetching extremely high prices. The following most expensive of his works to sell at auction is his 1963 Silver Car Crash (Double Disaster) in 2013. Taken from the artist's Death and Disaster series, the work fetched $105,000,000 at Sotheby's and combines the repetitive imagery made by the printing process with the great art historical tradition of history painting.
In terms of Marilyn Monroe portraits, it is Warhol's 1962 print Four Marilyns that held the record previously, selling for $34,000,000 at Phillips, also in 2013.
It seems that in terms of record prices so far, Monroe is not the most expensive of Warhol's celebrity reproductions, with works like Triple Elvis (alongside three other renditions of the King) selling for millions more.
Warhol's Love of Screenprinting
Warhol started experimenting with silkscreen printing techniques in August 1962, just days before Marilyn's tragic death. "The rubber-stamp method I'd been using to repeat images suddenly seemed too homemade; I wanted something stronger that gave more of an assembly-line effect," Warhol recalled in his memoir POPism.
Furthermore, the screenprinting process affords the viewer and artist a detachment from the image we see. In replicating the methods of mass media production, Warhol's prints reflect how public perception of celebrities are shaped. Shot Sage Blue Marilyn, therefore, of course, exudes a level of glamor and cool-girl aloofness we are so keen to prescribe to this Hollywood star. This replicates how she was portrayed in the media: as impenetrable and as a product to be consumed.
Therefore, Warhol's portrait, created using these methods, reduces Marilyn from a human being to a consumable good, as is the effect of media oversaturation he sought to draw our attention to.
Warhol and Celebrity Culture
Almost as well known for his infamous soirees and high-profile social circle as he was for his artwork, Andy Warhol was both an accessory to the rich and famous and a celebrity in his own right. He painted some of the 20th century's most recognizable faces, from Grace Kelly to Chairman Mao — as well as his own self-portrait of course — coining the notion that celebrities themselves could be commodified. In the process, he constructed a legend around his persona and marketed himself as the center of all that was exciting in art, fashion and pop.
Though he never met her, it is unsurprising that Warhol decided to depict Marilyn Monroe after her suicide in 1962, quickly becoming enamored with her as a subject. In 1967, he created his career's largest screen print series based on her 1962 portrait, alongside ten separate Marilyn portfolios across that same decade.
She was the ultimate celebrity subject: beautiful, mysterious, tragic, a sex symbol and a Hollywood starlet. There is just something otherworldly about Marilyn, and Warhol's graphic approach and a vast array of bold colors across the series hint at the complexities of her personality.
---