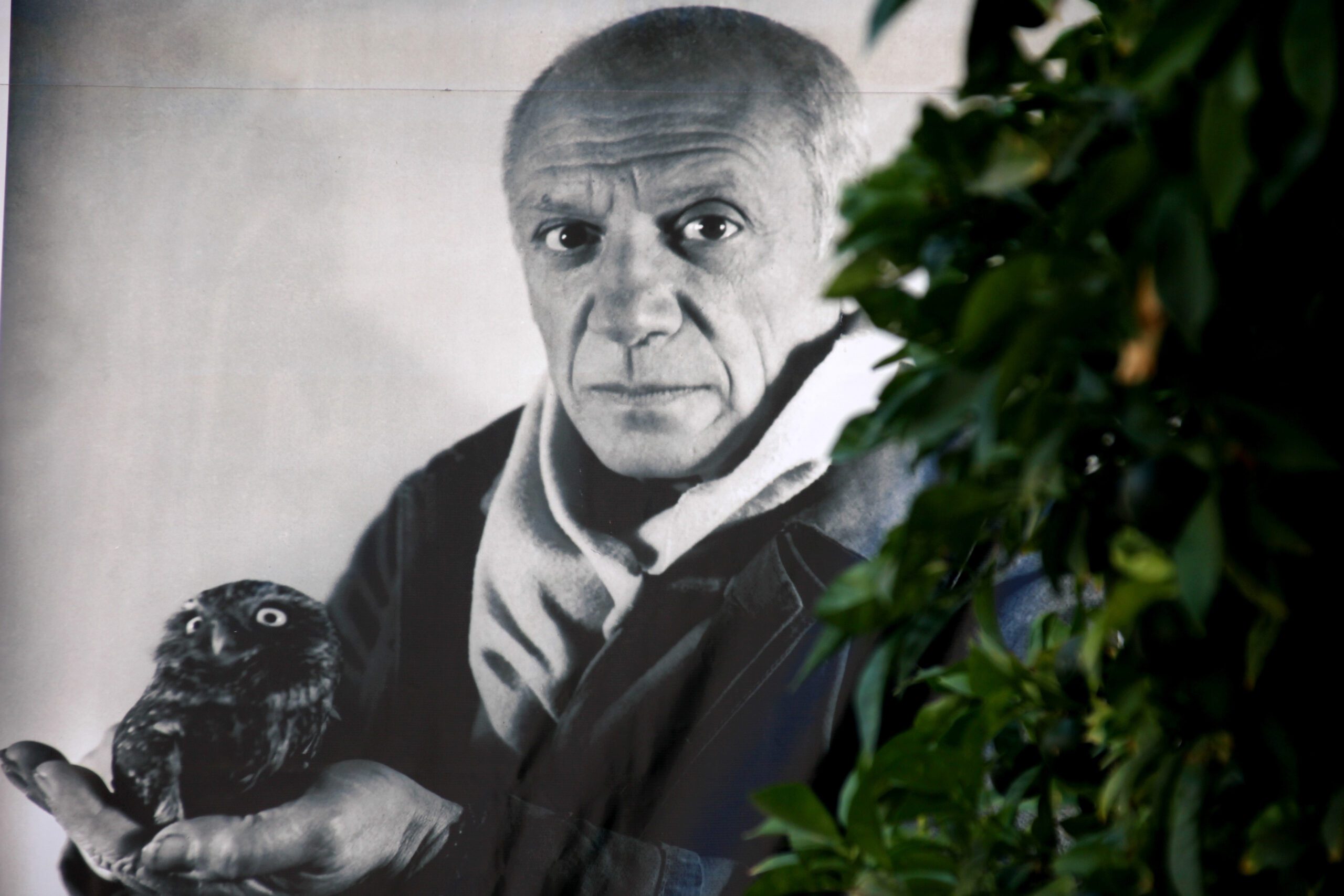 Who is Pablo Picasso?
---
Pablo Ruiz Picasso was a Spanish painter, sculptor, printmaker, ceramicist, and theatre designer who spent most of his adult life in France. Picasso's name needs no introduction as being one of the most renowned and influential artists of the 20th century. Currently, two of Picasso's paintings are in the top 10 most expensive paintings ever sold: Nude, Green Leaves, and Bust ($106.5 million) and Les Femmes d' Alger ($179.4 million). For perspective on value, Les Femmes d' Alger was sold in 1956 for $212, 500.
"The world doesn't make sense, so why should I paint pictures that do?"
-Pablo Picasso
| | |
| --- | --- |
| Born | October 25, 1881, in Malaga, Andalusia (southern Spain) |
| Died | April 8, 1973 |
| Nationality | Spanish |
| Mediums | painting, sculpting, ceramics, prints, theater props/costumes, collages, etchings |
| Movements | Cubism, Surrealism, Primitivism, Neoclassicism, |
His father, a painter, art professor, and museum curator instructed young Picasso in the basics of oil painting and figure drawing until the family moved to Barcelona following the death of Picasso's sister, seven-year-old Conchita, from diphtheria. Picasso entered an advanced art curriculum at Barcelona's School of Fine Arts at 13. Following early graduation from Barcelona's art school, Picasso was accepted by the Real Academia de Bellas Artes de San Fernando in Madrid at age 16. Picasso made his first trip to Paris, then the art capital of Europe, in 1900. There, he met his first Parisian friend, journalist and poet Max Jacob, who helped Picasso learn the language and its literature. In 1901 Pablo Picasso and his friend Francisco de Asís Soler founded the magazine Arte Joven (Young Art). Picasso illustrated the journal, mostly contributing grim cartoons depicting and sympathizing with the state of the poor. The first issue was published on 31 March 1901, by which time the artist had started to sign his work Picasso.
From 1898 he signed his works as "Pablo Ruiz Picasso", then as "Pablo R. Picasso" until 1901. The change does not seem to imply a rejection of the father figure. Rather, he wanted to distinguish himself from others; initiated by his Catalan friends who habitually called him by his maternal surname, much less current than the paternal Ruiz.
Artistic Evolution Through the 1900s to the 1970s
Blue and Red Periods
During Picasso's "Blue Period" (1901-1904), he painted vignettes of prostitutes, emaciated individuals, and homeless people in various poses using only blue-green and blue colors. His "Rose Period" (1904-1906) represents a creative period that was counterintuitive to his Blue Period. Picasso's Rose Period featured paintings of traveling circus folk delineated in shades of pink and orange.
Primitivism
Between 1907 and 1909, Picasso's three paintings--Les Demoiselles d'Avignon, Three Women, and Nude with Raised Arms–were inspired by his visit to a museum exhibiting African artifacts. This short but influential Primitivism period divulges Picasso's growing fascination with geometric forms, fractured backgrounds, and a two-dimensional perspective of living images.
Reassembling Reality: Cubism and the Industrial Revolution
Analytic Cubism
Picasso is considered the inventor of Cubism, an abstract art movement that flourished during the early 20th century. However, Picasso had creative assistance–a French sculptor, painter, and printmaker named Georges Braque. It was Picasso and Braque who developed analytic cubism, a sub-category of Cubism that uses different blends of neutral colors (brown, gray, black, and white) to emphasize the angularity of shapes. Analytic cubism emerged from the increasing mechanization of society, alienation as defined by Karl Marx, and the influence of German Expressionism.
Synthetic Cubism
Picasso is the founder of synthetic cubism, a new art form in which Picasso incorporated bits of cut wallpaper or newspaper into his paintings. The use of collage in modern art had never been seen at that time (1912-1920) and this novel method of consolidating art with patterned paper elevated Picasso's status in Europe.
Early Exhibitions and Awards
The Museum of Modern Art (MoMA) held a retrospective exhibition of Picasso's paintings, collages, and sculptures in 1939 and 1940. Providing the American public with the first comprehensive display of Picasso's art, MoMA also attracted art critics who were somewhat critical of analytical and synthetic Cubism.
In 1949, the Philadelphia Museum of Art hosted an exhibition of sculptors at its 3rd Sculpture International event. By this time, Picasso had created 12 sculptures, his most famous being Head of a Woman (1932) and Man with a Lamb (1944). Over a decade later, in 1962, Chicago commissioners asked Picasso to sculpt a maquette for a large public sculpture in Daley Plaza. Known simply as "The Picasso", the sculpture was not what commissioners expected. Controversial at the time due to its abstract, unrecognizable shape and dimensions, Picasso would not accept a fee for the sculpture. Instead, he donated it to the residents of Chicago and never explained or hinted at what the sculpture represented.
Featured Works
Girl Before a Mirror (1932, oil on canvas)
The woman in Girl Before a Mirror depicts the likeness of Picasso's mistress at the time, staring into a mirror that reflects a darker version of herself. Her face is split into two sections, with one section shaded in bright yellow and representing the sun. The other half, painted with dark colors, is thought to represent the moon.
Art critics have interpreted this Picasso painting as symbolizing a woman's duality, or more specifically, the two sides Picasso saw in his mistress. While the woman on the outside of the mirror appears content, her reflection demonstrates a woman who is sad and in psychological pain.
Girl Before a Mirror is currently on display at MoMA in NYC.
The Old Guitarist (1903, oil on canvas)
One of Picasso's more somber paintings, The Old Guitarist shows a blind, old man playing a song on a guitar. The man's expression seems distraught and tormented. Picasso painted this piece when he was destitute and grieving over the suicide of a close friend.
The Old Guitarist hints at Picasso's fascination with El Greco and Spanish art while symbolically portraying Picasso's empathy for poor and homeless people. Picasso's biographers have claimed that he was essentially penniless while painting The Old Guitarist.
The Old Guitarist is currently on display at The Art Institute of Chicago.
Les Demoiselles d'Avignon (1907, oil on canvas)
Considered Picasso's first real Cubist painting, Les Demoiselles d'Avignon created controversy in the art world because it was such a departure from the popular art movement at that time called American Expressionism. Five women are depicted, Cubist-style, in the painting. Two women are wearing dark brown masks, one woman is wearing an orange-brown mask, and the other two women are not wearing masks. The overall ambiance of Les Demoiselles d'Avignon reflects Picasso's enduring interest in primitive and African art.
When Picasso showed Les Demoiselles d'Avignon to his colleagues and close friends, he received mostly criticism, much to his surprise. This made him delay publically displaying Les Demoiselles d'Avignon until 1916 at the Salon d'Antin.
This Picasso painting can be seen at MoMA in NYC.
Collections & Exhibitions
Picasso and the Allure of the South
Ongoing until May 22, 2022
This exhibition at the Dali Museum in St. Petersburg, Florida
includes 79 Picasso collages, drawings, and paintings, with many never before seen in the U.S.
The Imagine Picasso Exhibition
Ongoing until Apr 9, 2022
Located in San Francisco, California, the Imagine Picasso Exhibition at the Skylight at the Armory has over 200 Picasso artworks on display that encompass his Blue, Rose, and Cubist periods.
Museo Picasso de Barcelona
Ongoing
The Picasso museum Barcelona is a key reference for understanding the formative years of Pablo Picasso. The genius of the young artist is revealed through the 4,251 artworks that make up the permanent collection.
---