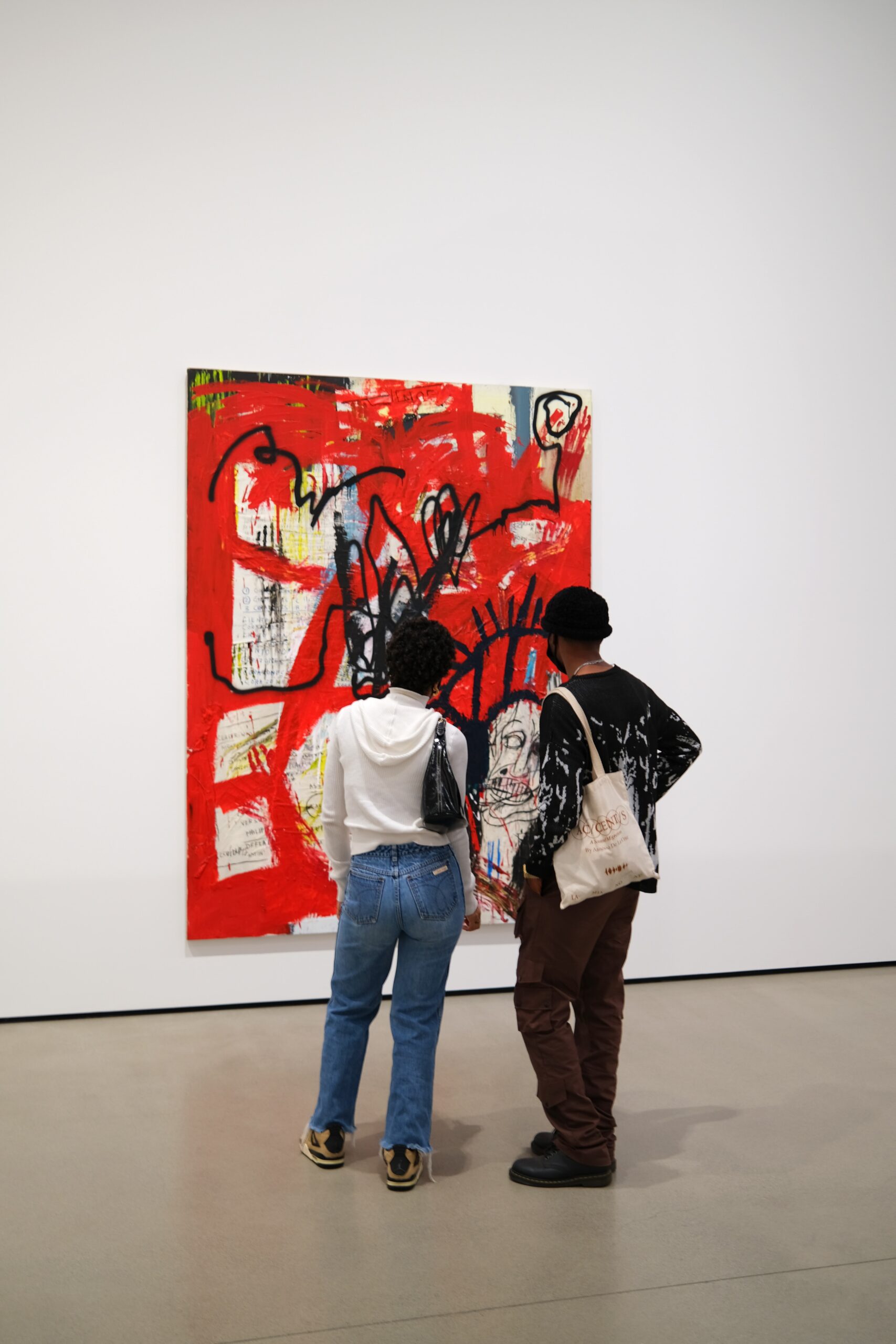 Social Activism In Basquiat's Artwork
---
Jean-Michel Basquiat's productive career spanned just one short decade. Yet, he is considered one of the best-known artists of his generation and one of only a small number of Hispanic-African-American artists to have achieved international recognition.
Graduating from subway walls to canvas and from the streets of New York to the galleries of SoHo, the artist Jean-Michel Basquiat and his work serves as a testament to the influence of his own culture and representation in American art.
Who Was Jean Michel-Basquiat?
Jean-Michel Basquiat was born in Brooklyn, New York, on December 22, 1960. His Haitian father, Gerard Basquiat, was born in Port-au-Prince, Haiti, and his mother, Matilde was born in Brooklyn to Puerto Rican parents. His family found it essential to impart their culture through Basquiat's life.
Because of his parents' nationalities, Basquiat was fluent in French, Spanish and English. He learned these languages by often reading Symbolist poetry, mythology, history, and medical texts, particularly Gray's Anatomy in those languages.
In 1978, Jean-Michel Basquiat quit school and left home for good just one year before graduating from high school. During the late 70s, Basquiat strived to gain attention from New York's art world, going as far to interrupt Andy Warhol and art critic Geldzahler's lunch to network. These efforts would eventually bear fruit after a continued push.
Three years later Jean-Michel Basquiat was invited by artist and filmmaker Diego Cortez to participate in a show alongside more than twenty artists, including Keith Haring, Robert Mapplethorpe, Kenny Sharf and Andy Warhol.
By the age of 24, Jean Michel became one of the biggest names in Contemporary Art, far from his humble beginnings as a graffiti artist. At this point in his career, he was dubbed "the radiant child" and graced the covers of the New York Times.
Jean Michel Basquiat would continue his success through various one-man shows and critical acclaim for his Neo-Expressionist style until his death from a heroin overdose. He was just 27.
Basquiat became one of the highest-selling artists in history and broke the record for a Black artist when his untitled 1982 self-portrait sold for $110 million in 2017. Despite this, his legacy still lives in the shadow of discrimination, simultaneously revered for and plagued by his work as a "Black artist."
What Did Basquiat's Art Focus On?
Popular Jean-Michel Basquiat's works include graffiti-influenced naïve, expressionist paintings, often including text and images from popular culture. Many paintings were also painted on found objects, old boards and furniture.
SAMO
Some of Basquiat's earliest work was an outlet for the young artist. In 1977, Basquiat, along with friend Al Diaz, began spray painting cryptic aphorisms on subway trains and around Manhattan's lower east side and signing them with the name SAMO (Same Old Shit).
The tag found through lower Manhattan was meant to represent the struggle fought against racism and classism experienced by the young artist and his friends.
Sample sayings by SAMO include SAMO as a neo-art form, SAMO as an end to mind-wash religion, SAMO as an escape clause, SAMO as an end to playing art, and SAMO as an end to bogus pseudo-intellectual.
Historical Black Figures
Basquiat closely identified with his Afro-Hispanic roots and paid homage to Black history through much of his work, placing key figures, specifically athletes and boxers, as the center point of his paintings.
The artist was influenced by watching boxers like 'Cassius Clay' (Muhammed Ali), Sugar Ray Robinson and Joe Lewis on TV, and felt a great respect for the athletes as individuals. He painted depictions of the athletes in his Neo-Expressionism style and added a crown atop them in some paintings.
The crown, of course, is a signature element of Basquiat's work, but in three of the paintings above, the symbol acts less as a calling card and more as an honorarium.
Colonial References
It cannot be denied that during the eight years that Jean-Michel Basquiat painted, his work examined the legacy of the colonial enterprise in American history and his relationship to that legacy.
A post-modern artist, Basquiat rejected the Western art world's rules, engaging in a critique of systems of racism, colonialism and capitalism in works such as Slave Auction (1982), Undiscovered Genius of the Mississippi Delta (1983), and Toussaint L'Ouverture v. Savonarola (1983). Themes of wealth and poverty, racial segregation, and class struggle dominated his work. His Black identity is also manifest throughout his art.
At Christie's Paris, Jean-Michel Basquiat's anti-segregation painting Jim Crow was sold for $17 million (buyer's premium included). The painting speaks not only to the artist's history but also to the vast populations from the American South who suffered under the oppressive Jim Crow Laws, which controlled their everyday lives for almost a century.
Civil Rights
During the eight years he painted, his work examined the legacy of the colonial enterprise and his own relationship to it. His experience as a Black artist in the 1980s firmly informed the central role held by race and racism in his art.
Nearly four decades later, the dominant issues of Basquiat's generation, including police brutality as depicted in his famous painting Defacement, and the lack of opportunities for Black people in the art world, are still present. Many of the obstacles Basquiat faced are structural barriers that remain for today's Black artists, who continue to use their art to denounce racism.
An event that had a strong impact on Basquiat's work is the death of Michael Stewart, a twenty-five-year-old Black art student, killed at the hands of New York City's transit police in 1983. This led to the creation of one of Basquiat's most famous paintings, Defacement, also known as The Death of Michael Stewart.
Today, when the reality of extrajudicial violence against Black Americans is at the forefront of national conversations, Defacement forces us to recognize the historical reality of these events. The presence of Basquiat's painting also challenges us to engage with American contemporary culture and politics explicitly.
By reading and rereading Basquiat's work from various perspectives, we begin to understand what this work meant to the artist when it was created and what it means today.
Why Is Jean-Michel Basquiat Important to Black Culture?
The duality of Basquiat's own experiences with his Black identity echoes the world we live in today; in which prominent black creatives lead in fields across the arts; but a time in which the power balance hasn't shifted, in which the police are extra judiciously killing Black citizens in America.
Basquiat found himself stuck in the middle: a prodigy or an intruder? A genius or a chancer?
If either is the case, Jean-Michel Basquiat presented a vision of a fragmented self in search of an organizing principle. Basquiat's paintings continue to influence modern-day artists and bring light to the issues faced by so many today.
---