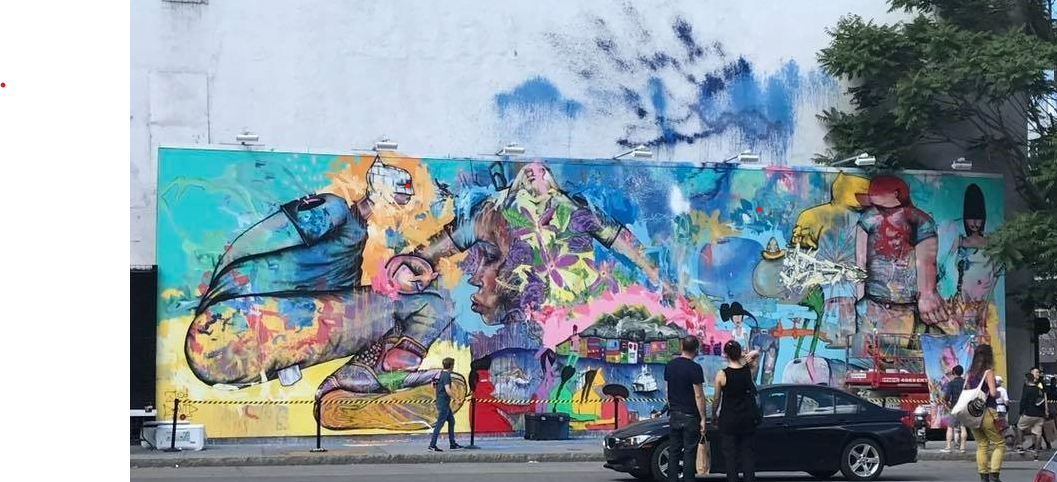 Street Art's Influence on the Lower East Side
---
The Lower East Side in Manhattan is considered the birthplace of the street art movement in the 70s and 80s. This was the height of famous artists like Keith Haring and Jean-Michel Basquiat's careers.
The Lower East Side was a safe haven for artists to express their creativity in the 1970's and 80s as the punk and graffiti scene thrived. Some of the same artists who started out tagging buildings with their friends at night now have their works up in the most renowned galleries and museums in the area.
Early History of The Neighborhood
The neighborhood was historically a hub for immigrants who lived in cramped tenement apartments, relying on the affordability of the neighborhood. Irish, Polish, Puerto Rican, Ukrainian and Chinese families who came to America for a better life, but struggled to make ends meet, found themselves together on the Lower East Side.
Many of the street artists were children of immigrants. Basquiat and Al Diaz met at City-As School and bonded over their Puerto Rican heritage, creating a joint tag SAMO together. Despite coming from different backgrounds, they bonded over their creativity and being teenage troublemakers.
The group of young street artists had the common goal to reject traditional art and do whatever they wanted. City authority figures considered what the artists created as vandalism, and spent plenty of government resources and time painting over their works and arresting them.
Gentrification
The East Village and Lower East Side has slowly gone from a family neighborhood of immigrants to one of the priciest neighborhoods in NYC. Family owned businesses have been replaced by boutiques, cafés, and Michelin-starred restaurants. The neighborhood began attracting artists and musicians in the 70s during the punk movement, when iconic clubs like CBGB opened.
The area probably has the starkest disparity between wealth and poverty in the city. The Whole Foods on Houston Street, where you can find celebrities like Jonah Hill shopping for $12 almond butter, is just blocks from The Bowery Mission homeless shelter and soup kitchen.
Expensive businesses and renowned galleries that display works by graffiti and street artists are now, ironically, worried about their exteriors getting spray-painted by kids.
The famous architect Ian Schrager-designed Public Hotel and nightclub on Chrystie Street, where you can stay in a $600 a night room looking over a park where unhoused people sleep on benches.
Street Art vs. Graffiti
Although graffiti and street art can be used interchangeably, there are significant differences between the two. Street is generally more image based and site specific, aiming to attract a public audience that celebrates the area.
Graffiti is more commonly word-based, and aims to get your own name and 'tag' recognized. The more you keep your eyes peeled when walking around the neighborhood, the more tags and motifs you'll notice.
The early days of graffiti in the Lower East Side was primarily a boys' club of vigilantes, typically teenagers, who would go out at night and tag buildings and subway stations. It was a competition as to who could get their name out there most, with their creations existing in conversation with one another. Artists got extra clout by tagging inaccessible or off limit locations like rooftops or billboards using spray paint.
The Rivington School
The Rivington School was the movement that emerged in the early 1980's in the East Village and Lower East Side. The artists named themselves after an abandoned public school on Rivington Street across from the club No Se No. They eventually turned the underground spot into a gallery and performance space.
Founding member "Cowboy" Ray Kelly put a book on the bar where any artist could sign up to perform or hang their work on the walls. Other early artists included FA-Q (Kevin Wendell), Jack Vengrow and Toyo Tsuchiya.
The School moved to an abandoned lot down the street and began welding sculptures with scrap metal they'd hunt the neighborhood for. They had to move after three years, when the 3 owners of the lot got a ticket for having a sculpture over 20 feet tall that almost killed several people. They moved to another lot and rented a small storefront.
The Rivington Sculpture Garden regularly got knocked down because they weren't permitted, eventually finding its permanent home on 6th Street between A and B. Linus Corragio opened a studio "The Garage" or "2B" on east 2nd street and Avenue B.
The Iconic Artists of the LES
The Lower East Side was the hub of creative freedom at at time that attracted a crowd of artists and musicians — and their fans followed. Famous artists Jean-Michel Basquiat and Keith Haring rose to fame in the 1980's, with a crew that included Andy Warhol and Basquiat's girlfriend, a pre-famous Madonna. They were often seen soaking up the downtown party scene at iconic clubs like CBGB.
The posthumous success of these famous artists attracts swarms of fans to the neighborhood they created their masterpieces in. There are street art tours so you can experience their stomping grounds and the history of graffiti and street art of the neighborhood.
Gradually the Lower East Side began to appeal to a new, wealthier demographic. Established figures opened galleries, generating crowds of important figures in the art world. In the last ten years, the East Village and the Lower East Side has become one of the most coveted places to live.
Great Jones Street
Great Jones Street has a notorious history as the home base for the early 20th century Five Points Gang.
The Five Points Gang was a group of Irish-American street criminals established by infamous mobster Paul Kelly in the early 1900s. He opened a dance hall and two-story café called the New Brighton Athletic Club at 57 Great Jones Street, which became the gang's clubhouse. Kelly charmed New York's elite with his sophisticated persona and appreciation for classical music and fine arts.
Jean-Michel Basquiat lived and worked at 57 Great Jones Street from 1983 until he passed from a drug overdose in 1988. Close friend and collaborator Andy Warhol owned the whole building, and he invited him to move in to use the space as a studio.
Basquiat was one of the industry's most sought after artists, and was at the high point in his career when he took over the loft. Unfortunately, his drug addiction became so severe his work began to suffer. He relied heavily on Warhol to keep an eye on him as he began to spiral out of control.
The Andy Warhol Association owned the building until 1990 after his death in 1987. The Greenwich Village Society for Historic Preservation placed a plaque honoring the artist in 2016.
"Shadowman" aka Richard Hambleton
Richard Hambleton was also a part of the downtown street art movement of the 1970's and 1980's. His "Shadowman" street art are his most well-known public paintings. Hambleton painted hundreds of these mysterious, life-sized splashy shadow figures all around the city.
Modern Day Mural Walls
The Lower East Side has several walls dedicated to public art that are popular spots to have an Instagram photoshoot in front of.
The Bowery Mural Wall
Keith Haring first painted a mural on this wall in 1982 on the corner of Bowery Street and Houston Street, before Goldman Properties acquired the wall in 1984 to display advertisements. Tony Goldman granted curator Jeffrey Deitch permission to use the wall for commissioned murals in 2008. The first mural was a replica of Haring's mural on what would have been his 50th birthday.
Banksy, whose identity and name is unknown, took over the wall in March 2018. The sidewalks were flooded with fans eager to see what the mysterious artist had created in the middle of the night. Banksy's work is often a commentary on the current political climate and his mural was made in protest of the imprisonment of the Turkish artist Zeha Dogan.
Other popular street artists such as Shepard Fairey, FAILE, Os Gêmeos, Logan Hicks, and David Flores have all displayed their work on the wall, which is repainted every 6-9 months.
The Rag and Bone Mural Wall
Another popular mural wall is displayed at the pricey fashion brand Rag & Bone's Lower East Side location. Founder and CEO Marcus Wainwright is a major supporter of the arts and knew this would be a great spot to honor street artists. This is how "the Houston Project" commenced. Just like the Bowery Mural Wall, you will always see tourists and locals alike snapping photos.
Over 40 artists such as Young & Sick, Federico Massa, Al Diaz, Jerkface, and Kevin Lyons have all been commissioned to paint murals at this location.
---