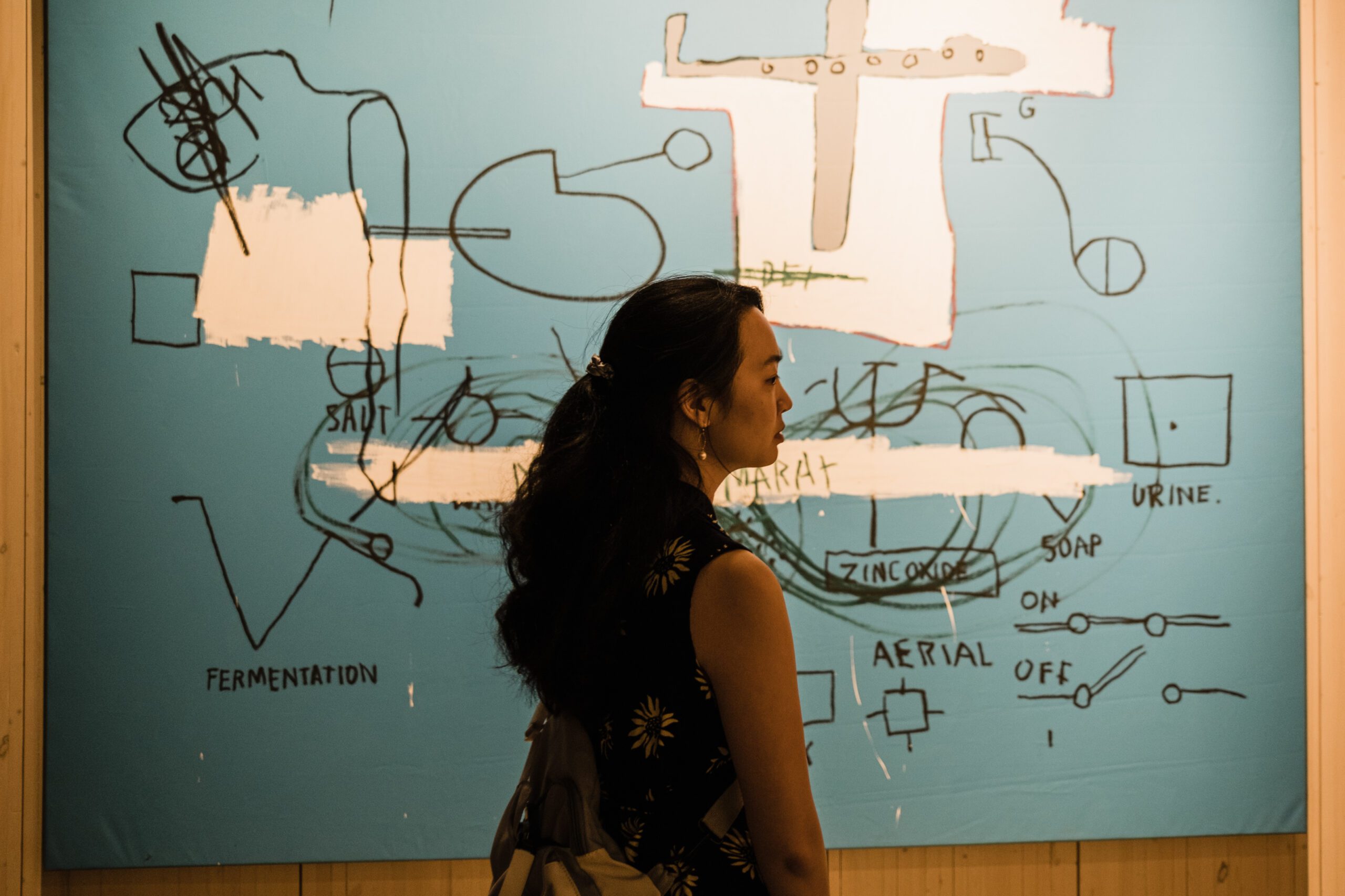 The Masterworks' Basquiat Buying Guide
---
Jean-Michel Basquiat's (b.1960-d.1988) artwork continues to shape the visual culture of contemporary art today. Since his passing, there has been a sense of urgency to acquire the unique yet scarce pieces he made.
Basquiat's artwork has only become more highly sought after in recent years. His pieces now sell for as high as $110.5 million, setting one of the highest art values for an American artist.
About Basquiat
A true homegrown artist, Basquiat started his craft on the streets of lower Manhattan. He painted graffiti on buildings to express himself and tagged it SAMO. SAMO, a project that he collaborated on with friend and fellow graffiti artist, Al Diaz, became a signature moniker for the artist till his death.
Basquiat honed his skill before he developed his innate talent for studio art. Unlike other artists, he wasn't schooled formally and had failed art-related classes. As a young man, he was a homeless graffiti artist who would sleep over at his friends' places.
While frequenting the most iconic clubs of the late 70s, Basquiat befriended artists who in the future collaborated with him. He met Kenny Scharf, Jim Jarmusch, Ann Magnusson, and Keith Haring, who had also become his artistic rival.
Basquiat had a chance encounter with Andy Warhol, a pioneer pop artist, in a SoHo restaurant. This paved the way for him to be mentored by Warhol, who helped young artists pursue their passion.
The first professional art gig that Basquiat landed was the "Times Square Show" in 1980. Soon after, he was featured as the "Radiant Child" in an Artforum article recognizing his graffiti art. Then, he took advantage of the dawn of German Neo-Expressionism in New York and embraced the movement in terms of style. It wasn't long before Basquiat had regular exhibits and held six solo shows in different parts of the world.
Basquiat's work influenced some of the remarkable visual artists of his generation across the world, including Andrea Chisesi, David Hewitt, Mi Be in, Barb Sherin, Mathieu Bernard-Martin, Scott Haley, and Mikael Teo.
Movement and Mediums
His aesthetic style showcases Neo-Expressionism by juxtaposing social issues like poverty and segregation. He used his talent to express social commentary and critique. He uses a mix of poetry, drawing, historical information, abstraction, and figuration in his artworks.
Basquiat developed his studio art into the Neo-Expressionism style that was emerging from Germany in the early 1980s. His depiction of subjectivity and an array of narratives emphasized through the contrast of bold colors is characteristic of Neo-Expressionism.
Collecting Basquiat As An Investment
To begin collecting Basquiat there are important questions to ask: "Why Basquiat?" and "How do I decide which painting?"
When addressing the first question, "Why Basquiat?", Basquiat's market demand has been increasing year over year, and he set records as the highest-selling artist in 2021. Basquiat's work is limited given his early passing, and the work that is in circulation typically has a valuable provenance from being part of some valuable early collections.
Basquiat's annual revenue reached $1.4 million in 1985. After his passing in 1988, the value of Basquiat's art increased. Basquiat's pieces eventually went from hundreds of thousands to millions of dollars.
In the book Basquiat: A Quick Killing in Art by Phoebe Hoban, she stated that there are 25 sketchbooks, 85 prints, 171 paintings, and 917 drawings of Basquiat in existence.
Basquiat Collection Examples
Crowned Figures
When the 21-year-old Basquiat joined the Documenta art initiative in Germany, he created about 200 artworks that showcased the crowned black oracle heroic figure motif. This series captured the essence of his technique through aggressive, dynamic lines of paint intended to mimic desires and secret feelings.
Basquiat's inspirations in his artworks included Muhammad Ali, Sugar Ray Robinson, and Dizzy Gillespie. From this point on, Basquiat had become a prominent figure in the art industry and would continue to pull up ranks towards uncharted fame.
Skull Figures
The most expensive work by Basquiat is Untitled, which is a skull-scribbled painting that he did in 1982. He used acrylic, oil stick, and spray paint to materialize his vision. The painting was priced at $4,000 when it was first up for sale. After more than three decades, in 2017, "Untitled" was auctioned and bought for $110.5 million by Yusaku Maezawa, a billionaire in Japan.
As a rule of thumb, an authentic Basquiat piece has a "JMB" initial with a crown above it. Basquiat used skulls or masks to mimic his aggressive approach as an artist.
Politically Charged Artwork
One notable art piece that he produced in 1983 is Defacement, which is invaluable for advocating against anti-black racism and police brutality. It concerns the death of Michael Stewart, who transit police killed due to subway graffiti scribbling. This inhumane treatment ushered in a movement addressing police violence.
Meanwhile, Basquiat's paintings "Warrior" and " Versus Medici" were deemed the most expensive Western paintings sold in Asia. They are priced at $42 million and $50.8 million, respectively. According to Forbes, experts attributed Basquiat's surge to fame once again to the then-launched Black Lives Matter movement. As depicted in Basquiat's "Defacement.", the said movement has a similar endeavor.
Branded Work
Basquiat's art has invaded the retail and entertainment industry. Popular commercial brands such as Converse, Coach, Uniqlo, and Dr. Martens have incorporated his art as designs in their products. On the upscale side, a Basquiat painting was in a Tiffany's advertisement, which features Hollywood's power couple Beyonce and Jay-Z. Products from these kinds of collaborations could be a good place to start building a Basquiat collection.
Authenticity
Unlike other popular artists like Banksy, Basquiat's estate does not have its own means of authentication of artwork. With this being the case, proper due diligence when researching a work of art by Basquiat needs to be done before purchase. This includes reviewing the provenance of the work or consulting a specialist.
Purchasing Basquiat
Basquiat has countless fans who would love to buy an original painting. Unfortunately, with the high prices at auction and the possibility of fraudulent pieces, buying Basquiat can sometimes feel unattainable.
Thanks to the art investing platform Masterworks, owning shares that represent an investment in a Basquiat artwork, as well as other blue-chip artists, is now more accessible than ever.
Masterworks already has more than a handful of authentic, original Basquiat paintings on our platform. For individuals that want to own shares in one of their favorite artist's original artworks, it is now possible.
---