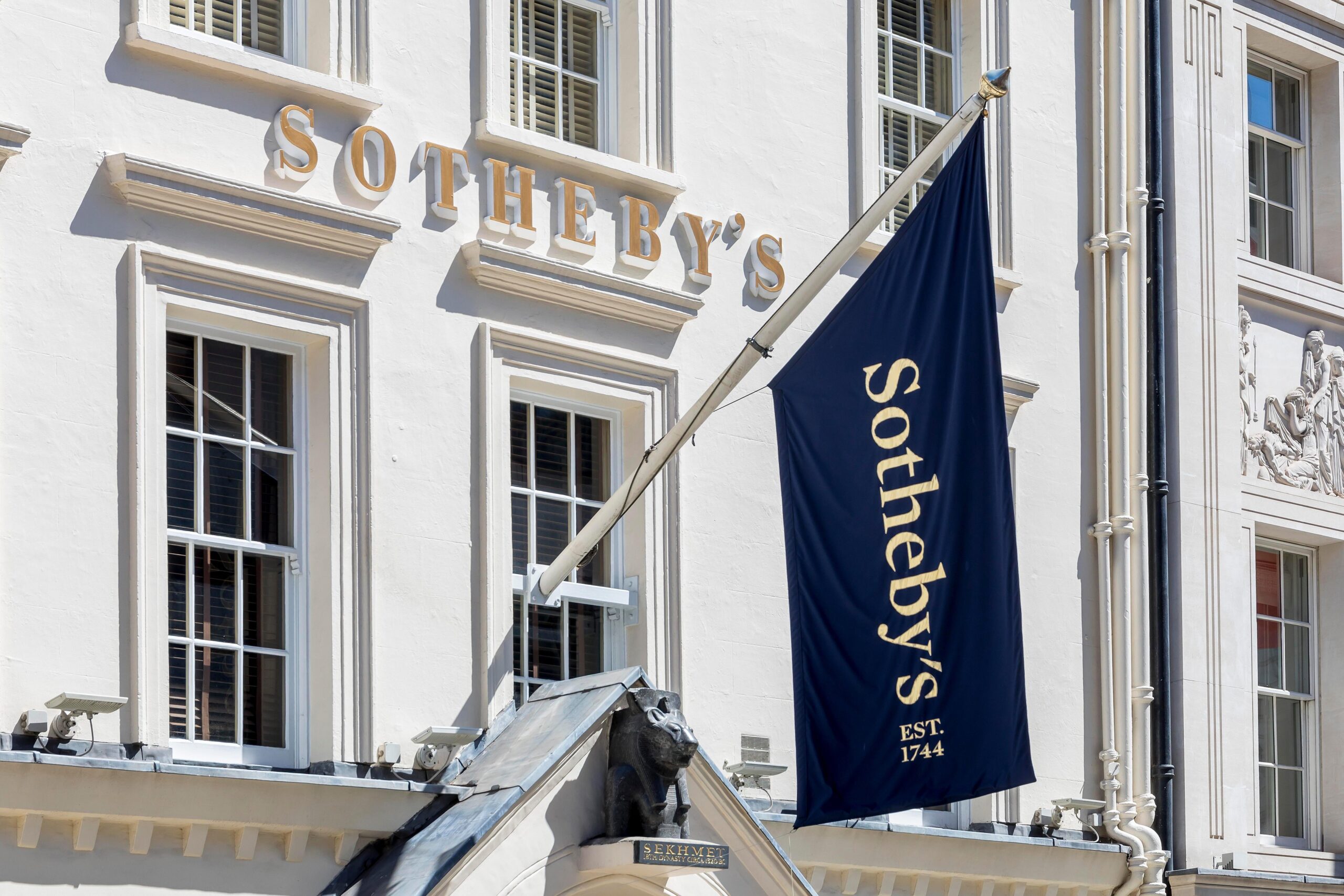 What is Sotheby's?
---
Sotheby's is a multinational corporation, best known for being one of the largest brokers of fine art, decorative arts, jewelry, and collectibles. Sotheby's is highly recognized as one of the largest auction houses internationally. 
History of Sotheby's
Sotheby's was founded in England in 1744 under Samuel Barker. Baker was a publisher and bookseller, the primary business of the auction house's early days. In 1767 Baker began a partnership with George Leigh, what one would call a natural auctioneer. After Baker's death in 1778, the business and his estate were divided between Leigh and his nephew, John Sotheby. The Sotheby family would retain the operations of the auction house for more than 80 years well into the 19th century. It was also at this time that sales expanded to prints, coins, and antiquities.
Sotheby's did not begin extending into the fine art space until their move to Bond Street near Mayfair in 1917. During the interwar period as well, there was more focus on the decorative arts, such as furniture and textiles, being traded and it wasn't until the postwar period that we saw the auction house acting more as an art brokerage through much of the 20th century.
in the mid-1950s, Peter Wilson, a trainee in the furniture department started a new department for Impressionist and Modern art. Also during this period celebrities were encouraged to partake in the fine art world for the first time and this garnered a lot of attention from the art market and Sotheby's. 
Today Sotheby's is considered one of the largest auction houses, boasting 80 locations internationally including London, Hong Kong, and their headquarters in New York, which they moved to in 1988, the same year the auction house had gone public trading on the New York stock exchange. 
Since its inception, 278 years ago, the name Sotheby's has transcended far past the humble beginnings of a bookseller to now a massive operation that includes all aspects of fine art ( old master paintings, contemporary art, modern and impressionist art), real estate, jewelry and rare stones, wine, and now breaking into the collectibles and streetwear market. 
Historic Sales from Sotheby's 
As one of the largest and longest-running auction houses in the world, several notable sales had brought in astronomical numbers and broken several artists' records. Here are a few of their biggest pieces and collections: 
Picasso's Garçon à la pipe for $104.2 million (2004)
One of the iconic images of the Blue and Rose periods, Garçon à la pipe probably began as a study of life in Picasso's immediate surroundings but was dramatically transformed in a moment of sudden inspiration
Warhol's Silver Car Crash (Double Disaster) for $108.4 million (2013)
Andy Warhol created Silver Car Crash (Double Disaster) in the summer of 1963, at the turn of his thirty-fifth birthday. Composed of two canvases, each over eight feet high and together spanning over thirteen feet, it ranked among the most monumental and ambitious works he had ever undertaken.
Edward Munch's The Scream for $119 million (2012)
Edvard Munch's The Scream numbers among the most celebrated images in art history. It is one of few masterpieces that require no introduction, as it has been analyzed, reproduced, referenced, interpreted, and commercialized more often than perhaps any picture bar Leonardo's Mona Lisa.
Botticelli's Young Man Holding A Roundel for $91 million in 2021 
Innovative in form and at the same time wholly characteristic of Botticelli's genius, this timeless masterpiece dates to the height of his career. It represents the perfect visual expression of late quattrocento Florentine culture, yet the crisp simplicity of its setting and the lifelike presence of the sitter renders it profoundly modern.
The Macklowe Collection (2021-2022)
The Macklowe Collection is one of the most important collections of any collecting category ever to appear on the market. Encompassing 65 works in total. Each of the 65 works is a consummate masterpiece; together they constitute an unrivaled ensemble that meticulously traces the most important art historical achievements of the last 80 years. Acquired over the course of half a century, the collection reflects decades of pursuit, honing, and refining, driven by immense patience and an innate understanding of quality.
The Private Collection of David Bowie (2016) 
Following the death of the singer in January 2016, the whole collection, including more than 100 pieces of furniture reflecting his interest in all aspects of design-including works by Damien Hirst and Henry Moore – had gone on display for the first time before being auctioned. The collection is particularly rich in 20th-century British art, including two brilliantly colored "spin" paintings by Hirst, and works by Frank Auerbach, Stanley Spencer, Patrick Caulfield, Peter Lanyon, and Graham Sutherland.
How does Sotheby's work? 
Sotheby's operates as a brokerage firm, meaning that when someone wants to sell or purchase a good, Sotheby's will act as the middle man in that transaction. They can fill this role either through a public auction or through private sales. A public auction is the best known and also most entertaining means of sale. The functionality of the auction is that it may attract the highest number of buyers for a sale at a single time. If interested, feel free to browse through the Masterworks Guide To Auctions to learn more.. 
How to sell at Sotheby's?
If interested in selling through Sotheby's the first action would be to inquire which sale location is closest to you. The next step would be to contact someone on their team varying on the department your good would fall under. Someone will get in touch with you to conduct an appraisal and walkthrough of the goods. It will then either be selected and then taken into the custody of the auction house. If approved, it will either be considered for private sale or public.
The good in question would then hit the saleroom and be put up to bidders either in person, absentee, or online. The sale price will be set by the reserve price, otherwise known as the minimum the seller is willing to sell- this will lie either just below or at the low estimate range. The winning bidder will then purchase the good for the sale price including the buyer's premium. The Sotheby's auction is not over then, the seller then has to pay the house, the seller's commission. After that, the art is then taken into post-sale services. 
How to buy at Sotheby's?
Purchasing at an auction is pretty synonymous. When viewing the calendar of the upcoming auctions and seeing a certain artwork or several that are of interest to you, the first thing to do is again check the sale location. This will determine if you will be capable to bid in person or need to bid absentee or online.
The next steps would be to check the valuations of the artwork to determine the price ranges and personal budget. Then would be to register for the auction. When registering you are given a paddle number which is what will be used as an identifier for your bidding and won lots. If you do succeed at bidding remember to keep in mind the Buyer's premium which will be an added commission that could be anywhere between 20%- 25% of the hammer price. 
Sotheby's FAQs
Where is Sotheby's office?
Sotheby's has a total of 80 international locations. Their headquarters can be found at 1334 York Ave in New York City. T
The address for the London office is  34-35 New Bond Street.
Hong Kong address is 5/F One Pacific Place, 88 Queensway.
What are the hours of operations?
For the New York offices, guests can browse through the gallery on business days and weekends between the hours of   10 am   – 5 pm.
For other office hours please refer to the locations page on Sotheby's website. 
What is Sotheby's contact information?
If located in or trying to get into contact with the UK office then email enquiries@sothebys.com or call: +44 (0) 20 7293 5000
If wanting to get into contact with the US offices then email Service@sothebys.com or call +1 212 606 7430
Where can I view the upcoming sales?
All upcoming auctions can be found on Sotheby's website under the auction calendar. As well as checking preview dates to see collections at your closest Sotheby's salesroom. This information can be found in the press release of most auctions.
What are the conditions of business for online sales as opposed to in person? 
All conditions of sales can be found on Sotheby's terms and conditions page that we have graciously linked below. It contains all important information regarding the rights of both buyer and seller, along with obligations, conditions, limitations, and exceptions that apply.
What other business does Sotheby's conduct?
Sotheby's purports several other subsidiaries and partners that work outside of the dealings of selling fine art and vintages.
Sotheby's Art Institute
Sotheby's hosts its own institute known as the Sotheby's Institute of Art. Originally conceived as a training program for connoisseurship by Sotheby's auction house in 1969, Sotheby's Institute of Art aims to provide students with education on the business of art while exploring both the scholarly and practical sides of the art world.
Sotheby's International Realty
Another subsidiary is the real estate group Sotheby's International Realty. Sotheby's International Realty is a luxury real estate brand founded in 1976 by Sotheby's fine art dealers. Sotheby's International Realty operates as a franchise focusing on brokering and marketing residential real estate.
RM Sotheby's
One of the newer partnerships is that with RM Sotheby's. RM Sotheby's, formerly RM Auctions, is a classic car auction company headquartered in Blenheim, Ontario, Canada. With offices across the United States and several European countries, the company's services include restoration, private treaty sales, auctions (online and local), and financial services. It has been partly owned by Sotheby's, a global company dealing in fine art, since 2015.
---