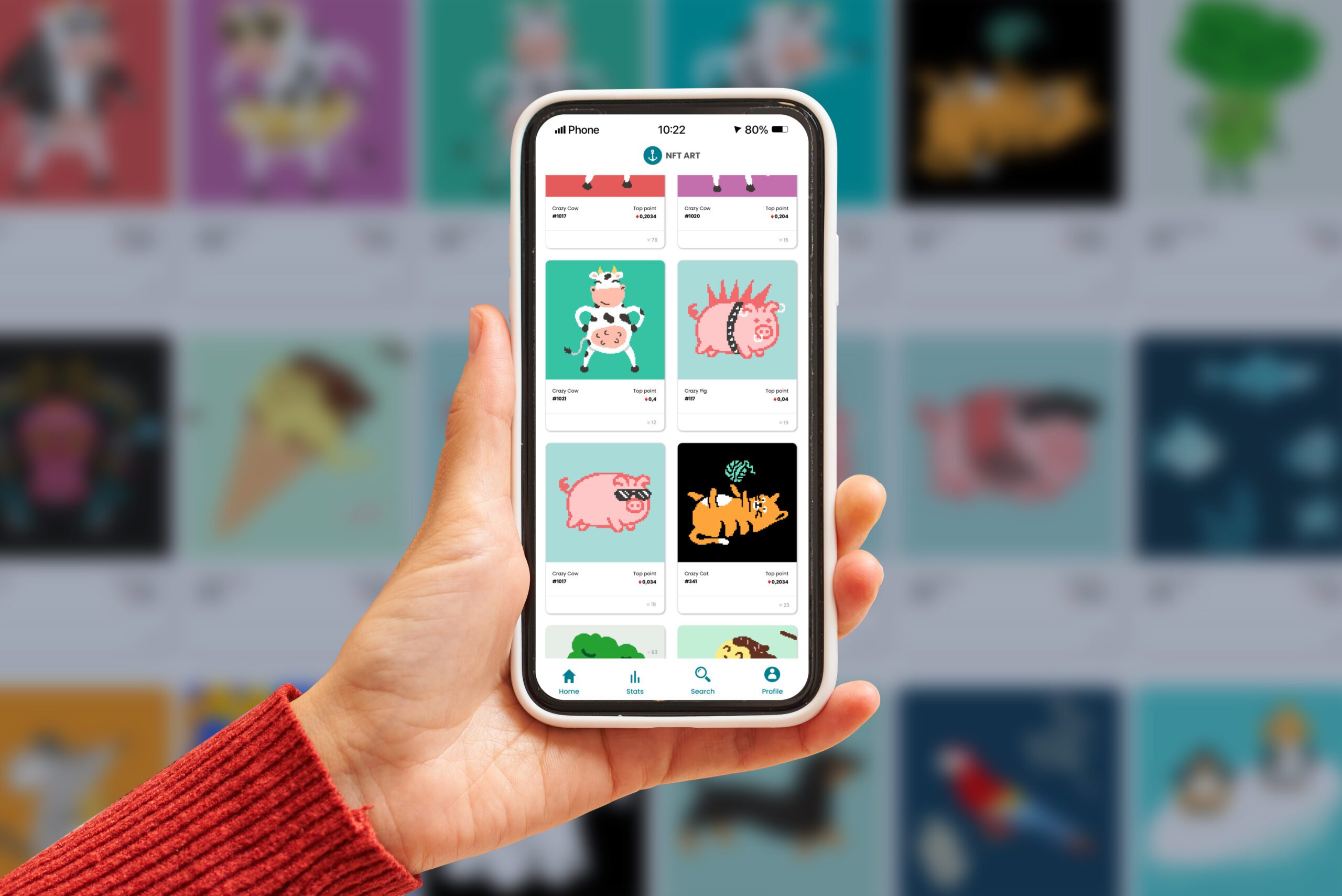 5 NFT Collections by Blue-Chip Artists
---
Non-fungible tokens (NFTs) have been all the craze in recent years, especially on social media and among celebrities. But recently, NFTs have made their way into the fine art world, attracting the attention of galleries and artists already established in the traditional art market. 
Christie's hosted the first NFT auction in 2021, leading to the record-breaking sale of Beeple's "Everydays: The First 5000 Days" for $69 million. Since then, Christie's has launched a platform focused on NFTs while more and more traditional artists have entered the metaverse. 
Who are Blue-Chip Artists?
"Blue-chip" in the art world refers to artists with consistently high sale prices and some level of cultural recognition. The works of blue-chip artists not only have great economic value but also represent the safest and most reliable investments when it comes to fine art. This is because their value remains stable over time despite economic volatility. 
5 NFT Projects by Blue-Chip Artists
Damien Hirst — "The Currency"
Damien Hirst has a long history of provocative works, such as his infamous $12 million formaldehyde shark. This legacy continued with Hirst's most recent NFT project. 
Hirst's entrance into the world of NFT art took place with the sale of a series of eight prints entitled "The Virtues," made available from February 25th to March 3rd on Hani Leviathan. These reached a record $22.4 million.
In July 2021, Hirst released the NFT collection called "The Currency," which consisted of 10,000 works on paper featuring unique dot patterns with corresponding NFTs. Successful buyers had up to a year to decide if they wanted to trade their NFT for the physical artwork.
The remaining physical paintings not chosen would subsequently get burned. Out of the 10,000 pieces sold, more than half of buyers chose to keep the physical art while slightly fewer opted for the NFTs. The paintings not chosen are set to be burned one by one in the fall of 2022.
In November 2021, Hirst offered 10,000 more NFTs in his new collection "Great Expectations" exclusively, and for free, to buyers of "The Currency." In January 2022, Hirst released his second collection of NFTs, "The Empresses," based on his iconic butterfly artworks. Like "The Currency," buyers could keep the digital NFT or trade it for a physical print.
 

 

 

View this post on Instagram

 

 

 

 

 

 
Takashi Murakami — "Murakami.Flowers"
The world-renowned Japanese artist, Takashi Murakami, has a very unique style: a mix of anime-influenced Superflat and the Pop Art of Andy Warhol and Jeff Koons. 
He launched "Murakami.Flower" in March 2021 on OpenSea, attracting public attention with a bid of around $160,395 for the first work.
"Murakami.Flower" is a collection of pixelated flower pieces expressed in dot art evocative of Japanese video games created in the 1970s. A combination of 108 backgrounds and flower colors make up 108 different fields, resulting in 11,664 flower images in total.
 

 

 

View this post on Instagram

 

 

 

 

 
Urs Fischer — "CHAOS"
In April 2021, Swiss artist Urs Fischer offered the first work from his debut NFT collection, "CHAOS," on the app Fair Warning. Fischer has been no stranger to ephemeral art — his most famous works include sculptures made of candle wax that melt away during the course of an exhibition — and his works can sell for millions of dollars at auction.
He conservatively estimated CHAOS #1 Human at about US$1,000. It sold for nearly US$100,000.
Tom Sachs — "The Rocket Factory"
Tom Sachs is an American Contemporary Artist famous for his mixed-media sculptures which are often modern reimaginations of modern icons. All his sculptures are handmade with plywood, resin, steel, ceramic and even everyday materials such as phone books, duct tape and foam core. 
Sachs has partnered with major brands like Nike to create various innovative pieces. His works are part of museum collections in the Whitney Museum of American Art, the Museum of Modern Art in New York, the Los Angeles County Museum of Art, and the Solomon R. Guggenheim Museum, and more. 
"The Rocket Factory" is a collection of assembled rockets. Only 1000 Rocket NFTs will be minted, each receiving a unique name from Sachs. Rockets may be assembled from Component NFTs in the Rocket Factory Component Collection.
Daniel Arsham — "Eroding and Reforming"
Daniel Arsham is a contemporary American visual artist who works across art, architecture and performance. His work has been shown in museums and institutions worldwide, including MoMA PS1 and the New Museum.
Since 2013, Arsham has developed a highly successful edition practice with global reach, becoming one of the key leaders in the space. His releases often sell out immediately, resulting in exponential secondary market results on StockX at auction houses such as Sotheby's.
Arsham has also collaborated with Adidas, Dior, Pharrell Williams and Pokemon, and was named the Creative Director of the NBA Cleveland Cavaliers in 2020.
In a series of digital sculptures titled "Eroding and Reforming Digital Car," Arsham is releasing three NFTs that continue Arsham's conversation of decaying and fossilizing modern objects.
Each NFT will be going through its erosion cycle. The first one released depicts the artist's interpretation of how a 930 Safari Sculpture is expected to erode over time. Only 150 pieces will be minted.
The Bottom Line
While the NFT market has been much more volatile than the traditional art market, they've simultaneously found more acceptance with traditional art market players. Galleries, auction houses and blue-chip artists have started making inroads into the metaverse. 
Digital art and the fractionalization of art investments are new developments for the art investment space. It's hard to say what the impact will be long-term of these new vehicles, but it's apparent that traditional spaces are looking to be a part of a changing art world. 
---