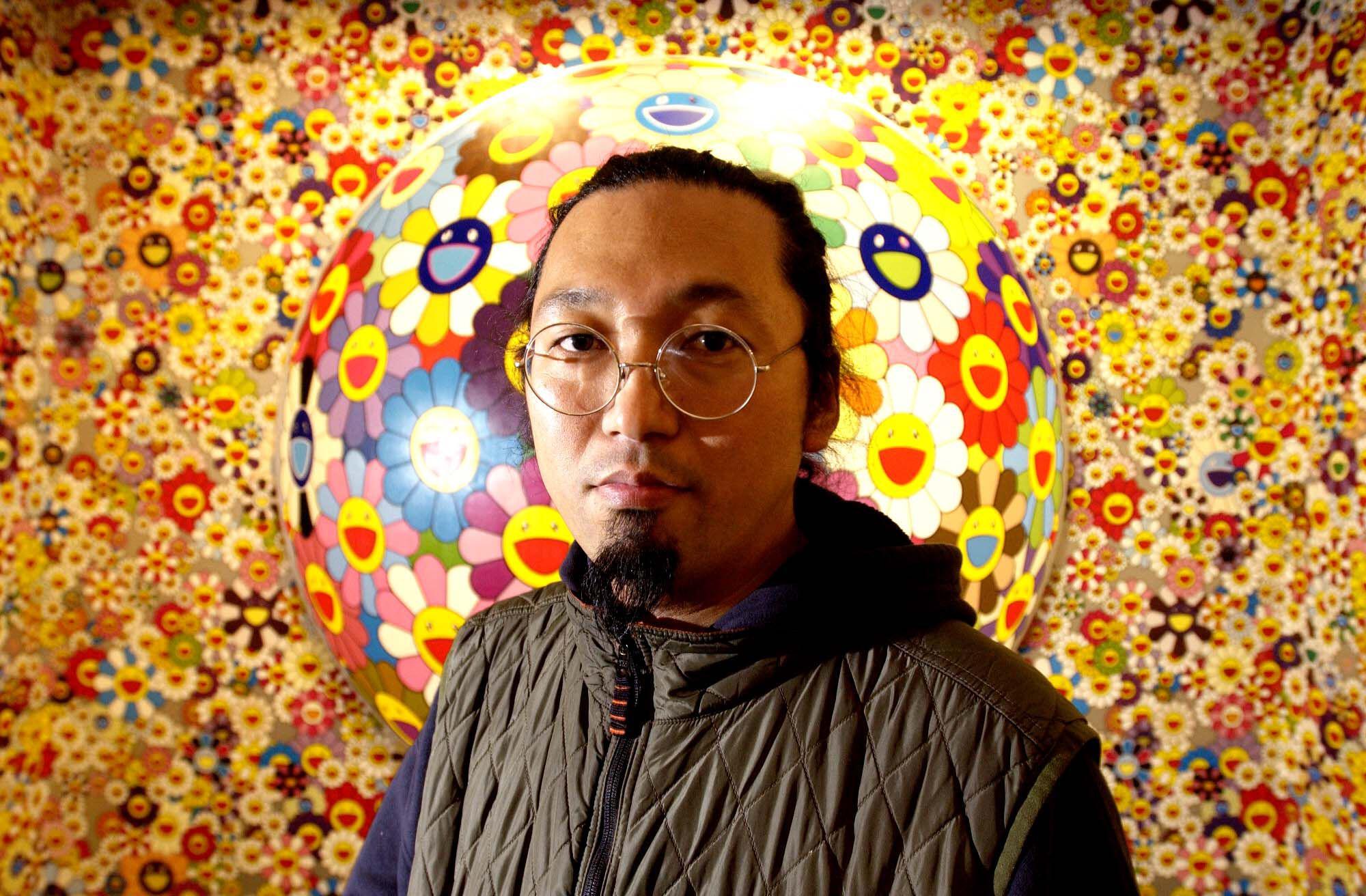 Who Is Takashi Murakami?
---
Takashi Murakami is a contemporary artist from Japan whose work consists of anime and manga-inspired paintings, sculptures, prints, and merchandise. He entered the art scene in Japan's postwar era, incorporating cultural meaning into his bold and brightly colored works of smiling flowers and figures.
The true foundation of Murakami's work lies within collaboration amongst other growing and famed artists. His explosive colored works and sculptures have sold for millions of dollars. Murakami's highest selling piece, My Lonesome Cowboy (1998), sold for $15 million in 2008 at Sotheby's New York. His work has blended the high and low art scenes together, appreciated by notable design labels, art critics, and artists.
| | |
| --- | --- |
| Born | February 1, 1962 |
| Nationality | Japanese |
| Mediums | Painting, print, sculpture |
| Movements | Superflat, Neo-Pop, Contemporary |
Takashi Murakami Biography
Takashi Murakami was born in February 1962 in Itabashi, a city located in the metropolitan area of Tokyo, Japan. He struggled with school early on and almost dropped out of high school. He still wanted to pursue a degree at university, leading him to attend art school at 20 years old. Murakami attempted to create animation films in his mid-20s but claimed they were no good, which inspired him to become an artist. He attended the Tokyo National University of Fine Arts and Music, where he studied traditional Japanese painting and earned a BFA, MFA, and PhD.
Murakami visited New York on a one-year grant trip, which he saw as an opportunity to make a gallery debut. Murakami met gallerist Hudson, founder of Feature Inc., who showcased Murakami's work three times in one year. This opportunity led to Murakami selling his first work. After meeting with Hudson, Murakami was exposed to how the art world outside of Japan operated as the global art scene was viewed more under a business lens.
By his late 30s, Murakami started a business that involved creating art with the help of other young artists, which later evolved into his company Kaikai Kiki Co., Ltd. Originally named Hiropon Factory, founded in 1996, Murakami's art management company focuses on discovering contemporary artists and merging the movement with the entertainment industry for all to enjoy.
Takashi Murakami's Artistic Style and Career
Murakami describes art as something one may not understand at first-glance, but still has the ability to appreciate and be touched by its meaning. His artistic style is one that merges very different art movements. The traditional Japanese Edo period of the 17th century to mid-19th century is a prominent aesthetic in Murakami's work, which blends with the otaku Japanese culture of anime and manga and bold neo-pop art.
Staying true to his beginnings, Murakami has continued to see the value in collaboration. He has collaborated with other prominent artists and design labels, such as Louis Vuitton, Kanye West, Pharrell Williams, and Billie Eilish. He has also curated several exhibitions and directed animation films and music videos.
Murakami's work and superflat ideology has received backlash from art critics as his work challenges the Western art world. In Japan, Murakami's work is often criticized as being a misunderstanding and hateful of Japanese culture and fueled by business motives. Despite this backlash, Murakami continues to take pride in the way he incorporates Japanese culture into his work.
Takashi Murakami's Top Works
727, 1996, acrylic on three-paneled canvas
727 features one of Murakami's first motifs and most notable figures, Mr. DOB, with traditional Japanese painting techniques of wispy, cloud-like waves and purple and blue hues mottled on the canvas. The techniques used in this painting display Murakami's distinct style of Nihonga intermingled with manga.
Mr. DOB was created by Murakami in 1993 and derives from dobojite, meaning "why?". 727 was the first formal appearance of the character and Murakami explained that the painting is not necessarily "representative of anything", except for the mixture of techniques that were used to create the piece.
Miss Ko² (Project Ko²), 1997, acrylic, oil paint, fiberglass, and iron
The first life-size sculpture that Murakami created, Miss Ko², depicts a blond woman with long legs wearing red heels, a short red-orange dress, and a white apron and bow with large, blue eyes. The hypersexualization of the piece represents the itemization of the female body and resembles that of a waitress, or ko, from the Tokyo restaurant chain called Anna Miller.
Miss Ko² was the precursor to Murakami's other life-sized figures, including Hiropon (1997) and My Lonesome Cowboy (1998), which depict the otaku culture of anime and manga. The figure sold at Sotheby's for $3,080,000.
My Lonesome Cowboy, 1998, acrylic, oil paint, fiberglass, and iron
My Lonesome Cowboy is Murakami's most eye-catching sculpture as it depicts a blond nude boy holding his genitals with a stream of semen. This piece, along with the Hiropon (1997) piece, is part of a bodily fluid phase in Murakami's work. The sculpture stays true to Murakami's anime and manga style of superflat art in the otaku culture of Japan.
The sculpture is a pop culture reference of the 1968 Andy Warhol film Lonesome Cowboys, and may also refer to the song "Lonesome Cowboy" performed by Elvis Presley in the 1957 film Loving You. My Lonesome Cowboy sold for $15,161,000 in 2008 at Sotheby's, making it the highest selling piece of Murakami's work as of 2022.
Takashi Murakami Collections & Exhibits
Little Boy: The Arts of Japan's Exploding Subculture
Apr 8th – Jul 24th, 2005
Named after the atomic bomb that was dropped in 1945 on Hiroshima, Little Boy was curated by Murakami and displayed works that reflected the postwar culture of Japan, an inspiration of his superflat movement. The exhibition in the Japan Society Gallery of New York City featured works by Murakami and several other Japanese artists and filmmakers.
STARS: Six Contemp. Artists from Japan to the World
Jul 31st, 2020 – Jan 3rd, 2021
The STARS exhibition at the Mori Art Museum in Tokyo featured the work of Murakami and five other Japanese artists. The exhibition displayed art that broke outside of the confinements of high art from a global standpoint, while still reflecting the unique characteristics of Japanese culture. Murakami's Cherry Blossoms Fujiyama JAPAN (2020) was displayed, along with an archives section detailing his exhibitions and collections.
Learning The Magic of Painting
Sep 10th – Dec 23rd, 2016
Located in Paris, known as the "City of Art" for its renowned art institutions, the Galerie Perrotin showcased the Learning The Magic of Painting. As the name suggests, this solo exhibition displayed Murakami's learning process in painting. It features some of Murakami's notable motifs and reflections on Zen Buddhism seen in his Ensō series that emerged in 2007.
---