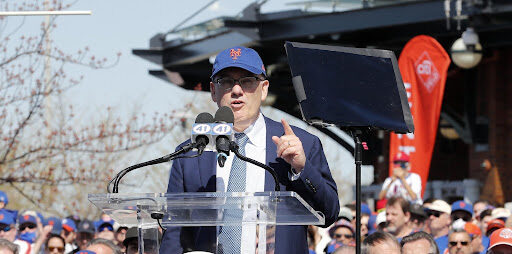 What is Steve Cohen's Net Worth?
---
Who is Steve Cohen?
Steven A. Cohen is an American hedge fund manager and owner of the New York Mets of Major League Baseball.
He founded the hedge fund Point72 Asset Management and the now-closed S.A.C. Capital Advisors, both based in Stamford, Connecticut.
The Showtime series "Billions" used Cohen as one of the inspirations for the character of Bobby Axelrod.
Steve Cohen's Personal Life
Cohen was born in 1956 to a large, middle-class family in Great Neck, New York. His mother was a piano teacher and his father was a dress manufacturer in Manhattan.
In high school, Cohen began playing poker tournaments, betting his own money. He credits these poker tournaments with teaching him how to take risks.
After high school, he received his Bachelor's degree in economics from the Wharton School at the University of Pennsylvania in 1978.
Steve Cohen's Net Worth
In January 2023, Steve Cohen's net worth is estimated to be $17.5 billion, ranking #95 wealthiest person in the world and #48 in America on the Forbes Billionaire List.
In 2016, Forbes Magazine estimated Cohen's fortune at $13 billion, ranking him the 30th richest person in the United States.
The Wall Street Journal dubbed Cohen "the hedge fund king" in 2006.
Cohen was listed as the highest-earning hedge fund manager in 2014 by Forbes.
How Did Steve Cohen Become a Billionaire?
Steve Cohen made his fortune by successfully managing investments and earning high returns for his clients and his own fund. He is known for his use of high-risk, high-reward trading strategies.
His career began on Wall Street after graduating from Wharton, starting as a junior trader in the options arbitrage department at Gruntal & Co. On his first day, he made an $8,000 profit, eventually going on to make the company around $100,000 a day.
S.A.C. Capital Advisors
After almost 15 years, Cohen started S.A.C. Capital Advisors with $10 million of his own money and another $10 million of outside capital.
In 2003, the New York Times wrote that "SAC is one of the biggest hedge funds and is known for frequent and rapid trading." As of 2009, the firm managed $14 billion in equity.
Cohen was implicated in an alleged insider trading scandal involving an ex-SAC portfolio manager. The Securities and Exchange Commission (SEC) brought charges against a number of other SAC employees with various outcomes.
The insider trading charges were settled with regulators in 2016 under the agreement that Cohen couldn't manage outside money until 2018.
Point72 Asset Management
Point72 Asset Management is a family office and hedge fund founded in 2014 after S.A.C. Capital Advisors pled guilty to insider trading charges.
The New York Mets
Cohen became a minority owner of the New York Mets of the MLB in 2012 with an 8% stake in the baseball team. In 2020, Cohen bought a controlling interest in the team.
Today, Mets owner Steve Cohen owns roughly 97.2% of the team, according to a Bloomberg News report.
After becoming the majority owner, Cohen was very active on Twitter, taking suggestions from fans on how to improve the Mets baseball experience and giving his opinions on news in Major League Baseball.
Cohen has gone on a considerable spending spree to improve the team, including attempting to sign Carlos Correa for a 12-year, $315 million deal.
Real Estate
Steve Cohen owns a 14-acre estate in Greenwich, Connecticut featuring a 35,000-square-foot mansion and a private ice skating rink. His home was purchased in 1998 for $14.8 million.
Additional real estate properties include:
A $62.6 million East Hampton home
A $34.5 million Beverly Hills mansion
A set of side-by-side townhomes in Greenwich Village, New York City
A $21.6 million mansion & a $8.5 million mansion, both in Delray Beach, Florida
Steve Cohen's Art Collection
Hedge fund billionaire Cohen began seriously collecting art in 2000, focusing on Impressionist painters like Manet and Monet.
After some time, his tastes moved into Contemporary Art, and specifically collecting signature works by iconic artists. His collection includes a Pollock drip painting worth $52 million and Damien Hirst's The Physical Impossibility of Death in the Mind of Someone Living, worth $8 million.
In 2006, Cohen attempted to make the most expensive art purchase in history when he offered to purchase Picasso's Le Rêve for $139 million. Unfortunately, the previous owner damaged the painting while showing it and the purchase was canceled until 2012 when Cohen acquired the painting for $150 million.
In May 2019, Cohen bought Jeff Koons' Rabbit for $91.1 million — the most expensive work sold by a living artist at auction at the time.
Cohen's art collection includes works by Lucio Fontana, Alberto Giacometti, Willem de Kooning, Jeff Koons, Edvard Munch, Pablo Picasso and Andy Warhol. An estimate placed the value of his collection around $1 billion.
He has long featured artwork in both his home and his office spacing, placing Marc Quinn's Self sculpture in the SAC lobby. Cohen is also reportedly building a private museum for some of his collection on his Greenwich property.
Invest Like Billionaire Steve Cohen with Masterworks
Contemporary Art can help with portfolio diversification because it has very low correlation with traditional markets. This means during bear markets or periods of high inflation, Blue-Chip Contemporary Art tends to outperform and can minimize risk for your entire portfolio.
In 2021, UBS reported that art as an asset class had an annual transaction volume of $65.1 billion and a total estimated global value of $1.7 trillion.
According to Citi's Global Art Market report, Contemporary Art price appreciation has outpaced the S&P 500 over the last 26 years, offering a 13.8% annual return compared to the S&P 500's 10.2% annual return. Art's appreciation remains strong during periods of high inflation and recessions due to its uncorrelated valuations.
However, it can be difficult for an individual investor to own a piece of a $10 million painting because of the high cost.
The Masterworks platform offers fractionalized shares of some of the most sought-after contemporary art, including works by Banksy, KAWS and Basquiat. Your Masterworks account allows you to own a piece of a $10 million painting for a fraction of the cost.
The Bottom Line
Steven A. Cohen has an estimated net worth of $17.5 billion, making his fortune through managing hedge funds and family offices. Cohen is the founder of the now-defunct SAC Capital Advisors, one of the most successful hedge funds ever.
He later founded Point72 Asset Management, purchased a majority stake in the New York Mets baseball team and began investing in alternative assets, specifically real estate and Contemporary Art.
Steve Cohen currently has one of the most valuable art collections, coming in around $1 billion and featuring works by Willem de Kooning, Jasper Johns and Damien Hirst.
See important Reg A disclosures: Masterworks.com/cd.
---