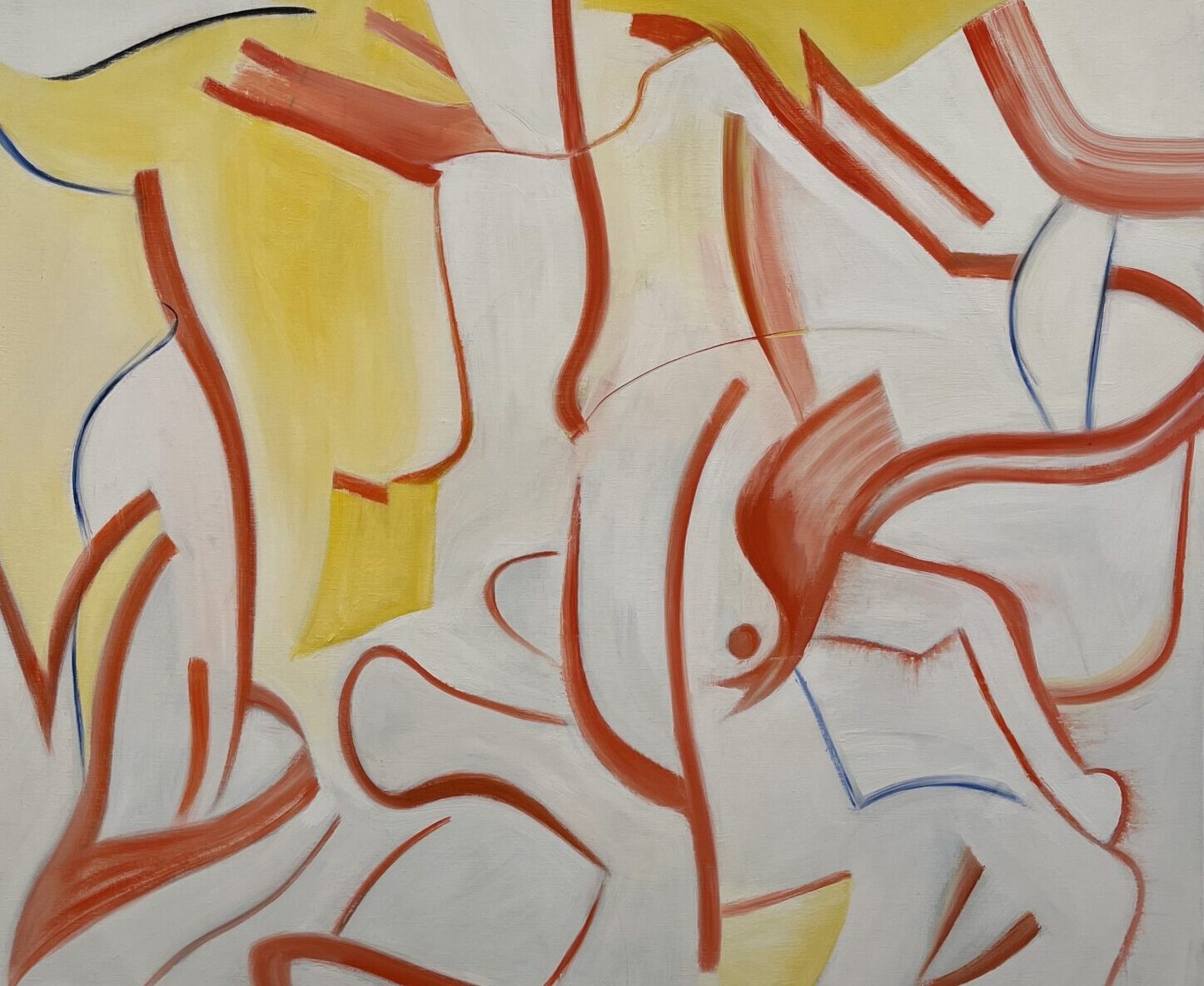 Who Was Willem De Kooning?
---
One of the most prominent and celebrated of the Abstract Expressionist painters, Willem de Kooning's pictures typify the vigorous, gestural style of the movement. Perhaps more than any of his contemporaries, he developed a radically abstract style of painting that fused Cubism, Surrealism, and Expressionism.
Artistic Style
While many of his colleagues moved from figuration to abstraction, De Kooning always painted figures, most notably women and stereotypes concurrently, making no distinction between the art's historical categories. De Kooning's real subject, he insisted, was space and the figure-ground relation.
De Kooning fused abstraction, figuration, and landscapes in various ways throughout the many long decades of his career, and his unceasing journey to find new forms and subjects made his overall output more eclectic than most of his colleagues.
His engagement with popular culture was also unique and informed a host of post-World War II artists. Today we see that his motifs are found in younger Contemporary painters, who have explored the gestural eroticism of his later paintings.
Early Life
De Kooning was born in Rotterdam in the Netherlands in 1904. Unlike many of his contemporaries, De Kooning honed his artistic talents without assistance or guidance from his parents.
At twelve, De Kooning left school to apprentice at a commercial design and decorating firm. He then studied at the Rotterdam Academy of Fine Arts and Technique.
While in schooling, De Kooning sought an interest in Jugendstil, the German version of the prevalent Art Nouveau. He also became enamored with the ascending Dutch movement De Stijl, particularly interested in its emphasis on purity of color and form and its conception of the artist as a master craftsman.
De Kooning and the New York School
Before De Kooning became a prevalent figure of the New York art scene, he traveled as a stowaway, arriving in Virginia in August of 1926. He then began taking odd jobs to support himself.
In the late 1920s, De Kooning arrived in the New York metropolitan area, working as a house painter in Hoboken, New Jersey. He would later move across the Hudson river to Manhattan.
Life as a Commercial Artist
He got his start in the city with commercial art, designing window displays in department stores and producing fashion advertisements. This line of work would go on to consume him for several years, and despite not being able to devote himself entirely to his artwork, he forged a community of artists in New York.
Several of these artists proved important for De Kooning's development. He valued the examples of Stuart Davis' urbane modernism as well as John Graham's ideas coming from the Art Students League. Still, Arshile Gorky was the biggest stylistic influence on De Kooning.
Gorky was an early adopter of Pablo Picasso's Cubism and then Miró's Surrealism, incorporating themes into his mature style. In subsequent years, De Kooning would follow a similar path.
Works Progress Administration
De Kooning worked on projects for the Works Progress Administration mural division, a federal art project, from 1935 to 1937, and for the first time, like many American artists, he was able to focus his attention entirely on fine art instead of commercial painting.
Whilst working with the WPA in New York City, De Kooning was then able to expand his network and secure showings like a feature in the 1936 New Horizons in American Art exhibition held by the MoMA.
Men were often the subjects of his pictures during these early years of his career. De Kooning often struggled with certain details in his portraits, particularly hair, hands, and shoulders. This conflict led to continuous frustration and eventually to him creating more abstract, biomorphic figures.
The New York School
During the late forties and early fifties, De Kooning joined other fellow artists, including Jackson Pollock and Franz Kline, in their struggle to break free from common artistic movements of the era, including Cubism, Surrealism, and Regionalism. 
Their emotive gestures and abstract pieces resulted from their attempt to abandon these movements. This movement was later called Abstract Expressionism, sometimes known as Action Painting and the New York School.
Mature Period
In the mid-1940s, De Kooning began a series of black-and-white abstractions because he could not afford expensive pigments and had to turn to cheaper household enamels.
With the pared-down color palette and the radical flattening of pictorial space, these abstractions, shown at the Charles Egan Gallery in 1948, portended the rise of Abstract Expressionism and were instrumental in establishing his reputation.
He worked on them until the end of the decade, eventually allowing color to re-enter later works such as Excavation (1950).
Woman I
De Kooning is best recognized for his paintings depicting women. He worked on this series for nearly thirty years, starting in the early 1940s. However, they were first exhibited in 1953 at the Sidney Janis Gallery.
The center of this show was Woman I, a painting by De Kooning that began in 1950 and was completed in 1952. The painting would then go on to be purchased directly by the Museum of Modern Art, which confirmed the importance of the painting and De Kooning as a revolutionary artist to many critics.
The show at Sidney Janis made him a leader of a new generation of painters. Now De Kooning reintroduced the concept of figuration in fine art.
At the same time, many of his contemporaries saw his version of figuration as an abrupt reversal and betrayal of the Abstract Expressionist movement.
De Kooning defended his artistry and felt that one should not restrict oneself to a certain way of painting since, at the end of the day, it's all paint on canvas, whether figural or abstract.
Controversy
De Kooning's pictures were controversial due to the expressive distortion of the female figures and earned him a reputation for being a misogynist. This coupled with the realities of his relationship with his longtime wife Elaine, did not help diminish these claims.
The two shared a tempestuous, alcohol-fueled relationship, and their marriage did not conform to traditional standards, each engaging in extramarital affairs. De Kooning had a child named Lisa with his girlfriend Joan Ward, and he and Elaine separated in the mid-1950s, though never officially divorced.
De Kooning's Woman Series garnered many negative reviews from female critics such as Emily Genauer.
She wrote in Newsday, 1969, "De Kooning lays the women, beats them, stretches them on racks, draws and quarters them. It isn't the contempt in de Kooning's works that I mind, per se. It's the absence of wholeness and diversity in great talent."
De Kooning Artistic Success
While many of his fellow 8th Street artists, like Jackson Pollock and Franz Kline, developed a mature "signature style," de Kooning's inquisitive spirit didn't allow such constraint, which proved to be a fruitful risk for the artist.
In the late 1950s, De Kooning experienced increased critical acclaim despite the controversies. He found himself financially stable for the first time since immigrating to America. He built a plot of land in Springs, the artist's haven in East Hampton.
De Kooning's interests were moving away from the city, but they were not necessarily becoming any less radical. He was still looking to the Old Masters more than his peers, and even his Woman Series retained roots in traditional portraiture.
Living and painting on Long Island throughout the later years of his life, De Kooning created large abstract masterpieces in bright tones with simpler, more restrained gestures. De Kooning's paintings from this period would then go on to catapult the artist's success, far overreaching his contemporaries and solidifying himself as a pivotal pillar in the art world.
De Kooning Final Years & Legacy
In the 1970s, Elaine de Kooning returned to assist her former husband in his failing health due to his heavy drinking. She remained with him over the decades up until she died in 1989. Then De Kooning was placed under the guardianship of his daughter Lisa, until he died in 1997 from complications with Alzheimer's disease.
De Kooning was awarded many honors in his lifetime, including the Presidential Medal of Freedom in 1964.
His works have been included in thousands of exhibitions and retrospectives and are in the permanent collections of many of the finest art institutions abroad, including the Stedelijk Museum, Amsterdam; the Tate Modern, London; and the National Gallery of Australia, Canberra; and in America such as the Museum of Modern Art, New York, The Metropolitan Museum of Art New York, the Smithsonian Institution's Hirshhorn Museum & Sculpture Garden, Washington D.C.
De Kooning's Auction History
Woman As Landscape (1954-1955)
This work of de Kooning was completed at the height of his mature career and stood a perfect example of his abstract paintings. The woman's figure is almost entirely distorted through the brushstrokes.
The painting was sold in November of 2018 at Christie's New York for a hammer price of $61 million. This still remains as De Kooning's auction record.
Untitled XXV (1977)
Emphasizing the artist's Avant-Garde style, this later work by De Kooning showcases his signature abstraction reflected on landscape forms as opposed to the female body. The painting was also part of the Solomon R. Guggenheim collection and sold at Christie's New York in 2016. The final hammer price was $59 million.
Collage (1950)
An exciting and unique work, this painting features a different approach to De Kooning's oeuvre. Throughout the 40s and 50s, de Kooning would experiment with collages to plan compositions, yet this one remained permanent on the canvas. The work was a highlighted lot during the David M Solinger sale hosted by Sotheby's New York in November 2022, realizing a hammer price of $29 million.
De Kooning: An Inspiration For The Future
The lush exuberance of his works of art from the 1960s and 1970s, as well as the elegance of the paintings from the 1980s, may not have received the same critical acclaim as his earlier figurative work. Still, De Kooning's influence on painters remains important even to this day, particularly those attracted to gestural styles.
---