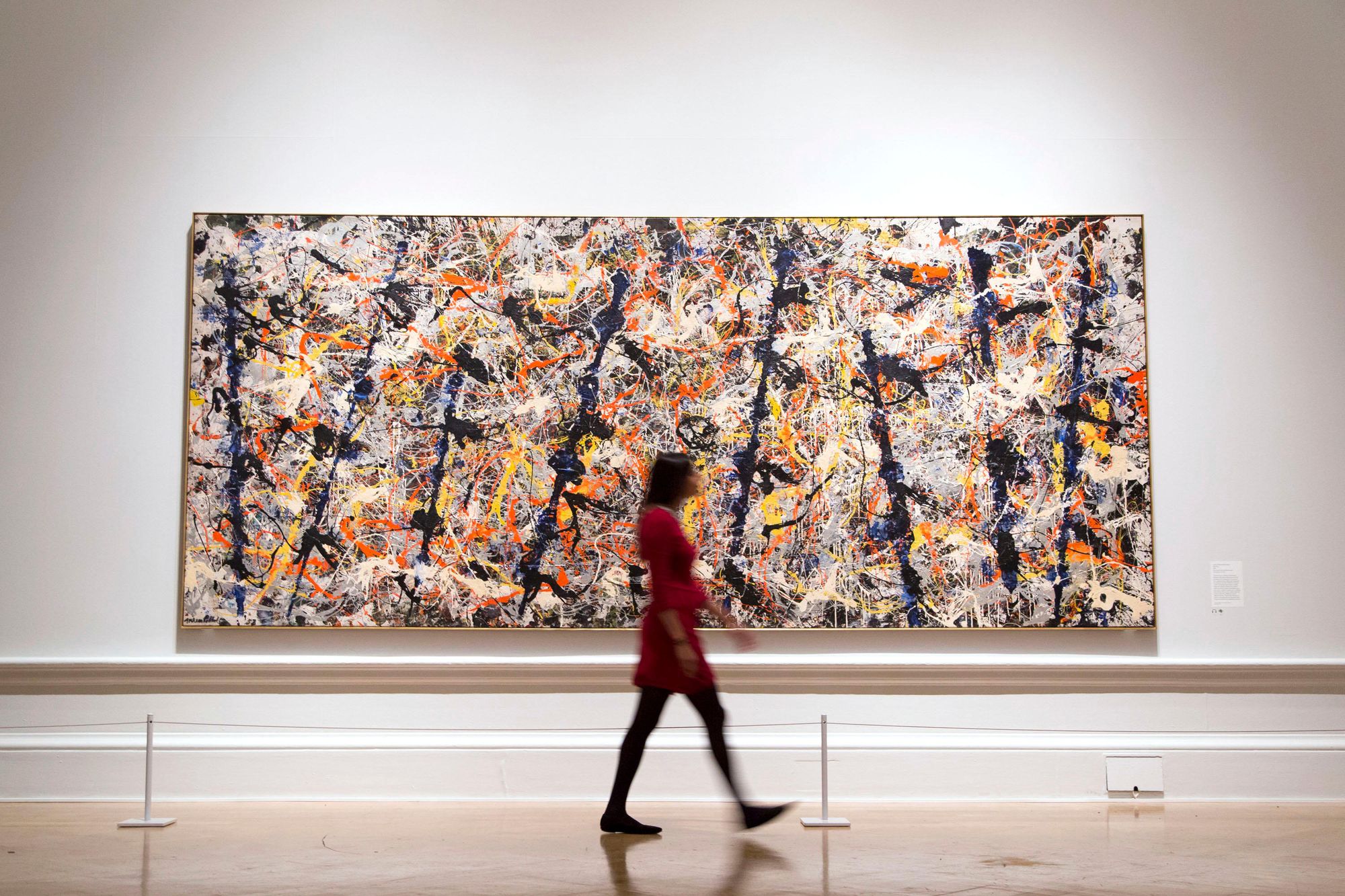 The Ultimate Guide to Abstract Expressionism
---
An art movement that is historically revered and appreciated by collectors and artists alike, Abstract Expressionism has solidified itself into the art cultural zeitgeist. Acting as the vehicle of providing an international influence for American art, this post-war movement encompassed the taste and aesthetics of the avant-garde, minimalism, and search for self-expression in the wake of World War II.
History of Abstract Expressionism
The first use of the term Abstract Expressionism applied to the American movement was coined by the art critic Robert Coates in 1946. Previously the term was referenced to the surrealism styles of German expression coming out of Germany and eastern Europe in the early 20th century.  Abstract Expressionism can be considered as a predecessor of the Surrealist movement, expanding on the core pillars of surrealism and early abstraction.
Art History tips its hat to the idiosyncratic and rebellious aesthetics of the European schools such as Futurism, Bauhaus, and Cubism as early influences for the movement. This is thanks to the great migration of students and teachers alike from Europe immigrating to the United States during the war to escape Nazi occupation. We then begin to see institutions and schools like those previously developed in major cities and regions such as New York, Chicago, and the mountains of North Carolina.
In the aftermath of the war those that did remain in Europe, stayed in Paris, the European center for the art world. However, post-war brought instability in central Europe, and New York replaced Paris as the capital. The new motley crew of artists and thinkers, taking from the previous influence from America, were the Abstract Expressionists. In the 1940's New York City there was an apparent influence of the teachings of Matisse, Picasso, and other modernist artists in the emerging artists and schools. Some of this is thanks to European teachers such as Hans Hofmann and John D Graham. Key artists of these early stages in the US that were direct students of Hoffman and Graham were Willem de Kooning, Arshile Gorky, and Jackson Pollock later being called The New York School.
With popularity primarily taking place within the bohemian subculture of New York City, the success of this movement can also be attributed to the collector and dealers that as well immigrated to, as well as, called New York home; most notably Peggy Guggenheim. The notable success of many artists was token to the New York art scene and connections between gallerists and critics like Harold Rosenberg, and Clement Greenberg.
The story of how Abstract Expressionist painters had broken into the global scale is more concurrent with the cold war. In the remnants of World War II, the American government was especially concerned with the spread of communist propaganda across Europe-especially countries on the fringes of the Soviet Union and economically affected by the previous wars There was a new prerogative enlisted by the CIA to spread the ideologies of the American perspective and dream through the disenfranchised soviet union and their neighbors. This was enacted as a tool to halt the spread of communism and socialist realism throughout Europe. Knowing that anything sponsored by a government agency would not harbor any supportive feedback, the CIA enlisted Thomas Braden to lead the Congress for Cultural Freedom, a coalition to disguise project 'Long Leash'.
By having the CIA funnel loans to the Museum of Modern Art using the CFCF as a vehicle to do a traveling exhibition through Europe titled "The New American Painting". The goal was exposure and influence. America was this place that housed and created free-thinking artists that could be supported by their country and more. Individuality was encouraged and the art being created by these American artists translated that. It was a major success but as well this was a fundamental time in which America had a product of art that was influential and uniquely theirs. Previously American art was something lackluster or was majorly influenced by styles and techniques that had transgressed from Europe. Abstract Expressionism is inherently American and could even be argued as one of the greatest concepts to be birthed by this country.
By the 1960s, the movement's initial affect had been assimilated, yet its methods and proponents remained highly influential in art, affecting profoundly the work of many artists who followed. Abstract Expressionism preceded Tachisme, Lyrical Abstraction, Pop Art, Minimalism, Postminimalism, Neo-expressionism, and the other movements of the sixties and seventies and it influenced all those later movements that evolved to even today.
---
Abstract Expressionist Painters
considered one of the principal figures of the Abstract Expressionist movement, Rothko is now one of the most well-known and recognized artists in history. He is best known for his color field paintings that depicted irregular and painterly rectangular regions of color, which he produced from 1949 to 1970. It was during the late 1940s when Rothko's art entered a transitional phase where he began to experiment with spirituality which led to the abstraction of his color planes to just pure shapes.
was an American painter and a major figure in the Abstract Expressionist movement. He was widely noticed for his "drip technique" of pouring or splashing liquid household paint onto a horizontal surface, enabling him to view and paint his canvases from all angles. It was also called all-over painting and action painting, since he covered the entire canvas and used the force of his whole body to paint, often in a frenetic dancing style. This style of improvisation was a technique picked up by many action painters who followed-making Pollock the poster child of abstract art.
with a strong specialty in college. She was married to Jackson Pollock. Although there was much cross-pollination between their two styles, the relationship somewhat overshadowed her contribution for some time. Krasner is now seen as a key transitional figure within abstraction, who connected early-20th-century fine arts with the new ideas of postwar America, and her work fetches high prices at auction.
Frankenthaler was a major contributor to the history of postwar American painting. Having exhibited her work for over six decades (the early 1950s until 2011), she spanned several generations of abstract painters while continuing to produce vital and ever-changing new work. Frankenthaler began exhibiting her large-scale Abstract Expressionist paintings in contemporary museums and galleries in the early 1950s. Influenced by Greenberg, Hans Hofmann, and Jackson Pollock's paintings, Frankenthaler's work now is considered one of the greatest examples of color field painting and led to influence many contemporary artists.
He is seen as one of the major figures in Abstract Expressionism and one of the foremost of the color field painters. His paintings are existential in tone and content, explicitly composed to communicate a sense of locality, presence, and contingency through his brushstrokes.
Kline was said to be an action painter because of his seemingly spontaneous and intense style, focusing not at all on figures or imagery, but on the expression of his brushstrokes and use of canvas. However, Kline's paintings are deceptively subtle. While generally, his paintings have a spontaneous, and dramatic impact, Kline often closely referred to his compositional drawings. Kline carefully rendered many of his most complex pictures from extensive studies, commonly created on refuse telephone book pages. Unlike his fellow Abstract Expressionists, Kline's works were only meant to look like they were done in a moment of inspiration; however, each painting was extensively explored before his housepainter's brush touched the canvas.
Mitchell's emotionally intense style and its gestural brushwork were influenced by nineteenth-century post-impressionist painters, particularly Henri Matisse. Mitchell was one of her era's few female painters to gain critical and public acclaim. Her paintings, drawings, and editioned prints can be seen in major museums and collections around the world, and have sold for record-breaking prices.
Born in Rotterdam and moved to the United States in 1926, becoming an American citizen in 1962. In 1943, he married painter, Elaine Fried. In the years after World War II, de Kooning painted in a style that came to be referred to as Abstract Expressionism under the substyle action painting. The female figure is an important symbol for de Kooning's art career and his own life. The Woman painting is considered as a significant work of art for the museum through its historical context about the post-World War II history and the American feminist movement
Elaine de Kooning made both abstract and figurative paintings and drawings of still life, cityscapes, and portraits. Her work was influenced by artists like her husband, Willem de Kooning, and Arshile Gorky, artists who worked abstractly and also in a figurative way. Her earlier work comprised watercolors and still lifes. Later in her career, her work fused abstraction with mythology, primitive imagery, and realism. Her gestural style of portraiture is often noted, although her work was mostly figurative and representational, and rarely purely abstract. She produced a diverse body of work throughout her lifetime, including sculpture, etchings, and work inspired by cave drawings, all in addition to her many paintings. Her work presents a combination between painting and drawing, surface and contour, stroke and line, color and light, transparency and opacity.
One of the youngest artists at the Nat York School and trained in philosophy, Motherwell became an artist, regarded as among the most articulate of the Abstract Expressionist painters. He was known for his series of abstract paintings and prints which touched on political, philosophical, and literary themes.
To see more about these artists' historical sales visit Masterworks.io/research
---
---
Abstract Expressionist Key Figures
Hans Hofmann
German-born American painter, renowned as both an artist and teacher. His career spanned two generations and two continents and is considered to have both preceded and influenced Abstract Expressionism. Born and educated near Munich, he was active in the early twentieth-century European avant-garde and brought a deep understanding and synthesis of Symbolism, Neo-impressionism, Fauvism, and Cubism when he emigrated to the United States in 1932. Hofmann is also regarded as one of the most influential art teachers of the 20th century. He established an art school in Munich in 1915 that built on the ideas and work of Cézanne, the Cubists, and Wassily Kandinsky; some art historians suggest it was the first modern school of art anywhere. After relocating to the United States, he reopened the school in both New York City and Provincetown, Massachusetts until he retired from teaching in 1958 to paint full-time.
Clement Greenberg
Beginning his career as an essayist, Greenberg is most well known for his contribution as an influential visual art critic. he championed Jackson Pollock as the greatest painter of his generation, commemorating the artist's "all-over" gestural canvases. In the 1955 essay "American-type-Type Painting" Greenberg promoted the work of Abstract Expressionists, among them Jackson Pollock, Willem de Kooning, Hans Hofmann, Barnett Newman, and Clyfford Still, as the next stage in Modernist art, arguing that these painters were moving towards greater emphasis on the 'flatness' of the picture plane.
Harold Rosenberg
Rosenberg's contribution to Abstract Expressionism is the fact of being the one to coin the term Action Painting in 1952. He also was a major art critic for the duration of his life, acting as the main critic for the popular publication, The New Yorker.
---
Sub-styles of Abstract Expressionism
Action Painting
Most commonly associated with the theme of Abstract Expressionism is the style dubbed Action painting. These are described as visceral, emotive, works of art typically created through the use of motion and flinging of paint upon the canvas. These were also comprised of large-scale works to further emulate the expansive liberating feeling these works conveyed and also provided for the Abstract Expressionist artists. Of the most recognizable would be Jackson Pollock and his drip painting technique. Pollock broke free from the constraints of a canvas frame and easel and chose to attack his art from all sides. Harold Rosenberg was the critic to coin the term action painting and described the canvas as "an arena in which to act"
Color Field Painting
Color field painting another sub-style of abstract expressionism is color field painting. The technique is characterized by flat planes or "fields of color" either spread across or stained on canvas. The style has less of an emphasis on the gestural and emotive action painting and favors the concepts of form and space. In distinction to the emotional energy and gestural surface marks of abstract expressionists such as Pollock and de Kooning, the Color Field painters initially appeared to be cool and austere, effacing the individual mark in favor of large, flat areas of color, which these artists considered to be the essential nature of visual abstraction, along with the actual shape of the canvas.
Abstract Expressionism Today
Significant Sales
In the discussion of significant sales, some of these artists are still as of today breaking previous record set year after year. One that occurred recently is of Jackson Pollock. The most recent of Pollock's work to appear at auction ( a rare occurrence since the majority of his works are still in private collection or museum collections) was Number 17. This artwork was a featured piece of the Sotheby's sale of real estate couple, Macklowe Collection in November 2021. The painting sold for a record $61,161,000.
Another major significant sale is that of Mark Rothko's painting Orange, Red, Yellow (1961). The artwork had set the record for Rothko's work at auction at Christie's post-war and contemporary art evening sale in May of 2012; where it sold for $86,882,500.
As mentioned previously Willem de Kooning's most well-known artwork revolved around the theme of women. In November of 2018, de Kooning's previous auction record was broken at Christie's Ebsworth Collection sale. The painting that sold was titled Woman as Landscape (1954-1955) and sold for $68,937,500.
The highest-grossing woman artist from the abstract expressionist movement at auction is still Joan Mitchell. Her 1969 painting, Blueberry, set her artist record and for most women, by selling at Christie's post-war and contemporary art evening sale in 2018 for $16,625,000.
A FinTech company out of New York, that was recently valued at a $1 billion dollars, offers a unique way to invest in contemporary art. Masterworks provides an opportunity to invest at a much lower price point to entry of this historical market. To learn more, visit Masterworks.io.
---
---
Museum Collections
Abstract expressionism artworks had been exemplified and featured in several museum permanent collections. The Metropolitan Museum of Art has a great collection of works from Jackson Pollock, Mark Rothko, Philip Guston, Ad Reinhardt, and more. Another New York Museum is the Whitney Museum of American Art, which recently held an exhibition highlighting early female abstract expressionists titled "Labyrinth of Forms". Because of the international impact that the art movement had acquired throughout its lifetime, and then some through the secondary market, works that fall under the umbrella of Abstract Expressionism are kept especially close in museum collections like the Tate Modern, National Portrait Gallery, Museum of Modern art, Centre Pompidou, and arguably every other museum internationally as well.
This piece is for informational purposes only. See important Regulation A disclosures at masterworks.io/cd
---