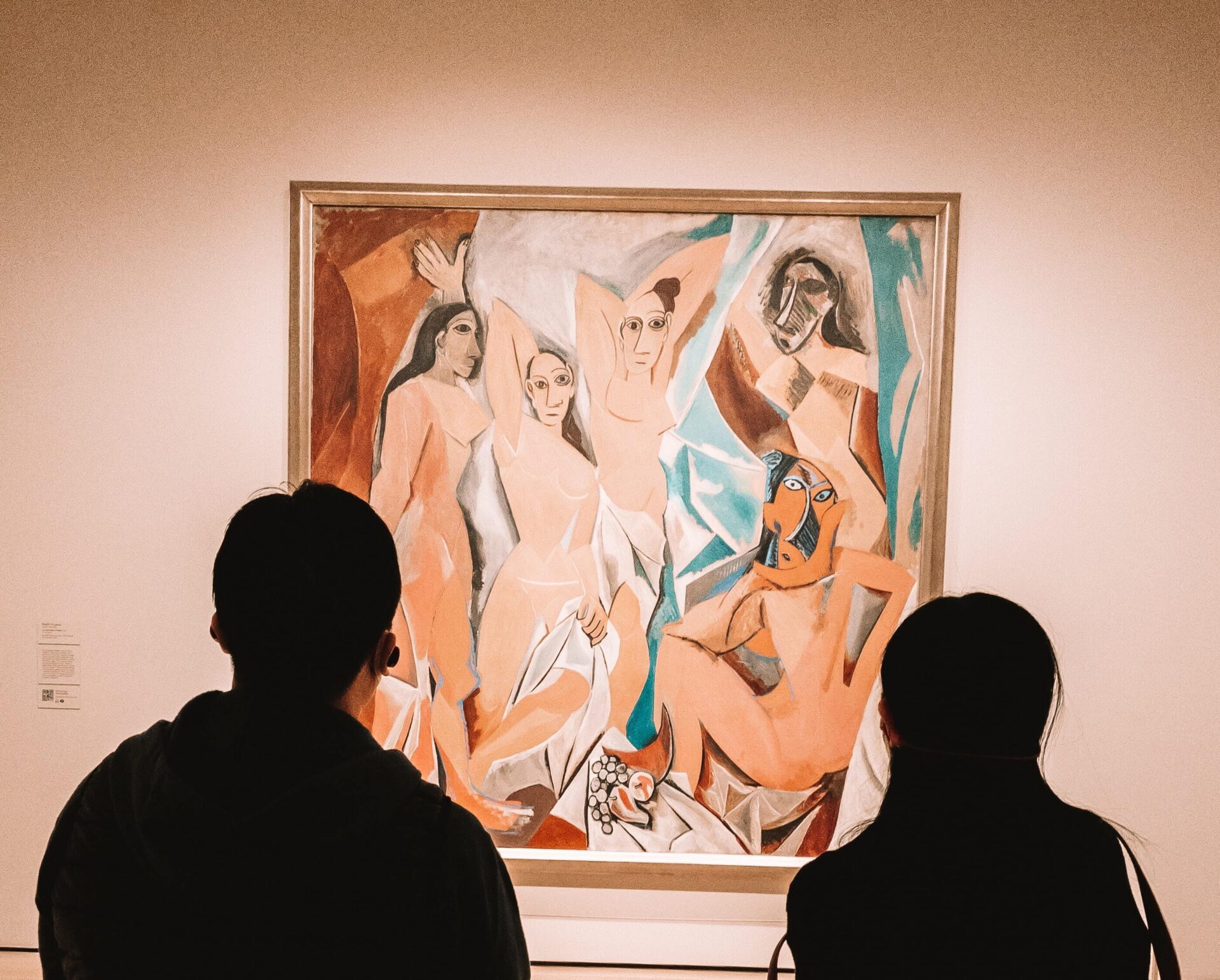 Understanding Pablo Picasso's Cubist Female Motif
---
Pablo Picasso's cubist style is by far the most famous of his prolific career. Many of these were inspired by his lovers turned muses.
Who was Picasso?
Pablo Ruiz Picasso (b. 1881-d. 1973) was one of the most famous and controversial Spanish artists.
Picasso showed extraordinary talent from an early age. His father was a painter and professor who encouraged him to be creative. During his childhood, he painted in a naturalistic manner. His style evolved as he began to experiment with different techniques and mediums.
Picasso's father observed him painting over one of his sketches of a pigeon and was so impressed with his artistic talent he felt his son had surpassed him and gave up painting himself. Picasso was accepted into the prestigious School of Fine Arts advanced program at only 13. He realized he wasn't a fan of traditional training and went off on his own to explore his own style.
Picasso was a co-founder of the Cubist movement, as well as the art style collage, and one of the first inventors of construction sculpture. He focused mainly on painting but was also a printmaker, sculptor, and theater designer. He spent the majority of his life and career in Paris, and is remembered for his artistic achievements as well as his controversial personal life.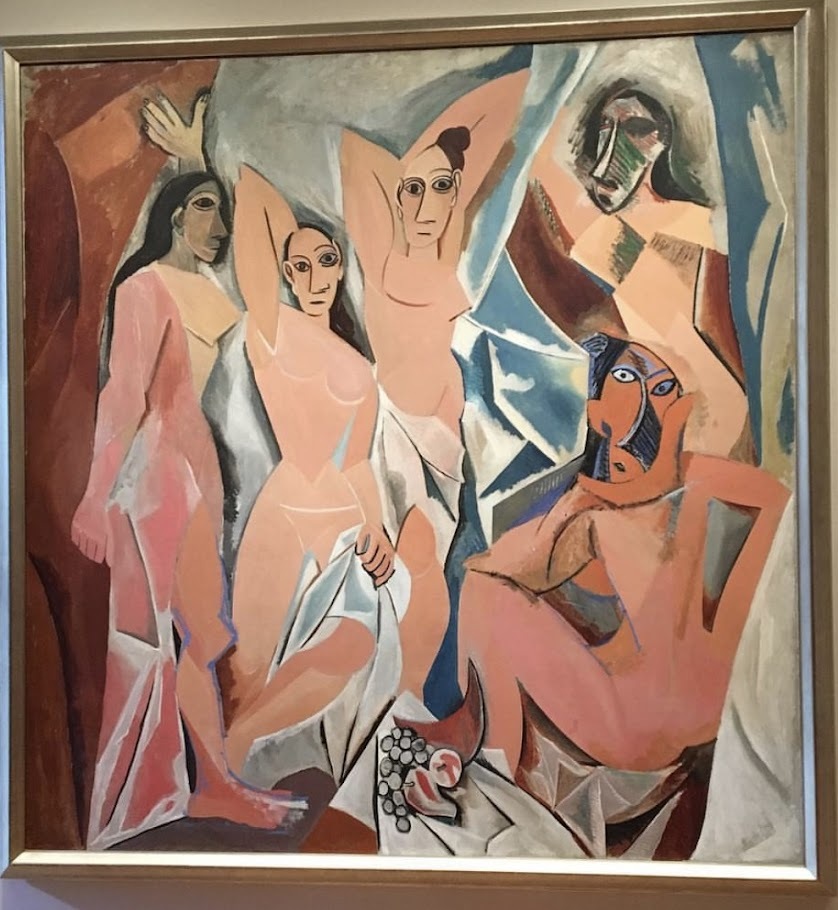 Picasso's Periods
Throughout his career Picasso worked in specific style eras, including the Blue Period (1901-1904),  the Rose Period (1904-1906), an African influenced period (1907-1909), Analytic Cubism (1909-1912), and Synthetic Cubism (1912-1919), also known as his Crystal Period.
Focus on the Female Form Through Cubism
"To my misfortune, and maybe my delight, I place things according to my love affairs" – Picasso
Picasso was exposed to sexuality at a very early age, when his father would bring him to brothels around Spain. In fact, nude females became a major focus in his body of work. Picasso was a notorious womanizer and many of his extramarital affairs became his muses.
He had a complicated relationship with the women in his life, and would either glorify them or abuse them.
Picasso's first serious partner was Fernande Olivier. She changed her name from Amélie Lang after running away from her abusive husband so that he wouldn't be able to find her. She met Picasso in 1904 and they began a passionate and tumultuous seven year relationship. She was a main inspiration of his Cubist Period. They were jealous lovers and he was extremely possessive of Olivier.
Olivier kept a detailed diary of their life together and published her first memoir about their relationship twenty years after it ended. Picasso was heavily opposed to Picasso et ses amis (Picasso and his Friends) being published and attempted to stop it from going to print.
How Does This Motif Relate to the History of the Nude?
Nudity in art reflects the general culture of the time period it was produced in. Nude art has been accepted by the public in different ways throughout history. The Ancient Romans, for instance, celebrated the human body, whereas Jewish people at the time found it vulga. The male nude was represented more than the female nude in ancient Roman art, and women were seldom completely exposed. Although Picasso was classically trained, he abandoned the traditional European paintings that celebrated a woman's beauty.
Pablo Picasso's nude Cubist portraits were not conventionally feminine. The flat planes and stark lines of his portraits of women came across as aggressive and intimidating. Although they are abstracted female forms they still come across as overly exposed and displayed almost as objects.
Who is Eva, 'Queen of Cubism'?
Eva Gouel was Pablo Picasso's second muse and mistress. She was the focus of his feminine cubism paintings in the three years they were together. During his affair with Eva, Picasso's period of papier collé and Cubist collages flourished. 
At the time that Goule and Picasso met he was still living with his first muse and lover Fernande Olivier and she was living with the minor Cubist artist Louis Marcoussis. Louis and Picasso were close and their lovers actually became close friends. In 1911, Oliver began having an affair with a Futurist painter and asked Eva to cover for her. Instead, Gouel and Picasso became lovers.
She had a habit of going by different names when she saw fit, and when they met she was going by Marcelle Humbert. Like most of Picasso's lovers, Goule was purposely mysterious. However, Picasso ultimately demanded she go back to the name Eva once their romance took off.
This was when he entered into his Analytical Cubist period. Picasso would often paint coded messages to Eva through allegorical imagery like bowls of peaches (that's Eva) and jugs with large spouts (that's Pablo).
Picasso wrote to his friend and art collector Daniel-Henry Kahnweiler in 1912, "I Love Eva very much and I will write this into my paintings".
In 1911, he painted his most notable cubist depiction of her in Woman with a Guitar ("Ma Jolie"). "Ma Jolie," meaning "my pretty one," was Picasso's nickname for Eva, who unfortunately succumbed to tuberculosis in 1915.
Following her passing, the devastated Picasso drew a pencil drawing of her titled Eva on Her Deathbed. Other works inspired by Eva were Woman in an Armchair (1913) and Seated Woman (Eva) Wearing a Hat Trimmed with a White Bird (1916)
During their time together his paintings were sold for higher prices. Gouel encouraged Picasso to bring color back into his palette and he moved into his Synthetic Cubist period.
Picasso painted the words "I love Eva" in several works in the years that followed.
Woman With a Guitar ("Ma Jolie") was created in oil and charcoal in a typically Cubist muted and neutral color palette.
Marie-Thérèse: Muse and Model
Marie-Thérèse Walter (b. 1909-d. 1997) met Picasso at only 17, and their affair lasted from 1927 to 1935, resulting in one daughter named Maya. He was still married to his wife Olga Khokhlova. He became infatuated with her when he spotted her through the window of a department store and dragged her into a bookshop next door to show her reproductions of his works.
Picasso's wife Olga was very thin and he painted her with hard edged angular shapes. Marie was far more curvy and his style evolved into sensual rounded lines. Initially, his depicted her in a visual code such as a guitar or a bowl of fruit.
Marie was one of his most notable muses, and inspired several cubist portraits. In 2021, Femme Assise Près d'une Fenêtre (Marie-Thérèse) ("Woman Sitting Near a Window") sold at auction for $55 million.
Although she was a major inspiration and figure in Picasso's work, their controversial relationship was relatively private. Since she was so young, Marie made up excuses to sneak out of the house including pretending to have a part-time job or going to a girlfriend's house, but eventually their torrid affair became too difficult to hide.
In 1934, he painted Reading at a Table of his lover and muse, returning to his favorite theme: a woman seated alone.
As is custom in his female cubist motif, he paints in stark and thick line outlines using a relatively simple color palette.
Les Demoiselles d'Avignon:
Les Demoiselle d'Avignon (1907) depicts nude female prostitutes in a brothel in Spain and is Picasso's most prominent work of this motif.
The women are painted in a confrontational and menacing way and don't appear particularly feminine. Their body shapes are angular and disjointed. The multiplicity of viewpoints, distortion, and the figures poses evokes a visual challenge.
Les Demoiselles d'Avignon is widely considered as a pivotal development of proto-cubism and modern art.
He was inspired by African, Egyptian, and Southeast Asian art, as seen in the women's faces. The two figures on the right's faces are reminiscent of African masks and the far left figure's face and garments were Egyptian inspired. The two female forms in the center are painted in the Iberian style of his native Spain.
The painting was extremely controversial and deemed immoral when Picasso first showed it to a group of his friends who had an extremely negative response. His close peer Matisse called it a bad joke. Picasso wouldn't end up publicly exhibiting the provocative painting for ten years at Salon d'Antin in July 1916.
When discussing the primitivism of the masks, Picasso said he wanted to "liberate an utterly original artistic style of compelling, even savage force." He abandoned any European influence by abandoning the traditional perspective.
Les Demoiselles d'Avignon is in the Museum of Modern Art's permanent collection.
---