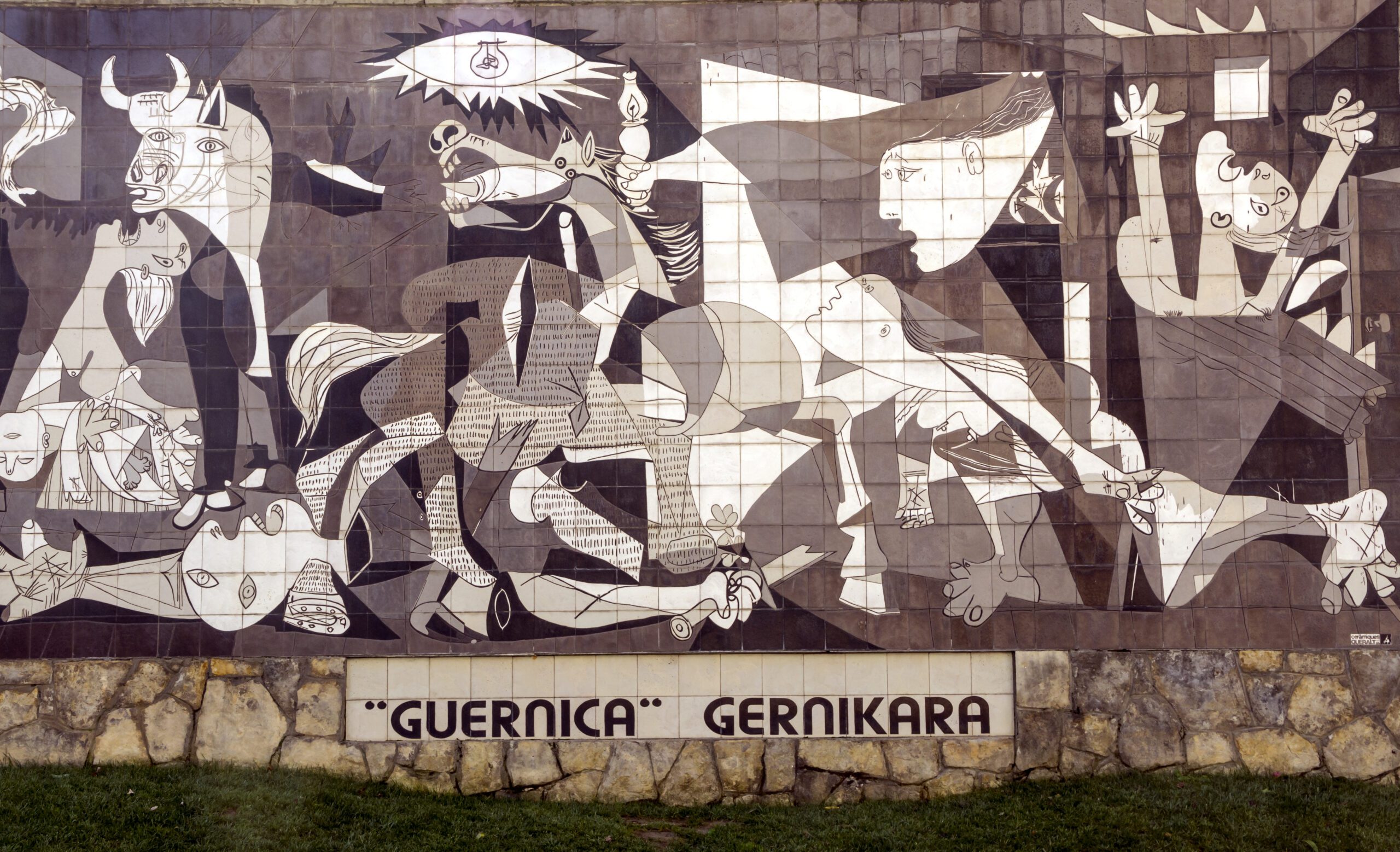 The Masterworks Picasso Buying Guide
---
About Pablo Picasso
Pablo Ruiz Picasso was a Spanish painter, sculptor, printmaker, ceramicist, and theater designer who spent most of his adult life in France.
Picasso's name needs no introduction as one of the most renowned and influential artists of the 20th century. Currently, two of Picasso's paintings are in the top 10 most expensive paintings ever sold: Nude, Green Leaves, and Bust ($106.5 million) and Les Femmes d' Alger ($179.4 million). For perspective on value, Les Femmes d' Alger was sold in 1956 for $212,500.
Movement and Mediums
Blue Period
From 1901-1904 Picasso almost only painted in monochromatic blue tones; the period was then aptly named his "Blue Period."
The choice of color is tied to the artist's emotions at the time. Following a journey through Spain and the suicide of his close friend, Carlos Casagemas, Picasso's work took a dramatic turn. Aside from the tragic death of his friend, Picasso was also struggling as an unrecognized and poverty-stricken artist.
Beginning with several paintings memorializing Casagemas, Picasso's themes grew solemn and dark. The works of art developed during this period adopted a nearly monochromatic palette of blues and blue-greens and were directed towards subjects of misfortune: beggars, drunks, prostitutes, crippled people, and general destitution.
Rose Period
The Rose Period coincides with a period of time when Picasso experienced joy and romance. Stemming from 1904-1906, Picasso's artwork took on a rose color palette, consisting of reds, pinks, and orange tones. During his Rose Period, Picasso favored a lighter, warmer palette and more spirited subjects. Picasso became fascinated with fairgrounds and circus performers and began to depict them in his work.
This transition can be linked to Picasso's romance with French artist Fernande Olivier, who became his model and muse. She is credited for inspiring artistic growth from the cold, somber tone of the Blue period to the increased warmth and lightness of the Rose period.
Cubism
Pablo Picasso is commonly referred to as the "father of Cubism." The movement officially developed after Picasso's 1907 Les Demoiselles d'Avignon, in a period of rapid experimentation between Pablo Picasso and Georges Braque.
Cubism draws upon Paul Cézanne's emphasis on the underlying architecture of form. These artists used multiple vantage points to fracture images into geometric forms.
The movement was one of the most groundbreaking of the early 20th century as it challenged Renaissance depictions of space, leading to experiments with non-representation by many different artists.
Collecting Pablo Picasso as an Investment
Since Pablo Picasso was such a prolific artist, there are a lot of questions regarding how to begin in collecting his work.
Picasso's market is not immune to volatility despite its age and maturity. However, he has a healthy presence in public auctions and a continued influence on the institutional side in museums.
Picasso Collection Examples
Ceramics
Toward the end of the 1940s, Picasso began experimenting with creating ceramic works. This medium would consume him later in life, as he found using clay was much more relaxing at his age than painting and sculpture.
He began making utilitarian objects, such as plates and bowls. Later, Picasso created more ambitious forms, like pitchers, and vases, where the handles became anatomical parts of animals. Most of these ceramics would take the shapes of animals such as owls and fish.
The subjects are very playful and creative and include Greek mythological figures, corrida scenes, and face motifs, among others.
Paintings
Due to Picasso's extensive career as an artist, his painting style changed considerably throughout almost eight decades.
Because of his family's creative influence, Pablo Picasso was well educated in art history and technique; his earlier paintings were heavily inspired by prominent Spanish painters such as Goya and El Greco.
Picasso embarked on a new modernist style during his years in Paris. These years led to his Blue Period and Rose Period. George Braque and Picasso played with elements of objects, rearranging them to produce their own compositions.
A spell in Italy persuaded Picasso to return to his classical roots temporarily before pushing into Surrealism. Political elements began to appear in some of these paintings, often in a monochrome color scheme; an iconic example would be Guernica.
Printmaking and Engravings
Picasso made prints throughout his career — his first in 1899, when he was still a young teenager, and his final after turning 90. Experimenting all the while, he produced roughly 2,400 prints in total, using a wide variety of techniques, most notably etching, lithograph, and linocut.
Picasso's life in printmaking lasted more than seven decades and is marked by his innovation and experimentation in the discipline. Like his paintings and other artwork, the subject of his multiples can be interpreted as autobiographical. Picasso often used his lovers and wives as the subjects for his artworks.
In terms of pricing, the etchings sell for the highest. La femme Qui Pleure was the etching to set the record for a print by Pablo Picasso, fetching over $5 million at Christie's in 2011.
Another example of his etchings that fared well in the market was the brilliant Minotaurmachie. The copper etching was never formally put through production but was given to 55 of Picasso's close friends and patrons.
Sculptures
Picasso's sculptures are among some of the most radical, thought-provoking artworks of the modern period. The first comprehensive exhibition of Picasso's sculptures was mounted in 1966. Since then, the growing popularity of his sculptures can be seen through art market traction and institutional acquisitions.
For Picasso, sculpture work was often conceived as a testing ground for ideas that would catalyze crucial shifts in his practice. In much of his later sculptural work, Picasso abandoned the traditional art of modeling in favor of assemblage and construction.
The most appealing of the sculptures are those of bronze and iron. An example of this appeal would be the Figure sold at the first portion of the Macklowe Divorce sale for over $22 million.
Authenticity
The authentication process of a Picasso work can be quite tricky. On some occasions, he refused to sign canvases for various reasons.
Currently, the Pablo Picasso Estate is run by the eldest surviving son, Claude, and the remaining children of the artist. The estate manages the heirs' jointly owned interests and intellectual property rights deriving from Picasso's work, name, and person.
With the discussion of authentication, a collector would first consult a specialist in Picasso's selected medium for proper appraisal and verification. Along with the consultation of a specialist, reviewing the vital documents, including the provenance, would help to follow a paper trail of ownership.
Purchasing Pablo Picasso
Pablo Picasso has countless fans who would love to buy an original painting or work. Unfortunately, with high prices at auction and the possibility of fraudulent pieces, buying a Picasso can sometimes feel unattainable.
Thanks to the art investing platform Masterworks, investing in shares of Picasso artwork, as well as other blue-chip artists, is now more accessible than ever.
Masterworks already has more than a handful of authentic Picasso paintings on our platform. For individuals that want to invest in shares of one of their favorite artist's original artworks, it is now possible.
See important Regulation A disclosures at masterworks.io/cd
---