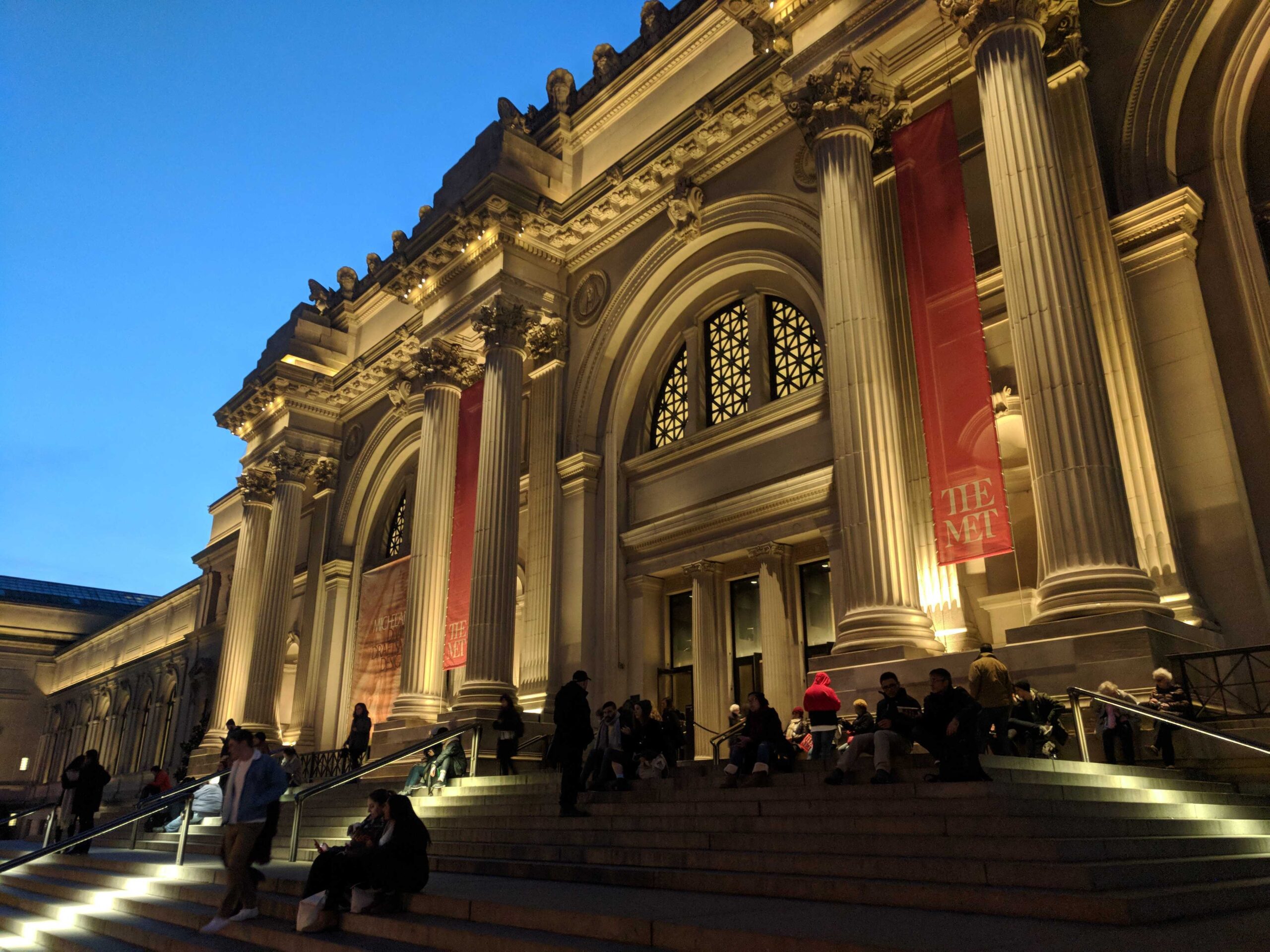 A Glimpse at the Metropolitan Museum of Art
---
After a series of long months it's finally time to go back out to the world, and what would more be exciting than exploring the Metropolitan Museum of Art? Commonly referred to as the Met, the museums advocates the proliferation of art in any form. The Met has positioned itself as a space that showcases noteworthy artworks while also preserving historical and cultural artifacts. On top of this, as you've probably seen on Instagram an annual Met Gala is spearheaded by Vogue as a fundraising event for the Met's Costume Institute and is attended by influential art and fashion figures.  
The Met as an Art Mecca
Art binging is the perfect way to spend a leisurely day and the Met is just the place for such an experience. The museum has been around since 1870 as the go-to space for art enthusiasts.  It houses artworks from around the world that date back as far as 5,000 years ago. You can visit The Met Cloisters up near Inwood park in addition to the flagship museum on Fifth Avenue.  It operates every day except Wednesdays.
For more than 150 years (celebrating it's bicentennial during the start of the COVID pandemic), the museum has aimed to "study, conserve, and present significant works of art across all times and cultures to connect people to creativity, knowledge, and ideas." The museum utilizes a variety of means to facilitate an art connection with everyone.  Apart from the viewing experience, the Met provides assistive listening devices for tours or programs and adopted online tools such as downloadable maps and website usage.  Notably, the Met has opted for a digital space and ushered initiatives such as online events with real-time captioning and virtual museum tours that are supplemented with sign language interpretation.
Preservation of History and Culture in Varied Art Forms
Satiate your craving for information through the Met's collections of remarkable importance to world history. The Met showcases paintings, photographs, sculptures, applied art, music, books, manuscripts, decorative art, and antiques.  Some of the most famous pieces at the museum are the John Gutenberg Bible, the Egyptian tomb of the dignitary "Mastaba," and Greek and Roman sculptures. You can also see the oldest piano in the world, made by Italian master Bartolomeo Christophori in 1720.
As for paintings, it houses pieces by famous artists such as Vincent Van Gogh, Rembrandt, Jackson Pollock, Amedeo Modigliani, Georgia O'Keeffe, Claude Monet, and Duccio di Buoninsegna. The museum's diversified collection includes everything from contemporary to abstract to realist artworks.  The Met has over two million square feet of art space segmented into the Greek and Roman wing, Egyptian wing, and American wing. You wouldn't be able to cover the whole museum in just a single day.
Valuable Art Pieces
There are a few standouts among the showcased artworks at the Met: "Madonna and Child Enthroned with Saints," "Reclining Nude," and the "Self Portrait of Van Gogh."  Raphael's Madonna and Child Enthroned with Saints altarpiece is the only exhibition by the said artist in the United States. It is a symbolic piece that is part of the Italian Renaissance movement in ca. 1504. Meanwhile, the Reclining Nude has deemed the most famous work of Amedeo Modigliani. It is valued at $170 million, making it among the most expensive art pieces in the world. Vincent Van Gogh's Self Portrait is one of the more than 35 self-portraits he had produced. Van Gogh didn't have enough money in the past to hire models, so he opted in painting himself.
Another interesting must-see is the sculpture "Ugolino and His Sons" by Jean-Baptiste Carpeux, crafted based on a real-life incident included in Dante's Inferno canto XXXIII. The sons and grandsons of Count Ugolino Della Gherardesca were starved to death at a tower in Pisa under the command of Archbishop Ruggieri. The Met also has replicated The Temple of Dendur alongside a waterway. Said Egyptian temple's history is recorded when Roman Emperor Augustes ruled in10 BC. The temple was said to be a gift to the United States in 1965, acknowledging the help that the Army Corps of Engineers had provided to save it from Nile's rising water.
The museum's most recent acquisition of the Mantuan Roundel made waves in the art community as it was purchased for an eye-watering $23 million. The renaissance roundel was created by the Italian master craftsman Gian Marco Cavalli around 1500.
Accessibility to the Met
You can go to the Met, either by virtual tour or by paying a visit in-person. The advent of technology has enabled the museum to welcome people worldwide through "The Met 360° Project." Virtually, you get to visit the museum and see it at 360°. You are exploring Met but not in it physically by seeing the six short videos that present varied spaces at the museum. Said project has earned Met accolades such as Webby Award for the Best Culture and Lifestyle category and Short Award for the Best Cultural Institution category, both in 2017.
You can buy general admission tickets for in-person visits or become a Met member. There are several memberships offered by Met, namely members with early views, evening hours, and opening nights. The three vary on the annual fee you'll pay and the perks you'll receive year-round.
Some of the perks you can acquire that would differ on the choice of your membership are free admissions, access to balcony lounge, print and digital Metropolitan Museum of Art Bulletin, Exhibition receptions, Curator's Cut-Archive, Member Morning Hours, Preview days, After-hours, and Evening reception for special exhibitions.
When you become a member, you will be entitled to a 10% discount on restaurants at the Met Fifth Avenue and Cloisters. There's also 10% off the Met store with a 20% seasonal scheme and 10% to Museum Parking. Suppose you are not keen on being a member and want to have a different Met experience. In that case, you can join the Apollo Circle, Met Family Circle, or Patrons Circles, which have higher annual fees but comes with more exclusive perks.
A Guide for Your Next Art Museum Visit
The Met is not your ordinary museum. It is highly interactive and brimmed with art pieces reminiscent of culture and history. If you are going to the museum soon, bring your headphones and phone with you to have your own techy personal guide that'll let you explore in-depth.
As part of the Met's preventive health measures, all visitors aged two years or older should wear masks despite being vaccinated.  Everyone should also be distanced from each other by at least six feet. The museum advises visitors to recurrently wash their hands and use hand sanitizer during the visit. Additional guidelines that you should note are that large bags are not allowed inside and touching of art is of course prohibited. Taking photos inside the museum is allowed, provided that it has no flash. You can also use a tripod, but it should be placed at a distance from the artwork.
You can visit the Met Fifth Avenue and the Met Cloisters. Both are open six days a week except on Wednesday. Operating hours start at 10 am and usually end at 5 pm, with the extended hours on the Met Fifth Avenue from Friday to Saturday at 9 pm. The general admission ticket costs $12 for students, $17 for seniors, and $25 for adults. However, if you are a New York (NY) resident or a student in NY, New Jersey, or Connecticut, you can pay the ticket in any amount that you want. Advanced reservations are required for all third-party guided tours and groups with ten or more people in them. Admission for the Met's members, patrons, and below 12 years old children is free.
The Met is a good place to connect with key industry figures for people looking forward to expanding their network. Its art-related endeavors made it more accessible to the general public. The Met is also one of the museums where you can start your journey as a collector or seller. Mark your Met trip in your calendar today.
---