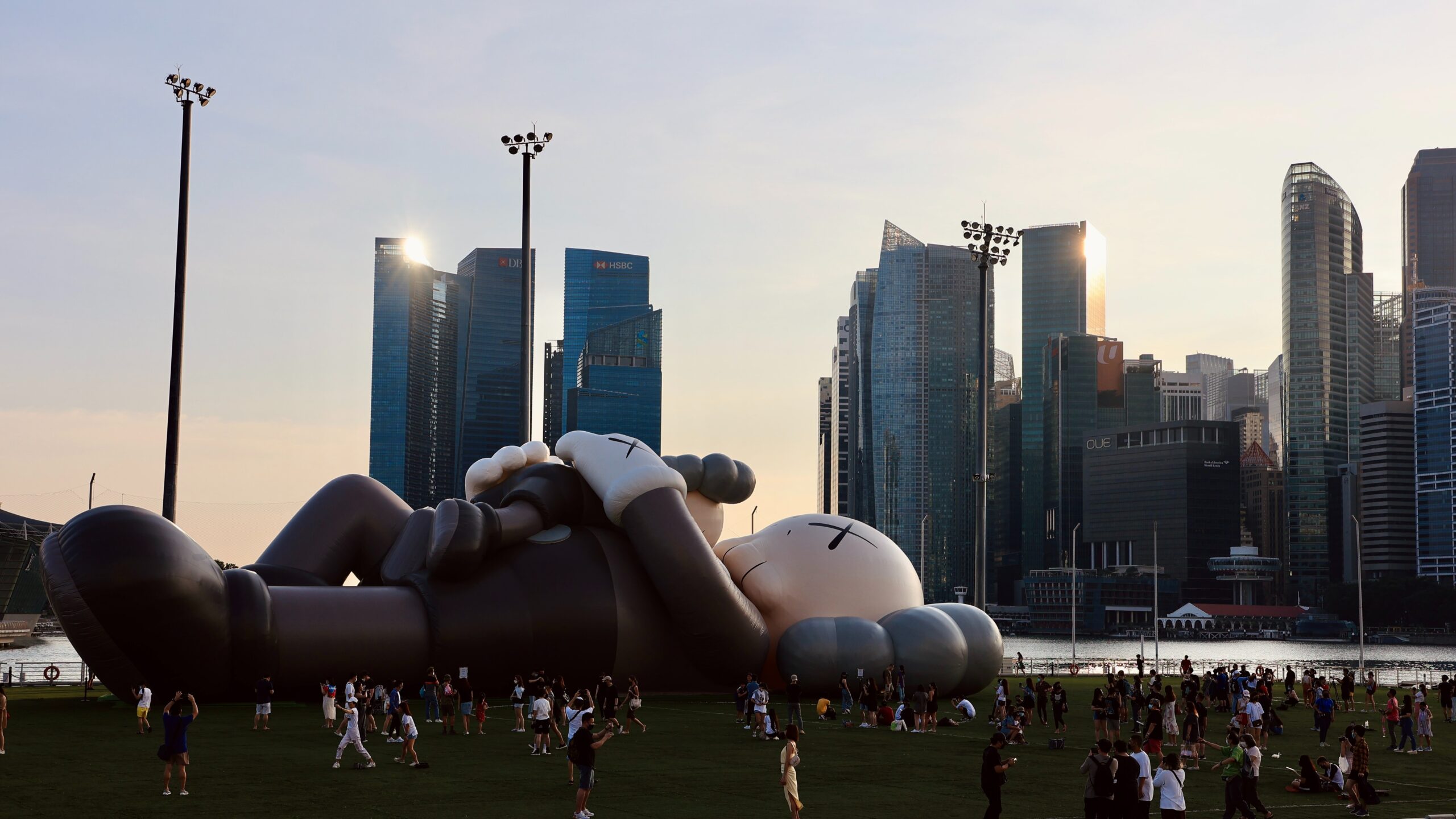 Who Is KAWS?
---
KAWS, aka Brian Donnelly, is an American graffiti artist and designer. Born in Jersey City, he's been at his craft since the late 80s. KAWS now operates out of Brooklyn, New York.
His larger-than-life sculptures, colorful paintings, and limited edition toy collections have broken the mold of street art and hypebeast culture. They've created a unique niche in the fine art industry.

Want a deeper understanding of who KAWS is?
Let's look at some interesting facts about KAWS, his creations, exhibitions, and auction records. We'll also show you a fantastic way to invest in shares of artworks like his (through Masterworks.)
5 Interesting Facts About KAWS (His Early Career, Inspirations, and Style)
Here are five inspiring aspects to better understand "Who is KAWS?":
1. KAWS' Early Career Began With Graffiti and Street Art
Brian Donnelly started as a graffiti artist — painting on the roof of a building he could see while attending high school in Jersey City. He created the tag "KAWS" as a teenager because he liked how the letters looked.
So, the word KAWS has no real meaning.
In the early 1990s, Donnelly continued with his graffiti art while obtaining his Bachelor of Fine Arts from the School of Visual Arts in New York City. He hijacked advertisement campaigns, embellishing his iconic skull graffiti images on posters of major brands like Calvin Klein, Dior, and Chanel.
After his artworks gained interest, these graffiti subvertisements became highly sought-after. In 1998, KAWS received the Pernod Liquid Art Award, which offers a grant to emerging artists.
2. His Freelance Work Inspired His Early Creations
After graduating in 1996, Brian Donnelly worked as a freelance artist for Disney, where he created animated backgrounds. His most popular works for Disney were his contributions to animated series like 101 Dalmations, Doug and Daria.
While working with Disney, he found inspiration in the epic animation figure Mickey Mouse. It became the muse of his new character, Companion.
3. KAWS' Art Style Has Influences From Pop Culture and Traditional Painters
KAWS' artistic style can be characterized by an emphasis on color and line, graphics, and the appropriation of pop culture icons such as Mickey Mouse, The Smurfs, Spongebob Squarepants, Snoopy, and more.
The appropriation is commonly done in his signature motif of Xs on the eyes, hands, nose, and ears. Donelly also deconstructs the appropriation of these characters into tight spaces and shapes that produce an abstracted style in his paintings. In his vinyl toys, these figures stand independently but carry the same device as his paintings.
KAWS' art style also has influences from painters like Claes Oldenburg, Gerhard Richter, and Chuck Close. You might also see influences of Jean-Michel Basquiat, Keith Haring, Andy Warhol and Jeff Koons in his works.
4. This Social Media Star Wasn't Keen on a Traditional Art Career
KAWS' origins in graffiti art brought his work to a diverse audience, many of whom had nothing to do with the traditional or modern art world.
Unlike most artists, he was not interested in pursuing a career the traditional way, like through an art gallery. He was fully aware of the benefits of showing his work in the street and mass-producing pieces in order to build a following.
He became a popular social media personality with over 4.2 million followers on Instagram.
His organic following became so big that it attracted the attention of traditional art collectors and critics.
5. KAWS' Collaborations Span Various Fields
KAWS has collaborated with several brands, musicians, museums and designers to add his signature style to various mediums.
Some of these include:
Clothing and apparel: KAWS has designed items for famous fashion brands like Bathing Ape (BAPE), Nike, Vans Uniqlo, and Comme des Garçons. He also created his clothing brand, "Original Fake."

Figure and sculptures: KAWS redesigned MTV's "moonman statue" for the 2013 MTV Video Music Awards. He has also collaborated with Medicom Toy to offer limited-edition art toys. KAWS has also done larger works of public art, such as an 18-foot KAWS Share Companion sculpture that was on view for three months in 2021 at Rockefeller Center in New York.

Cover Art: KAWS' work is avidly collected by music and media celebrities like PewDiePie, Pharrell William, Kid Cudi and BTS. He has designed the cover art for musicians like Kanye West (808s and Heartbreak), Clipse (Til the Casket Drops) and more.

Public And Permanent Collections: KAWS' art has seen the halls of museums, like:

Modern Art Museum of Fort Worth – Fort Worth, Texas (KAWS: WHERE THE END STARTS and CLEAN SLATE)
Brooklyn Museum – Brooklyn, New York (KAWS: WHAT PARTY)
Museum of Contemporary Art San Diego – San Diego, California
One Campus Martius – Detroit, Michigan (KAWS: WAITING)
Discover more about KAWS' Most Popular Collaborations.
Next, let's explore the hugely popular characters he created.
KAWS' Companion & Other Characters
In the 1990s, KAWS produced limited edition vinyl toys that became an instant hit with the global art toys collecting community. Since then, he has created many other characters.
He incorporates a number of personas into his artwork, stemming from either his imagination or from taking nods of nostalgia from popular characters of his childhood.
Companion
By far, the most famous of KAWS' characters is Companion.
In 1999, the artist was approached by Bounty Hunter, a popular streetwear brand, to create a toy. This led him to visit Japan, and his first limited edition toy, Companion, was born.
This cast figure of a Disney-esque creature in monotone coloring was made in an edition of 500. The figure is most easily described as a twisted Mickey Mouse with crossed-out ("X") eyes.
The toy sold out almost instantly, and Companion became a recurring figure in KAWS' oeuvre. It was one of the most discussed and sought-after creations of the 90s.
KAWS' Companion has since been adapted to a number of variations, including:
Dissected, parodying figures of pop culture like Astro Boy and Elmo.
Different colorways of limited edition art toys, like the "SHARE" Companion collectible (manufactured by Medicom Toy.)
The original figure flew above New York City as a float during the Macy's Thanksgiving Day Parade in 2012 and floated in Victoria Harbor, Hong Kong, in the form of a giant inflatable.
Some art critics draw a connection between the KAWS Companion and the works of Takashi
Chum
Another key figure found throughout KAWS' work is the reinterpretation of the Michelin Man, known as Chum. Chum entered the scene around the same time as Companion.

Chum has also been the focus of a number of KAWS collaborations, most prominently with the hypebeast brand Supreme. The figure has also been a consistent theme in his acrylic canvases and screen print sets, such as URGE.
The Kimpsons
The Kimpsons is a series by KAWS that subverted The Simpsons cartoon. This series contains KAWS' first formal paintings on canvas.
This series is also one of the most lucrative pieces for the artist.
Other notable KAWS works include Blame Game and, recently, The Promise (launched for the FIFA World Cup Qatar 2022.)
Now, KAWS' works have been showcased all over the world.
KAWS Exhibitions Around the World
Here are a few of KAWS' solo exhibition shows over the years:
KAWS: Tokyo First took place in 2001 in the Parco Gallery, Tokyo, and again in 2021 at the Mori Arts Center Gallery, Tokyo.

KAWS: Original Fake took place in 2003 at the BAPE Gallery in Tokyo.
KAWS: DOWN TIME took place at the High Museum of Art in Atlanta, Georgia, in 2012. This was his largest show to date, encompassing 31 works and a massive Companion sculpture.
KAWS: MAN'S BEST FRIEND took place at the Honor Fraser Gallery in Los Angeles, California, in 2014.
KAWS: EXPANDED HOLIDAY was a virtual exhibition in collaboration with Acute Art that took place simultaneously in twelve cities around the world in 2020.
KAWS: WHAT PARTY took place in 2021 at the Brooklyn Museum, New York, and was a comprehensive survey show featuring over 100 works and several new pieces.

KAWS: NEW FICTION in 2022 at the Serpentine was the artist's first solo exhibition in London. A recreation of the art gallery show was launched on the online virtual game Fortnite.
The National Gallery of Victoria in Melbourne, Australia, showcased a retrospective of over 100 works from the artist from 2019 to 2020.
KAWS has also done solo shows at:
The Pennsylvania Academy of Fine Arts, Philadelphia
The Modern Art Museum of Fort Worth
Harris Museum, Preston
The Aldrich Contemporary Art Museum (Aldrich Museum), Ridgefield
Auction Records For KAWS
Since his introduction to the art market in the early 2000s, KAWS has had an impressive run at auction, especially with his paintings. With his great success, KAWS was able to break into the coveted Blue-Chip variety of fine art.
Here are some of his best results at auctions:
The Kaws Album (2005)
This massive painting was put on sale at Sotheby's Hong Kong in April of 2019. KAWS' take on The Simpsons' The Yellow Album, which in itself was meant to be a parody of the Beetles' 1967 album Sergent Pepper's Lonely Heart Club Band.
The painting itself incorporates the whole cast of his Kimpsons series that was originally commissioned by Japanese influencer Nigo. The painting is his most valuable work, selling for a hammer price of 100,000,000 HKD (12,738,800 USD).
(Untitled) Kimpsons #1 (2004)
The largest of the Kimpsons series, this work harnesses the well-known iconography of the beloved cartoon and defaces their visions with his own motif of the x-eyes.
KAWS not only blurs the boundaries of high art and cartoons but propels both genres into a new state of visual culture. The painting also sold at Sotheby's Hong Kong in October of 2019 for 49,000,000 HKD ( 6,247,108 USD).
The Walk Home (2012)
Completed in 2012, this work is another example of the artist's ability to bridge the concepts of popular culture like cartoons and live human emotion. The painting features a KAWS rendered Spongebob with the signature X-eyes in a moment of panic and anxiety.
The monumental painting sold for a hammer price of 5,000,000 USD at Phillips in May of 2019.
Now, you will find KAWS' artworks for as little as $50, for some of his more affordable collabs, up to a few million dollars for his original work.
But what's the easiest way to invest in blue-chip works of artists like KAWS?
The easiest way to invest in masterpieces by KAWS and others is by investing in shares of these artworks through Masterworks.
What Is Masterworks?
Masterworks is a breakthrough platform for art investment. It lets you invest in shares of multi-million dollar works by artists like KAWS, Keith Haring, Basquiat, Gerhard Richter, Banksy, Andy Warhol and many more.
How Does It Work?
Here's what Masterworks does:
Our research team uses our proprietary data to determine which artist markets have the most momentum.
Our acquisitions team identifies good art pieces and purchases the work at a fair price.
We file an offering circular with the Securities and Exchange Commission to allow anyone to invest.
We hold the artwork for 3-10 years. So, you'll need to wait until we sell the art to receive your pro rata proceeds.
Or you have the option to seek to sell your shares on our secondary market.

If you're keen to explore further, visit the Masterworks website right away.
See important Reg A disclosures: Masterworks.com/cd
---