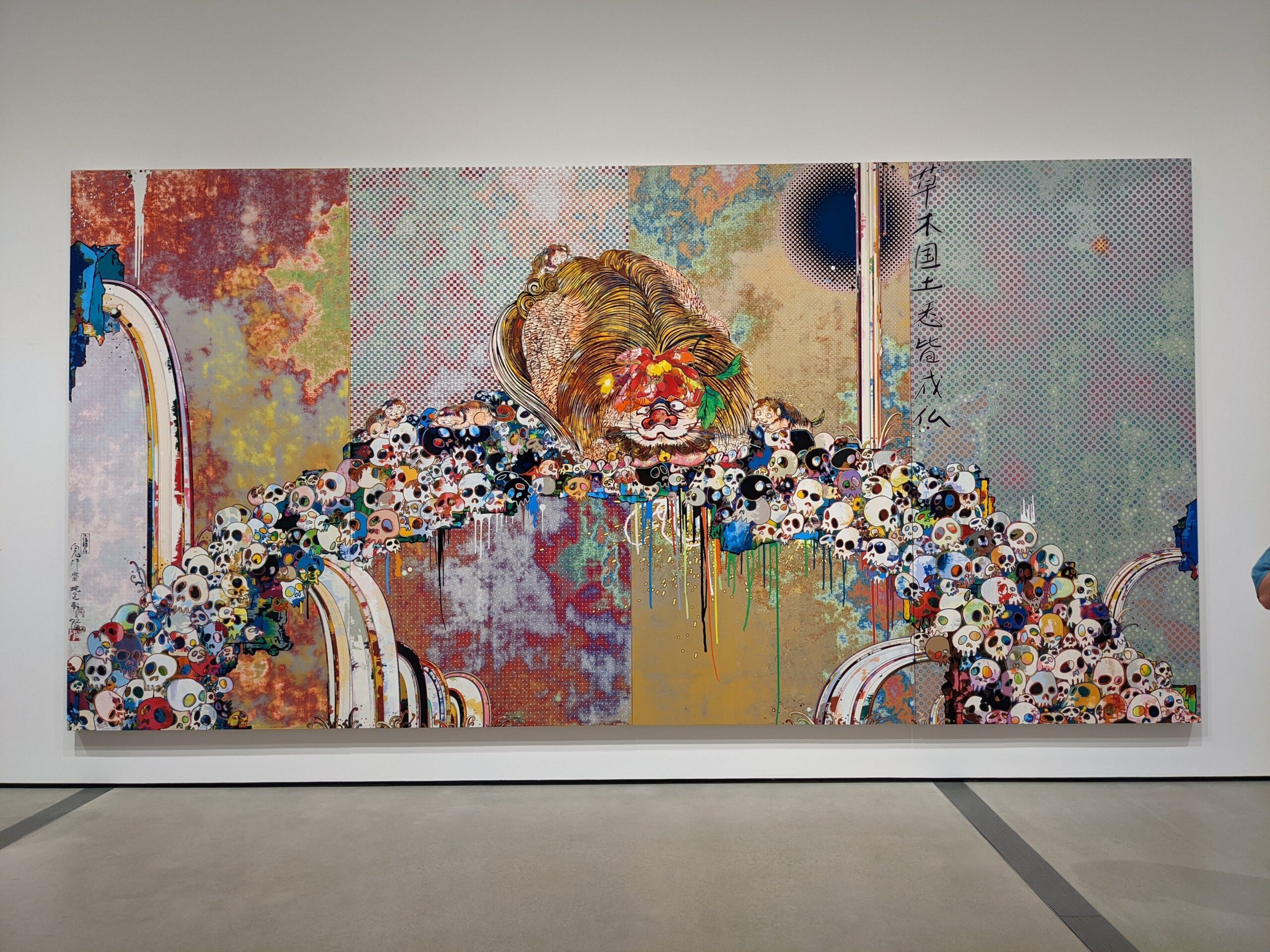 What Is Murakami's My Lonesome Cowboy?
---
Murakami's My Lonesome Cowboy (1998) is a work of art that speaks to Japanese otaku culture. Otaku culture can describe anything that relates to obsessive interests, in particular, anime, manga, and video games.
My Lonesome Cowboy portrays an over-the-top, homoerotic theme in an anime aesthetic. In the opposite sense, it conveys the genres of heterosexual romantic melodrama and the expression of the bond among men.
This art challenged America's macho and authentic masculinity and was about exaggerated manhood targeted at the gay community at the time.
Who is Takashi Murakami?
Takashi Murakami (b. February 1, 1962) is a Japanese artist widely recognized for his ability to adapt specific aesthetics of Japanese traditional art into popular culture and Contemporary Art.
Traditionally educated in Japanese art at the Tokyo National University of Fine Arts and Music. After completing his studies, he increasingly displayed his artwork in solo and group exhibitions, making his European debut in 1995 in "TransCulture," held at the 46th Venice Biennale.
Today, Murakami is one of the biggest names in Contemporary Art. His ability to bridge the themes of Japanese pop culture, like anime and manga, to a global artistic stage has rocked the art market and collectors at large.
Takashi Murakami is now among the most successful living artists with peers such as Damien Hirst and Jeff Koons, all known for their large and provocative statues and artworks.
What Style Is My Lonesome Cowboy?
The larger-than-life-size figure in My Lonesome Cowboy has the features of a teenager from a shounen anime, including excessive hair, jellyfish eyes, and a childlike face. This is juxtaposed with his highly adult body: Completely naked, he proudly brandishes a burst of semen spurting out of his penis and into the air like a lasso.
The life-size statue is an example of SuperFlat art, an art movement founded by Murakami to criticize Japanese consumer culture. However, the sculpture is also evocative of shungu, a type of erotic ukiyo-e artwork which often depicts figures with exaggerated genitalia.
The artist, Takashi Murakami, also designed a female companion for My Lonesome Cowboy, Hiropon.
What Does My Lonesome Cowboy Evoke?
Murakami's title, My Lonesome Cowboy, sounds symbolic and relates to an Andy Warhol film titled Lonesome Cowboys, which portrayed a prototypical image of powerful, patriotic masculinity. Meanwhile, Murakami's sculpture revealed more uncertainty and distinction between his Japanese 'younger brother' and the American 'Big Brother' Warhol.
These characters celebrate and undermine heterosexuality and implicitly aggressive manhood with their ejaculating gesture. Additionally, the artwork toyed with people's sympathy and inspired many viewers' disgust.
Murakami's concept, which relates to nationalist aesthetics and the commercialization of art, was extended to the extreme of the issues relating to gender or racial distinction. My Lonesome Cowboy provides an image that experiments with aggressive manhood while considering gender traits and racial identities.
Pop Art Meets SuperFlat
By 2005, Murakami had been dubbed the Japanese Andy Warhol and had reached a new level of success in his career as an artist. But the overlap between their artistic styles was much more than their criticism of consumerism in their respective countries.
Murakami's art and that of Warhol's cohort share one concept: bulky men with muscles, images of men as prostitutes, and involuntary bisexuality resulting in an obscene revealing of manhood.
Murakami's art exemplified this concept, exaggerating the dichotomy of a homoerotic boy spurting semen straight from his enlarged penis, giving a contrast to the size of his body.
What Is the Value of My Lonesome Cowboy?
The eight-foot-tall sculpture was sold at auction at Sotheby's New York in 2008. The fiberglass and acrylic sculpture fetched over 15 million USD at the auction. It still remains to this day the most expensive piece by the Japanese artist at auction.
---