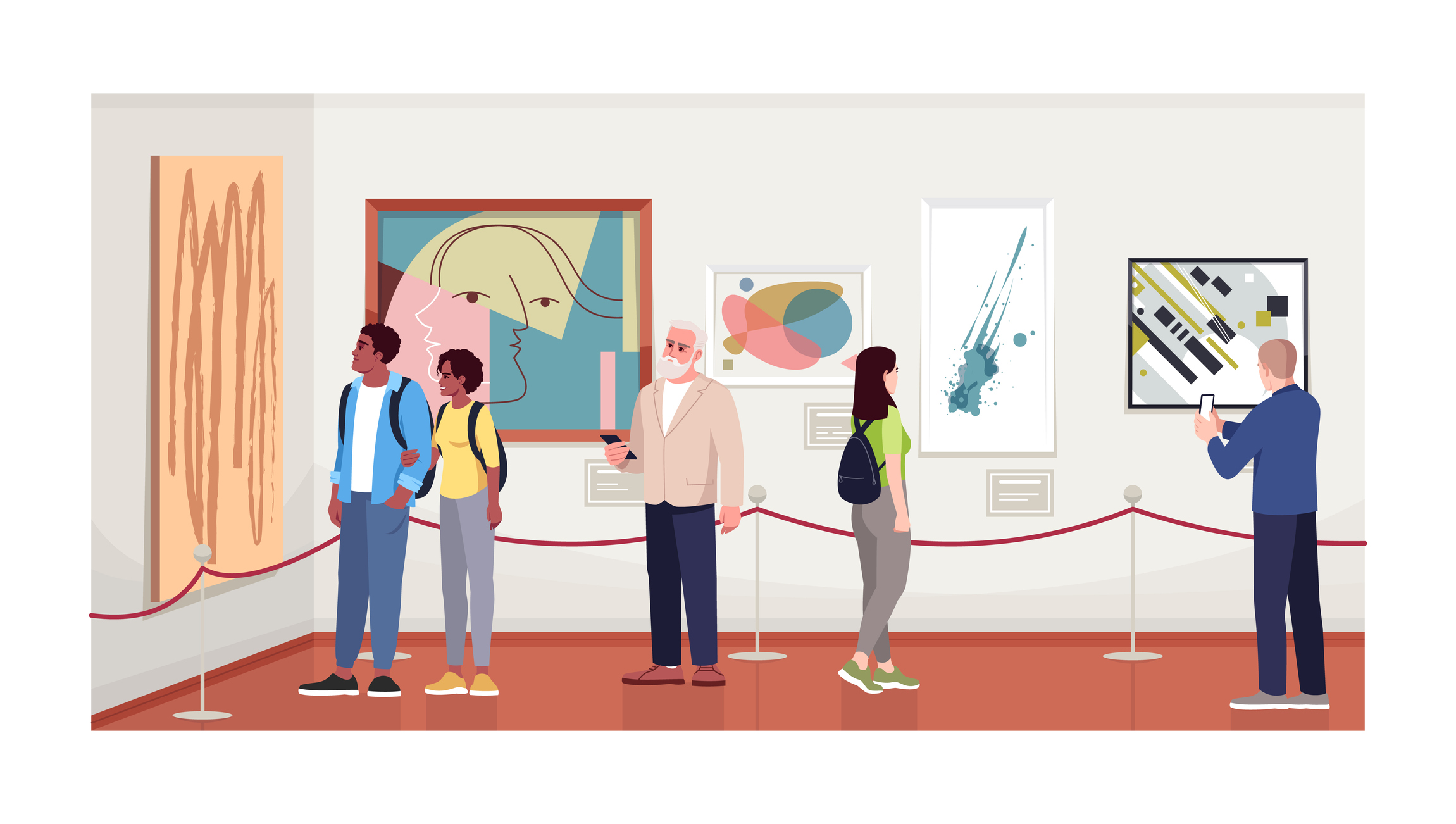 How Has Contemporary Art Changed the Art Market?
---
It's obvious that Contemporary Art has had an outsized impact on the centuries-old art market. In the art world it's common to hear reports about record-breaking auction house sales and the hum of the art market converging around certain artists or demographics.
Why does Contemporary Art have such an outsized impact on the art market? Read on to learn more.
The Contemporary Art market is an intriguing beast. While primarily being associated with household names such as Jean-Michel Basquiat, it's still a growing category, saturated with new and younger artists. A lot of the success of contemporary artists can be ascribed to the marketing factors, otherwise known as market making. Forging proper connections and relationships can either break or create an artist's market.
Below, we go through some of the major ways that Contemporary Art has changed and influenced the current state of the art market. 
Artist Exposure & Representation
At the beginning of the current Contemporary Art market, when auctions of work by living artists such as Andy Warhol and Jasper Johns started to become financial theater, there was a pivotal moment: New York taxi entrepreneur Robert Scull put his art collection up for sale in 1973 at Sotheby Parke-Bernet, now referred to as Sotheby's, an event that was headlined "Profit Without Honor" in New York Magazine.
It included a work by Robert Rauschenberg that Scull had bought from famous gallerist Leo Castelli in 1959 for $900, which fetched $85,000. Other sales that realized artist records were a Cy Twombly that sold for $40,000, some 50 times over the purchase price of $750, and Jasper John's Double White Map, which was bought by Scull for $10,200 then sold for $240,000.
A sale of contemporary work from living artists was never thought to fetch this caliber of price. The enormous critical and commercial success of the auction became a driving force behind the success of many of those contemporary artists.
Today, the association of an artists' work to a prominent collection still is an important characteristic of the valuation, but also, today more than ever, is representation from a well-respected gallery.
Representation and connections are extremely important to the Contemporary Art star. For Basquiat, it was his connections to Andy Warhol; other players in the space of fine art include galleries such as Gagosian and David Zwirner. These, with their extensive international following, are pivotal forces for driving art sales privately and amassing a demand at art auctions.
Digital Art
The art market has likely not even seen the full picture of how digital art will come to shape the industry. But without a doubt, the introduction of new mediums to the market such as digital art and NFTs has caused enormous debate and excitement in the fine art world.
Digital art is Contemporary Art that uses the methods of mass production via digital media. It has had an enormous impact not only on painting and drawing but also sculpture, music, and video. Technology and artistic expression are now inextricably intertwined.
This exciting integration has been made possible by a brilliant synergy between art, math, science, and technology. However, a major concern within the nascent digital art space has been authenticity and security of ownership with digitized art.
This new medium in the market didn't see adoption in the traditional art market until the breakout mainstreaming of NFTs in 2021. NFTs, aka non-fungible tokens, are a redefined concept of digital art and ownership. The tokens can be minted to represent artworks. These artworks exist on a blockchain and, therefore, cannot be replicated. This blockchain contains the transaction history of the NFT, providing provenance and means of authenticity back to the artist.
Another factor that revolutionizes NFTs is the ability to assure artists' royalties through the blockchain. As opposed to the traditional art market, where an artist is only typically paid from a primary sale, NFT artists and creators can choose the royalty rate during the minting process. To do this, the artist makes the specifications in a smart contract, and once the blockchain's smart contract terms are created, the royalties can occur automatically with each sale of the NFT.
With the rise in popularity of NFTs at auction in 2021, commemorated with the historical sale of Everydays: First 5000 Days by digital artist, Beeple. Christie's included the lot in their Spring 21st Century sale and was the first time an NFT was ever offered at auction. It proved to be worthwhile with the NFT selling for $69.3 million.
The new medium had solidified itself in the art cultural zeitgeist. In response to the buzz, auction houses like Sotheby's and Christie's have added NFTs to their Contemporary and 20/21st century sales. These auction houses have expanded into this new medium by offering exclusive curated sales and education programs focused on digital art. 
Fractional Investing
As the Contemporary Art market grew, a new practice of ownership and accessibility in the art market did as well. Fractional ownership has accumulated a buzz in recent years, with platforms such as Masterworks offering an accessible way to enter the art market.
These platforms primarily partake in the securitization of Post War and Contemporary Art, redefining the concept of art investing. This of course opens the market to a wider pool of possible participants and also establishes the category as an attractive asset class.
Investing With Masterworks
After joining Masterworks, new investors can enter the Contemporary art market by owning in shares of artworks by established, blue-chip artists including Andy Warhol and Yayoi Kusama.
When Masterworks purchases a painting, it securitizes the asset and then offers shares in the work to investors. These are priced at $20 a share, lowering the hefty barrier of entry to the most rarefied end of the art market.
Online Marketplaces
Online marketplaces have diversified the buyer pool for many Contemporary artists and provided an independent platform to promote their own artwork. This includes a variety of websites and online galleries, from Art Finder and Artsy to professional social media accounts. Whichever platform a Contemporary artist chooses, it still greatly affects the traditional track of the primary market, which refers to the sales of artwork purchased directly from the artist.
The primary market used to be walking into a brick-and-mortar gallery or artist studio, making it more difficult to discover new artists due to geographical restrictions and limited exposure.
Today, any artist can set up their own platform and promote it via the internet and social media.
With a more saturated market and opportunities for exposure, we are seeing the primary market boom with more artists on a global scale than ever before.
The Bottom Line
Contemporary Art is a continuous practice of revolutionizing and redefining the fundamentals of art. It has been praised and appreciated for how creativity has pushed the boundaries and standards set by artists prior. This can also be said for how Contemporary Art shapes the practices and methodologies of the art market, and how it will continue to do so will be a fascinating thing to witness.
See important Regulation A disclosures at masterworks.io/cd
---