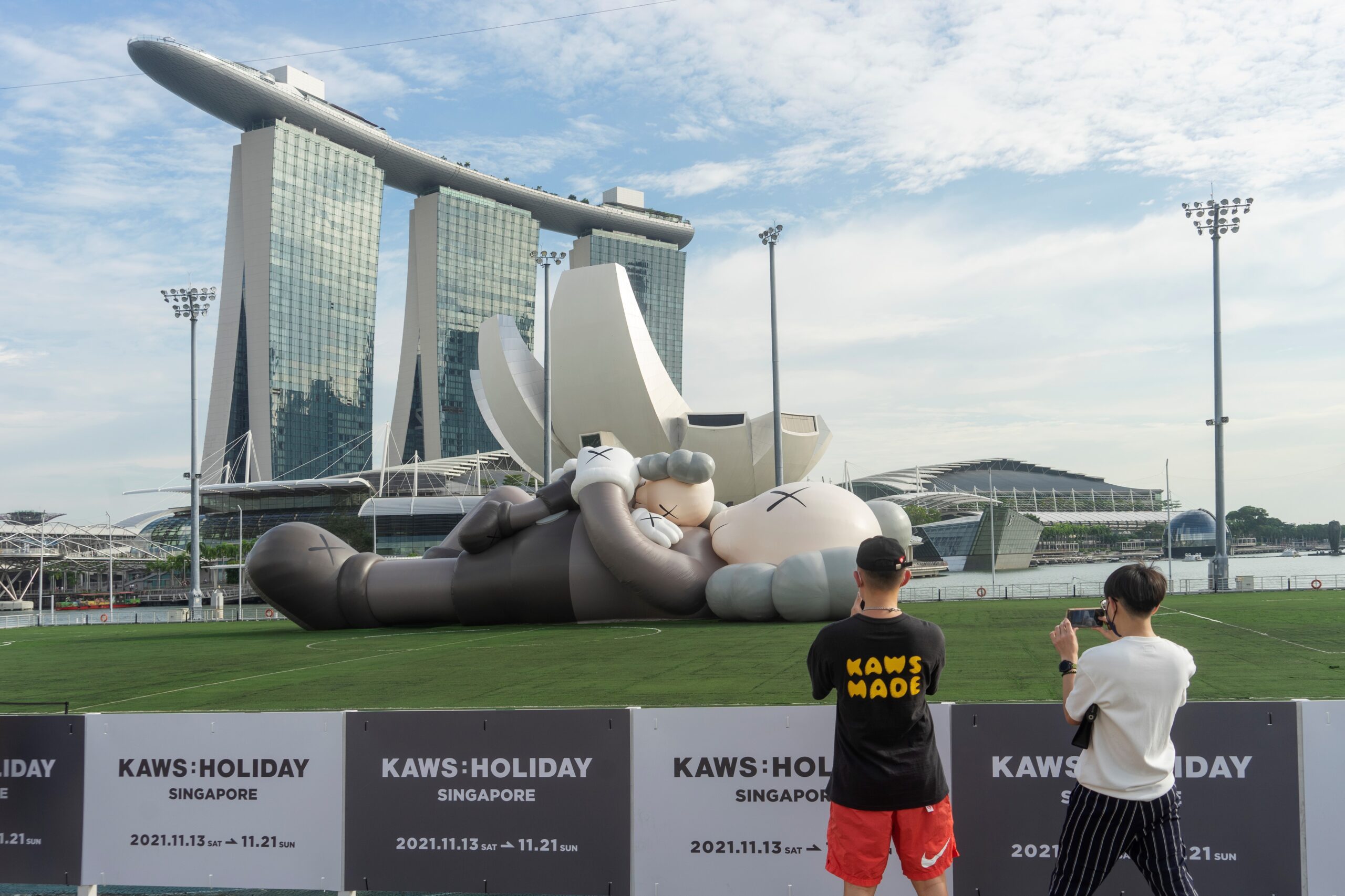 Celebrating KAW's 'Chum' Figure on the 20th Anniversary
---
KAWS' iconic vinyl sculpture 'CHUM' gets a re-release after it's first debut in 2002 and it sold out in minutes.
Getting to Know the Artist
Brian Donnelly, aka KAWS, is one of the most iconic living contemporary artists and designers with a cult-like following. He was born in New Jersey in 1974 and now lives and works in Brooklyn, NY. One of his permanent sculptures is WAITING, located in front of a residential building in Greenpoint, Brooklyn.
He created the tag 'KAWS' while in high school. He doesn't believe the word has any meaning, he just liked the way the letters looked. In fact, KAWS liked the style so much he painted it on a building across the street from his school so he could look at it.
He received his Bachelor of Fine Arts in illustration from The School of Visual Arts in New York City in 1996. KAWS briefly worked as a freelance animator at Jumbo Pictures. He became so infatuated with the illegal graffiti scene of the NYC 90's and began tagging all over the city.
'CHUM' Character
KAWS has had massive collaborations with famous designers and celebrities including Justin Bieber, Pharrell, and Kylie Jenner clamor to collect his work. Inspired by street-art, graphic design, and commentary of pop-culture, the artist's work is highly recognizable. His characters ranged from reworked existing icons and his own made up creations.
One of his most famous characters is 'Chum', an adaptation of the Michelin Man, was named to convey human friendships and emotion. Chum was released in 2002 in black, pink, orange, yellow, and white vinyl, standing tall and proud with their hands on their hips and head held high. In later releases, he designed them hunched over or in different positions as well. The figure has KAW's signature 'x' eyes and cartoon-y personality.
The artist announced another exclusive drop of the sculptures on his Instagram page (@kaws), saying, "I can remember clearly packing and shipping the first CHUM release from my apartment in Brooklyn twenty years ago." Due to the extreme popularity of 'CHUM' in this particular iconic pose, it is no surprise that the re-release was nearly impossible to get your hands on because they sold out in minutes.
The KAWS exhibit at the Brooklyn Museum was so popular and his works are so coveted that when he has 'drops', similar to cult classic designers like Kanye West's Yeezy brand, they're scooped up in the blink of an eye.
Collectors will often resell them on sites such as StockX or 1st Dibs, sometimes for hundreds more than the initial offering price.
KAWS Career Highlights
Bryan Donnelly is often reserved so he uses his art to express himself. KAWS characters express humanity and they are oftenly posed in a powerless or shy position or with their hands over their eyes or nose. His paintings focus on deconstructing his usual appropriation of pop culture and iconic characters like Mickey Mouse or The Smurfs through abstraction.
Although KAWS works often seem to parody or mock consumerism and pop culture, he has had immense commercial success. In 2001, KAWs collaborated with Supreme to make a skate deck using the 'Chum' motif and a low-top skate shoe with DC footwear in 2002 and In 2008 he collaborated with John Mayer to create guitar pics. KAWS reimagined the iconic 'Moon Man' MTV Video Music awards in 2013 into his character 'COMPANION'
What makes KAWS so successful is that he feels accessible to everyone, whether it is at a museum, on a t-shirt, or on your street corner. I'm sure the public can't wait to see what the artist does next.
---