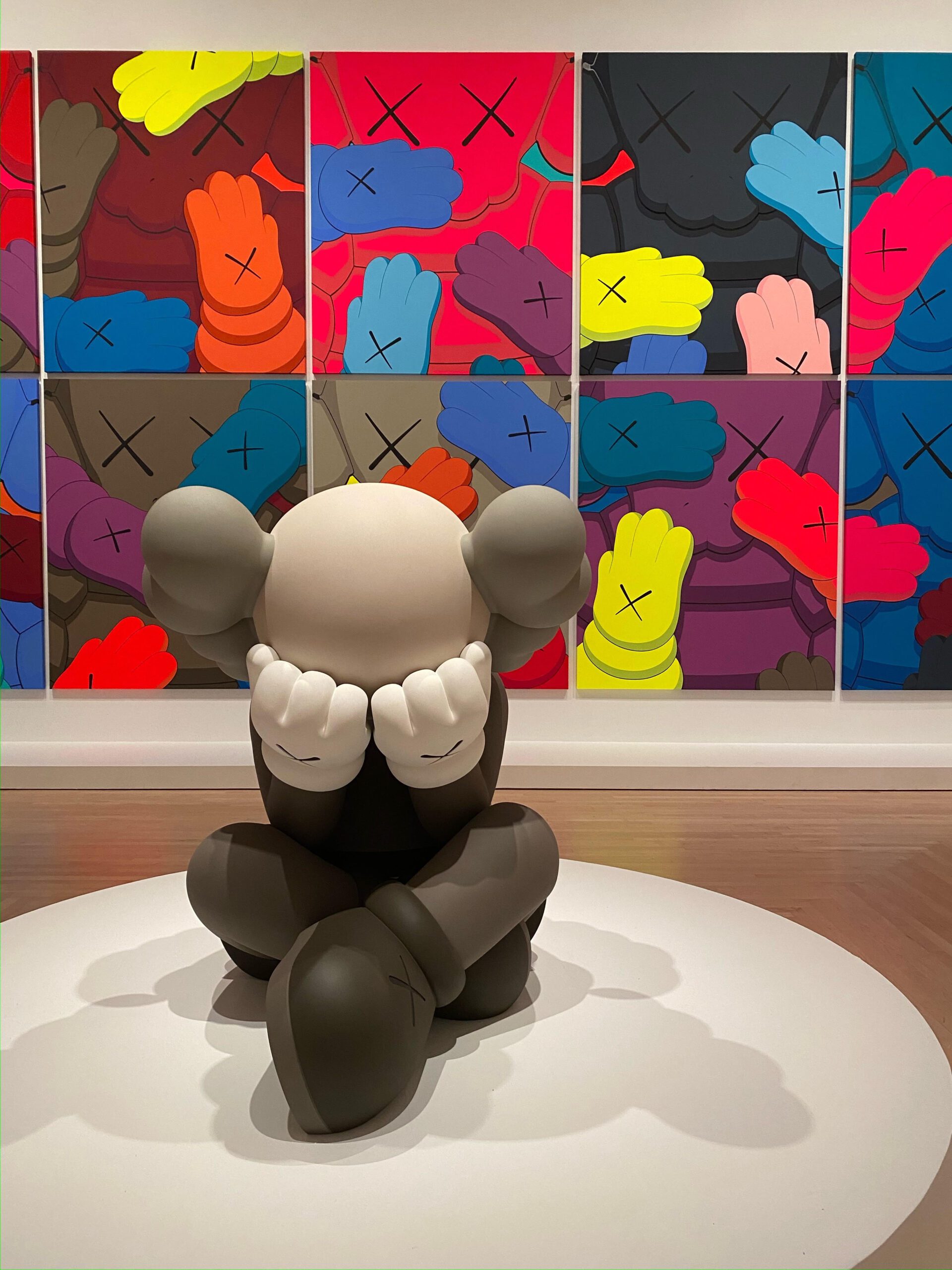 The KAWS Buying Guide
---
From the streets of Jersey City to the Galleries of New York, KAWS has been gaining popularity worldwide among collectors, critics, and kids alike. KAWS' striking artworks that blur the boundaries between high and low art demonstrate his mastery at navigating social media, pop culture, and the fine art world.
To learn where to start in beginning your own KAWS collection, read below.
About KAWS
Brian Donnelly, formally known as KAWS, has been at his craft since the early 1980s practicing graffiti in his hometown of Jersey City, New Jersey. What has come from those humble beginnings of cans of paint is a new divergence of street art, hypebeast culture, and the blue-chip art world.
After graduating from the School of Visual Art in illustration, KAWS began his career as an animator for Jumbo Pictures. While working as an animator during the day, KAWS finessed his craft as a graffiti artist at night.
In the late 1990s, KAWS started to become recognizable on an international stage through subvertising, a practice of spoofing corporate advertising on billboards and other public spaces throughout the United States, Europe, and Asia.
Movement and Mediums
KAWS' oeuvre is the production of following the greats of street art and expressionism like Keith Haring and Basquiat in the 80s. This time period was fundamental in the development of KAWS' creativity and development as an artist. His origins in graffiti brought his work to a diverse audience, many of whom had nothing to do with the art world. KAWS' artistic style can be characterized by an emphasis on color and line, graphics, and the appropriation of pop culture icons
The appropriation is commonly done in his signature motif of Xs on the eyes, hands, nose, and ears. Donelly also deconstructs the appropriation of these characters into tight spaces and shapes that produce an abstracted style in his paintings. In his vinyl toys, these figures stand independently but carry the same device as his paintings.
KAWS works in several mediums, including sculpture, painting, and prints.
Sculptures
KAWS' sculptures (aside from toys and excluding his monumental installations) have been produced in editions of 10, 25, and 100. Monumental sculptures, meanwhile, come in editions of two or three.
The first of such was a Companion sculpture created for his then Tokyo boutique, OriginalFake, which opened in 2006 and closed its doors in 2013.
Paintings
KAWS' began to paint more prolifically in the early to mid-2000s, and his paintings to this day are in very high demand. His earliest works featured distorted images of familiar animated characters, including the Smurfs, the Simpsons, and SpongeBob SquarePants.
Prints
Multiples are the most collectible of the KAWS oeuvre and offer a range of works to become familiar with and a broad spectrum of value. Edition sizes of KAWS prints range from 20 to 250. The characteristic quality of KAWS' work in this medium and its tremendous demand keeps the market moving.
Prints enrich any collection, showing another side to a beloved artist's work or allowing newer collectors to acquire original and iconic works at a lower price. The formal qualities of a screen print or lithograph versus an oil on canvas can be fascinatingly diverse, allowing the artist to experiment in ways that are not possible with an original.
Collecting KAWS As An Investment
To begin collecting KAWS, there are essential questions: "Why KAWS?" and "How do I decide which painting or sculpture?"
When addressing the first question, "Why KAWS?" KAWS's market demand has been increasing yearly. His reputation as a Contemporary artist and collaborator with several different brands like Dior and Nike
KAWS Collection Examples
KAWS Companion & Other KAWS Figures
KAWS has created more than 100 editions of his most famous characters. Among them is Companion, KAW's ubiquitous Mickey Mouse-inspired cartoon with Xs for eyes; for most fans, Companion has icon status as the symbol of today's popular culture. There is also Chum, a version of Companion that is reminiscent of the Michelin Man, and Accomplice, another seeming relative of Companion, but with a pair of rabbit ears. These are produced in vinyl, wood, and mixed media.
KAWS' sculptures (aside from toys and excluding his monumental installations) have been produced in editions of 10, 25, and 100. Monumental sculptures, meanwhile, come in editions of two or three and are found in many of his exhibitions, such as the one in the Brooklyn Museum.
KAWS And Collaborations
KAWS art has invaded the retail and entertainment industry. Popular commercial brands such as streetwear brands, Uniqlo, Disney, and more have incorporated his art as designs in their products.
These would serve as a way to start a Kaws collection through merchandise from collaborations or buying from one of the popular resale sites like StockX.
Read KAWSification: 10 Of KAWS' Most Popular Collabs
Authenticity
Unlike famous artists like Banksy, KAWS does not have its own means of authentication of artwork. With this being the case, proper due diligence when researching a work of art by the street artist needs to be done before purchase. Work from KAWS' OriginalFake period is – somewhat ironically – the most subject to falsity, and hence it is in this area that authentication is vital. As with all editions, paper trails are essential. This includes reviewing the provenance of the work or consulting a specialist.
Investing In KAWS
KAWS has countless fans who would love to buy an original painting. Unfortunately, with the high prices at auction and the possibility of fraudulent pieces, buying KAWS can sometimes feel unattainable.
Thanks to the art investing platform Masterworks, owning shares representing an investment in a KAWS artwork and other blue-chip artists is now more accessible than ever.
Masterworks already has more than a handful of authentic, original KAWS paintings on our platform. It is now possible for individuals who want to invest in shares of one of their favorite artist's originals.
See important Regulation A disclosures at masterworks.io/cd
---