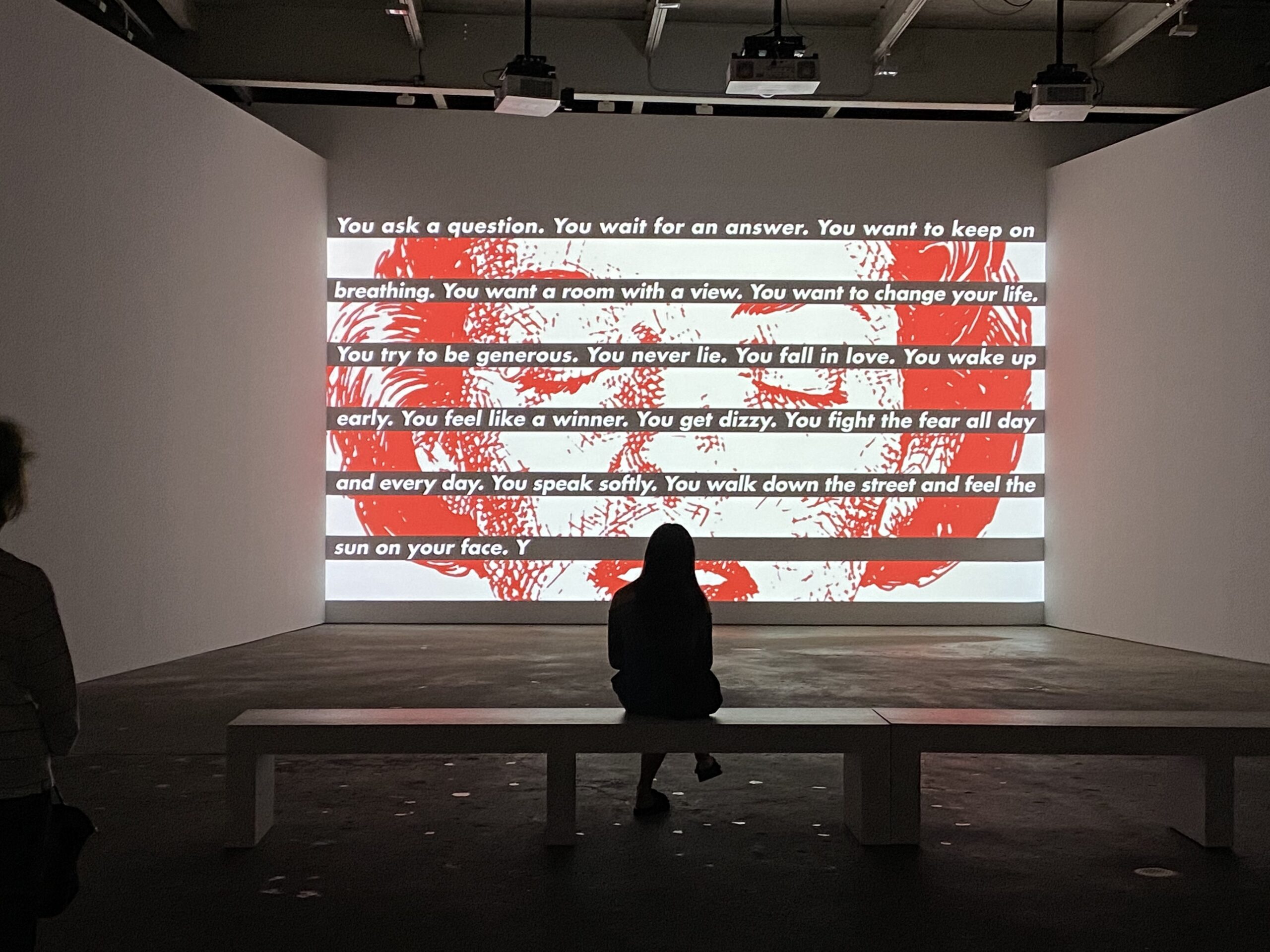 The Rise Of Immersive Art Exhibitions
---
Museums and galleries have been some of the hardest-hit destinations since the onset of the coronavirus pandemic in 2020, as restrictions continue to hamper visitor numbers or diminish them completely.
The process of visiting art galleries and museums generally goes like this: you purchase the ticket, arrive at the venue, enter the exhibition, admire the art from afar — and pretty much always stay behind the rope fence.
The exhibition is a passive experience that often ends with sore eyes, as attempting to quickly absorb a vast amount of information is a strenuous activity.
However, amid reopenings, a new medium of art space has come to the surface: immersive experiences.
Coupled with a growing interest in interactive art and the power of social media in the art market, these immersive galleries and experiences have become the latest craze.
What are Immersive Art Experiences?
Immersive art experiences are one of the cultural successes of the past few years: digital exhibitions with 21st-century sound and light shows that reinvent how painting and architecture are approached in a fun and emotional staging.
These interactive exhibits allow visitors to see the art and be submerged in it, creating an encapsulating sensory experience. The medium envelops the viewer and removes passiveness, requiring and rewarding an actively enthusiastic mind. 
This new art viewing experience has soared in popularity since the early 2000s, correlating with the advancements of technology, with immersive art exhibitions being installed worldwide.
Immersive art activates the senses and brings the viewer inside the art, augmenting their reality and enhancing everyday life.
To consider how immersive art compares to traditional art galleries and museums, an example to consider is TeamLab, an art collective formed in 2001 by a group of artists in Tokyo. As of 2019, their Borderless museum is the most visited single-artist museum in the world. It welcomed 2.3 million visitors from over 160 countries within one year of opening, attracting more attendees than the famous Pablo Picasso Museum in Barcelona. 
What Are Some Examples of Immersive Museums?
Artechouse
Artechouse acts as an interactive museum, hosting a variety of pop-up exhibitions. It focuses on the importance of blending art and technology by showing the work of new media artists. The founders of Artechouse dedicate the space to community involvement and believe that giving back to and supporting communities is essential.
This art space changes how people think about art, especially as it has its own app to enhance the experience. It takes the video components of art exhibits to a new level. It goes beyond the box-like theaters in museums where people can sit and watch films.
Meow Wolf
Another art space dedicated to interactive exhibits is Meow Wolf. Unlike Artechouse, Meow Wolf displays multimedia immersive exhibits, not exclusively digital. Meow Wolf also supports emerging artists and art communities by offering them professional wages.
Meow Wolf has multiple locations across the United States, including Dallas, Santa Fe, and Denver
FeverUp Sponsored
FeverUp, the entertainment platform that organized the experience, like the Banksy Rebel or Genius,  has several similar exhibitions planned in the UK this year, including the Frida and Diego Experience and Klimt: the Immersive Experience held at the lumières.
The platform asks internet users to vote on which artworks or artifacts they would like to be immersed in next (a Dalí experience is in the works; so is Titanic: The Exhibition).
Superblue
Another organization pioneering the immersive model is Superblue, founded in 2020 by Marc Glimcher and Mollie Dent-Brocklehurst of London's Pace Gallery. Superblue has locations in Miami and London and recently opened an installation at the Rockefeller Center in New York.
At its cavernous Miami base, housed in a converted warehouse, visitors travel through a mirrored labyrinth by the English set designer Es Devlin, a reactive floral light installation by teamLab, and a purple Ganzfeld by Turrell.
The Growth of Immersive Art  
TeamLab is responsible for the increased popularity of immersive art installations, which have become a hub for social media interaction and selfie museums. Ironically, the origin of these kinds of exhibition spaces come from famous artists such as Yayoi Kusama's mirrored infinity rooms.
Installation artists have long worked with new technologies: Famous curator Hans Obrist cites Billy Klüver, an electrical engineer at Bell Telephone Laboratories, as an original innovator. He collaborated with artists like Robert Rauschenberg and Yvonne Rainer to make kinetic sculptures and soundscapes. Artists like James Turrell and Olafur Eliason have made ecstatic, light-filled rooms an institutional fixture.
The immersive art space flips the idea of art museums and galleries as temples. This is a phenomenon scholars discuss in museum history: Art museums and galleries create an environment similar to a religious site.
Guests can't touch items, believe they should remain quiet and respectful, and are less likely to interact with others outside of their group. The museum experience of looking at art then becomes more sterile and gated. Interactive art opens up a more joyous and less severe environment.
Virtual and Augmented Reality Experiences
Van Gogh: The Immersive Experience
A popular immersive art exhibition that has been circulating the world and appearing in locations including Berlin, London, and Paris since as early as 2001 is the Van Gogh Immersive Experience. The exhibition sees the Dutch painter's work come to life with state-of-the-art technology that progressively presents world-famous paintings sensationally. 
The Bedroom becomes a large and layered cut-out background that lets viewers position themselves in Van Gogh's old room; Sunflowers appear as tangible 3D hanging artifacts, and VR headsets allow you to walk through the dreamy village of Saint-Rémy-de-Provence, the inspiration for The Starry Night.
The main event, however, is nestled deep inside the spectacle in the form of a large rectangular white-walled viewing room filled with comfortable chairs and soft cream carpets, made for relaxing and submerging oneself in the world of the misunderstood genius.
Complemented by mood-setting background music, Van Gogh's life's work is reproduced across the room's walls using a 3D mapping projection system, bringing the art to life.
The visual narrative takes approximately 30 minutes to view from start to finish, seamlessly looping back to the beginning so visitors can enter and leave as they please.
Metropolitan Museum of Art 'Unframed'
In January 2021, the Metropolitan Museum of Art in New York partnered with Verizon to produce a series of virtual art and gaming experiences based on their collections, which 4G or 5G smartphone users can participate in from home.
The campaign features a wealth of digitally rendered galleries, with additional animated, interactive elements on some of the world's most famous works of art. Completing the various games found within the experience allows users to unlock or 'unframe' their favorite pieces for display in their own spaces through AR technology.
The Louvre – Mona Lisa: Beyond the Glass
The Mona Lisa, arguably the most famous painting in the world, is housed at the Louvre gallery in Paris. Unfortunately, it's also a very small painting, measuring just 77x53cm, meaning it can be difficult to catch a glimpse of the masterpiece in real life with the usual crowds around it.
In fact, the painting is such a popular attraction that the museum has limited viewing time to a 30-second period per person before they are asked to move on.
To address some of these issues and to make the experience of coming to view the Mona Lisa less rushed, the Louvre has implemented VR technology.
Mona Lisa: Beyond the Glass was a limited-time event launched in October 2019 which aimed to allow visitors and remote fans alike to 'be within the universe' of the painting and to explore, in greater depth, the story behind the piece. Using infrared and x-ray scans of the painting, as well as its wider context, VR experts from Emissive created a 3D virtual model of Mona Lisa that realistically moved and interacted with the viewer, complete with a historically accurate background setting.
In the at-home version of the experience, additional paintings by DaVinci were also available to explore in virtual reality, although in less detail than the main attraction.
Benefits of Immersive Art Exhibitions
With immersive art exhibitions, the visitor is brought on an interactive journey and is engulfed in a digital world full of endless possibilities, leaving a lasting impression.
Immersive events garner excitement, and brands increasingly use creative and immersive methods to capture customers' attention, called experiential marketing.
These same immersive experiences also provide a more accessible means of viewing the art of famous artists. Experiences like the Van Gogh: The Immersive Experience bring the best of Van Gogh's artwork to those who may not have the means or time to travel and see it in person.
Complaints Against Immersive Art Exhibits
Because immersive installations do not rely on displaying rare objects, they can be reproduced almost industrially. Theoretically, you could license an art collective's intellectual property and show it anywhere in the world, a model that has more in common with a tech platform than a museum or gallery.
It's easy to be scathing about how such events turn art into "content" ready to be captured and shared on social media. The drive behind immersive art is unquestionably financial: its surging popularity coincides with the pressure many art institutions face to secure funding and diversify audiences, whose expectations have, in turn, been shaped by the internet.
The Bottom Line
Art aside, immersive events have also become increasingly popular. Technologies such as video mapping, VR, and augmented reality have given us endless opportunities to create something out-of-this-world.
Nowadays, people expect more than the preconceived event standards, they want to be entertained and engaged and leave the occasion feeling inspired. A unique immersive experience will unquestionably get attention and provide brands with word-of-mouth, not forgetting the power of social media, where the unconventional is likely to become viral.
There is a societal movement towards experiences over material things, and since the pandemic, it's stronger than ever. This experiential avenue presents endless opportunities and will undoubtedly be making headlines in the upcoming years, with the impact of immersive art being already more profound than predicted.
This new type of art is about creating a holistic experience for the audience and activating the senses. Combined, immersive art, galleries, brands, and museums have the potential to become a unique adventure that even artphobes won't be able to resist.
---