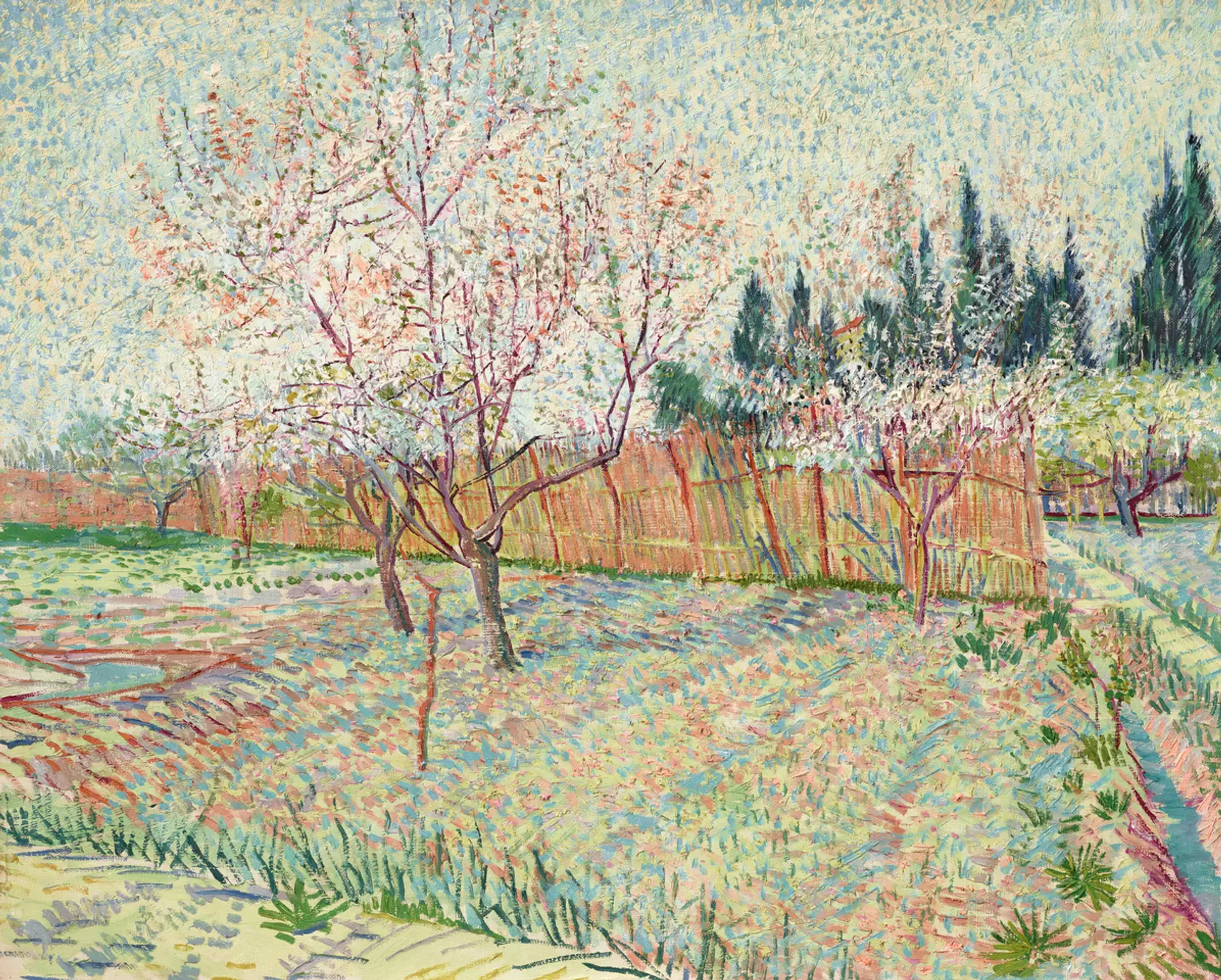 How Many Paintings Did Van Gogh Sell?
---
Although the artistic career of Vincent van Gogh only lasted a decade, he managed to create a huge body of work — more than 2100 artworks and 860 oil paintings. 
But how many paintings did Van Gogh sell in his lifetime?
No one knows for sure.
What we do know is that he sold a couple of his works, including one to a Parisian art dealer. He also bartered a few during his early years, and some others were commissioned by his uncle.
Let's uncover who Vincent van Gogh was and the paintings he sold in his lifetime. Then we'll explore a few little-known aspects of his life. We'll also reveal how you can invest in art by legendary artists through Masterworks.
Who Was Vincent Van Gogh?
Vincent Willem van Gogh was born in Groot-Zundert Netherlands on 30 March 1853. He became an artist at the age of 27 and created thousands of artworks until his death at age 37.
The legendary artist is known for his tragic life as well as the masterpieces he created.
In 1888, he began suffering from mental health issues which led to a dark period in his life. During this time he famously cut off a piece of his ear, once ate his own oil paints, and often had disputes with the people around him. This is why he's a well known example of a "tortured artist."
Van Gogh never married and his closest friend was his brother Theo van Gogh. Much of what we know about Van Gogh comes from hundreds of letters shared between the two brothers.
Sadly, Van Gogh never enjoyed commercial success in his lifetime. He also suffered from severe depression and poverty, eventually taking his own life in 1937.
Interestingly, he posthumously became one of the most influential artists in the world.
Let's explore his artistic style and most notable works.
Van Gogh's Artistic Style
Van Gogh was a Post-Impressionist painter who certainly left his mark on art history buffs and the art world in general.
Van Gogh's artwork typically featured landscapes, still lifes, portraits and self-portraits, characterized by bold colors and contoured forms. Perhaps most notable about Van Gogh's work is the dramatic, impulsive, and expressive brushstrokes that heavily influenced the modern art movement.
His work became incredibly popular after his death, particularly in the late 20th century, selling for record-breaking prices at auctions.
Van Gogh's Notable Works
Van Gogh's most recognizable paintings include:
Starry Night (1889): Van Gogh painted this vibrant oil on canvas depicting the Saint-Rémy countryside from his window. Today, the Starry Night painting can be seen at the Museum of Modern Art in New York City.
The Potato Eaters (1885): Van Gogh painted this dark and somber masterpiece in April 1885 while living in the Dutch town of Nuenen. It's a depiction of peasants having dinner. The piece can be found at the Van Gogh Museum in the Netherlands.
The Bedroom (1888): While in Arles, Van Gogh created this piece depicting his bedroom, devoid of shadows and with flat areas of color, to resemble a Japanese print. There are three versions of this painting, one at the Van Gogh Museum in Amsterdam, another at the Art Institute of Chicago, and the third at the Musee D'Orsay in France.
Sunflowers (1888): This Van Gogh painting is one of five artworks depicting sunflowers in a vase, meant to convey "gratitude". The first two he hung in the room of his friend, the painter Paul Gauguin. Later he painted two more copies, one of which can be viewed at the Van Gogh Museum and another at the National Gallery of Art in London.
Peasant Woman Against a Background of Wheat (1890): This famous painting depicts a peasant woman wearing a straw hat, seated against a wheatfield background. The oil on canvas painting is part of a series the artist created. The artwork is currently on display at the National Gallery of Art in London.
Street Scene at Montmartre (1887): Van Gogh created this masterpiece of a street scene in Paris as part of a series while staying with his brother Theo. In 2021, it sold for $16.47 million in an auction organized by Claudia Mercier of Mirabaud Mercier Auctioneers and Sotheby's.
Meules de Blé (1888): This painting was the first in a series of harvest artworks Van Gogh created while living in Arles. Meules de Blé recently made headlines when it was auctioned for $35.8 million by Christie's. The piece has a complicated history, having been seized by Nazi forces in 1940.
Meanwhile, his most expensive artworks are:
Orchard With Cypresses (1888): This painting was part of a series of 14 canvases that showcase different views of an orchard in bloom. The painting recently broke the record of the most expensive painting by the artist selling for $117 million at the record-breaking Paul Allen sale in November 2022 at Christie's.
Portrait of Dr Gachet (1890): The painting depicts the homeopathic doctor and artist Doctor Gachet from the town of Auvers who cared for Van Gogh during his final months. The Portrait of Dr Gachet sold for $83 million to a private collector, Ryoei Saito, in a Christie's auction in 1990.
Portrait of Joseph Roulin (1889): This portrait is one of six of Van Gogh's paintings depicting the postal worker Joseph Roulin. He was a close friend of the artist from the southern French town of Arles. The painting was bought by the New York Museum of Modern Art (MoMA) in 1989 for $58 million.
Another version, Portrait of the Postman Joseph Roulin (1888), is on display at The Museum of Fine Arts in Boston.
Irises (1890): This Van Gogh painting was part of a series created during his stint at the Saint Paul-de-Mausole asylum in Saint-Rémy, France, in his final year. It was sold for $53.9 million in 1987 to the J. Paul Getty Museum in Los Angeles.
Laboureur Dans Un Champ (1889): In 2017, this depiction of a plowman and horse in a wheat field sold for $81.3 million in a Christie's auction. The artist completed the piece shortly before his death in 1889.
Portrait de l'Artiste Sans Barbe (Self portrait Without Beard) (1890): This self portrait was probably the last the artist ever painted. He gifted it to his mother for her birthday a few months before his suicide in 1890. Van Gogh's portrait was sold in 1998 for $71.5 million in a Christie's auction in New York.
He painted numerous self-portraits, including Self Portrait 1887 which can be viewed at the Art Institute of Chicago.
Despite having created so many iconic masterpieces, how many paintings did Van Gogh actually sell?
How Many Paintings Did Van Gogh Sell In His Lifetime?
According to the Van Gogh Museum, the artist sold these paintings himself: Red Vineyard at Arles and A Self Portrait.
Besides these, he commissioned a few pieces and traded a few more in his early years.
Let's examine these in detail.
The Red Vineyard at Arles (1888)
The Red Vineyard is an oil painting on a primed Toile de 30 pieces of burlap depicting workers in a vineyard.
In 1890, this dramatic landscape painting was part of an exhibition of Symbolists in Brussels, where Van Gogh exhibited six pieces.
The piece was bought by Anna Boch, a fellow artist and collector, whose brother Eugène Boch was Van Gogh's friend. Anna Boch paid 440 Belgian francs for the piece.
She later sold the painting for 10,000 Belgian francs in 1906. It was sold again that year to a Russian textile businessman, Segei Shchukin. In 1948, the painting was given to the Pushkin Museum in Moscow, Russia.
This artwork marks Van Gogh's desire to draw from memory, which he said allowed him to be more creative and less "awkward".
For a long time, it was believed that this was the only painting Van Gogh ever sold in his lifetime. However, this was later refuted by author Marc Edo Tralbaut and researchers at the Van Gogh Museum.
A Self Portrait (1888)
Marc Edo Tralbaut, author of "Vincent Van Gogh, an Authoritative and Comprehensive Biography of Van Gogh" first challenged the idea that Van Gogh had only sold one painting in his lifetime.
Tralbaut uncovered that the artist's brother Theo had sold a self-portrait by Vincent a year before selling The Red Vineyard.
He discovered that in a letter in 1888, Theo wrote to two London art dealers that he had sent them two works. One was a landscape by Camille Corot, and the other was a self-portrait by Vincent van Gogh (labeled V van Gogh.)
But some scholars have refuted the sale, saying the letter shows some inconsistencies.
Commissioned Art
Van Gogh's first commission came from his uncle Cor who was an art dealer. It's believed that Cor wanted to help his nephew's art career so he ordered 19 cityscapes of The Hague.
Pieces Van Gogh Sold and Traded in his Early Years
During his early years, Van Gogh would trade his paintings for food or art supplies. This practice was common among many young artists.
It's believed that he sold his first painting to a Parisian art dealer Julien Tanguy and that Theo sold another to an art gallery in London.
According to the Van Gogh Museum, the artist mentioned in his letters that he sold a portrait to someone, but he doesn't mention which piece.
The letters reveal that Van Gogh also sold paintings to relatives before he died, including to Theo.
Who Sold Van Gogh's Paintings After His Death?
Following Van Gogh's death in 1890, his brother Theo continued to sell his paintings, even organizing a memorial exhibition of his brother's work.
Theo died of syphilis-related causes in 1891 shortly after his brother's death. At this time, Vincent van Gogh's paintings were passed to Theo's wife Johanna van Gogh Bonger (Jo).
Theo's widow tried hard to generate interest in Van Gogh's paintings, including loaning pieces to museums around the world. This led to a surge in the popularity of Van Gogh's work. Jo van Gogh Bonger also published the letters Vincent sent to his brother Theo.

Following Jo's death in 1925, Vincent and Theo's art collection was passed to her son, Vincent Willem van Gogh. He loaned Van Gogh's paintings to the Stedelijk Museum in Amsterdam in 1930.
From 1998 onwards, ten of his most expensive paintings were sold by Christie's and Sotheby's to museums and galleries around the world, as well as to private collectors.
If you're still curious to know more, we have six more intriguing tidbits about him.
6 Other Interesting Facts About Vincent van Gogh
Here are a few other little-known aspects of Van Gogh's life:
1. Before becoming a painter, he trained as a preacher
The French poet Jean Cocteau said, "art is not a pastime, but a priesthood." So it seems apt that Van Gogh would leave the ministry to pursue a career as an artist.
Van Gogh was deeply religious and at age 25, he aspired to become a preacher like his father. He worked as a pastor in a mining village in southwestern Belgium for two years before becoming an artist.
2. He drew inspiration from many places, including Japan
The visionary artist drew inspiration from various places including the realist paintings of Millet and Dutch genre painting. Japanese woodblock prints are another notable influence.
He would often ignore principles of shadow and perspective to mimic these Japanese prints.
Van Gogh was also influenced by Impressionist artists, particularly Claude Monet, Edgar Degas and Camille Pissarro.
3. In less than 10 years, he did 759 oil paintings
Van Gogh was only a full-time artist for 10 years of his life. During that time, he produced 860 oil paintings and many more sketches and drawings.
4. He wrote nearly as many letters as he created paintings
He is believed to have written 819 letters to his brother Theo van Gogh. They were published by Theo van Gogh's widow after his death.
5. His best-known work, Starry Night (1889), was painted in an asylum
Van Gogh painted what is possibly his most popular piece, Starry Night, at an asylum in Saint Remy, Provence, France.
The artist voluntarily admitted himself to the hospital following a nervous breakdown, when he cut off a part of his ear.
6. The artist Paul Gauguin was a close friend
Paul Gauguin was a good friend of Van Gogh's. They met in Paris in November of 1887 when Van Gogh organized an art exhibit for Impressionist artists.
Gauguin attended the exhibit and arranged to swap one of his paintings from Martinique for two of Van Gogh's sunflowers studies. They later briefly lived together in Arles. The home was the subject of Van Gogh's painting The Yellow House (1888).
The artist was also close with Emile Barnard, with whom he exchanged many letters. 
These artists left their mark on the modern art movement and the art world in general, having experimented with color and line.
Today, their work is coveted among fine art collectors, fetching millions of dollars at auctions.
But how do you buy them?
If you thought investing in masterpieces by the likes of Van Gogh, Paul Gauguin, Georges Seurat and others was out of your reach, we have good news for you!
Masterworks is an art investment platform bringing investment-grade fine art to a broader audience. You can easily invest in shares of iconic contemporary artworks.
Masterworks' industry-leading research and acquisition teams use proprietary data and art market expertise to curate a collection of iconic works of contemporary art by artists like Banksy, Picasso, and many others.
Here's how it works:
The research team identifies the artist markets with the most momentum.
The acquisitions team then locates the piece and purchases it at a fair price.
Masterworks files an offering with the Securities and Exchange Commission (SEC) to securitize the artwork.
Typically, Masterworks holds a piece for 3-10 years. Once it's sold, you'll receive your pro rata returns minus fees.
Alternatively, you can sell your shares on the secondary market.
Visit the website to see how you can start investing in shares of sought-after masterpieces today.
This article is sponsored by Masterworks.io. This material is provided for informational and educational purposes only. It is not intended to be investment advice and should not be relied on to form the basis of an investment decision.
See important Reg A disclosures: Masterworks.com/cd
---