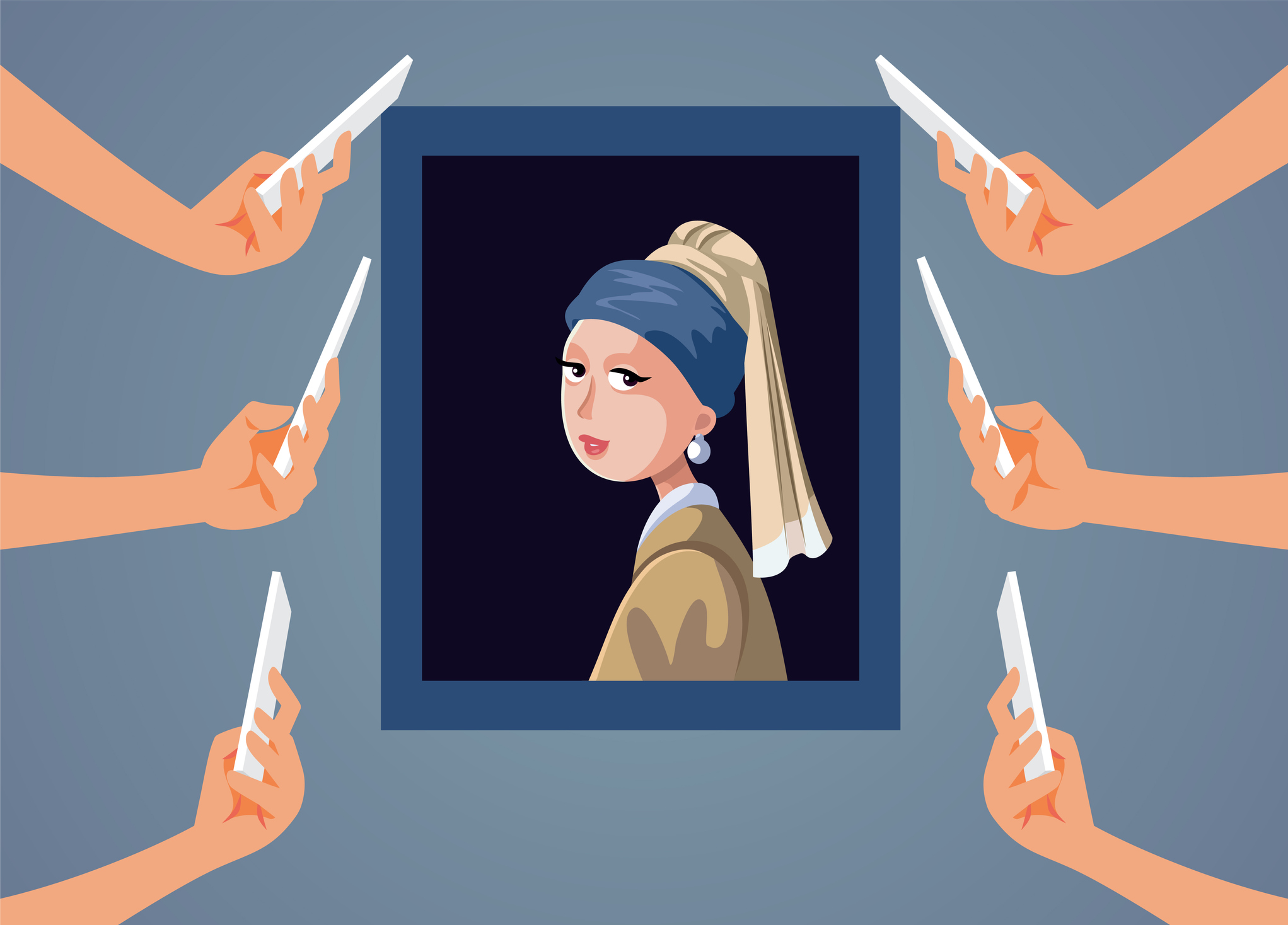 Flash Please: The Museum of Ice Cream and the Rise of Instagram Museums
---
The Instagram Museum is like Instagram, more diverting than edifying. These selfie factories have become an increasingly popular new kind of institution, even as they sideline the educational elements of a "museum."
What significance do Instagram museums carry for us today, and how did they become so ubiquitous? Read on to learn more, and our final thoughts on these dream machines.
What Are Instagram Museums?
Instagram museums are a unique take on an arts and culture installation. Their main objective is to provide an interactive experience to their audience and, obviously, to be as instagrammable as possible.
These pseudo-museums follow a similar layout to any other — despite them being more comparable to art installations. They typically feature multiple rooms with bright, curated, and interactive displays that offer envy-inducing photo ops.
The History of The Museum Selfie
Over the past century, with the evolution of contemporary art, we can see a shift in the museum experience, historically being a mecca of academics to, now, a place of exploration and entertainment.
Sculpture parks such as New York's Storm King Art Center are not dissimilar from the Instagram museums, nor is the artwork of Pop artist Claes Oldenberg, whose playfully hyperbolic statues of everyday objects haunt many a public square.
Another artist whose artwork has become synonymous with this museum's selfie culture is Yayoi Kusama. With the rise of social media, there was an explosive trend in the use of her whimsical infinity rooms and installations gracing the backdrops of influencer feeds.
It was installations like this that sent the population into a frenzy. Exhibitions for Kusama infinity rooms sold out almost immediately and garnered lines comparable to movie premieres. It was this kind of attention that added weight to the argument that museum-goers perhaps had more stock in being seen with the art than viewing the art themselves.
First coming to the surface as temporary pop-up style exhibitions, The Museum of Ice Cream was the first to metamorphasize into an overnight success story. Originally only intended to be held for a singular month, the attendance and reception were so astounding that the museum opened numerous more pop-up locations in other cities and then a permanent space in New York.
How Instagram Museums Influenced Museum Curators
With the overnight success of Instagram Museums, the question arises of how they affect traditional museums.
For one thing, Instagram museums are forcing more traditional museums to reevaluate what they offer to their communities and to consider if they're falling behind in offering compelling experiences. The emergence of Instagrammable experiences may already be directing traditional museums towards these types of exhibits. For example, when the Hirshorn Museum in D.C. first held the Kusama retrospective Infinity Mirrors in 2017, the museum saw 475,000 visitors in the first three months. This was the highest attendance recorded in museum history.
In a more recent example, the Museum of Modern Art in New York held a large-scale exhibition in their central atrium, Barbara Kruger: Thinking of You. I Mean Me. I Mean You. Covering the various surfaces of the atrium with printed vinyl featuring bold textual statements synonymous with the artist's style, creating a unique and favorable photo op for any museum visitor.
Another example of this is when the Renwick Gallery in D.C. invited guests to take photos of their exhibition (Wonder) in 2015. Following this, we have seen museums become laxer on the rules surrounding photography, even if they don't cordially invite visitors to be part of the experience.
In essence, traditional museums are trying to combat being left behind in the time of social media by investing in technology that allows them to change up the content and exhibits on offer regularly without completely remodeling large amounts of museum space. Some of the technology that museums are tapping includes video walls, digital signage, and advertising displays, as well as interactive displays and kiosks.
What Are The Most Popular Instagram Museums?
The Museum of Ice Cream
Opening in 2016, the Museum of Ice Cream was meant to serve as a month-long interactive pop-up museum in New York City. Since its inception, the museum has now broadened to multiple locations in the United States, including Los Angeles, San Francisco, Austin, and one international location in Singapore.
Visitors can swim in one of the many sprinkle pools, explore an immersive chocolate room (not edible, of course), and ride ice cream sandwich swings. These provide a colorful background for any Instagram post.
Of course, there's ice cream tasting — visitors can sample customized ice cream in Dr. Irwin Adam's studio. The Scoop of the Week lineup from the city's best ice cream shops, including OddFellows, Black Tap, and more.
By far one of the most recognizable and aesthetically pleasing examples, the Museum of Ice Cream has grown to significant stature as one of the quintessential Instagram museums.
The Color Factory
Since the 2017 opening of its first pop-up in San Francisco, Color Factory has grown into a series of flagship locations in New York and Houston, with a new location in Chicago opening in Spring 2022.
Within each Color Factory location, visitors are invited to experience the joy of color through interactive installations, immersive rooms, and carefully curated moments. Color Factory collaborates with artists, art institutions, nonprofits, and brand partners.
Visitors are taken through a multi-sensory trip in all things color. There's a room where you stare intimately at someone and compliment them using colors, a room where you walk a life-size decision flow chart that leads you to a tiny room devoted to the color that suits you best.
Another appeal of the Color Factory is how the museum leans into its purpose as a selfie factory. The Color Factory offers a hack that is designed to up your Instagram factor. After you enter the exhibit, you can opt to get a plastic code with a personalized barcode assigned to your email or phone number. In select, especially Instagram-y rooms, you'll be able to swipe your card's barcode to prompt a camera to start counting down from five, allowing you to pose for a picture in the room. Once it snaps your pic, it'll instantly send it straight to you.
Final Thoughts
The Instagram Museum, by contrast to the traditional art museum, claims its power in the virtual world — as "pop-ups," by definition, they forgo a relationship with a particular environment. They are the natural evolution of art in the digital age — of a society that experiences a thing as much through the thing itself as the Instagram post about it.
Ultimately, Instagram and the rise of Instagram museums have altered the way we approach traditional museums. Whether this is for better or for worse has yet to be determined and will most likely hinge on who you talk to.
And like the posts memorializing them, the Instagram Museum have a predestined air to them, as if their fate is to be replicated and shared, glanced at but not digested before being cast to the bottom of the feed for whatever comes next.
---