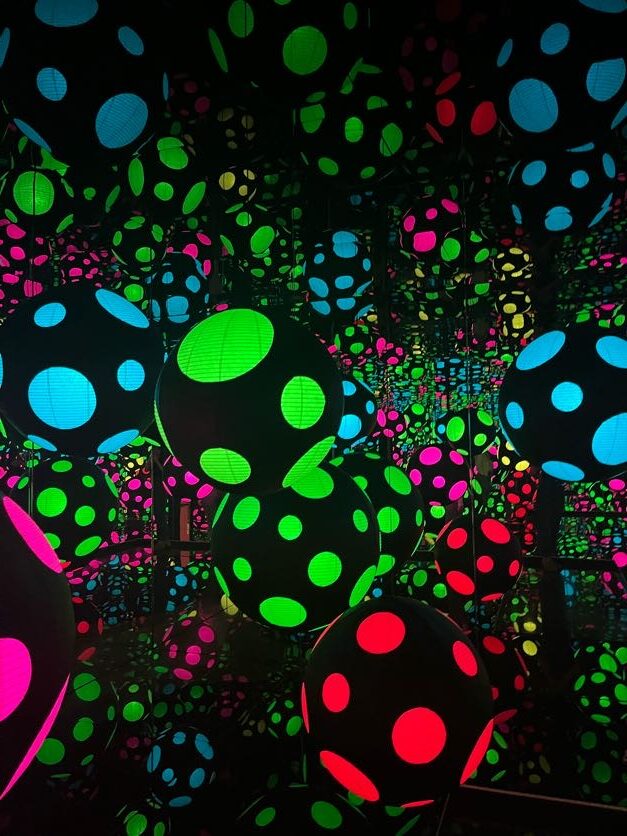 Kusama's Infinity Rooms: Finding Meaning in the Infinite
---
Yayoi Kusama is the highest-selling female artist in the world in recent years. In 2021 it was reported that her work accounted for 30.8%% percent of the market of all auction sales of art made by female artists. 
While she is undoubtedly a polymath, working in several different mediums from painting to sculpture, her seminal work is arguably the series of installations known as the Infinity Mirror Rooms.
These rooms serve as an immersive experience for viewers, with interiors lined with mirrors creating the illusion of endlessly recurring spaces. These works have become increasingly in demand with locations internationally at some of the most prestigious museums.
Who Is Yayoi Kusama
Born in 1929 in Matsumoto, Japan, Kusama came to international attention in 1960s NYC for a wide-ranging creative practice encompassing installation, painting, sculpture, fashion design and writing. Since the 1970s, she has lived in Tokyo, where she continues to work prolifically and to international acclaim.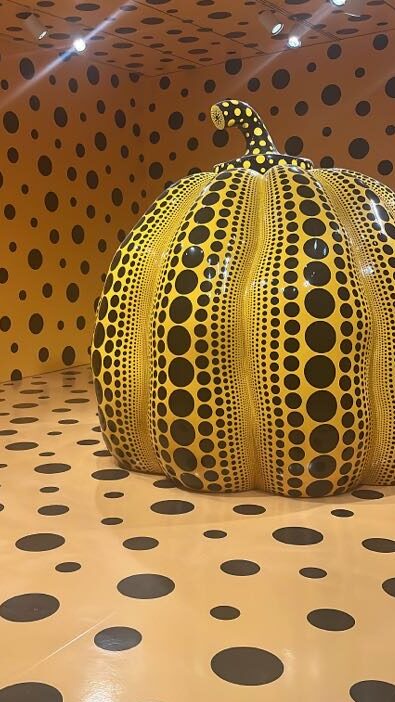 The Origin of Yayoi Kusama's Infinity Mirror Rooms
Her earliest ideas of the infinity rooms lie in her childhood work. She made thousands of small paintings during her early years, which she later developed into sculptures. Identifying this as the beginning of her desire to create an infinite series of images, the concept would eventually come to fruition in her creation of her first mirror-roomed environment in 1965. 
It was the Castellane Gallery, located at 1078 Madison Avenue on 81st street, which would later play host to the very first infinity room, Infinity Mirror Room – Phalli's Field (Floor Show). This solo exhibition in November 1965 consisted of a space lined with mirrors around the floor displaying many polka dot sewn objects recurring infinitely into the space around the viewer.
This is the installation that brought us the iconic photograph of Kusama in her red jumpsuit, reflecting herself as art in the Phalli's Field.
However, that same year, another New York-based artist began drawing a huge amount of attention for their mirrored installation artworks, overshadowing Kusama's own breakthrough work in this field.
In 1966, Lucas Samaras' "Room No. 2" went on public display at the Pace Gallery in NYC. Like Kusama's works, Samaras' room also used a mirrored interior which the viewer was invited to step inside, creating the impression of infinite space within the installation.
Due to the gallery's high profile, Samaras' exhibition garnered more attention than Kusama's earlier shows, and many people wrongly assumed he was responsible for creating this new form.
Kusama became deeply depressed, and this incident was one factor contributing to Kusama's thwarted suicide attempt around this time. The artist attempted to take her own life by jumping from her apartment, but she was saved from fatal injury when her fall was broken by a bicycle.
Throughout her life, Kusama has turned to art to help her through difficult times, and it was art that helped her recover after this. Attending the 1966 Venice Biennale, she decided to launch her own show outside the official boundaries of the leading exhibition. Like her rooms, her work for Venice also included mirrored surfaces. 
Kusama's use of mirrored forms in Venice helped her recover from the crisis following her struggle for recognition. Fittingly, Venice would host Kusama's return to the mirrored room form almost thirty years later, officially as Japan's representative at the 1993 Biennale.
The Most Famous Infinity Rooms
Infinity Mirror Room – Phalli's Field
Kusama spent much of her time between 1962 and 1964 sewing thousands of stuffed fabric tubers, grafting them to furniture, and finding objects to create her Accumulation sculptures.
She exhibited the works together to create hallucinatory scenes of phallic surfaces but found the labor involved in making them physically and mentally taxing. In response to the physical intensity of this work, she started to utilize mirrors to achieve similar repetition.
Infinity Mirror Room — Phalli's Field was perhaps the most significant breakthrough for Kusama during this immensely fruitful period. The reflective surfaces allowed her vision to transcend the physical limitations of her own productivity.
Furthermore, the mirrors created a participatory experience by casting the visitor as the subject of the work, a feature that the artist demonstrated through a provocative series of self-portraits in which she used her body to activate the space.
Infinity Mirrored Room — Love Forever
Infinity Mirrored Room — Love Forever is the second mirrored environment Kusama created. Sculptural, architectural and performative, the installation blurs the lines between artistic disciplines and is activated by audience participation.
Hexagonal in shape and mirrored on all sides, Love Forever features two peepholes that invite visitors to peer in and see both themselves and another participant repeated into infinity.
When Kusama created this Infinity Mirror Room, she experimented with new technology and viewed the work as a "machine for animation."
For the artist, the concept of "Love Forever" stood for civil rights, sexual liberation, the antiwar movement and the activism of the 1960s.
Infinity Mirrored Room — The Souls of Millions of Light Years Away
Like stars in the galaxy, hundreds of LED lights hang and flicker in a rhythmic pattern that seems to suspend space and time. The visitor becomes integral to this work as their body activates the environment while simultaneously vanishing into the infinite space.
The ethereal nature of the installation can be traced back to the early 2000s, when Kusama began making dimly lit mirrored rooms, a departure from her earlier brightly colored and polka-dotted spaces.
Continuing her exploration of the transience of life and the inevitability of death, this installation creates a harmonious and quiet place for visitors to contemplate their existence, reflect on the passage of time and think about their relationship to the outer world.
Dots Obsession — Love Transformed into Dots
In 1996, Kusama began creating a series of installations incorporating polka-dotted balloons. These inflatable objects disrupt the viewer's path by hanging from the ceiling and occupying the floor.
Visitors can enter a mirrored room inside one balloon or peer inside another. The work engages visitors on contrasting scales: the tiny micro-space seen through a peephole and the macro life-sized space envelops the viewer within the installation.
A video monitor hanging from the gallery's ceiling features Kusama singing one of her poems.
Infinity Mirrored Room — Aftermath of Obliteration of Eternity
In Infinity Mirrored Room — Aftermath of Obliteration of Eternity, golden lanterns flicker, creating a shimmering pattern of light that contrasts with the seemingly endless void of the mirrored black space.
For Kusama, obliteration is a reflection of the experience of death and the potential of the afterlife.
The imagery in this work recalls the Japanese tradition of toro nagashi. This is a ceremony in which paper lanterns, known as chochin, float down a river to guide ancestral spirits back to their resting places on the final night of the summer obon festivals. The ceremony often commemorates the victims of the atomic bombs.
Mesmerizing and intimate, Kusama's poetic installation underscores the impermanence of life and the certitude of death.
Infinity Mirrored Room – All the Eternal Love I Have for the Pumpkins
Coming from a family that cultivated and sold plant seeds for a living, Kusama saw a pumpkin for the first time during a childhood visit to a seed-harvesting farm with her grandfather. Nestled into the landscape between fields, she spotted an unusually shaped gourd the size of a man's head. The artist was attracted to the pumpkin's charming form, celebrating its lumpy, unpretentious, organic shape.
The pumpkin motif first appeared in some of Kusama's drawings from the late 1940s and has repeatedly shown up in her paintings, sculptures, drawings, and installations.
Her initial pumpkin mirrored room was staged in 1991 and was later displayed at the 1993 Venice Biennale. Stepping into Infinity Mirrored Room—All the Eternal Love I Have for the Pumpkins, one is transported to a space that recalls fairytales and fantasy. The glowing pumpkins, modeled after the Japanese kabocha squash, are married with Kusama's signature polka dot pattern within an infinitely repeating space.
What Do The Infinity Rooms Mean?
During her time in New York, Kusama began to experience a shift in her creative career and her own health, much more than in prior times.
Kusama returned to Japan in 1973 and admitted herself to a Tokyo hospital in 1977, having experienced mental health issues and hallucinations throughout her life. She remains there to this day, writing and painting, and she describes her artistic expression as her savior.
Often photographed with her artwork in carefully staged images, she ensures that she is placed at the center of her creativity, giving an insight into the process behind her work. The Infinity Mirror Rooms do precisely this. However, instead of Kusama being placed within her own work, you become the center. This enables her to give you an inside-out experience of her art, immersing yourself in both her turbulent and serene states of mind.
Where To See The infinity Rooms
There are many museums that have one or several of Yayoi Kusama's Infinity Mirror Rooms in their permanent collection.
Two are currently on view at the Hirshhorn Museum and Sculpture Garden in Washington DC. One of the rooms is the famous Phalli's Field, and the other is My Heart Is Dancing Into the Universe. These are being exhibited to visitors through a timed ticket with more information on their website.
The room Longing for Eternity is currently on view at the Broad Museum in Los Angeles, California. From outside Longing for Eternity, viewers can peer through porthole-like windows into the dazzling, LED light-filled hexagonal chamber. The result is a distinctly visual immersion and a counterpoint to the rooms that envelop the viewer.
Another of Kusama's immersive installations at The Broad is the Souls Of Millions Of Light Years Away.
Recently The Tate Modern in London has announced their newest exhibition of Infinity Mirrored Room — Filled WIth the Brilliance of Life. The Tate has begun selling tickets for the exhibit due to be open early next year, 2023.
---