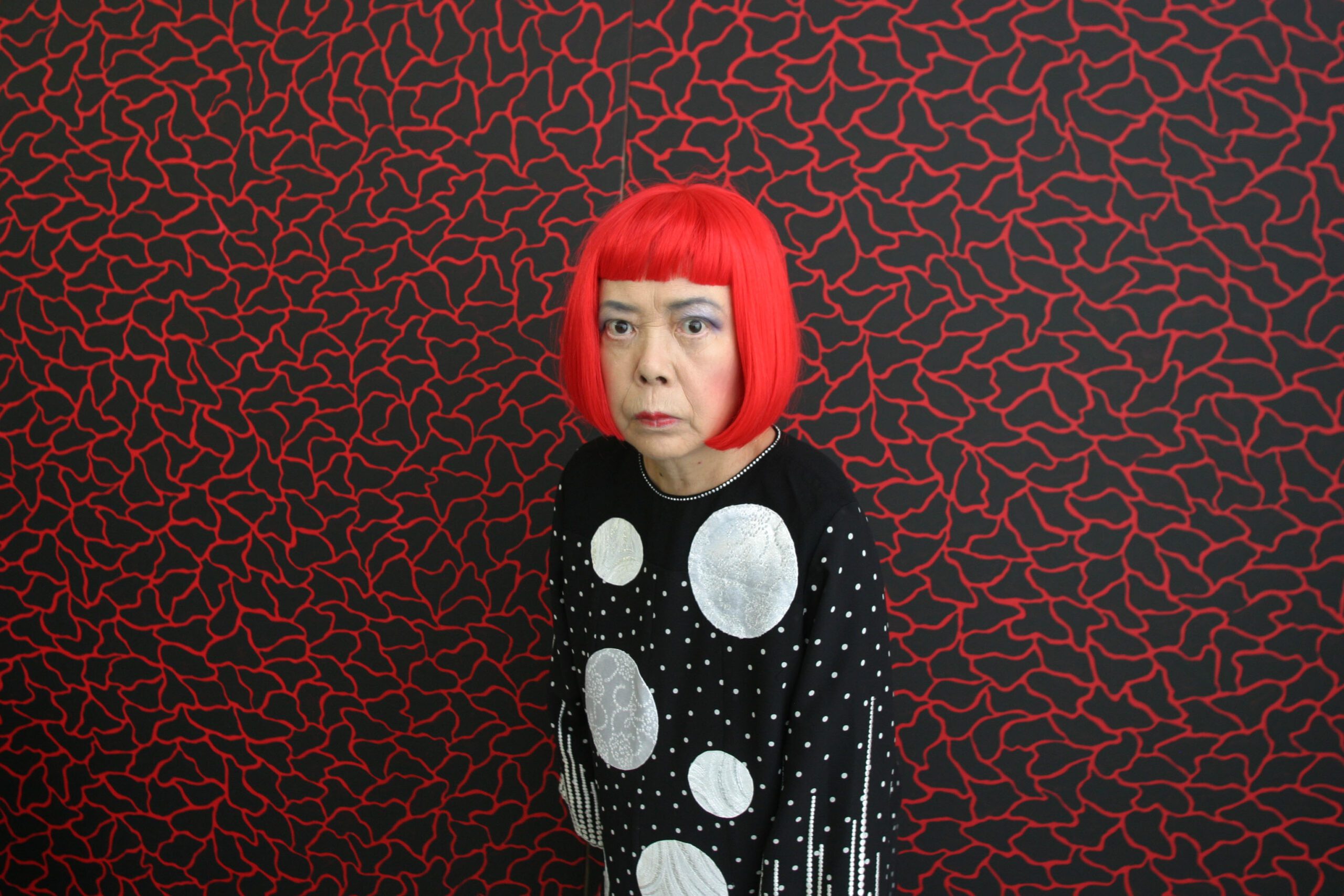 Who is Yayoi Kusama?
---
Imagine being limited to 45 seconds to view a piece of artwork. That's how popular Yayoi Kusama's work has become, so much so that galleries like David Zwirner in New York had to put a time cap.
If you're not familiar with Yayoi Kusama, chances are you've seen pictures of her work on Instagram or seen advertisements for her immersive exhibitions, which have been touring the globe. Her work is hard to miss–large, repetitive polka dots, kaleidoscopic paintings of pumpkins and plant life, and "Infinity Rooms" filled with lights and floating spheres. But before Kusama sold out installations like these months in advance, she spent decades painting, doing performance artwork, and creating sculptures as part of the Avant-Garde and Pop Art movements of the 60s and 70s. She's been named one of the most important living artists to ever come out of Japan.
Today, Kusama's work sells from the hundreds of thousands of dollars up to the millions. Recently, 11 works previously in a private collection sold for a total of $15.2 million at Bonhams.
| | |
| --- | --- |
| Born | March 22, 1929 |
| Nationality | Japanese |
| Mediums | Sculpture, installation, painting, screenprinting, performance, fashion |
| Movements | Pop Art, Avant-Garde, Abstract Expressionism, Minimalism, Surrealism |
Kusama's work wasn't always in the limelight. As an immigrant from Japan, she came to New York back in 1958 with only a few hundred dollars and some kimonos she planned to sell. Kusama left Japan for many reasons after growing tired of her rigid upbringing and the Japanese culture. She was expected to marry, have a family, and her mother was unsupportive of her artistic endeavors. In her autobiography, she indicates that she had a traumatic childhood due to her mother's emotional abuse and witnessing the war firsthand. Art was her escape.
Kusama's Artistic Style
From a young age, Kusama said she experienced vivid hallucinations. Bright colors and dots would appear in her line of vision, which she chose to express through art as a way of coping. She also said flowers would speak to her and became fascinated with pumpkins when a pumpkin "head" once spoke to her on a farm.
Kusama had many ups and downs throughout her career and with her mental health. In 1973, she checked herself into a psychiatric ward back in Japan and spent four decades there, where she continued producing artwork. Her battles with mental health are what make Kusama's work so special. The work is authentically derived from tireless, obsessive efforts to cope with reality, trauma, and a world where female artists have to prove themselves. Her works contain themes of sexuality, feminism, the natural world, and surrealism, which draw upon her early childhood in Japan and the hippie counterculture lifestyle in New York.
Featured Works
Pumpkin (TWPOT) (2010, acrylic on canvas)
Kusama has many Pumpkin paintings and sculptures and they are one of her most recognized trademarks. The pumpkins represent something safe and comforting to her, drawing back to her childhood when she'd spend time alone in her parents' gardens. In 2019, Pumpkin (TWPOT) sold for $7 million at Sotheby's.
Infinity Nets (1979, acrylic on canvas)
The Infinity Nets series blends minimalism and abstract expressionism all in one. They feature Kusama's classic repetitive dots and symbolize an alternate, surreal reality where the rules of time and space don't exist.
Dots Obsession (various years, installation)
Kusama has experimented with many mediums, especially large-scale installations where viewers are immersed in bright, colorful rooms exploding with polka dots and psychedelic shapes. Tickets to her installations sell months in advance and images of Dots Obsessions have gone viral on social media for their otherworldly qualities.
Kusama's Market
Kusama's most popular works include abstract paintings, screenprints, and sculptures featuring her classic pumpkins, flowers, plants, polka dots, and "infinity" patterns. Most of her paintings are made with acrylic, oil, gouache, and watercolors on canvas, while her sculptures are typically made with fiberglass-coated metal, resin, and lacquer.
Her screenprints and paintings sell very well, with the majority of her work selling between $100,000 and $500,000. Higher price points for her work go from $1 million up to $7 million. As her work gets increasingly popular thanks to Instagram, the value of her collections has increased. As of January 2021, the total turnover for her artwork is near $200 million. Her work White No. 28 from her Infinity Nets series was also listed as the most expensive painting sold by a living female artist for $7.1 million.
Top Collections and Exhibitions
Feb 23rd – May 14th, 2017
---
The Hirshhorn Museum in Washington, DC has been displaying Kusama's work since 1966 and was the first to focus on Kusama's Infinity Mirrors, a cosmos display of twinkling lights, mirrors, and kaleidoscopic illusions. Kusama has produced over twenty mirror rooms throughout her career.
Narcissus Garden
1966
---
Originally displayed at the Venice Biennale in Italy in 1966, Kusama's Narcissus Garden was one of her first public installations in a formal setting. The installation featured 1,500 silver spheres, about the size of a fortune teller's crystal ball, scattered upon the lawn of the Italian pavilion. The shimmering, reflective spheres encouraged viewers to look at themselves in a distorted, convex manner. Since its original inception, Narcissus Garden has been exhibited in Brazil, New York City, Japan, and more.
Dots Obsessions – Love Transformed Into Dots
Sep 18th – Nov 2nd, 1997
---
The Dots Obsessions collection of inflatable, amorphous shapes covered in polka dots has been around for decades and graced galleries on multiple continents. Kusama once said "Obliterate your personality with polka dots," which was her way of asking viewers to let go and let loose in the cosmic world she created.
---