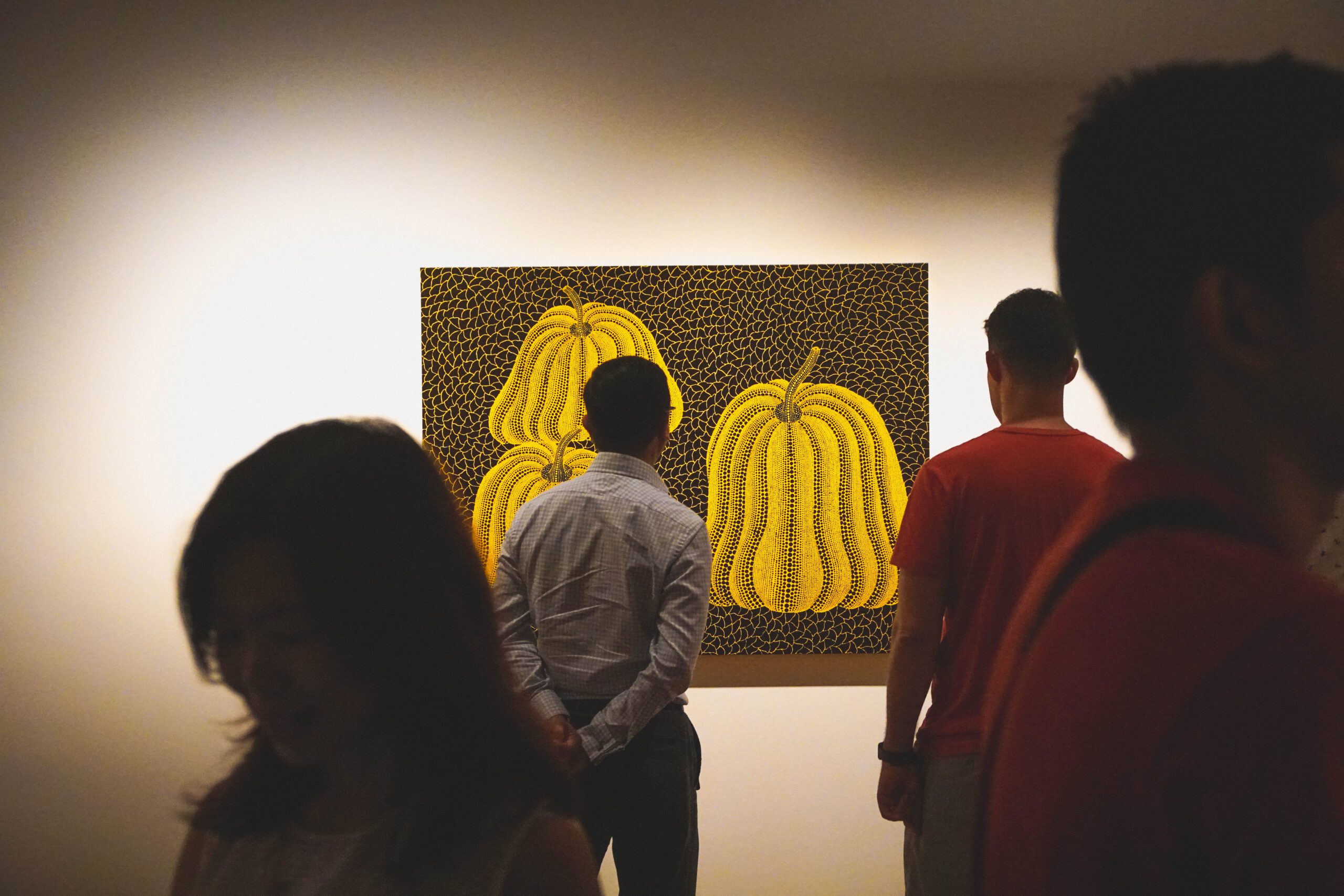 The Masterworks' Yayoi Kusama Buying Guide
---
What makes Kusama's work so captivating for our imaginations and social media feeds? She has triumphed over her traumatic childhood, racism, sexism, all while using her art trying to put an end to hallucinatory mental illness symptoms.
Audiences gravitate toward artists that draw on their most intimate personal experiences to create emotionally authentic work, and Kusama is as real as they come. Since she was ten, she has been compulsively repeating a dot pattern in her artwork, fueled by visual and auditory hallucinations. "Art is…a means of healing for her."
Kusama's artistic choices reveal her persistent intentions, promoting love and making people happy. Humor, as the artist describes, "puts our minds at ease," is also evident in her work. When meditation is gaining popularity, the darker interiors of the Infinity Mirror Rooms may elicit broad experiences. In her work, Kusama also delves into existential reflections about eternity and the afterlife.
Kusama's Immense Popularity
Yayoi Kusama, a Japanese avant-garde artist, became the most expensive living female artist at auction in November 2014. White No. 28 (1960), a monochromatic Infinity Net artwork, sold for $7,109,000 at Christie's, exceeding the auction estimate of $1,500,000 – $2,000,000. Although her record has been surpassed, Kusama remains the trendiest ticket in town.
Yayoi Kusama's Infinity Mirrors is a hugely popular retrospective covering the artist's career, spanning over 60 years. The Sculpture Garden and Hirshhorn Museum revealed that approximately 160,000 individuals visited Infinity Mirrors during its 2017 debut, helping them double their average attendance to a record 475,000 visits.
The High had hoped to draw 140,000 people to their exhibit. About 9,000 tickets for the last week of the exhibition sold out in about two hours. On Instagram, with #infinitymirrors, there are almost 113,000 images in total.
Places That Display Kusama's Work
Yayoi Kusama's masterpieces of art are displayed in several places in Japan. Here are five of them.
Towada Art Center
It is a modern art museum in Towada, Aomori Prefecture. The museum houses a permanent collection of 38 commissioned works by famous artists, including Yayoi Kusama. Eight of Kusama's "Love Forever, Singing in Towada" sculptures are shown in their outdoor space.
Matsumoto City Museum of Art
It is located in Nagano's Matsumoto City. Matsumoto is famous for its well-known attraction Matsumoto Castle, where Kusama was born. Her famous sculpture "Flowers that Bloom at Midnight" and several other works are exhibited at the museum's entrance. Because it is where her roots are, it is the ideal spot to learn about her.
Naoshima Island
Kagawa Prefecture is located in the Seto Inland Sea. The island is commonly referred to as "an art island," and Kusama's pumpkin sculpture serves as the island's symbol. Two of Kusama's spotted pumpkins are among the several outdoor art exhibits and museums on the island.
Kirishima Open-Air Museum
It is a beautiful open-air museum in Yusui, Kagoshima prefecture. Kusama's "High Heel" and "Flowers of Shangri-la" are among the sculptures on show at this 20-acre museum, including indoor and outdoor exhibits.
Yayoi Kusama Museum
It is a modern art museum dedicated to Yayoi Kusama's work in Shinjuku, Tokyo. The museum first opened in 2017 with 600 of Kusama's artworks on exhibit. Kume Sekkei, a Japanese architect, designed the five-story structure. "Pumpkins Screaming About Love Beyond Infinity," one of Kusama's infinity room exhibits, occupies the museum's first level. The museum requires advanced reservations because it only accepts 200 visitors each day, depending on timed tickets.
Yayoi Kusama's Masterpiece
At the 1993 Venice Biennale, she represented Japan by exhibiting Mirror Room (Pumpkin), an installation of mirrored pumpkin sculptures decorated with her trademark dots.
Between 1998 and 1999, significant retrospectives of her work were held at the Los Angeles County Museum of Art, New York City's Museum of Modern Art, Minneapolis' Walker Art Center, and Tokyo's Museum of Contemporary Art.
In 2006, she was awarded the Praemium Imperiale medal for painting by the Japan Art Association. Her work was the focus of a major retrospective at New York City's Whitney Museum of American Art in 2012. A touring exhibition at Washington, D.C.'s Hirshhorn Museum and Sculpture Garden in 2017 drew record numbers.
The later exhibition included a selection of Kusama's Infinity Mirrored Rooms installations, typically consisting of a mirrored room illuminated by hundreds of colored lights. Infinity Mirror Rooms quickly became her most famous work.
Some Other Famous Works of Kusama
Infinity Net (1979)
In a 1961 piece titled "Under the Spell of Accumulation," Kusama explained the motivations behind these canvases. "I eventually become ensnared by the accumulation and repetition of my 'nets,' which extend beyond me and all over the small expanse of canvas covering the desk, floor, and everywhere," she wrote.
Accumulation No. 1. (1962)
Accumulation No. 1, one of her earliest three-dimensional works, was inspired by her painting "Infinity Net."
"I painted infinite nets day after day, and the entire room appeared to be covered in nets while I worked. As a result, I produced pieces by draping nets over sculptures," she recalled.
Accumulation No. 1 was later described by her as a manifestation of not only her obsessive-compulsive condition but also other psychological pressures such as sexual fears. "I fear everything I see as an obsessional artist," she added. "The recliner encrusted with phalluses was psychosomatic work completed during a period of sexual vision anxiety." Judd, her friend (and reputed lover), assisted her in stuffing these forms.
Infinity Mirror Room – Phalli's Field (Floor Show) (1965/2016)
The first of Kusama's now-famous immersive settings was built in 1965. Since then, she has created approximately 20 "Infinity Mirror" rooms, including one for the 1993 Venice Biennale's Japanese Pavilion. In recent years, they've become a significant draw for Kusama retrospectives, immersing visitors into a kaleidoscopic black hole of shimmering dots while simultaneously serving as the ideal backdrop for a selfie certain to garner plenty of likes.
Kusama's Self-Obliteration (1967)
"One returns to the limitless world through obliterating one's own individuality," Kusama remarked in 1999. In other words, obliteration provided an entry point into a more imaginative, unrestricted universe for the artist. In this 1967 film, she explored this concept with Jud Yalkut. She uses polka dots to alter her environment and her own body, all set to a trippy soundtrack.
Walking Piece (1966)
Throughout the 1960s and early 1970s, Kusama organized dozens of Happenings. Walking Piece was one of the first and least conspicuous. Kusama underlined her identity as a Japanese immigrant and artist in it by strolling through New York's gloomy, empty streets dressed in a hot-pink-flowered kimono and carrying a faux-flower-adorned parasol.
"When she was in her native Japan, Kusama's chosen way of attire was dependably modern. In New York, she would occasionally dress in traditional Japanese garb to signal her outsider position," the Whitney Museum noted of the performance. "The beautiful kimono contrasts with and emphasizes the city's brutal, commercial, and alienating side."
Buying Kusama's Work
You can make an easy online purchase of some of Yayoi Kusama's best artwork pieces on online art retailers. A variety of Kusama's works are available on these websites, ranging from pumpkin and polka dots to infinity nets. Other options would include purchasing at an auction. Given her popularity in the market, Kusama is a featured artist at most Contemporary art auctions despite the season. To learn more about auctions, visit our Masterworks Art Auction guide.
---