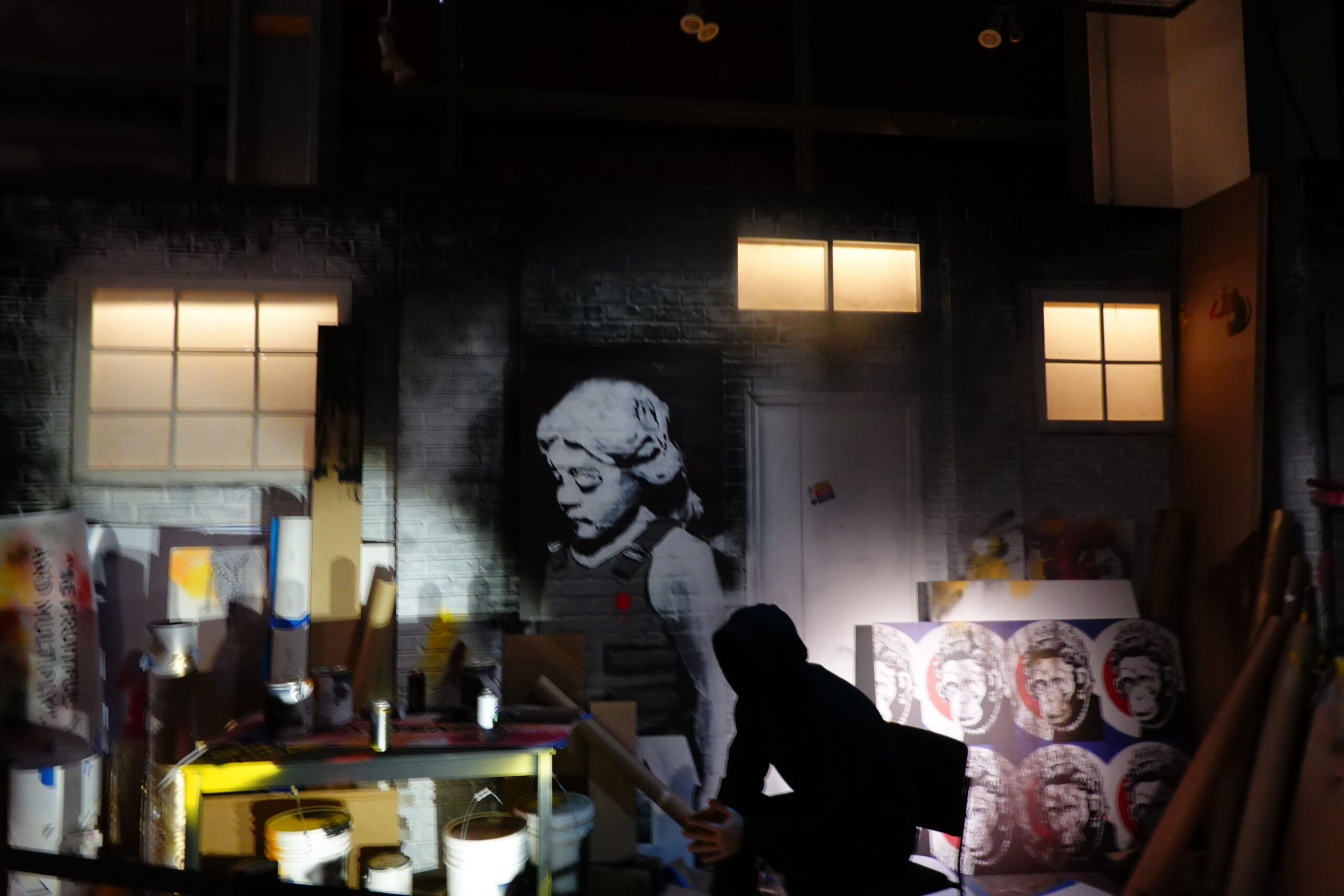 How Banksy Pays Homage To Pop Artists
---
Soup cans, celebrities, and cultural events — Banksy continues Andy Warhol's legacy of exploring trends and issues in contemporary society. Both artists have found their unique way of approaching real issues on canvas and rewrite the narrative of art's role in societal progression.
Here are some of the graffiti artist's artworks with a true Pop Art spirit.
Who Is Banksy?
Originally from Bristol, Banksy's instantly recognizable street art first appeared in the late 1990s. His clever mix of popular and political imagery, along with a strong tongue-in-cheek message, quickly gained him the attention of the media and the public — not to mention the art world, including gallerists, museums and prestigious collectors alike.
With a constant finger on the pulse of current events, such as the war in Ukraine, the refugee crisis, the Gaza conflict, Brexit and the coronavirus pandemic, as well as universal issues such as homelessness, his audience can always count on Banksy to issue public artistic commentary and stir controversy.
Banksy and Soup Cans
Banksy's Tesco value tomato soup can print, on the one hand, is a playful homage to Warhol's famous Campbell soup cans. On the other hand, it's a cutting remark on the rising poverty in Britain, with more people surviving on the tight budget where only low-value, supermarket-brand items are affordable. Unlike Warhol, who has featured 32 flavors of his Campbell soups, Bansky offers only one, cream of tomato soup. 
The topic of tomato soup has been the subject of a demonstration recently to remark on the climate and poverty issue affecting Britain. This occurred most recently in 2022 when the contents of a soup can were dispelled on the surface of a Van Gogh sunflower painting. Banksy was ahead of this curve, using the soup can as a symbol of wealth and class disparity years before any real protest occurred.
Tesco has made multiple appearances in Banksy's artwork. In addition to Soup Can, Banksy has made a print titled Very Little Helps, a reference to Tesco's slogan "every little helps." The artwork shows three children pledging their allegiance to a flag made from a Tesco plastic bag. 
It's seen as a criticism of the supermarket's monopoly on the British high street, pushing small, independent shops out of business.
Celebrity Culture and Banksy
Banksy Works That Feature Celebrities
Banksy's celebrity icons include supermodel Kate Moss and Sex Pistols bassist Sid Vicious.
Both works are a clear tribute to Warhol's Pop Art portraits, particularly the Marilyn Monroe and Elvis works. Banksy's Kate Moss even superimposes Monroe's hair onto Moss's face and, like Marilyn, the work comes in various colorways.
When the Kate Moss prints were made, in 2005, the supermodel was making headlines for her drug use and relationships — much like Monroe.
Banksy Works That Feature Pop Cultural Icons
Banksy's fictional icons include Winnie the Pooh, Dumbo, Dorothy and Toto from The Wizard of Oz, Disney's The Jungle Book and Pulp Fiction's Jules and Vincent — all depicted with a classic Banksy twist.
The family friendly characters all suffer a dark turn. For example, Pooh is reaching for a honey pot marked with a "$" falling into a bear trap. Dumbo is attacked by Syrian rebels. Dorothy is stopped and searched by a police officer in riot gear.
Mowgli and other characters from The Jungle Book are awaiting execution against a deforested jungle in Save or Delete Jungle Book, a concept made for a Greenpeace Campaign in 2001.
Ironically, Bansky turns the violence in Pulp Fiction on its head by giving the two hitmen characters comical bananas instead of guns. In each print, Banksy shines a light on the commonness of violence in everyday life — whether it's in the global news, in our growing surveillance society, or in our movies and entertainment.
How Banksy Portrays Landmark Events
Which Banksy Works Reflect on Contemporary Events?
Just as Warhol captured contemporary landmark events like the 1969 moon landing, Banksy's Nola is a metaphorical take on the real destruction Hurricane Katrina inflicted on New Orleans in 2005.
The artwork, which shows rain pouring onto the young girl from inside the umbrella, criticizes the New Orleans government for failing to do enough to help civilians, even implying their complicity in the damage caused.
Which Banksy Works Show Historical Events?
Banksy's Napalm and Flags are two prints which reference historic events to address current issues. Released in 2003, the shocking Napalm reinvents the famous 1972 Vietnam War photo The Terror Of War to show young war victim Phan Thi Kim Phuc being led by Mickey Mouse and Ronald McDonald. Banksy uses these vacant, smiling cartoon characters to denounce the multinational brands growing rapidly in the 1990s and 2000s for their lack of humanity and their damaging influence, particularly on children.
Flags, like Napalm, references another famous image — this time, the 1945 photograph Raising The Flag On Iwo Jima. But while the original photo celebrates American victory and patriotism, Banksy's reimagining is more open to interpretation. It can be seen as children fighting in a world ruined by adults, or chasing the American dream in a dystopian setting — all very relevant in a time of ecological destruction and financial insecurity for the younger generations.
Banksy and Society
How Do Banksy's Prints Reflect Societal Issues?
Banksy's 2010 print Choose Your Weapon addresses the rise of violence and gang culture on the streets of the UK. According to the artist's own interpretation, aggressive dogs have become an alternative weapon to knife crime. The barking dog is a homage to Keith Haring's iconic dog motif and also suggests that, for Banksy, his weapon of choice is street art.
Consumer society is another favorite theme in Banksy's art.
While Warhol openly embraced consumerism and spending (going as far as to make a print of a dollar sign so collectors could literally hang money on the wall), Banksy is more critical. In addition to Napalm, Banksy's prints Christ With Shopping Bag and Sale Ends, made in the early 2000s, all suggest that shopping has become the new religion in contemporary society.
Invest in Shares of Authentic Banksy Artworks
We all would love to own an iconic Banksy work. Unfortunately, Banksy's popularity has come at the expense of scammers trying to make a quick buck and collectors earning millions of dollars selling their authentic pieces.
Not to mention the elusive artist isn't producing art for sale like he used to anymore.
Thanks to the art investing platform Masterworks, investing in shares of Banksy's works and other top blue-chip artists is now more accessible than ever.
Masterworks is the first platform allowing investors to purchase shares representing an investment in iconic multi-million-dollar artworks.
Masterworks handles the valuation, authentication, due diligence, and purchasing for you, with help from our world-class team of art researchers. 
Apply for membership now to start investing in shares of masterpieces from artists like Banksy, KAWS, Basquiat, and more.
See important Reg A disclosures: Masterworks.com/cd
---