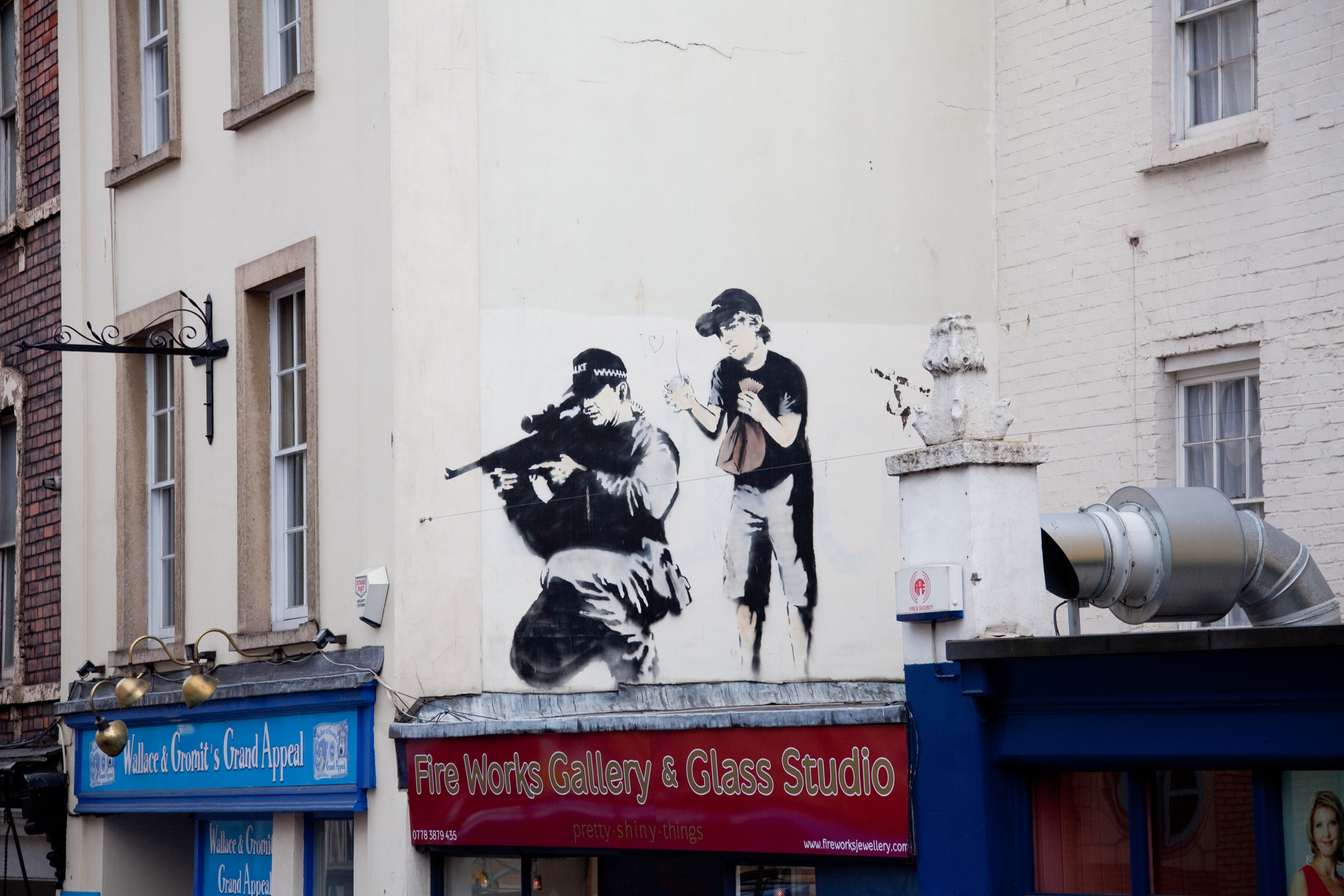 The Banksy Trademark Dispute
---
In a turn of events, the EU Intellectual Property Office decided in favor of Bansky in a disputed trademark suit. The previous decision finding Banksy unable to pass a trademark was overturned, allowing Banksy to have legal ownership over his artwork while still concealing his identity.
Timeline
2018 Pest Control, Banksy's legal and authentication arm, filed an EU trademark application for Banksy's 2003 work Laugh Now
Full Colour Black, a British greeting card company that used imagery from Laugh Now in one of their designs filed a demand to cancel the trademark; they argued the original filing was filed in bad faith and that it was non-distinctive
In May 2021, the EU ruled that Banksy's Pest Control had no grounds for the trademark
In late 2021, Pest Control filed an appeal
In November 2022, an EU Board of Appeals reversed the previous ruling.
Who Is Banksy?
The British graffiti artist first appeared in England in the late 1990s. Credited as being from Bristol, one can see the reflection of the coastal town and its politics in much of his early work. Banksy is considered one of the most sought-after blue-chip artists to date — a massive achievement from a figure from such humble beginnings.
His iconic stencil works are sold at auction and privately for prices ranging from thousands to millions. In the early 2000s, Banky's market began to see a real lift and growing demand from prominent collectors to have one of his signature stencils in their collections. 
Overview of Previous Decision
Full Colour Black Limited, a greeting card company, used the images of monkeys from Laugh Now by Banksy on one of their card designs.
Banksy then filed a trademark application with the EU Intellectual Property Office through Pest Control Limited, his authenticity company, seeking to claim rights over his work.
Full Colour Black claimed that the art is a work of graffiti sprayed in a public place and was also not intended to serve as a signifying image for Banksy. The EU Intellectual Property Office agreed.
"It was free to be photographed by the general public and has been disseminated widely," the ruling stated.
Banksy's Anonymity Comes Into Question
Another factor that played into the initial ruling was the question of Banksy's identity or lack thereof. "It is also noted that as Banksy has chosen to be anonymous and cannot be identified, this would hinder him from being able to protect this piece of art under copyright laws without identifying himself while identifying himself would take away from the secretive persona which propels his fame," the ruling states.
The artist has known for years that his works are widely photographed and reproduced by a range of third parties without there being any commercial connection between these parties and Banksy, the EU Intellectual Property Office found.
The ruling noted the connection between Banksy and Pest Control but declared, "the evidence is not exhaustive in this regard as the identity of Banksy cannot be legally determined."
This isn't Banksy's First Trademark Case
In 2020, Banksy found himself in a similar situation in court against the same company revolving around his famous artwork Flower Thrower.
The card company Full Colour Black first initiated legal proceedings against Banksy and his legal team, Pest Control Office, in the Fall of 2018. Their claim hinged on the claim that the artist had no intention of using the trademark he had taken out on the design in 2014 and therefore sought to invalidate it.
The artist responded in distinctly Banksyian fashion, launching a shop called Gross Domestic Product to peddle his works shamelessly. The idea was to demonstrate that he was using the trademarks in his artwork.
A panel of three judges from the European Union's Intellectual Property Office ruled against Banksy in a two-year-long trademark dispute with the greeting-card company that sought to use his iconic design of a protestor throwing a bouquet.
The court's ruling was contingent on the notion that because his identity remains a mystery, he can't claim trademarks for his works, as a trademark aims to identify where certain goods or works originate from.
The Most Recent Ruling
In a comprehensive ruling published earlier this month, the Board of Appeal challenged the claim that the mark was made in bad faith, declaring that: "All the arguments, facts and reasonings provided by the cancellation applicant taken as a whole cannot justify or explain clearly a dishonest behavior from the EUTM proprietor (Pest Control) when he filed the contested mark and, consequently, the presumption of good faith is still valid, and the cancellation applicant failed to prove the contrary."
The Board of Appeal, therefore, determined that the work in question is protected by EU  trademark law and copyright. This victory for Banksy allows him to remain anonymous while using this work to signify himself as the original artist. 
---
How Copyrights and Trademarks Can Affect Artists
Trademarks and copyright are both forms of intellectual property, which are intangible assets, in other words, creations of the mind — such as inventions, literary and artistic works, designs, symbols, names, and images used in commerce.
People and businesses can protect their ideas, symbols, creative works, and original processes that stem from them. In the US, trademarks, copyrights, and patents are used to protect intellectual property legally.
The main difference between copyright and trademark is that, although both offer various legal protections, they encompass different categories of assets. Both cover tangible and intangible assets but have different criteria for registration.
Copyright can protect literary and artistic materials and works, such as books, videos, drawings, and photographs, to name a few, and is automatically generated upon the creation of the work. On the other hand, a trademark protects distinctive items that help define a brand, such as a business logo or slogan.
Both of this protection as a whole, therefore, act as safeguards for artists' works to be kept secure and not appropriated by others for profit. They also ensure artists are given credit and paid for their work through licensing fees and royalties.
In the case of Banksy, the EU has different trademark and copyright laws and proceedings than the United States. Still, this victory is undoubtedly a great relief to the street artist who has been adamantly vocal about his distaste for frauds and copycats of his artwork, which he preaches is meant for the public.
---