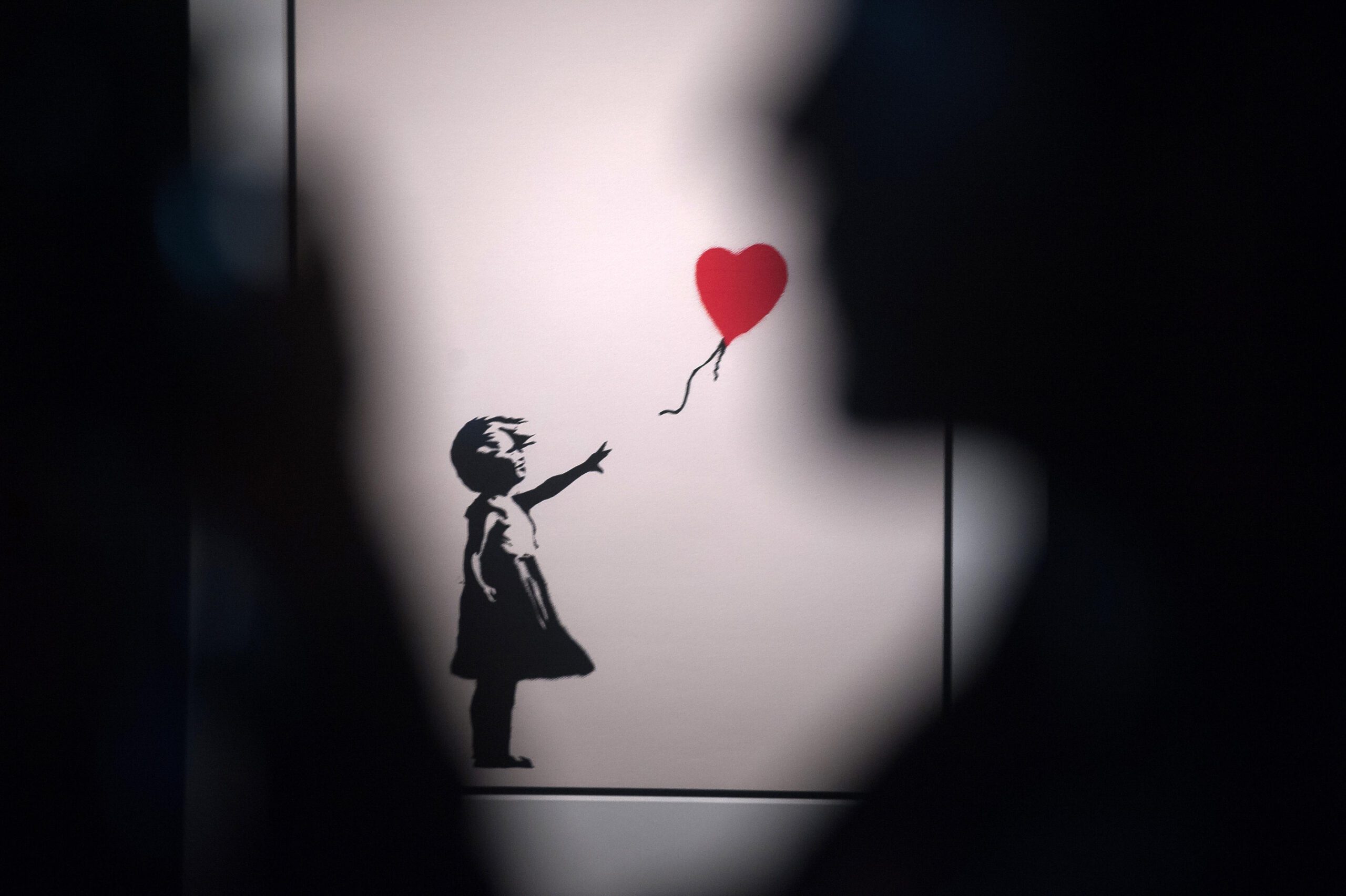 Who is Banksy?
---
Considered one the most well-known contemporary artists to date, with auction records and a cultural impact beyond the means of a general graffiti artist, Banksy has more than made his mark on the art world stage. Continue reading to learn more about the artist's past and artwork.
Early Days
The British graffiti artist made his first appearance in Bristol, England, in the late 1990s. Credited as being from Bristol England, one can see the reflection of the coastal town and its politics in much of his early work. Banksy is considered one of the most sought-after blue-chip artists to date. A huge achievement from a figure from such humble beginnings. 
His iconic stencil works are regularly sold both at auction and privately for numbers varying between thousands and millions. It was then during the early 2000s that Banksy began to see traction in the market. What was still left unknown was whether his art would fade or be washed away on the concrete on London, or would this impression last forever. 
Who is Behind Banksy?
Despite the anonymity of Banksy, there is a large conspiracy theory behind their true identity of Banksy. Some people believe him to be a Bristol man by the name of Robin Gunningham. The reason for this suspicion is a photo taken in Jamaica in 2008. Gunningham was seen with objects that any Banksy fan would assume a graffiti artist would carry, like stencils and spray paints. 
Other theories named Gorillaz founder, Jamie Hewlett as Banksy. This began circulating after a forensic expert claimed him being linked to other fillings that Banksy also is under. Hewlett also produces a mass amount of the band's artwork which many suspects qualifies him to be one of the greatest artists of this period. However, Banksy's publicist has denied this claim a number of times. 
Why does Banksy Keep his Identity a Secret?
A common belief as to why Banksy remains to be kept anonymous is to save himself from legal action. The facts are that much of what he does is illegal, despite the matter that many high-profile individuals would pay hundreds of thousands for one of his works. 
Banksy's anonymity may serve as a benefit for his fame and position in the market by providing a layer of intrigue to the artist behind such profound works and also gives a level caché. His confidentiality is considered to be of major importance to the artist. In 2020 Banksy was stripped of the trademark for one of his most iconic images Flower Thrower. The incident occurred when the image was mass-produced on greeting cards by Full Color Black LTD. This prompted the artist to open his pop-up store in 2017, Gross Domestic Product. 
There was a further dispute about the legitimacy of Banky's claim for theft when the courts coincided that if he did not reveal his true identity then, they cannot support or find a reason to claim proof of intellectual property for the images. This same scenario occurred more than a year later in regards to another staple of Banksy's oeuvre, the monkey. This dispute also ended in a similar fashion to the previous, resulting in Banksy losing yet another EU trademark. 
Banksy's Artwork
In recent years, Banksy's art has seen unprecedented demand in the marketplace. Between his notoriety and anonymity, the idea of purchasing the artwork from such a notable cultural figure has sent his market blazing.
Stencil
Banksy's artwork's most commonly attributed style is that done in his signature stencil style. At a young age, this concept came to him when he found himself hiding under a train car to avoid the police. He noticed the stenciled numbers and letters and realized that it would cut his bomb time in half.
Today his stencils and stenciled street art are painted (or bombed) all over the streets of the world's most significant cities. These pieces are the most iconic of Banky's oeuvre including examples such as Girl with Balloon, Flower Thrower, and the rat. 
These images and stencil style have become synonymous with Banksy. Although the technique is simple, nothing about the message they portray can be labeled the same. Banksy's ability to translate concepts of such depth in simple forms is what set's him apart from other graffiti artists. 
Remixed Masterpieces & Corrupted Oils 
Banksy's art ventures beyond the stencil and paint can. A rare collection of Banksy's oeuvre is his remixed masterpieces. These oil paintings pay homage to the great artists of the past, such as Claude Monet. These mimic similar themes and characteristics of the artist's masterpieces but add witty incursions to the artwork. These works were featured in a 2005 Exhibition titled "Crude Oils," hinting at both the medium and subject matter. 
Banksy employs his characteristically provocative style to address socio-political themes while simultaneously commenting on established art historical conventions.
 Vandalized Oils
Another component of Banksy's catalog is his vandalized oils. These are comprised of paintings that Banksy either collects from thrift and flea markets that are then modified in his signature style. Often these reflect the common themes of environmental activism, mass consumerism, anti-war visuals, etc. In this series, Banksy enrages a direct dialogue with art history. The vandalism of an existing oil painting elicits a similar goal to Marcel Duchamp's L.H.O.O.Q. This approach, however, uses the juxtaposition through use of humor and art, undercutting the commonly proposed high art and thus elevating the current issues of our time.
Blek le rat
One of the earliest identified symbols prevalent in Banksy's art is that from the influence of graffiti artist, blek le rat. Blek Le Rat has been described as the father of stencil graffiti. The influence on Banksy is significant when looking at their work comparatively. Both artists partake in a stencil style and share visual similarities. What can be seen in Banksy's early work is that taken from blek le rat, with both showcasing detailed black and white figures. They both work primarily in the stencil to avoid the capture of police, however, blek le rat had been doing this for more than 2 decades once Banksy had begun.  What is most damming of these similarities is that through blek serves as a predecessor of Banksy he had never garnered the same recognition and iconography as his younger protege.
Turf War
Banksy first disrupted the London art scene in 2003 with "Turf War," his inaugural exhibition. Turf war is described as a direct response to the immigration and the refugee crisis affecting much of western Europe. Some of the works featured in this exhibition were considered severe considering the use of live animals in the exhibition, including an elephant.
Activism & Philanthropy
Banksy's oeuvre is riddled with themes and topics that relate to subjects such as anti-war, mass consumerism, as well as environmental responsibility. In many ways, Banksy, himself as an artist, serves as a means of protest against the art market. By way of keeping his identity a mystery, Banksy can then take a major focus of the attention off of him as an artist and more on his artwork. The intrigue of anonymity is then added to by the interest in the subject matter he produces. 
Banksy's ability to cross over political issues to popular culture in a palatable way offers up his success. Banksy has been far from putting collectors off despite his brazen approach of depicting the market as a mockery.
Books & Films
Banksy had been the subject and director in his own academy award-nominated documentary "Exit through the gift shop". This documentary was meant to serve as an inside look and discussion of the consumerism of art through the life of French street artist Thierry Guetta and his race for fame. 
Banksy had also published several books that contain photographs and his own writing. The first was released in 2001 and was titled "Banging Your Head Against a Brick Wall" and carries most of Banksy's first prints accompanied by his witty and ironic tone in regard to the art market.
Largest Sales 
Love is in The Bin 
This Banksy is the result of Banksy's greatest pranks was the shredding of his prized Girl With Balloon painting. The work of art self-destructed after being sold and then was left in a half-shredded state since. In October of 2021, it was up again on the auction block in its new form. This sold for $25 million USD including the buyer's premium. 
Game Changer 
Banksy made this piece for the University Hospital Southhampton in the wake of the first wave of Coronavirus in 2020. The crip linear detail of a young boy playing with a selection of toys with the feature toy being a masked, uniformed nurse. The work was accompanied by a note: "Thank you for all you're doing. I hope this brightens the place up a bit, even if it is only black and white".  The work sold for a little over $20 million.  
Sunflowers from The Petrol Station  
Sunflowers from The Petrol Station was one of the five paintings featured in the Crude Oils exhibit in 2005. The work itself has direct references to the Van Gogh still lifes of sunflowers. However, this one has a Banksy twist with the sunflowers being far from in bloom. The flowers are dried and wilted, inferring climate change and loss of the environment. The work was sold in November of 2021 for over $14 million.
---