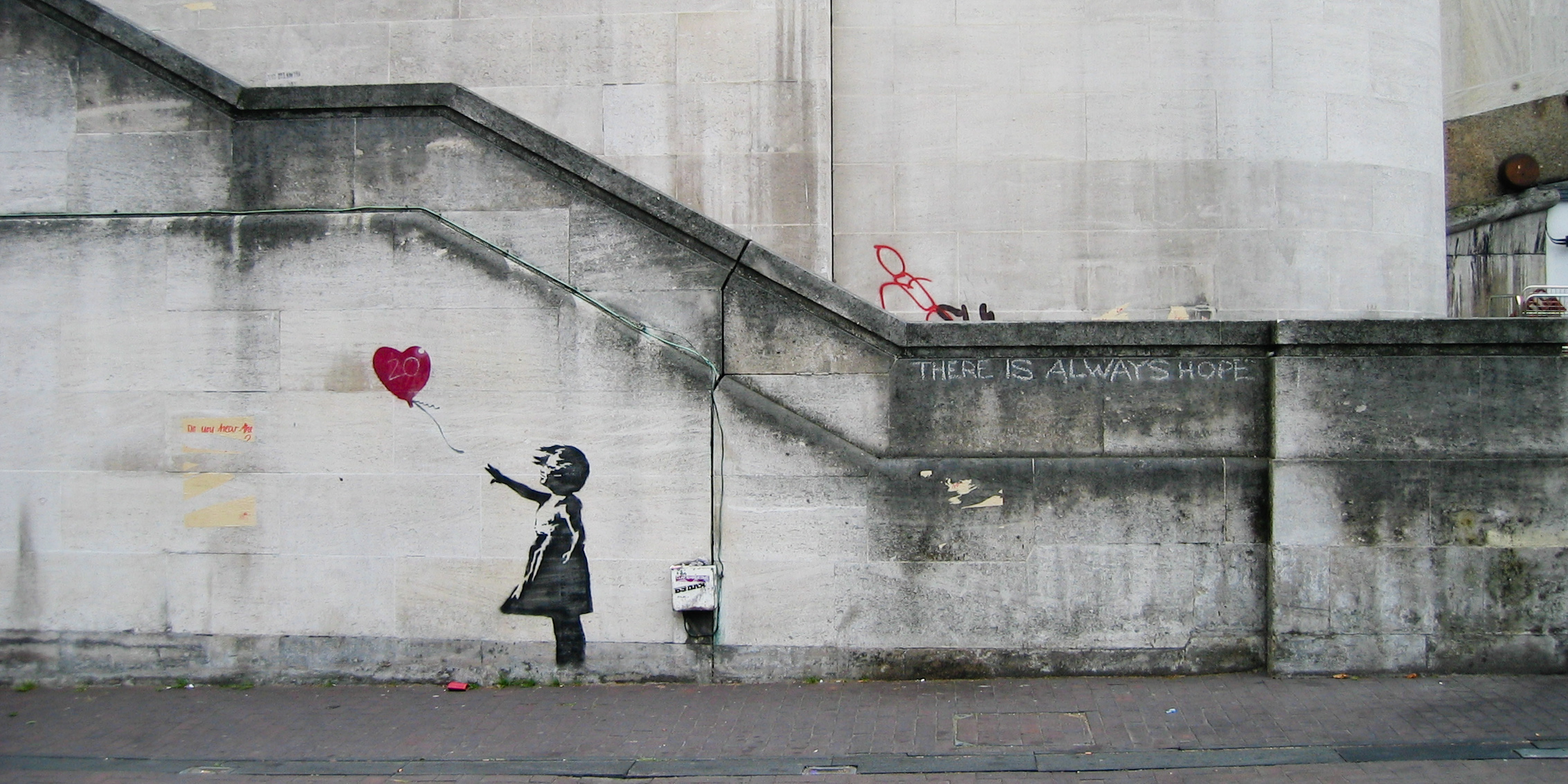 The Hidden Identity Of Banksy: Did the Artist Ever Show His Face? What We Know
---
No one has perfected the art of fleeing the scene more than the audacious and anonymous British street artist Banksy.
Banksy has vandalized public spaces for the last thirty years, installed his artwork in world-renowned museums, and even caused chaos at Disneyland.
Banksy's impressive stunts have been felt around the globe, while his name and face have remained completely hidden from the public.
Or so we think.
Let's explore the theories of who Banksy is and if he's ever appeared in public. We'll also cover his most famous artworks, art themes and activism.
Besides, we'll tell you how you can easily invest in shares of Banksy's art with Masterworks.
Who is Banksy?
How is it that you can be selected for TIME magazine's Top 100 most influential people and never have your name or face revealed?
Banksy's identity has left the art world spinning, leaving the door open for your imagination and endless conspiracy theories. The story of Banksy's identity is one of the greatest unsolved art mysteries of the 21st century.
The celebrated British-Greek gallerist Steve Lazarides, who launched Banksy's career, is one of the few who knows Banksy's personal information. And while a conspiracy theory suggests celebrated artist Damien Hirst is Banksy, the artist's true identity continues to elude us.
Fun Fact: Banksy and Damien Hirst collaborated on a piece called Keep It Spotless, which depicted a maid pulling up an edge of one of Hirst's Spot artworks to sweep under it.
Besides Banksy's connection with Steve Lazarides and Damien Hirst, here are a few other popular theories about the identity of the legendary graffiti artist:
1. Robin Gunningham
The name Robin Gunningham provides plausible evidence to a trove of Banksy-related discoveries, especially in his assumed hometown of Bristol in England.
A rare photo taken of a graffiti artist in 2004 in Jamaica was reportedly believed to be Banksy.
The materials surrounding the artist are strikingly similar to the equipment that Banksy would need to recreate some of his most iconic work: a heart-balloon stencil accompanied by a can of spray paint.
When this image was first released to the public by the Daily Mail, criminologists at the Queen Mary University of London looked into Banksy's identity by using a technique known as geographic profiling.
The aim was to determine the correlation between the name "Robin Gunningham" and Banksy's graffiti artwork emerging in London and Bristol, to which they found 140 artworks.
Gunningham has also never commented on rumors of being the anonymous artist.
2. Robert Del Naja
Another theory is that Banksy is Massive Attack frontman Robert Del Naja.
Del Naja is a graffiti artist who spent many years working in Bristol under the name of 3D, which Banksy cites as one of his earliest inspirations.
The Del Naja theory was strengthened after fans were able to link two occasions where new Banksy works had appeared in the same city where Massive Attack was playing. However, Del Naja has publicly denied the claims.
3. Jamie Hewlett
Some theorize that British street artist Banksy is Gorillaz founder Jamie Hewlett. This began circulating after a forensic expert claimed he had linked Hewlett to business filings that Banksy is also under.
Hewlett also produces a large amount of the band's artwork, which speaks to his talent as a visual artist. However, Banksy's publicist has denied this claim several times.
4. Neil Buchanan
Neil Buchanan, a former Art Attack presenter, was recently rumored to be Banksy. The rumor exploded in 2021 when a Banksy fan noticed the artist's graffiti showing in locations where Buchanan has performed his music.
However, Buchanan's official website has denied all the rumors.
5. Billy Gannon
In 2022, a rumor was that the Pembroke Dock councilor Billy Gannon was Banksy.
While Billy Gannon denied this rumor, the numerous accusations that he is an imposer pressured him to resign from his town's councilor position.
6. A Group of People
Considering how impressive Banksy's elaborate stunts are, it's hard to believe that one person alone has the resources to produce so many diverse projects.
After all, wouldn't Banksy need a police spotter to help him keep cover, or even someone to help him prop up a ladder?
In this viral video, one fan in Melbourne, Australia, caught Banksy in the act of vandalism and chased the artist down the street in the hopes of a monumental face reveal. In the attempt to identify Banksy, it's clear that Banksy was with at least one other person and ran off with this accomplice.
Was this a fan-made video attempting to go viral and succeed at it, or truly evidence that exposes the Banksy team caught in the act?
The media artist Chris Healey also claims Banksy is a group of seven artists led by a woman. The theory is inspired by Banksy's documentary Exit Through the Gift Shop (2010), where the woman makes an appearance.
With so many theories and controversies surrounding Banksy's real identity and personal information, it's hard to tell what's true.
But here's what we know for sure so far:
Real name: Unknown
Nationality: British
Known for: Graffiti, installations, performance art
Awards: Toronto Film Critics Association Awards for Best First Feature (2010), Washington D.C. Area Film Critics Association Award for Best Documentary (2010), Academy Award for Best Documentary Feature (2011), Independent Spirit Award for Best Documentary (2011), Webby Award for Person of the Year (2014)
Net worth: $50 million
Did Banksy Ever Show His Face?
Banksy's real identity remains a mystery, but there have been a few instances when he was almost unmasked.
1. 2003 Interview
In 2003, during an interview with ITV News correspondent Haig Gordon, the anonymous artist almost revealed his identity. The interview preceded his Turf War exhibition.
He spoke for 35 seconds to Haig Gordon from ITV News with the lower half of his face hidden behind a pulled-over T-shirt, only revealing his eyes, eyebrows and forehead.
2. London Underground Appearance
During the COVID-19 pandemic in 2020, an Instagram video showed a tall white man (probably Banksy) spray painting a piece of artwork in the London Underground.
He was dressed in a hazmat suit (as a Transport For London cleaner), but the footage almost showed his face. His now-removed creation depicted three rats: one of the rats is sneezing, one is carrying a face mask-like parachute, and the last one has hand sanitizer.
The climax of the footage video revealed a shot of the words 'I get lockdown' on the tube station wall as the carriage doors closed.
3. Fan Videos
Besides the artist teasing partial face reveals in different instances, viral fan videos claimed to have caught Banksy and almost exposed his identity.
However, none of these videos have been proven to be Banksy, so the artist's enigma persists.
Most Prominent Artworks by Banksy
You'll come across Banksy's iconic artwork on streets, walls, and bridges in New York City, Los Angeles, London and Paris. One of his iconic art pieces is the If Graffiti Changed Anything, It Would Be Illegal mural in London.
Though he has several more creations (with trademark rights reserved) to his credit, here are 10 of his most famous artworks:
The Mild Mild West: This Bristol street art, painted over three days in 1998, displays a teddy bear hurling a Molotov cocktail at three riot police personnel. The creation was triggered by the police attack on a New Year's Eve party at Winterstoke Road in 1997-98.
Balloon Girl / Girl with Balloon: It refers to a collection of stencil murals of a young girl with her extended hand trying to catch a red heart-shaped balloon as it floats away. The artwork popped up across London in 2002, with the artist using variants of the design in his future works.
It's been reproduced in greeting card, apparel and wall decal designs.
Rage, the Flower Thrower / Love is in the Air: This iconic Banksy mural was painted in Jerusalem in 2003 following the West Bank Wall construction. It featured a young man throwing a flower bouquet instead of a Molotov cocktail or grenade.
The young man is decked up in face coverings hiding his identity and implying that he's a militant.
Laugh Now: Banksy's Laugh Now first appeared as a six-meter mural on Morley Street in Brighton in 2003. It showed a dejected monkey with a sandwich board around its neck carrying the words, 'Laugh now, but one day we'll be in charge.'
The artwork is a critique of humanity's treatment of animals and has been reproduced in apparel and greeting card designs.
Napalm (Can't Beat That Feeling): Napalm was a 2004 limited-edition screenprint appropriating the image of the Vietnamese girl from the 1972 'Terror of War' photograph. The creation, devoid of the war setting, depicts the young girl alongside Mickey Mouse and Ronald McDonald.
Banksy released 150 signed and 500 unsigned Napalm copies.
Sale Ends Today: This 2006 piece shows four kneeling women dressed in voluminous robes lamenting around a 'Sale Ends Today' sign. The artwork is a humorous yet biting take on people's devotion to consumerism, almost comparable to religious zeal.
Devolved Parliament: Devolved Parliament is one of Banksy's landmark paintings showing apes instead of humans in the House of Commons. Though revealed at the Banksy vs. Bristol exhibition in 2009, the piece's political commentary remains relevant.
Slave Labor: This 2012 Banksy mural, painted in London on the side wall of a Poundland store, shows a child sewing an assembly of Union Jack patches. It displayed Banksy's protest against sweatshops employing kids during the Diamond Jubilee celebration of Queen Elizabeth II.
Another Banksy tribute to Queen Elizabeth II was a street art that appeared near the Bristol Children's Hospital. It depicted the monarch with a blue and red lightning flash across her face, reminiscent of David Bowie's creation, Ziggy Stardust.
Girl with the Pierced Eardrum: Banksy painted this famous artwork in Bristol in 2014. It represented his interpretation of Dutch artist Johannes Vermeer's celebrated Girl with a Pearl Earring.

In Banksy's version, a security alarm replaces the girl's earring.
Banksquiat: This 2019 artwork depicts a Ferris wheel with all its carriages replaced by Basquiat's crown motif. It's a comment on our overindulgence in consumerism and capitalist culture.
Fun Fact: In 2013, Banksy pitched a table at Central Park in New York City to sell dozens of original prints for $60 apiece. Many pedestrians dismissed his pop-up for an amateur art hustler, while others took an interest in the unique graffiti art.
Banksy only managed to sell eight pieces to three customers for $420. But for the lucky few that exchanged their $60 for an authentic Banksy piece, little did they realize they had just hit the art lottery.
Many prints purchased from Banksy's Central Park stand are now worth six figures.
Banksy's Art Themes and Techniques
Banksy's artworks revolve around social and political themes, relying on iconography and visual imagery to convey their message. The artist used graffiti art as guerrilla warfare to seize power and glory from the privileged for the subaltern.
His creations usually revolved around these themes:
Anti-war
Anti-consumerism
Anti-fascism
Anti-imperialism
Anarchism
Nihilism
Existentialism
Given his commitment to critiquing societal norms, Banksy adopted street art as his medium. Unfortunately, the technique used in his stencil images remains unknown because of his secret identity.
But it's speculated that some of his work's photographic quality is due to the use of computers for image generation.
In his book 'Wall and Piece,' Banksy claimed that he switched to stenciling while hiding from cops under a rubbish lorry and noticing the vehicle's stenciled serial. He then devised several stencil designs to reduce time and color overlap in his work.
Banksy's Philanthropic Activities and Activism
Banksy is an active philanthropist who has donated or sold many of his works at auction events to promote several humanitarian and environmental causes:
The artist crafted a piece of art for the Greenpeace campaign 'Save or Delete' in 2002
He created numerous projects in support of Palestinians in the mid-2000s
In 2013, he sold his work The Banality of the Banality of Evil for an unknown amount at an auction to support an anti-homelessness charity in New York
A Banksy sculpture called Dream Boat exhibited in Dismaland in 2015 was raffled off in 2018 to aid the NGO Help Refugees
One of his famous works, Civilian Drone Strike was sold in 2017 for $264,245 to fundraise for 'Campaign Against Arms Trade and Reprieve'
Banksy's renowned doorway artwork, Mobile Lovers, was sold for $660,920 to keep a Bristol youth club open, and he created merchandise for homeless charities in Bristol in 2019
During the COVID-19 pandemic in May 2020, Banksy offered a painting called Game Changer to a hospital as a tribute to the National Health Service workers; he sold the artwork for $19.8 million in 2021 and donated the proceeds to NHS-related charities and organizations
Invest in Shares of Authentic Banksy Artworks
We know that art investing can be a real challenge, especially for art investors that don't have millions to spend on an original Banksy.
We all would love to own an iconic Banksy work. Unfortunately, Banksy's popularity has come at the expense of scammers trying to make a quick buck and collectors earning millions of dollars selling their authentic pieces.
Thanks to the art investing platform Masterworks, owning shares that represent an investment into Banksy's works and other top blue-chip artists are now more accessible than ever.
Masterworks is the first platform allowing investors to purchase shares representing an investment in iconic multi-million-dollar artworks.
Masterworks handles the valuation, authentication, due diligence, and purchasing for you, with help from our world-class team of art researchers.
Apply for membership now to start investing in shares of masterpieces from artists like Banksy, KAWS, Basquiat, and more.
This article is sponsored by Masterworks. This material is provided for informational and educational purposes only. It is not intended to be investment advice and should not be relied on to form the basis of an investment decision.
See important Reg A disclosures: Masterworks.com/cd.
---
---