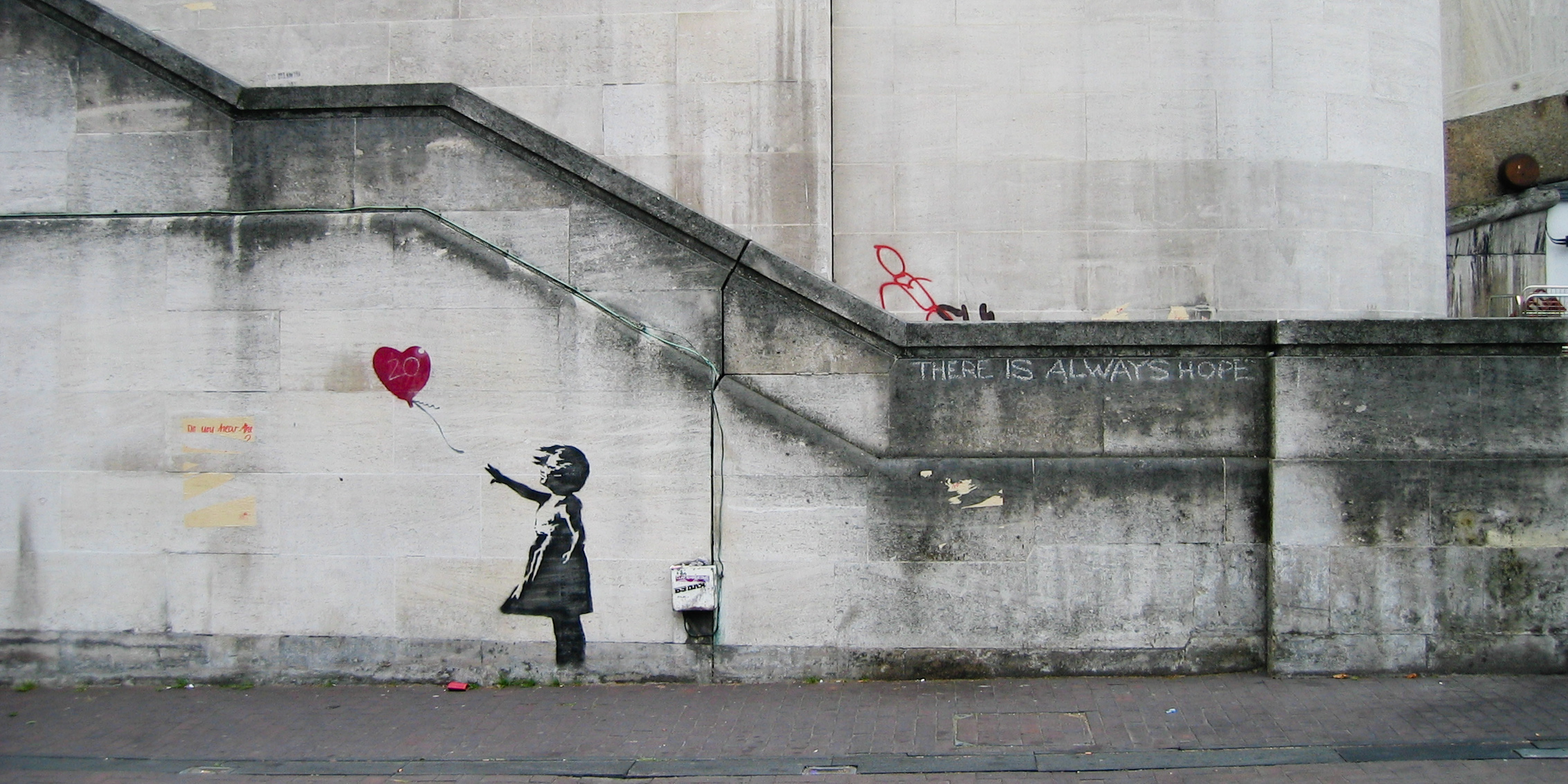 The Hidden Identity Of Banksy: What We Know
---
The Art Of Banksy
How can you stay anonymous as a famous person in the 21st century?
Speed, deception, and sleight-of-hand are required if you want to successfully get away with a criminal offense as a graffiti artist. No one has perfected the art of fleeing the scene more than the audacious and anonymous British graffiti artist, Banksy.
For the last thirty years, Banksy has shamelessly vandalized public spaces, installed his artwork in world-renowned museums, and even caused chaos at Disneyland. Banksy's unforgettable stunts have been felt around the globe while his name and face have remained completely hidden from the public, or so we think…
Who's Running The Banksy Show?
How is it that you can be selected for TIME magazine's Top 100 most influential people and never have your name or face revealed? Banksy's identity has left the art world spinning, leaving the door open for your imagination and endless conspiracy theories. The story of Banksy's identity is one of the greatest unsolved art mysteries of the 21st century.
There has been a lot of controversy around the true identity of Banksy.
One theory is that Banksy is actually Massive Attack frontman, Robert Del Naja. Del Naja is already a graffiti artist and spent many years working in Bristol under the name of 3D, which Banksy cites as one of his earliest inspirations. The Del Naja theory was strengthened after fans were able to link two occasions where new Banksy works had appeared in the same city where Massive Attack were playing. However, Del Naja has publicly denied the claims.
Some theorize that Banksy's real identity is Gorillaz founder Jamie Hewlett. This began circulating after a forensic expert claimed he had linked Hewlett to business filings that Banksy also is under. Hewlett also produces a large amount of the band's artwork, which speaks to his talent as a visual artist. However, Banksy's publicist has denied this claim a number of times. 
Is Banksy One Person Or A Group Of People?
When you consider how impressive Banksy's elaborate stunts are, it's hard to believe that one person alone has the resources to produce Banksy's many projects.
After all, wouldn't Banksy need a police spotter to help him keep cover, or even someone to help him prop up a ladder?
In this viral video, one night-walker in Melbourne, Australia caught Banksy in the act of vandalism and chased the artist down the street in the hopes of a monumental face reveal. In the attempt to identify Banksy, it's clear that Banksy was with at least one other person, and ran off with this accomplice.
Was this a fan-made video attempting to go viral and succeeding at it, or truly evidence that exposes the Banksy team caught in the act?
Has Banksy's Name Been Revealed?
Robin Gunningham is definitely not a household name, but some digging into this name will lead you to plausible evidence that connects this exact name to a trove of Banksy-related discoveries, especially in the assumed hometown of Banksy in Bristol, England.
A rare photo taken of a graffiti artist in 2004 in Jamaica was reportedly believed to be Banksy. The materials that surrounded the artist are strikingly similar to the equipment that Banksy would need in order to recreate some of his most iconic work: a heart-balloon stencil accompanied by a can of spray paint.
When this image was first released to the public by the Daily Mail, criminologists at the Queen Mary University of London looked into Banksy's identity by using a technique known as geographic profiling to determine the correlation between the name "Robin Gunningham" and Banksy graffiti artwork emerging in London and Bristol, to which they found 140 artworks.
To the criminologist's surprise, they were able to identify Robin Gunningham from Bristol, England. Gunningham has also never commented on rumors of being the anonymous artist.
Is The Real Banksy Appearing In New York Subways?
Next time you're out for a stroll and see a sign that reads "THIS IS NOT A PHOTO OPPORTUNITY – BANKSY", it might be worth a quick glance.
---
---
In 2013, Banksy pitched a table in New York City's Central Park to sell dozens of original prints for $60 apiece. Many pedestrians dismissed his pop-up for an amateur art hustler while others took interest in the unique graffiti art.
Banksy only managed to sell eight pieces to three customers for a total of $420. But for the lucky few that exchanged their $60 for an authentic Banksy piece, little did they realize at that moment, they just hit the art lottery.
Many of the prints that were purchased from Banksy's Central Park stand are now worth up to six figures.
---
Buy Banksy Art With Confidence
We know that art investing can be a real challenge, especially for art investors that don't have millions to drop on an original Banksy.
We all would love to own an iconic Banksy work. Unfortunately, Banksy's popularity has come at the expense of scammers trying to make a quick buck, as well as collectors earning millions of dollars selling their authentic pieces.
Thanks to the art investing platform Masterworks.io, owning shares that represent an investment into Banksy's works, as well as other top blue-chip artists, are now more accessible than ever.
Masterworks is the first platform that allows investors to purchase shares representing an investment in authenticated, multi-million-dollar artworks.
Masterworks handles the valuation, authentication, and purchasing for you (with help from our expert research team, our partners at Citi Bank and Bank of America, and our team of art world experts).
Become an investor in masterpieces from artists like Banksy, KAWS, Basquiat, and more.
Let's bring together your love of art and your passion for investing with Masterworks.
---
---
See important disclosures at masterworks.io/dc
---