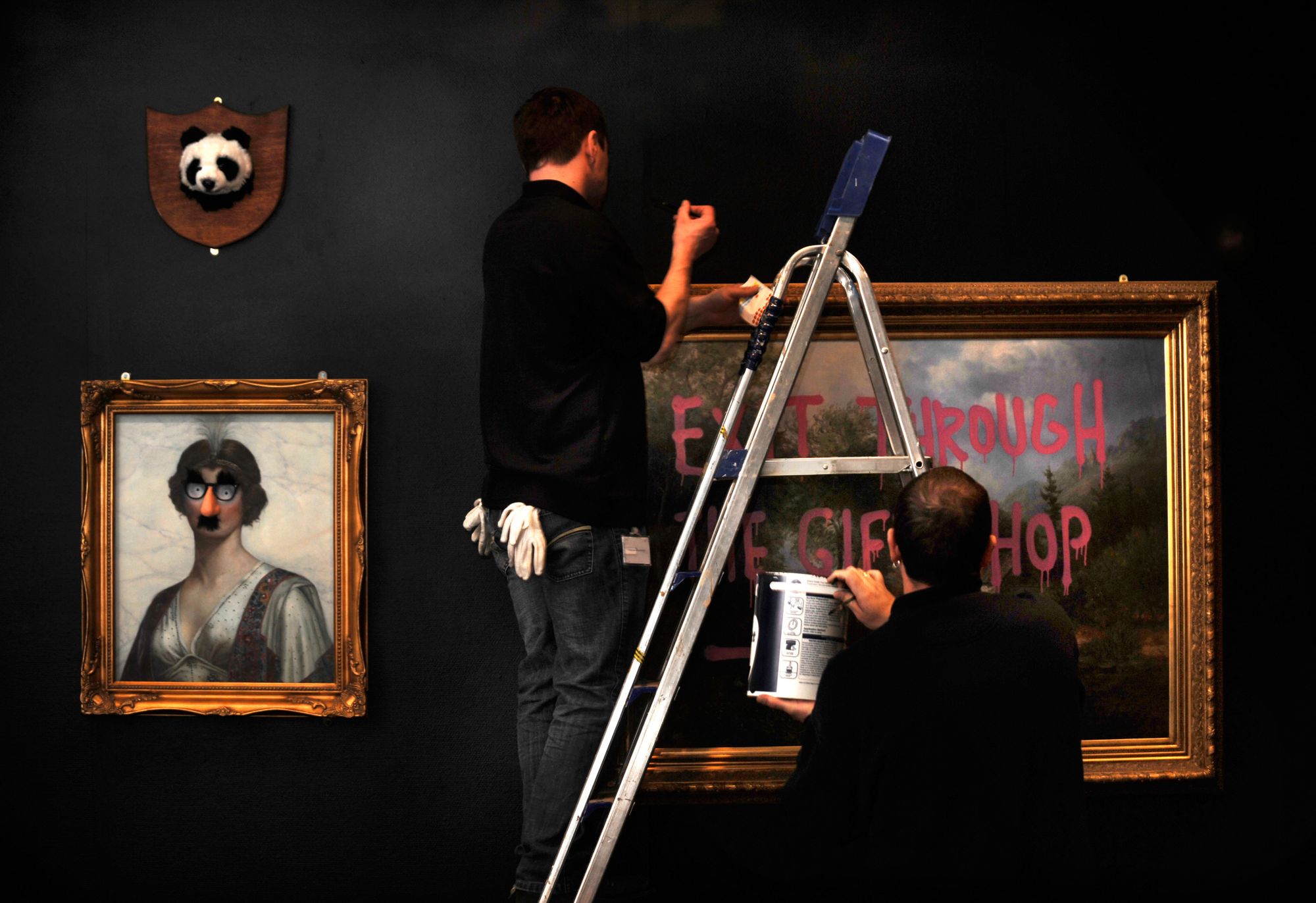 The Masterworks' Banksy Buying Guide
---
About Banksy
From Bristol England, the anonymous graffiti artist's stencil works were first seen around the late 1990s around the Bristol and London areas. Banksy does a clever mix of popular and political imagery, along with a strong tongue-in-cheek message. These types of works have gained Banksy the attention of not just the public and media, but as well, key players in the art world. Banksy continues to keep current events through his art such as Brexit, Gaza Conflict, and the pandemic. Besides shining a spotlight on global issues as they occur, Banksy also uses his platform to display universal and ongoing issues such as race, the environment, and violence.
Movements & Mediums
When needing to decipher where Banksy fits in the hierarchy of art, why would you? Banksy is to his core a street artist and disruptor of the norm- He would probably classify it under "guerilla art" taking similar influence from guerilla warfare tactics to his artistic processes. I need to classify Banksy though from a fine art perspective then that would be best under the reach of contemporary art. Banksy works in a preferred medium of spray paint and stencil for the majority of his works (arguably his best known). Banksy also has a skilled hand in oil painting. There are a few examples of his artistic talent through these oil paintings, but these are also considered very rare.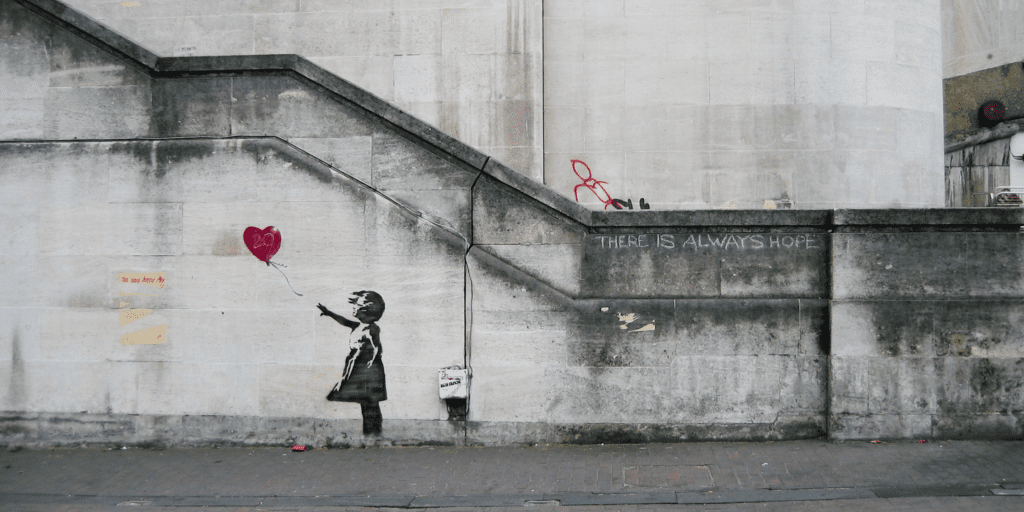 ---
Collecting as an Investment
To begin collecting Banksy, there are important questions to ask:  "Why Banksy ?" and "How to decide which piece?"
Let's address the first question, Why Banksy? Since the early 2000s, Banksy's demand has continued to increase year by year.  This may also be contributed by his huge secondary market. Many of the artist's signed and unsigned prints have garnered a large following given the limited number of them. Banksy hasn't released any new prints since 2017. With the supply becoming rarer the demand in Banksy's market seems to keep increasing – simple economics.
Now when looking for a specific piece to add to a collection, and what would be considered "better" one has to think, what moves you? The easiest way to select a Banksy piece for a personal collection is to pick one that speaks to you personally, whether it be the message it means to portray, the subject matter, or maybe you just like the way it looks.  However, when getting analytical there are several examples to consider in methods of style and subjects to look for collecting.
---
---
Banksy Collection Examples
Girl with Balloon
Girl With Balloon is one of the most instantly recognizable and sought-after works. The iconic work has been stenciled all over the world, and has become even more famous thanks to Banksy's prank on the Sotheby's auction where an original print of Girl With Balloon had self-destructed and shredded half of the work, hence becoming "Love Is In The Bin". The prints began circulating in 2004 with 150 signed and 600 unsigned editions. To put in perspective, a signed print in 2004 was 150 pounds and could now fetch upwards of 513,000 pounds as of current auction records.
A signature of Banksy's complement of works, Love Is In The Air is one of those works that turns into a cultural phenomenon. It highlights a man, dressed as a protestor throwing a bouquet. Whether an original or a print, this work fairs nicely with a signed edition fetching upwards of 500,000 pounds at Christie's last year. Another example was a version that had gone up for sale at Sotheby's in  2021 where a spray paint on canvas version was sold for over $12 million.
---
A Banksy Certificate of Authenticity
Pest Control is the only official body that can authenticate any Banksy print or work. This was set up by Banksy himself as a not-for-profit handling service and point of sale for new works to help authenticate genuine Banksy works and expose any forgeries. When looking into the purchase of a Banksy print or original, it is important to either check for the Pest Control authentication or to simply reach out to them for evaluation and appraisal.
---
Where to buy Banksy?
Banksy works originals and prints can be purchased directly by Banksy in his pop-ups like one held in New York in 2014. A more well-known example is Gross Domestic Product. GDP was the latest one held in Croydon, however, these are temporary events and the last one held was in 2019. And there is little speculation on whether another will occur. This further supports the claim that the real way to purchase a Banksy is through the secondary art market.
Auction Houses are a favorable approach to the secondary market. Most major auction houses such as Sotheby's, Christie's, Phillip's, and Bonham's will acquire several Banksy's originals for their marquee sales. Along with originals, these same auction houses will also vendor prints in exclusive sales. Now the barrier to entry in auctions is the matter of pricing and whether one can continue to bid. The original market is substantial with works ranging in price from $1 million to $8 million or more.
---
---