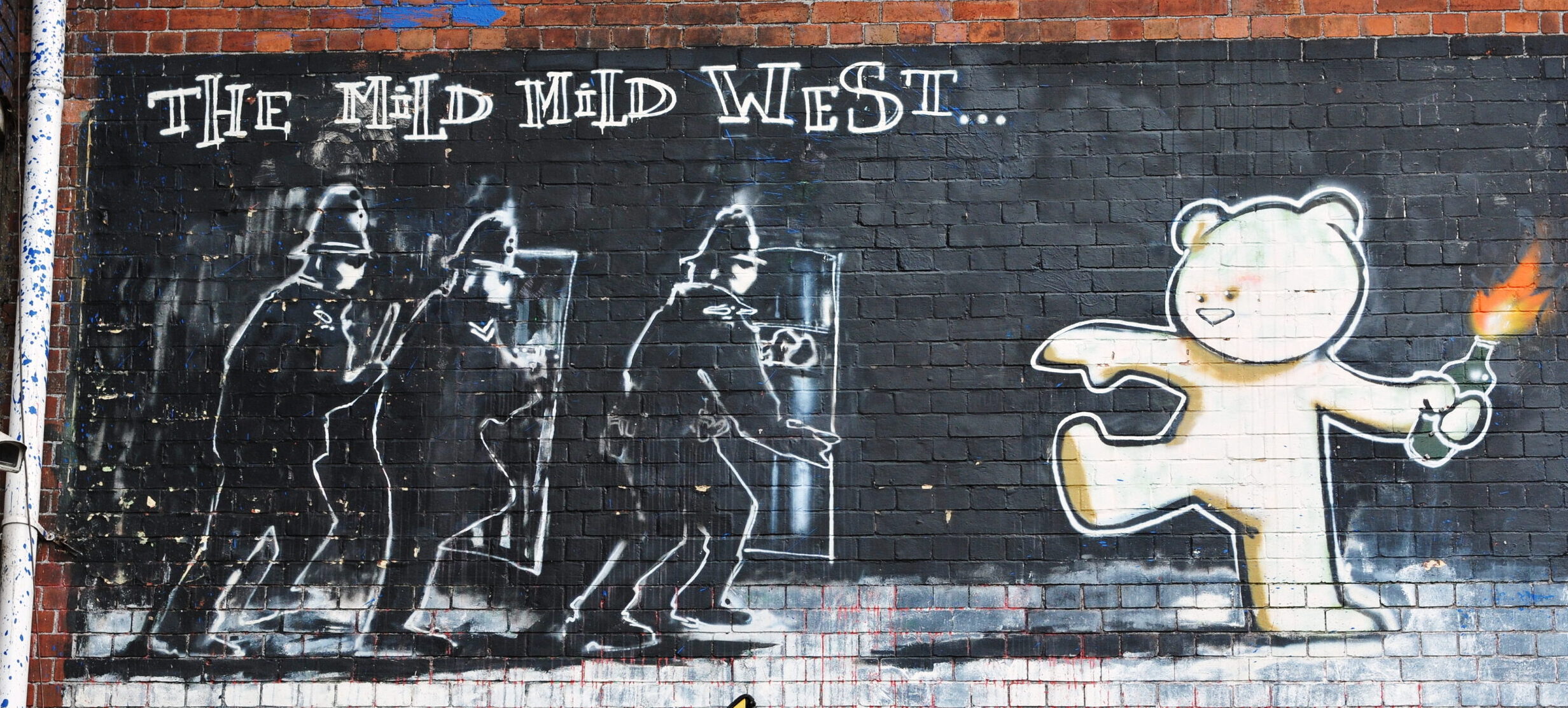 Banksy's Most Famous Murals
---
Street artist and infamous provocateur Banksy is regularly making headlines, whether it's a new piece of graffiti appearing somewhere around the world, a record-breaking auction sale, or a debate surrounding one of his works.
While his graffiti and street art have become famous images recognized around the world, Banksy himself is highly secretive. The real name and identity of the artist, political activist and film director remains unknown and has been the subject of much speculation.
Read on to find out more about Banksy the artist, and discover some of his essential street art pieces from around the world.
Who is Banksy?
Banksy is an enigma — no one knows who he is, where he lives or when he will produce his next work. What we do know, however, is that while he keeps his identity a secret, he chooses to display his artwork in public places for everyone to see. These spontaneous artworks appear on social media channels, such as Banksy's Instagram account, before anyone discovers that they're there.
Banksy began producing street art in Bristol during the early 1990s, leading many to believe that Bristol is where he was born and raised. He started working with spray paint on trains before moving to public places around the city.
Throughout his career, he's worked with stencils, creating his own and using spray paint to place his images on walls. His art usually features striking images and poignant slogans, and is more often than not imbued with political, social and cultural meaning.
As "street art" and "graffiti" are associated with criminal damage in many places, Banksy chose to remain anonymous. The name appeared more and more next to graffiti popping up around Bristol. As he gained more attention and recognition from the early 2000s, his work started appearing in other cities around the UK and other parts of the world.
Banksy's Infamous Street Art Around the World
 

 

 

View this post on Instagram

 

 

 

 

 
Banksy's murals are on view for all to see in various locations around the world. We'll explore some of these pieces and their significance, as well as how the artist turned vandalism into a form of art and protest.
Margate
A new mural by Banksy, titled Valentine's Day Mascara, was spotted on February 14th, 2023 in Margate. The artwork shows the caricature of a 1950s housewife with a missing tooth and a swollen eye putting a man in a real-life freezer).
A reflection on the issue of domestic violence, the mural will be permanently relocated to Margate's Dreamland theme park.
Horenka, Kyiv
In November 2022, Banksy created multiple murals around war-torn Ukraine. The artist has posted a video documenting the creation and finished artworks in Horenka, a village on the outskirts of Kyiv.
Banksy's guerilla artworks in solidarity with Ukraine display his typical style, with a hint of satire and political commentary. The murals are the latest of Banksy's anti-war pieces and his first public murals in more than a year.
One of the murals in Horenka shows a man resembling Putin being slammed onto the ground by a child during a judo match. Putin has a black belt in the sport. Another mural depicts a woman in a robe and hair rollers. She is wearing a gas mask and holding a fire extinguisher. This is one of the pieces showing everyday life juxtaposed with wartime.
Similarly, another mural portrays two kids playing with a metal tank trap as if it were a seesaw. The innocence of the children compared with the cold metal is simultaneously heart-wrenching and an expression of hope.
Bristol
Originally from Bristol, Banksy's artworks can be seen all over the city.
The Mild Mild West
Banksy's first well-known large wall mural was The Mild Mild West, which he spray-painted in 1997. It covers the advertising of a former solicitors' office on Stokes Croft in Bristol and shows a teddy bear lobbing a Molotov cocktail at three riot police.
Aachoo!!
A recent work of Banksy's, Aachoo!! (2020) can be found on Vale Street. It shows an elderly woman sneezing and losing her dentures.
Girl with the Pierced Eardrum
Girl with the Pierced Eardrum (2014) is located between Hanover Place and Sydney Row. It is Banksy's 21st-century take on Johannes Vermeer's Girl With a Pearl Earring (1665) – in this case, the iconic earring consists of an octagonal burglar alarm.
Well-Hung Lover
On Park Street, you'll see Well-Hung Lover (2006). It is especially imbued with meaning because Banksy spray-painted it on the side of a sexual health clinic.
London
There are countless Banksy images located around London. Some of his must-see artworks include the following:
If Graffiti Changed Anything – It Would Be Illegal
Banksy's iconic rat appeared on Clipstone Street in Fitzrovia in 2011. This work of street art references a quote by the 20th-century political activist Emma Goldman. She campaigned for Women's rights and said: "If voting ever changed anything, it would be illegal".
Shop Until You Drop
Appearing in 2011, this spray-painted stencil of a woman and a shopping trolley falling is located in one of London's most high-profile shopping areas in Mayfair. Typical of Banksy's style, it provokes discussion about capitalism and consumerism.
Yellow Lines Flower Painter
Situated on Pollard Street, this graffiti shows a painter resting after painting double yellow lines that turn into a large yellow flower. Although largely damaged, this painting still remains visible.
Girl With Balloon
Perhaps Banksy's most recognized mural, Girl With Balloon (2002) shows a little girl losing her red heart-shaped balloon. It originally appeared in London, yet has since been reproduced in various locations. It pays homage to youth and the loss of innocence. 
Brighton
In 2004, Banksy headed to Brighton to create one of his most iconic works.
Kissing Coppers
Kissing Coppers (2004) was originally painted on a wall of The Prince Albert Pub. Yet, it was removed and bought by an anonymous buyer in Miami during 2011. It was so iconic that a copy appeared later on Frederick Street, so that the public could still see it. While many see the work as advocating for societal acceptance of homosexuality — especially in connection to the city's vibrant LGBTQ community — others see it as a mockery of authority.
New York
New York is one of the major sites for street artists from all over the world to paint. Unfortunately, many of Banksy's artworks have been painted over or sold. Yet, there are a few that remain intact. 
Hammer Boy
Hammer Boy (2013) on 79th Street, belongs to a series of art pieces created by the artist around New York City over a 31-day period. Showing a young boy playing with a hammer in the act of hitting a 'real' hydrant, the work is an excellent example of how Banksy creatively incorporates ordinary urban objects into his artistic production.
Waiting in Vain at the Door of the Club
Located on 678 W 51st Street, this piece from 2013 shows a man holding a wilting bouquet of flowers while supposedly waiting for someone to come out of a club. The artwork appeared on a side door to Larry Flynt's Hustler Club.
Chicago
In 2015, the city council of Chicago spent thousands on covering up much of the city's graffiti, causing the destruction of a number of important works. Today, the city's only remaining piece by Banksy is Baby Carriage Moving Downstairs.
Located on the corner of Randolph and Peoria, the work was created in 2010 while Banksy was promoting his documentary Exit Through the Gift Shop. The image of a baby carriage moving down a flight of stairs references the classic scene from the classic Chicago movie The Untouchables.
Los Angeles
L.A. is another prime location for amazing street art, and another site for Banksy's work.
Swing Girl
At some point between 2010 and 2014, Banksy created this piece of street art on S Broadway. The artist has whitewashed the 'ing' from the word "parking", while a girl swings from the remaining "park." Many people believe that this references the need for safe, green spaces for children to play in the downtown area.
San Francisco
While the vibrant city of San Francisco still has a few of Banksy's pieces on show, many of his most famous have been covered up in recent years.
If at First You Don't Succeed – Call an Airstrike
On Broadway in San Francisco, Banksy openly criticizes US politics. This piece of street art shows a child wearing a gas mask and saying the words 'If at first you don't succeed – call an airstrike'.
Bird Singing in Tree
Located in the Mission district of San Francisco, Banksy's Bird Singing in Tree is shown with a small tree trunk and a bird singing. The wall has since been decorated by other artists who have added animals and forest-like images.
New Orleans
Banksy visited New Orleans in 2008 to mark the third anniversary of Hurricane Katrina. He left the locals some beautiful artworks in recognition of the event.
Umbrella Girl
Part of the 'Nola' series, this mural on Kerlerec Street depicts a young girl under an umbrella that turns out to be the source of the downpour instead of protecting her from it. This series of works serve as a reminder of Hurricane Katrina and the detrimental floods to the area.
Paris
A number of street artworks by Banksy appeared in Paris in 2018. This coincided with the 50-year anniversary of the student uprisings of 1968. To mark this day, talks were being held in many of the university buildings to discuss the consumerist capitalism of today.
Minnie Mouse
One of his most famous murals is a mouse situated on Rue Maitre Albert, next to a migrant center. Here, the year 1968 is shown with the 8 being removed and placed on the mouse's head to represent Minnie Mouse – a nod to the consumerism of Disneyland. 
Red Horseman
Spray-painted on Avenue de Flandre, Banksy's representation of Napoleon with a red veil on his face references a controversial aspect of French law. In 2010, wearing full-face veils in public became forbidden under the law.
Bethlehem
Banksy has been very active in commenting on issues surrounding Israel and Palestine through a number of artworks in the West Bank, Jerusalem and Bethlehem.
Pillow Fight
The Walled Off Hotel in Bethlehem is a five-star accommodation that takes pride in the worst view in the world: the controversial Israeli West Bank barrier. The hotel itself, opened by Banksy on Caritas Street, Bethlehem, serves as a powerful political statement. The artist has also meticulously – and at times satirically – curated the interior, including the wall decoration featuring highly-meaningful paintings such as the one showing a pillow fight between an Israeli border policeman and a Palestinian man.
Armored Dove
Banksy chose the side of a Palestinian Heritage Center to create his Armored Dove, a controversial commentary on the Palestine-Israeli conflict often associated with Picasso's masterpiece Guernica, where a dove is stabbed to express the violence of war. Its wings wide open and an olive branch in its beak, the animal symbolically connected with peace wears an armored vest and a target is pointed at its chest.
Invest in Shares of Authentic Banksy Artworks
We all would love to own an iconic Banksy work. Unfortunately, Banksy's popularity has come at the expense of scammers trying to make a quick buck and collectors earning millions of dollars selling their authentic pieces.
Not to mention the elusive artist isn't producing art for sale like he used to anymore.
Thanks to the art investing platform Masterworks, investing in shares of Banksy's works and other top blue-chip artists is now more accessible than ever.
Masterworks is the first platform allowing investors to purchase shares representing an investment in iconic multi-million-dollar artworks.
Masterworks handles the valuation, authentication, due diligence, and purchasing for you, with help from our world-class team of art researchers.
Apply for membership now to start investing in shares of masterpieces from artists like Banksy, KAWS, Basquiat, and more.See important Reg A disclosures: Masterworks.com/cd
---